Abstract
MicroRNAs (miRNAs) are an abundant class of small regulatory RNAs that regulate the stability and translation of cognate mRNAs. Although an increasing number of porcine miRNAs has recently been identified, the full repertoire of miRNAs in pig remains to be elucidated. To identify porcine miRNAs potentially involved in myogenesis and adipogenesis, we constructed small RNA cDNA libraries from skeletal muscle and adipose tissue and identified 89 distinct miRNAs that are conserved in pig, of which 15 were new. Expression analysis of all newly identified and selected known porcine miRNAs revealed that some miRNAs were enriched in a tissue-specific manner, whereas others were expressed ubiquitously in the porcine tissues examined. Our results expand the number of known porcine miRNAs and provide useful information for further investigating the biological functions of miRNAs associated with growth and development of skeletal muscle or adipose tissue in pig.
Access options
Buy single article
Instant access to the full article PDF.
USD 39.95
Price excludes VAT (USA)
Tax calculation will be finalised during checkout.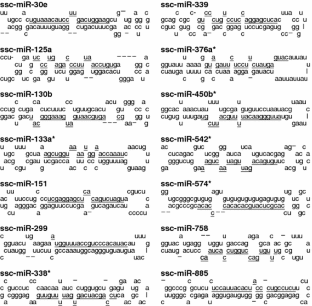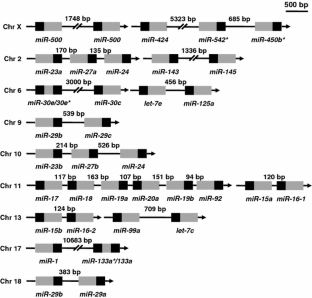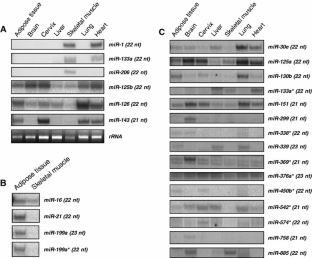 References
Bartel DP (2004) MicroRNAs: genomics, biogenesis, mechanism, and function. Cell 116:281–297

Bushati N, Cohen SM (2007) microRNA functions. Annu Rev Cell Dev Biol 23:175–205

Jiang Q, Wang Y, Hao Y, Juan L, Teng M, Zhang X, Li M, Wang G, Liu Y (2009) miR2Disease: a manually curated database for microRNA deregulation in human disease. Nucleic Acids Res 37:D98–104

Lee Y, Kim M, Han J, Yeom KH, Lee S, Baek SH, Kim VN (2004) MicroRNA genes are transcribed by RNA polymerase II. EMBO J 23:4051–4060

Lee Y, Ahn C, Han J, Choi H, Kim J, Yim J, Lee J, Provost P, Radmark O, Kim S, Kim VN (2003) The nuclear RNase III Drosha initiates microRNA processing. Nature 425:415–419

Kim VN, Han J, Siomi MC (2009) Biogenesis of small RNAs in animals. Nat Rev Mol Cell Biol 10:126–139

Hutvagner G, McLachlan J, Pasquinelli AE, Balint E, Tuschl T, Zamore PD (2001) A cellular function for the RNA-interference enzyme Dicer in the maturation of the let-7 small temporal RNA. Science 293:834–838

Khvorova A, Reynolds A, Jayasena SD (2003) Functional siRNAs and miRNAs exhibit strand bias. Cell 115:209–216

Schwarz DS, Hutvagner G, Du T, Xu Z, Aronin N, Zamore PD (2003) Asymmetry in the assembly of the RNAi enzyme complex. Cell 115:199–208

Chekulaeva M, Filipowicz W (2009) Mechanisms of miRNA-mediated post-transcriptional regulation in animal cells. Curr Opin Cell Biol 21:452–460

Griffiths-Jones S, Saini HK, van Dongen S, Enright AJ (2008) miRBase: tools for microRNA genomics. Nucleic Acids Res 36:D154–158

Bentwich I, Avniel A, Karov Y, Aharonov R, Gilad S, Barad O, Barzilai A, Einat P, Einav U, Meiri E et al (2005) Identification of hundreds of conserved and nonconserved human microRNAs. Nat Genet 37:766–770

Berezikov E, Guryev V, van de Belt J, Wienholds E, Plasterk RH, Cuppen E (2005) Phylogenetic shadowing and computational identification of human microRNA genes. Cell 120:21–24

Friedman RC, Farh KK, Burge CB, Bartel DP (2009) Most mammalian mRNAs are conserved targets of microRNAs. Genome Res 19:92–105

Kim J, Cho IS, Hong JS, Choi YK, Kim H, Lee YS (2008) Identification and characterization of new microRNAs from pig. Mamm Genome 19:570–580

Reddy AM, Zheng Y, Jagadeeswaran G, Macmil SL, Graham WB, Roe BA, Desilva U, Zhang W, Sunkar R (2009) Cloning, characterization and expression analysis of porcine microRNAs. BMC Genomics 10:65

Wernersson R, Schierup MH, Jorgensen FG, Gorodkin J, Panitz F, Staerfeldt HH, Christensen OF, Mailund T, Hornshoj H, Klein A et al (2005) Pigs in sequence space: a 0.66X coverage pig genome survey based on shotgun sequencing. BMC Genomics 6:70

Huang TH, Zhu MJ, Li XY, Zhao SH (2008) Discovery of porcine microRNAs and profiling from skeletal muscle tissues during development. PLoS One 3:e3225

Kim HJ, Cui XS, Kim EJ, Kim WJ, Kim NH (2006) New porcine microRNA genes found by homology search. Genome 49:1283–1286

McDaneld TG, Smith TP, Doumit ME, Miles JR, Coutinho LL, Sonstegard TS, Matukumalli LK, Nonneman DJ, Wiedmann RT (2009) MicroRNA transcriptome profiles during swine skeletal muscle development. BMC Genomics 10:77

Sharbati-Tehrani S, Kutz-Lohroff B, Scholven J, Einspanier R (2008) Concatameric cloning of porcine microRNA molecules after assembly PCR. Biochem Biophys Res Commun 375:484–489

Zuker M (2003) Mfold web server for nucleic acid folding and hybridization prediction. Nucleic Acids Res 31:3406–3415

Ambros V, Bartel B, Bartel DP, Burge CB, Carrington JC, Chen X, Dreyfuss G, Eddy SR, Griffiths-Jones S, Marshall M et al (2003) A uniform system for microRNA annotation. RNA 9:277–279

Maroney PA, Chamnongpol S, Souret F, Nilsen TW (2008) Direct detection of small RNAs using splinted ligation. Nat Protoc 3:279–287

Lewis BP, Burge CB, Bartel DP (2005) Conserved seed pairing, often flanked by adenosines, indicates that thousands of human genes are microRNA targets. Cell 120:15–20

Williams AH, Liu N, van Rooij E, Olson EN (2009) MicroRNA control of muscle development and disease. Curr Opin Cell Biol 21:461–469

Sun T, Fu M, Bookout AL, Kliewer SA, Mangelsdorf DJ (2009) MicroRNA let-7 Regulates 3T3–L1 Adipogenesis. Mol Endocrinol 23:925–931

Landgraf P, Rusu M, Sheridan R, Sewer A, Iovino N, Aravin A, Pfeffer S, Rice A, Kamphorst AO, Landthaler M et al (2007) A mammalian microRNA expression atlas based on small RNA library sequencing. Cell 129:1401–1414

Aravin A, Tuschl T (2005) Identification and characterization of small RNAs involved in RNA silencing. FEBS Lett 579:5830–5840

Blow MJ, Grocock RJ, van Dongen S, Enright AJ, Dicks E, Futreal PA, Wooster R, Stratton MR (2006) RNA editing of human microRNAs. Genome Biol 7:R27

Altuvia Y, Landgraf P, Lithwick G, Elefant N, Pfeffer S, Aravin A, Brownstein MJ, Tuschl T, Margalit H (2005) Clustering and conservation patterns of human microRNAs. Nucleic Acids Res 33:2697–2706

Baskerville S, Bartel DP (2005) Microarray profiling of microRNAs reveals frequent coexpression with neighboring miRNAs and host genes. RNA 11:241–247

Beuvink I, Kolb FA, Budach W, Garnier A, Lange J, Natt F, Dengler U, Hall J, Filipowicz W, Weiler J (2007) A novel microarray approach reveals new tissue-specific signatures of known and predicted mammalian microRNAs. Nucleic Acids Res 35:e52

Liang Y, Ridzon D, Wong L, Chen C (2007) Characterization of microRNA expression profiles in normal human tissues. BMC Genomics 8:166

Esau C, Kang X, Peralta E, Hanson E, Marcusson EG, Ravichandran LV, Sun Y, Koo S, Perera RJ, Jain R et al (2004) MicroRNA-143 regulates adipocyte differentiation. J Biol Chem 279:52361–52365

Takanabe R, Ono K, Abe Y, Takaya T, Horie T, Wada H, Kita T, Satoh N, Shimatsu A, Hasegawa K (2008) Up-regulated expression of microRNA-143 in association with obesity in adipose tissue of mice fed high-fat diet. Biochem Biophys Res Commun 376:728–732

Bullard DR, Bowater RP (2006) Direct comparison of nick-joining activity of the nucleic acid ligases from bacteriophage T4. Biochem J 398:135–144

Maroney PA, Chamnongpol S, Souret F, Nilsen TW (2007) A rapid, quantitative assay for direct detection of microRNAs and other small RNAs using splinted ligation. RNA 13:930–936

Moore MJ, Query CC (2000) Joining of RNAs by splinted ligation. Methods Enzymol 317:109–123
Acknowledgments
We thank Jun Mo Kim and Jong-Gun Kim for assistance in collecting porcine tissue samples. This work was supported by a grant (20070301034036) from the BioGreen 21 Program, Rural Development Administration, Republic of Korea.
Additional information
Ik Sang Cho, Jung Kim contributed equally to this work.
Electronic supplementary material
Below is the link to the electronic supplementary material.
About this article
Cite this article
Cho, I.S., Kim, J., Seo, H.Y. et al. Cloning and characterization of microRNAs from porcine skeletal muscle and adipose tissue. Mol Biol Rep 37, 3567–3574 (2010). https://doi.org/10.1007/s11033-010-0005-6
Received:

Accepted:

Published:

Issue Date:

DOI: https://doi.org/10.1007/s11033-010-0005-6
Keywords
MicroRNA

Skeletal muscle

Adipose tissue

Pig