Abstract
Brown planthopper (BPH) is one of the most destructive pests in rice. Breeding resistant cultivars is the most effective strategy to control BPH. Bph3 is a broad-spectrum and durable BPH resistance locus spanning ~ 50 kb on the short arm of rice chromosome 4. Using the genomic variation data of 4726 rice varieties from public database, we developed 8 InDel markers within the Bph3 locus. By analyzing 563 rice varieties, we demonstrated that these markers could effectively identify Bph3-carriers, with an accuracy rate near to 90%. Through marker-assisted backcross breeding (MABC), we introduced four BPH resistance genes (Bph3/14/18/32) into an elite rice variety, Guang 8B. The results showed that Bph3 had the biggest effect, followed by Bph14 and Bph32, and Bph18 had the smallest effect. In addition, the level of BPH resistance increased with the number of genes pyramided. However, in the case of only two genes being pyramided, the resistance increase was not significant in comparison with the larger effect of the two genes. This suggests that the resistance effects are not simply additive, but epistasis may be involved. The InDel markers and pyramiding lines developed in this study will facilitate Bph3-carrier identification and BPH resistance breeding in rice.
Access options
Buy single article
Instant access to the full article PDF.
US$ 39.95
Tax calculation will be finalised during checkout.
Subscribe to journal
Immediate online access to all issues from 2019. Subscription will auto renew annually.
US$ 79
Tax calculation will be finalised during checkout.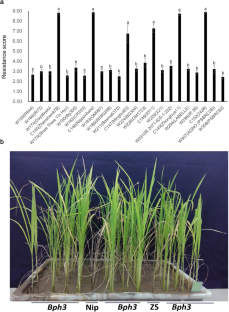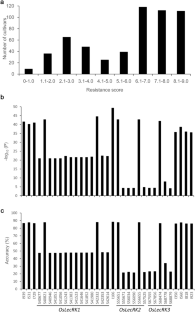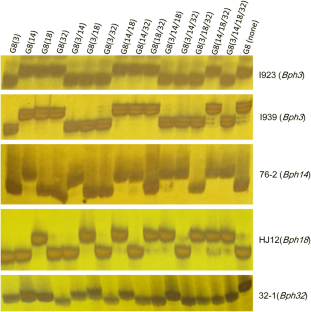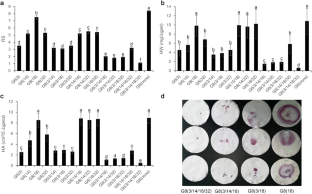 References
Cha YS, Ji H, Yun DW, Ahn BO, Lee MC, Suh SC, Lee CS, Ahn EK, Jeon YH, Jin ID, Sohn JK, Koh HJ, Eun MY (2008) Fine mapping of the rice Bph1 gene, which confers resistance to the brown planthopper (Nilaparvata lugens Stål), and development of STS markers for marker-assisted selection. Mol Cell 26:146–151

Du B et al (2009) Identification and characterization of Bph14, a gene conferring resistance to brown planthopper in rice. Proc Natl Acad Sci U S A 106:22163–22168

Guo JP, Xu C, Wu D, Zhao Y, Qiu Y, Wang X, Ouyang Y, Cai B, Liu X, Jing S, Shangguan X, Wang H, Ma Y, Hu L, Wu Y, Shi S, Wang W, Zhu L, Xu X, Chen R, Feng Y, du B, He G (2018) Bph6 encodes an exocyst-localized protein and confers broad resistance to planthoppers in rice. Nat Genet 50:297–306

Hu J, Cheng MX, Gao GJ, Zhang QL, Xiao JH, He YQ (2013) Pyramiding and evaluation of three dominant brown planthopper resistance genes in the elite indica rice 9311 and its hybrids. Pest Manag Sci 69(7):802–808

Hu W, Xiao H, Hu K, Jiang Y, Zhang Y (2016) Application of marker-assisted backcross to introgress Bph3, Bph14 and Bph15 into an elite indica rice variety for improving its resistance to brown planthopper. Plant Breed 135:291–300

Hu J, Chang XY, Zou L, Tang WQ, Wu WR (2018) Identification and fine mapping of Bph33, a new brown planthopper resistance gene in rice (Oryza sativa L.). Rice 11:55

Huang Z, Xu C, Tu J, Li X, Zhang Q (2001) Identification and mapping of two brown planthopper resistance genes in rice. Theor Appl Genet 102:929–934

Jena KK, Kim SM (2010) Current status of brown planthopper (BPH) resistance and genetics. Rice 3:161–171

Jena M, Panda RS, Sahu RK, Mukherjee A, Dhua U (2015) Evaluation of rice genotypes for rice brown plant hopper resistance through phenotypic reaction and genotypic analysis. Crop Prot 78:119–126

Ji H et al (2016) Map-based cloning and characterization of the Bph18 gene from wild rice conferring resistance to brown planthopper (bph) insect pest. Sci Rep 6:34376

Jiang H, Hu J, Ao Y, Cheng M, Gao G, Zhang Q, He G, He Y (2018) Evaluation and breeding application of six brown planthopper resistance genes in rice maintainer line Jin 23B. Rice 11:22

Kumar K, Sarao P, Bhatia D, Neelam K, Kaur A, Mangat G, Brar D, Singh K (2018) High-resolution genetic mapping of a novel brown planthopper resistance locus, Bph34 in Oryza sativa L. X Oryza nivara (Sharma & Shastry) derived interspecific F2 population. Theor Appl Genet 131:1163–1171

Liu YQ et al (2015) A gene cluster encoding lectin receptor kinases confers broad-spectrum and durable insect resistance in rice. Nat Biotechnol 33:301–305

Liu Y et al (2016) Marker assisted pyramiding of two brown planthopper resistance genes, Bph3 and Bph27 (t), into elite rice cultivars. Rice 9:1–7

Mi J, Yang D, Chen Y, Jiang J, Mou H, Huang J, Ouyang Y, Mou T (2018) Accelerated molecular breeding of a novel P/TGMS line with broad-spectrum resistance to rice blast and bacterial blight in two-line hybrid rice. Rice 11(1):11

Naik S, Divya D, Sahu N, Sundaram R, Sarao P, Singh K, Lakshmi V, Bentur J (2018) A new gene Bph33(t) conferring resistance to brown planthopper (BPH), Nilaparvata lugens (Stål) in rice line RP2068-18-3-5. Euphytica 214:53

Pathak PK, Saxena RC, Heinrichs EA (1982) Parafilm sachet for measuring honeydew excretion by Nilaparvata lugens on rice. J Econ Entomol 75:194–195

Qing et al (2019) Development of molecular marker and introgression of Bph3 into elite rice cultivars by marker-assisted selection. Breed Sci 69:40–46

Qiu Y, Guo J, Jing S, Zhu L, He G (2010) High-resolution mapping of the brown planthopper resistance gene Bph6 in rice and characterizing its resistance in the 9311 and Nipponbare near isogenic backgrounds. Theor Appl Genet 121:1601–1611

Ramkumar G, Prahalad GD, Hechanova SL (2016) Exploring genetic diversity of rice cultivars for the presence of brown planthopper (BPH) resistance genes and development of SNP marker for Bph18. Plant Breed 135:301–308

Reinke R, Kim SM, Kim BK (2018) Developing japonica rice introgression lines with multiple resistance genes for brown planthopper, bacterial blight, rice blast, and rice stripe virus using molecular breeding. Mol Gen Genomics 293:1565–1575

Ren JS et al (2016) Bph32, a novel gene encoding an unknown SCR domain-containing protein, confers resistance against the brown planthopper in rice. Sci Rep 6:37645

Sharma PN, Torii A, Takumi S, Mori N, Nakamura C (2004) Marker assisted pyramiding of brown planthopper (Nilaparvata lugens Stål) resistance genes Bph1 and Bph2 on rice chromosome 12. Hereditas 140:61–69

Sun LH, Su CC, Wang CM, Zhai HQ, Wan JM (2005) Mapping of a major resistance gene to the brown planthopper in the rice cultivar Rathu Heenati. Jpn J Breed 55:391–396

Tamura Y, Hattori M, Yoshioka H, Yoshioka M, Takahashi A, Wu J, Sentoku N, Yasui H (2014) Map-based cloning and characterization of a brown planthopper resistance gene bph26 from Oryza sativa L. ssp. indica cultivar ADR52. Sci Rep 4:5872

Tanaka K, Endo S, Kazana H (2000) Toxicity of insecticides to predators of rice planthoppers: spiders, the mirid bug and the dryinid wasp. Appl Entomol Zool 35:177–187

Wang Y, Cao L, Zhang Y, Cao C, Liu F, Huang F, Qiu Y, Li R, Lou X (2015) Map-based cloning and characterization of bph29, a B3 domain-containing recessive gene conferring brown planthopper resistance in rice. J Exp Bot 66:6035–6045

Xiao C, Hu J, Ao YT, Cheng MX, Gao GJ, Zhang QL, He GC, He YQ (2016) Development and evaluation of near-isogenic lines for brown planthopper resistance in rice cv. 9311. Sci Rep 6:38159

Zhao H, Yao W, Ouyang Y, Yang W, Wang G, Lian X, Xing Y, Chen L, Xie W (2015) RiceVarMap: a comprehensive database of rice genomic variations. Nucleic Acids Res 43:D1018–D1022

Zhao Y, Huang J, Wang Z, Jing S, Wang Y, Ouyang Y, Cai B, Xin XF, Liu X, Zhang C, Pan Y, Ma R, Li Q, Jiang W, Zeng Y, Shangguan X, Wang H, du B, Zhu L, Xu X, Feng YQ, He SY, Chen R, Zhang Q, He G (2016) Allelic diversity in an NLR gene bph9 enables rice to combat planthopper variation. Proc Natl Acad Sci U S A 113:12850–12855
Funding
This work was supported in part by National Key R&D Program of China (2017YFD0100103), the Distinguished Young Scientific Research Talents Program of Fujian Agriculture and Forestry University (xjq201812) and Fujian Provincial Natural Science Foundation (2017J01437), and the International Sci-Tech Cooperation and Exchange Program of FAFU (KXGH17014).
Ethics declarations
Conflict of interest
The authors declare that they have no conflict of interest.
Additional information
Publisher's note
Springer Nature remains neutral with regard to jurisdictional claims in published maps and institutional affiliations.
About this article
Cite this article
He, L., Zou, L., Huang, Q. et al. Development of InDel markers of Bph3 and pyramiding of four brown planthopper resistance genes into an elite rice variety. Mol Breeding 40, 95 (2020). https://doi.org/10.1007/s11032-020-01175-z
Received:

Accepted:

Published:
Keywords
Rice

Bph3

InDel markers

Gene pyramiding