Abstract
The quantitative trait locus SD1-2 for seed dormancy (SD) is identical to the semi-dawrf1 (sd1) gene prevailing in high-yield varieties of rice. However, sd1 alone appeared not sufficient to overcome the preharvest sprouting (PHS) problem in crop (or hybrid seed) production. This research aimed to address some genetic issues that may impact pyramiding of SD genes to improve semi-dwarf varieties for the PHS resistance. The isolated SD1-2, SD8, and SD10 loci were also associated with plant height (PH), awn or flowering time (FT), with the dormancy-enhancing alleles reducing stem elongation, increasing awned seeds, and promoting flowering, respectively. Allelic variants at SD1-2 and SD8 or SD10 were assembled in the same background as two digenic systems, each consisting of all the nine digenic genotypes. The two systems of plants were evaluated for the four traits and phenotypic data used to model trait correlations and the component additive, dominance, and epistatic effects of the two loci. FT was correlated with PH and germinability, but the correlations were opposite in direction between the two systems. Both additive and non-additive effects contributed to the variation for SD. All the three loci had effects on FT and PH in the digenic system(s). The SD10 alleles altered directions for effect on SD, with the late-flowering allele reducing germinability in the SD1-2 and SD10 system. This research demonstrated that genetic improvement of semi-dwarf cultivars for the PHS resistance involves proper selections for dormancy genes, recipient's genetic backgrounds, and agronomic traits.
We're sorry, something doesn't seem to be working properly.
Please try refreshing the page. If that doesn't work, please contact support so we can address the problem.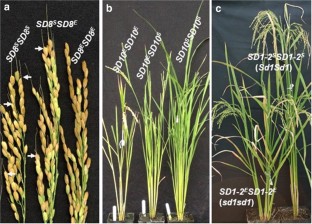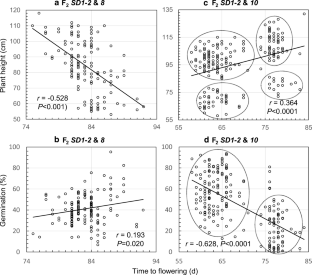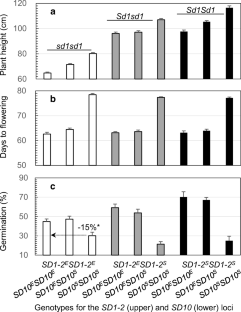 Data availability
Data are available upon request.
References
Benech-Arnold RL, Rodriguez MV (2018) Pre-harvest sprouting and grain dormancy in Sorghum bicolor: what have we learned? Front Plant Sci 9:811

Bessho-Uehara K, Wang DR, Furuta T, Minami A, Nagai K, Gamuyao R, Asano K, Angeles-Shim RB, Shimizu Y, Ayano M, Komeda N, Doi K, Miura K, Toda Y, Kinoshita T, Okuda S, Higashiyama T, Nomoto M, Tada Y, Shinohara H, Matsubayashi Y, Greenberg A, Wu J, Yasui H, Yoshimura A, Mori H, McCouch SR, Ashikari M (2016) Loss of function at RAE2, a previously unidentified EPFL, is required for awnlessness in cultivated Asian rice. Proc Natl Acad Sci U S A 113:8969–8974

Bewley JD (1997) Seed germination and dormancy. Plant Cell 9:1055–1066

Briggle LW (1980) Pre-harvest sprout damage in wheat in the U.S. Cereal Res Comm 8:245–250

Chang TT, Tagumpay O (1973) Inheritance of grain dormancy in relation to growth duration in 10 rice crosses. SABRAO Newsl 5:87–94

Chen X, Tian Y, Lu X (2018) Breeding of the dormant thermosensitive genic male-sterile lines of early rice to overcome pre-harvest sprouting of the hybrid seeds. Agronomy 8:191

Debieu M, Tang C, Stich B, Sikosek T, Effgen S, Josephs E, Schmitt J, Nordborg M, Koornneef M, de Meaux J (2013) Co-variation between seed dormancy, growth rate and flowering time changes with latitude in Arabidopsis thaliana. PLoS One 8:e61075

Derera NF, Bhatt GM, McMaster GJ (1977) On the problem of pre-harvest sprouting of wheat. Euphytica 26:299–308

Doi K, Izawa T, Fuse T, Yamanouchi U, Kubo T, Shimatani Z, Yano M, Yoshimura A (2004) Ehd1, a B-type response regulator in rice, confers short-day promotion of flowering and controls FT-like gene expression independently of Hd1. Genes Dev 18:926–936

Endo-Higashi N, Izawa T (2011) Flowering time genes Heading date 1 and Early heading date 1 together control panicle development in rice. Plant Cell Physiol 52:1083–1094

Flintham JE, Gale MD (1982) The tom thumb dwarfing gene, Rht3 in wheat. I. Reduced pre-harvest damage to breadmaking quality. Theor Appl Genet 62:121–126

Gu XY, Kianian SF, Foley ME (2004) Multiple loci and epistases control genetic variation for seed dormancy in weedy rice (Oryza sativa). Genetics 166:1503–1516

Gu XY, Kianian SF, Foley ME (2005a) Phenotypic selection for dormancy introduced a set of adaptive haplotypes from weedy into cultivated rice. Genetics 171:695–704

Gu XY, Kianian SF, Hareland GA, Hoffer BL, Foley ME (2005b) Genetic analysis of adaptive syndromes interrelated with seed dormancy in weedy rice (Oryza sativa). Theor Appl Genet 110:1108–1118

Gu XY, Pipatpongpinyo W, Zhang L, Zhou Y, Ye H, Feng J (2018) Two contrasting patterns and underlying genes for coadaptation of seed dormancy and flowering time in rice. Sci Rep 8:16813

Himi E, Noda K (2005) Red grain colour gene (R) of wheat is a Myb-type transcription factor. Euphytica 143:239–242

Hori K, Sato K, Takeda K (2007) Detection of seed dormancy QTL in multiple mapping populations derived from crosses involving novel barley germplasm. Theor Appl Genet 115:869–876

Jin J, Hua L, Zhu Z, Tan L, Zhao X, Zhang W, Liu F, Fu Y, Cai H, Sun X, Gu P, Xie D, Sun C (2016) GAD1 encodes a secreted peptide that regulates grain number, grain length, and awn development in rice domestication. Plant Cell 28:2453–2463

Johnson LPV (1935) The inheritance of delayed germination in hybrids of Avena fatua and A. sativa. Can J Res 13:367–387

Kammenga JE (2017) The background puzzle: how identical mutations in the same gene lead to different disease symptoms. FEBS J 284:3362–3373

Khush GS (2001) Green revolution: the way forward. Nat Rev Genet 2:815–822

Lee G-A, Jeon Y-A, Lee H-S, Hyun D-Y, Lee J-R, Lee M-C, Lee S-Y, Ma K-H, Koh H-J (2016) Variation in pre-harvest sprouting resistance, seed germination and changes in abscisic acid levels during grain development in diverse rice genetic resources. Plant Genet Resour 16:18–27

Lin SY, Sasaki T, Yano M (1998) Mapping quantitative trait loci controlling seed dormancy and heading date in rice, Oryza sativa L., using backcross inbred lines. Theor Appl Genet 96:997–1003

Lumpkin TA (2015) How a gene from Japan revolutionized the world of wheat: CIMMYT's quest for combining genes to mitigate threats to global food security. In: Ogihara Y, Takumi S, Handa H (eds) Advances in wheat genetics: from genome to field. Springer, Tokyo

Mispan MS, Zhang L, Feng J, Gu XY (2013) Quantitative trait locus and haplotype analyses of wild and crop-mimic traits in U.S. weedy rice. G3 (Bethesda) 3:1049–1059

Nave M, Avni R, Ben-Zvi B, Hale I, Distelfeld A (2016) QTLs for uniform grain dimensions and germination selected during wheat domestication are co-located on chromosome 4B. Theor Appl Genet 129:1303–1315

Nelson SK, Steber CM (2016) Gibberellin hormone signal perception: down-regulating DELLA repressors of plant growth and development. In: Hedden P, Thomas SG (Eds), Annual plant reviews, volume 49, The Gibberellins (pp. 153–187). Chichester: Wiley Blackwell

Nilsson-Ehle H (1914) Zur Kenntnis der mit der Keimungsphy siologie des Weizens in Zusammenhang stehenden inneren Faktoren. Zeitschrift für Pflanzenzüchtung 2:153–187

Olaerts H, Courtin CM (2018) Impact of preharvest sprouting on endogenous hydrolases and technological quality of wheat and bread: a review. Compr Rev Food Sci Food Saf 17:698–713

Peng J, Richards DE, Hartley NM, Murphy GP, Devos KM, Flintham JE, Beales J, Fish LJ, Worland AJ, Pelica F, Sudhakar D, Christou P, Snape JW, Gale MD, Harberd NP (1999) 'Green revolution' genes encode mutant gibberellin response modulators. Nature 400:256–261

Rodriguez MV, Barrero JM, Corbineau F, Gubler F, Benech-Arnold RL (2015) Dormancy in cereals (not too much, not so little): about the mechanisms behind this trait. Seed Sci Res 25:99–119

Sakamoto T, Kobayashi M, Itoh H, Tagiri A, Kayano T, Tanaka H, Iwahori S, Matsuoka M (2001) Expression of a gibberellin 2-oxidase gene around the shoot apex is related to phase transition in rice. Plant Physiol 125:1508–1516

SAS Institute Inc. (2016) Cary, NC, USA

Sasaki A, Ashikari M, Ueguchi-Tanaka M, Itoh H, Nishimura A, Swapan D, Ishiyama K, Saito T, Kobayashi M, Khush GS, Kitano H, Matsuoka M (2002) A mutant gibberellin-synthesis gene in rice. Nature 416:701–702

Simpson GM (1990) Seed dormancy in grasses. Cambridge University Press, Cambridge

Tao L, Wang X, Tan H, Chen H, Yang C, Zhuang J, Zheng K (2007) Physiological analysis on pre-harvest sprouting in recombinant inbred rice lines. Front Agric China 1:24–29

Van De Velde K, Chandler PM, Van Der Straeten D, Rohde A (2017) Differential coupling of gibberellin responses by Rht-B1c suppressor alleles and Rht-B1b in wheat highlights a unique role for the DELLA N-terminus in dormancy. J Exp Bot 68:443–455

Vidigal DS, Marques AC, Willems LA, Buijs G, Méndez-Vigo B, Hilhorst HW, Bentsink L, Picó FX, Alonso-Blanco C (2016) Altitudinal and climatic associations of seed dormancy and flowering traits evidence adaptation of annual life cycle timing in Arabidopsis thaliana. Plant Cell Environ 39:1737–1748

Wang X, Liu H, Liu G, Mia MS, Siddique KHM, Yan G (2019) Phenotypic and genotypic characterization of near-isogenic lines targeting a major 4BL QTL responsible for pre-harvest sprouting in wheat. BMC Plant Biol 19:348. https://doi.org/10.1186/s12870-019-1961-1

Ye H, Foley ME, Gu XY (2010) New seed dormancy loci detected from weedy rice-derived advanced populations with major QTL alleles removed from the background. Plant Sci 179:612–619

Ye H, Beighley DH, Feng J, Gu XY (2013) Genetic and physiological characterization of two clusters of quantitative trait loci associated with seed dormancy and plant height in rice. G3 (Bethesda) 3:323-331

Ye H, Feng J, Zhang L, Zhang J, Mispan MS, Cao Z, Beighley DH, Yang J, Gu XY (2015) Map-based cloning of seed dormancy1-2 identified a gibberellin synthesis gene regulating the development of endosperm-imposed dormancy in rice. Plant Physiol 169:2152–2165

Yoshida S, Forno DA, Cock JH, Gomez KA (1976) Laboratory manual for physiological studies of Rice, Ed 3. International Rice Research Institute, Manila

Zhang L, Lou J, Foley ME, Gu XY (2017) Comparative mapping of seed dormancy loci between tropical and temperate ecotypes of weedy rice (Oryza sativa L.). G3 7:2605-2614

Zhu D, Qian Z, Wei H, Guo B, Xu K, Dai Q, Zhang H, Huo Z (2019) The effects of field pre-harvest sprouting on the morphological structure and physicochemical properties of rice (Oryza sativa L.) starch. Food Chem 278:10–16
Acknowledgments
The authors thank Dr. Christian De Guzman, Chad Mike, and Ahmed Charif for their technical supports to the field management experiment and seed storage.
Funding
This research was supported by grants from the United States Department of Agriculture-National Institute of Food and Agriculture (2019-67014-29238 and 2018-33522-28795) and American Seed Research Foundation and from the South Dakota Agricultural Extension Station. Missouri Rice Research Farm provided a field for part of this research.
Ethics declarations
Conflict of interest
The authors declare that they have no conflicts of interest.
Ethical standards
The authors declare that the present work complies with ethical standards of South Dakota State University.
Code availability
Not applicable.
Additional information
Publisher's note
Springer Nature remains neutral with regard to jurisdictional claims in published maps and institutional affiliations.
About this article
Cite this article
Wang, J., Korkmaz, U., Guo, M. et al. Pyramiding seed dormancy genes to improve resistance of semi-dwarf varieties to pre-harvest sprouting in rice. Mol Breeding 40, 93 (2020). https://doi.org/10.1007/s11032-020-01172-2
Received:

Accepted:

Published:
Keywords
Seed dormancy

Pre-harvest sprouting

Gene pyramiding

Semi-dwarf variety

Rice

Background-dependent effect