Abstract
The 2G Triticum timopheevii introgression harbours genes for multiple disease resistance and quality traits in bread wheat. In order to transfer this segment from bread wheat into durum, the bread wheat line Sunguard, which carries this introgressed 2G segment was crossed with three tetraploid durum parents. A significant difference was observed in the segregation ratio of the 2G segment in the different crosses at the F2 generation with two of the three populations indicating segregation distortion against the hexaploid 2G segment. In these populations, the presence of the 2G segment was strongly correlated with the presence of D-genome chromosomes. These results were confirmed in the F4 generation of these populations. Six plants were identified in the F4 generation, which had retained the introgressed 2G segment in a homozygous condition and did not have a complete D-genome set. Two of these lines only had two non-homologous D-genome chromosomes in the F5 generation. Thus, the 2G segment and possibly other translocations can be transferred into durum wheat through hexaploid/tetraploid hybridisation.
Access options
Buy single article
Instant access to the full article PDF.
USD 39.95
Price includes VAT (USA)
Tax calculation will be finalised during checkout.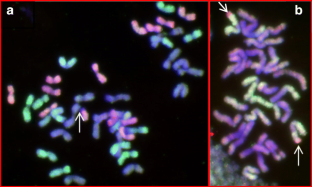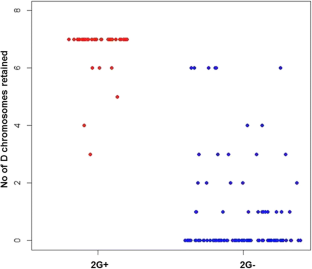 References
Appels R (2003) A consensus molecular genetic map for wheat—a cooperative international effort. In: Proceedings of the 10th International Wheat Genetics Symposium, pp 211–214

Bariana HS, Hayden MJ, Ahmed NU, Bell JA, Sharp PJ, McIntosh RA (2001) Mapping of durable adult plant and seedling resistances to stripe rust and stem rust diseases in wheat. Aust J Agric Res 52:1247–1255

Bates D, Maechler M, Bolker B, Walker S (2014) lme4: linear mixed-effects models using Eigen and S4. R package version 1:1–23

Bovill W, Ma W, Ritter K, Collard B, Davis M, Wildermuth G, Sutherland M (2006) Identification of novel QTL for resistance to crown rot in the doubled haploid wheat population 'W21MMT70'בMendos. Plant Breed 125:538–543

Bovill WD, Horne M, Herde D, Davis M, Wildermuth GB, Sutherland M (2010) Pyramiding QTL increases seedling resistance to crown rot (Fusarium pseudograminearum) of wheat (Triticum aestivum). Theor Appl Genet 121:127–136

Dundas I, Anugrahwati D, Verlin D, Park R, Bariana H, Mago R, Islam A (2007) New sources of rust resistance from alien species: meliorating linked defects and discovery. Crop & Pasture Sci 58:545–549

Eberhard FS, Zhang P, Lehmensiek A, Hare RA, Simpfendorfer S, Sutherland MW (2010) Chromosome composition of an F2 Triticum aestivum × T. turgidum spp. durum cross analysed by DArT markers and MCFISH. Crop & Pasture Sci 61:619–624

Friebe B, Jiang J, Raupp W, McIntosh R, Gill B (1996) Characterization of wheat-alien translocations conferring resistance to diseases and pests: current status. Euphytica 91:59–87

Hothorn T, Bretz F, Westfall P, Heiberger RM, Schuetzenmeister A, Scheibe S, Hothorn MT (2017) Package 'multcomp'. Obtenido de http://cran.statsfu.ca/web/packages/multcomp/multcomp

Jiang J, Friebe B, Gill BS (1993) Recent advances in alien gene transfer in wheat. Euphytica 73:199–212

Kammholz SJ, Grams RA, Banks PM, Sutherland MW (1998) Segregation of glutenins in wheat × maize-derived doubled haploid wheat populations. Aust J Agric Res 49:1253–1260

Kammholz SJ, Campbell A, Sutherland M, Hollamby G, Martin P, Eastwood R, Barclay I, Wilson R, Brennan P, Sheppard J (2001) Establishment and characterisation of wheat genetic mapping populations. Aust J Agric Res 52:1079–1088

Koo D-H, Sehgal SK, Friebe B, Gill BS (2015) Structure and stability of telocentric chromosomes in wheat. PLoS One 10:e0137747

Kuznetsova A, Brockhoff PB, Christensen RHB (2017) lmerTest package: tests in linear mixed effects models. J Stat Softw 82:13

Lehmensiek A, Campbell A, Sutherland M, Williamson P, Michalowitz M, Daggard G (2004) QTLs for black-point resistance in wheat and the identification of potential markers for use in breeding programmes. Plant Breed 123:410–416

Lehmensiek A, Eckermann PJ, Verbyla AP, Appels R, Sutherland MW, Daggard GE (2005) Curation of wheat maps to improve map accuracy and QTL detection. Aust J Agric Res 56:1347–1354

Lehmensiek A, Eckermann PJ, Verbyla AP, Appels R, Sutherland MW, Martin D, Daggard GE (2006) Flour yield QTLs in three Australian doubled haploid wheat populations. Aust J Agric Res 57:1115–1122

Leonova I, Röder M, Budashkina E, Kalinina N, Salina E (2002) Molecular analysis of leaf rust-resistant introgression lines obtained by crossing of hexaploid wheat Triticum aestivum with tetraploid wheat Triticum timopheevii. Russ J Genet 38:1397–1403

Leonova I, Laikova L, Popova O, Unger O, Börner A, Röder M (2007) Detection of quantitative trait loci for leaf rust resistance in wheat—T. timopheevii/T. tauschii introgression lines. Euphytica 155:79–86

Mago R, Miah H, Lawrence G, Wellings C, Spielmeyer W, Bariana H, McIntosh R, Pryor A, Ellis J (2005) High-resolution mapping and mutation analysis separate the rust resistance genes Sr31, Lr26 and Yr9 on the short arm of rye chromosome 1. Theor Appl Genet 112:41–50

Martin A, Simpfendorfer S, Hare RA, Eberhard FS, Sutherland MW (2011) Retention of D genome chromosomes in pentaploid wheat crosses. Heredity 107:315–319

Martin A, Simpfendorfer S, Hare R, Sutherland M (2013) Introgression of hexaploid sources of crown rot resistance into durum wheat. Euphytica 192:463–470

Molnár-Láng M, Ceoloni C, Doležel JE (2015) Alien introgression in wheat. Cytogenetics, molecular biology, and genomics. Springer, Cham

Olson EL, Brown-Guedira G, Marshall DS, Jin Y, Mergoum M, Lowe I, Dubcovsky J (2010) Genotyping of U.S. wheat germplasm for presence of stem rust resistance genes Sr24, Sr36 and Sr1RS Amigo. Crop Sci 50:668–675

Padmanaban S, Sutherland MW, Knight NL, Martin A (2017a) Genome inheritance in populations derived from hexaploid/tetraploid and tetraploid/hexaploid wheat crosses. Mol Breed 37:48

Padmanaban S, Zhang P, Hare RA, Sutherland MW, Martin A (2017b) Pentaploid wheat hybrids: applications, characterisation, and challenges. Front Plant Sci 8:358

Padmanaban S, Zhang P, Sutherland MW, Knight NL, Martin A (2018) A cytological and molecular analysis of D-genome chromosome retention in the F2 to F6 generation of hexaploid/tetraploid wheat crosses. Crop & Pasture Sci 69:121–130

Pohlert T (2014) The pairwise multiple comparison of mean ranks package (PMCMR). R package:2004–2006

R Development Core Team (2017) R: A language and environment for statistical computing. R Foundation for Statistical Computing, Vienna

Riley R, Chapman V (1967) The inheritance in wheat of crossability with rye. Genet Res 9:259–267

Saghai-Maroof MA, Soliman KM, Jorgensen RA, Allard R (1984) Ribosomal DNA spacer-length polymorphisms in barley: Mendelian inheritance, chromosomal location, and population dynamics. Proc Natl Acad Sci U S A 81:8014–8018

Tao W, Liu D, Liu J, Feng Y, Chen P (2000) Genetic mapping of the powdery mildew resistance gene Pm6 in wheat by RFLP analysis. Theor Appl Genet 100:564–568

Wickham H (2011) The split-apply-combine strategy for data analysis. J Stat Softw 40:1–29

Wulff BB, Moscou MJ (2014) Strategies for transferring resistance into wheat: from wide crosses to GM cassettes. Front Plant Sci 5:692

Zhang P, Li W, Friebe B, Gill BS (2004) Simultaneous painting of three genomes in hexaploid wheat by BAC-FISH. Genome 47:979–987
Funding
This study was partly funded by the Grain Research and Development Corporation, Australia. An Australian Postgraduate Award supported Sriram Padmanaban's Ph.D. study.
Ethics declarations
Conflict of interest
The authors declare that they have no conflict of interest.
Electronic supplementary material
Retention of D-genome chromosomes in 180 F2 progeny of three crosses. Each row represents an individual line and each column represents a non-homologous D chromosome. Red and yellow colours indicate the presence and absence of D chromosomes, respectively. Highlighted lines from each cross were advanced to the F4 generation. Inheritance of the 2G segment in each of the crosses is shown (A = maternal, H = heterozygous and B = paternal genotype) (DOCX 57 kb)
Microsatellite markers amplified across 2G segment of 26 selected F5 progeny of the Sunguard/Caparoi cross (A = maternal and B = paternal genotype). The estimated locations of the microsatellite markers on chromosome 2B according to consensus map by Apples (2003) are indicated. The number of D chromosomes retained in each of the 26 F5 lines is also given (DOCX 15 kb)
About this article
Cite this article
Padmanaban, S., Zhang, P., Sutherland, M.W. et al. Association between presence of Triticum timopheevii introgression and D-genome retention in hexaploid/tetraploid wheat crosses. Mol Breeding 38, 84 (2018). https://doi.org/10.1007/s11032-018-0838-6
Received:

Accepted:

Published:
Keywords
2G introgression

Inter-ploidy crosses

Wheat breeding

T. timopheevii 2G