Abstract
The tea plant (Camellia sinensis (L.) O. Kuntze) is one of the most popular non-alcoholic beverage crops worldwide. The availability of complete genome sequences for the Camellia sinensis var. 'Shuchazao' has provided the opportunity to identify all types of simple sequence repeat (SSR) markers by genome-wide scan. In this study, a total of 667,980 SSRs were identified in the ~ 3.08 Gb genome, with an overall density of 216.88 SSRs/Mb. Dinucleotide repeats were predominant among microsatellites (72.25%), followed by trinucleotide repeats (15.35%), while the remaining SSRs accounted for less than 13%. The motif AG/CT (49.96%) and AT/TA (40.14%) were the most and the second most abundant among all identified SSR motifs, respectively; meanwhile, AAT/ATT (41.29%) and AAAT/ATTT (67.47%) were the most common among trinucleotides and tetranucleotides, respectively. A total of 300 primer pairs were designed to screen six tea cultivars for polymorphisms of SSR markers using the five selected repeat types of microsatellite sequences. The resulting 96 SSR markers that yielded polymorphic and unambiguous bands were further deployed on 47 tea cultivars for genetic diversity assessment, demonstrating high polymorphism of these SSR markers. Remarkably, the dendrogram revealed that the phylogenetic relationships among these tea cultivars are highly consistent with their genetic backgrounds or places of origin. The identified genome-wide SSRs and newly developed SSR markers will provide a powerful means for genetic researches in tea plant, including genetic diversity and evolutionary origin analysis, fingerprinting, QTL mapping, and marker-assisted selection for breeding.
Access options
Buy single article
Instant access to the full article PDF.
US$ 39.95
Tax calculation will be finalised during checkout.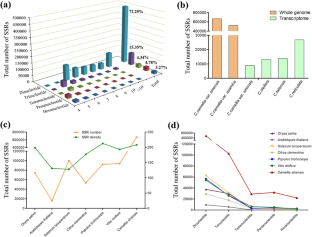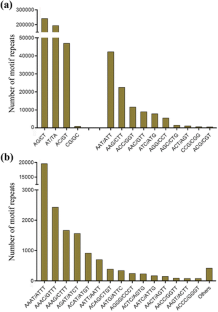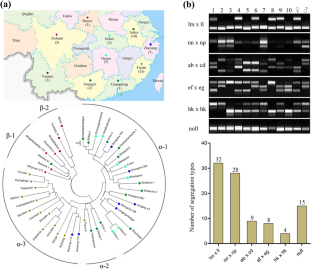 References
Adal AM, Demissie ZA, Mahmoud SS (2015) Identification, validation and cross-species transferability of novel Lavandula EST-SSRs. Planta 241:987–1004

Bali S, Raina SN, Bhat V, Aggarwal RK, Goel S (2013) Development of a set of genomic microsatellite markers in tea (Camellia L.) (Camelliaceae). Mol Breed 32:735–741

Bali S, Mamgain A, Raina SN, Yadava SK, Bhat V, Das S, Pradhan AK, Goel S (2015) Construction of a genetic linkage map and mapping of drought tolerance trait in Indian beveragial tea. Mol Breed 35:112

Cavagnaro PF, Senalik DA, Yang L, Simon PW, Harkins TT, Kodira CD, Huang S, Weng Y (2010) Genome-wide characterization of simple sequence repeats in cucumber (Cucumis sativus L.). BMC Genomics 11:569

Chang HT (1981) Thea—a section of beveragial tea trees of the genus Camellia. Acta Sci Nat Univ Sunyats 1:87–99

Chen L, Yu FL, Tong QQ (2000) Discussions on phylogenetic classification and evolution of section Thea. J Tea Sci 20:89–94

Chen C, Zhou P, Choi YA, Huang S, Gmitter FG Jr (2006) Mining and characterizing microsatellites from citrus ESTs. Theor Appl Genet 112:1248–1257

Fang W, Li X, Cheng H, Duan Y, Jiang X (2012) Genetic diversity and relationship of clonal tea (Camellia sinensis) cultivars in China as revealed by SSR markers. Plant Syst Evol 298:469–483

Freeman S, West JON, James C, Lea V, Mayes S (2004) Isolation and characterization of highly polymorphic microsatellites in tea (Camellia sinensis). Mol Ecol Notes 4:324–326

Gol S, Goktay M, Allmer J, Doganlar S, Frary A (2017) Newly developed SSR markers reveal genetic diversity and geographical clustering in spinach (Spinacia oleracea). Mol Gen Genomics 292:847–855

Hashimoto M, Takasi S (1978) Morphological studies on the origin of the tea plant V, a proposal of one place of origin by cluster analysis. Jpn J Trop Agric 21:93–101

Huang J, Li YZ, Du LM, Yang B, Shen FJ, Zhang HM, Zhang ZH, Zhang XY, Yue BS (2015) Genome-wide survey and analysis of microsatellites in giant panda (Ailuropoda melanoleuca), with a focus on the applications of a novel microsatellite marker system. BMC Genomics 16:61

Kaldate R, Rana M, Sharma V, Hirakawa H, Kumar R, Singh G, Chahota RK, Isobe SN, Sharma TR (2017) Development of genome-wide SSR markers in horsegram and their use for genetic diversity and cross-transferability analysis. Mol Breed 37:103

Kolodziej K, Theissinger K, Brün J, Schulz HK, Schulz R (2012) Determination of the minimum number of microsatellite markers for individual genotyping in wild boar (Sus scrofa) using a test with close relatives. Eur J Wildl Res 58:621–628

Kumar S, Stecher G, Tamura K (2016) MEGA7: molecular evolutionary genetics analysis version 7.0 for bigger datasets. Mol Biol Evol 33:1870–1874

Liu K, Muse SV (2005) PowerMarker: an integrated analysis environment for genetic marker analysis. Bioinformatics 21:2128–2129

Liu SR, Li WY, Long D, Hu CG, Zhang JZ (2013) Development and characterization of genomic and expressed SSRs in citrus by genome-wide analysis. PLoS One 8:e75149

Liu SR, Liu HW, Wu AL, Hou Y, An YL, Wei CL (2017) Construction of fingerprinting for tea plant (Camellia sinensis) accessions using new genomic SSR markers. Mol Breed 37:93

Ma JQ, Zhou YH, Ma CL, Yao MZ, Jin JQ, Wang XC, Chen L (2010) Identification and characterization of 74 novel polymorphic EST-SSR markers in the tea plant, Camellia sinensis (Theaceae). Am J Bot 97:e153–e156

Ma JQ, Yao MZ, Ma CL, Wang XC, Jin JQ, Wang XM, Chen L (2014) Construction of a SSR-based genetic map and identification of QTLs for catechins content in tea plant (Camellia sinensis). PLoS One 9:E93131

McCouch SR, Teytelman L, Xu YB, Lobos KB, Clare K, Walton M, Fu BY, Maghirang R, Li ZK, Xing YZ, Zhang QF, Kono I, Yano M, Fjellstrom R, DeClerck G, Schneider D, Cartinhour S, Ware D, Stein L (2002) Development and mapping of 2240 new SSR markers for rice (Oryza sativa L.). DNA Res 9:199–207

Ming TL, Bartholomew B (2007) Theaceae. In: Wu ZY, Raven PH, Hong DY (eds) Flora of China (Hippocastanaceae through Theaceae) 12. Science Press, Beijing and Missouri Botanical Garden Press, St. Louis, pp 366–478

Morgante M, Hanafey M, Powell W (2002) Microsatellites are preferentially associated with nonrepetitive DNA in plant genomes. Nat Genet 30:194–200

Nei M, Li WH (1979) Mathematical model for studying genetic variation in terms of restriction endonucleases. Proc Natl Acad Sci U S A 76:5269–5273

Powell W, Machray GC, Provan J (1996) Polymorphism revealed by simple sequence repeats. Trends Plant Sci 1:215–222

Sharma RK, Bhardwaj P, Negi R, Mohapatra T, Ahuja PS (2009) Identification, characterization and utilization of unigene derived microsatellite markers in tea (Camellia sinensis L.). BMC Plant Biol 9:53

Sharma H, Kumar R, Sharma V, Kumar V, Bhardwaj P, Ahuja PS, Sharma RK (2011) Identification and cross-species transferability of 112 novel unigene-derived microsatellite markers in tea (Camellia sinensis). Am J Bot 98(6):e133–e138

Shi CY, Yang H, Wei CL, Yu O, Zhang ZZ, Jiang CJ, Sun J, Li YY, Chen Q, Xia T, Wan XC (2011) Deep sequencing of the Camellia sinensis trancrptome revealed candidate genes for major metabolic pathways of tea-specific compounds. BMC Genomics 12:131

Singh NV, Abburi VL, Ramajayam D, Kumar R, Chandra R, Sharma KK, Sharma J, Babu KD, Pal RK, Mundewadikar DM, Saminathan T, Cantrell R, Nimmakayala P, Reddy UK (2015) Genetic diversity and association mapping of bacterial blight and other horticulturally important traits with microsatellite markers in pomegranate from India. Mol Gen Genomics 290:1393–1402

Tan LQ, Wang LY, Wei K, Zhang CC, Wu LY, Qi GN, Cheng H, Zhang Q, Cui QM, Liang JB (2013) Floral transcriptome sequencing for SSR marker development and linkage map construction in the tea plant (Camellia sinensis). PLoS One 8:e81611

Tan LQ, Peng M, Xu LY, Wang LY, Chen SX, Zou Y, Qi GN, Cheng H (2015) Fingerprinting 128 Chinese clonal tea cultivars using SSR markers provides new insights into their pedigree relationships. Tree Genet Genomes 11:90

Tan LQ, Wang LY, Xu LY, Wu LY, Peng M, Zhang CC, Wei K, Bai PX, Li HL, Cheng H, Qi GN (2016) SSR SSR-based genetic mapping and QTL analysis for timing of spring bud flush, young shoot color, and mature leaf size in tea plant (Camellia sinensis). Tree Genet Genomes 12:52

Tanaka J, Taniguchi F (2006) Estimation of the genome size of tea (Camellia sinensis), camellia (C. japonica), and their interspecific hybrids by flow cytometry. J Remote Sens Soc Jpn 101:1–7

Taniguchi F, Furukawa K, Ota-Metoku S, Yamaguchi N, Ujihara T, Kono I, Fukuoka H, Tanaka J (2012) Construction of a high-density reference linkage map of tea (Camellia sinensis). Breed Sci 62:263–273

Taniguchi F, Kimura K, Saba T, Ogino A, Yamaguchi S, Tanaka J (2014) Worldwide core collections of tea (Camellia sinensis) based on SSR markers. Tree Genet Genomes 10:1555–1565

Tautz D, Renz M (1984) Simple sequences are ubiquitous repetitive components of eukaryotic genomes. Nucleic Acids Res 12:4127–4138

Toth G, Gaspari Z, Jurka J (2000) Microsatellites in different eukaryotic genomes: survey and analysis. Genome Res 10:967–981

Tsuruta S, Ebina M, Kobayashi M, Takahashi W, Terajima Y (2017) Development and validation of genomic simple sequence repeat markers in Erianthus arundinaceus. Mol Breed 37:71

Van Ooijen JW, Voorrips RE (2001) JoinMap 3.0, software for the calculation of genetic linkage maps. Plant Research International, Wageningen, Netherlands

Wambulwa MC, Meegahakumbura MK, Chalo R, Kamunya S, Muchugi A, Xu JC, Liu J, Li DZ, Gao LM (2016) Nuclear microsatellites reveal the genetic architecture and breeding history of tea germplasm of East Africa. Tree Genet Genomes 12:11

Wight W (1962) Tea classification revised. Curr Sci 31:298–299

Wu J, Cheng FY, Cai CF, Zhong Y, Jie X (2017) Association mapping for floral traits in cultivated Paeonia rockii based on SSR markers. Mol Gen Genomics 292:187–200

Xia EH, Jiang JJ, Huang H, Zhang LP, Zhang HB, Gao LZ (2014) Transcriptome analysis of the oil-rich tea plant, Camellia oleifera, reveals candidate genes related to lipid metabolism. PLoS One 9:e104150

Xia EH, Zhang HB, Sheng J, Li K, Zhang QJ, Kim C, Zhang Y, Liu Y, Zhu T, Li W, Huang H, Tong Y, Nan H, Shi C, Shi C, Jiang JJ, Mao SY, Jiao JY, Zhang D, Zhao Y, Zhao YJ, Zhang LP, Liu YL, Liu BY, Yu Y, Shao SF, Ni DJ, Eichler EE, Gao LZ (2017) The tea tree genome provides insights into tea flavor and independent evolution of caffeine biosynthesis. Mol Plant 10:866–877

Xu J, Liu L, Xu YB, Chen CR, Rong TZ, Ali F, Zhou SF, Wu FK, Liu YX, Wang J, Cao MJ, Lu YL (2013) Development and characterization of simple sequence repeat markers providing genome-wide coverage and high resolution in maize. DNA Res 20:497–509

Yang YJ, Liang YR (2014) Clonal tea cultivars in China. Shanghai Scientific and Technical. Publishers, Shanghai

Yang CS, Wang X, Lu G, Picinich SC (2009) Cancer prevention by tea: animal studies, molecular mechanisms and human relevance. Nat Rev Cancer 9:429–439

Yao MZ, Ma CL, Qiao TT, Jin JQ, Chen L (2012) Diversity distribution and population structure of tea germplasms in China revealed by EST-SSR markers. Tree Genet Genomes 8:205–220

Yao QY, Huang H, Tong Y, Xia EH, Gao LZ (2016) Transcriptome analysis identifies candidate genes related to triacylglycerol and pigment biosynthesis and photoperiodic flowering in the ornamental and oil-producing plant, Camellia reticulata (Theaceae). Front Plant Sci 7:163

Zhang ZH, Deng YJ, Tan J, Hu SN, Yu J, Xue QZ (2007) A genome-wide microsatellite polymorphism database for the indica and japonica rice. DNA Res 14:37–45

Zhang HB, Xia EH, Huang H, Jiang JJ, Liu BY, Gao LZ (2015) De novo transcriptome assembly of the wild relative of tea tree (Camellia taliensis) and comparative analysis with tea transcriptome identified putative genes associated with tea quality and stress response. BMC Genomics 16:298

Zhao DW, Yang JB, Yang SX, Kato K, Luo JP (2014) Genetic diversity and domestication origin of tea plant Camellia taliensis (Theaceae) as revealed by microsatellite markers. BMC Plant Biol 14:14

Zhu HY, Song PY, Koo DH, Guo LQ, Li YM, Sun SR, Weng YQ, Yang LM (2016) Genome wide characterization of simple sequence repeats in watermelon genome and their application in comparative mapping and genetic diversity analysis. BMC Genomics 17:557
Acknowledgements
This work was supported by the China Postdoctoral Science Foundation (2017M621991), the National Natural Science Foundation of China (31171608), the Natural Science Projects for Colleges and Universities in Anhui Province (KJ2018A0131), the Special Innovative Province Construction in Anhui Province (15czs08032), and the Central Guiding the Science and Technology Development of the Local (2016080503B024). We thank Dr. Enhua Xia for providing sequence alignment between previous SSR markers and the newly developed SSRs.
Ethics declarations
Competing interests
The authors declare that they have no competing interests.
Electronic supplementary material
The 96 sequences containing SSR motif repeats and approximately 300 bp flanking sequence of each SSR motif, each SSR motif was marked in yellow within the sequence (PDF 125 kb)
Characteristics of the newly developed 96 SSR markers (PDF 354 kb)
Electrophoresis detection to the 47 tea cultivars based on 32 SSR markers. The order of 47 tea cultivars is consistent with the information listed in Table 1, the name of SSR markers and the fragment size of markers were showed on left and right, respectively (PDF 562 kb)
About this article
Cite this article
Liu, S., An, Y., Li, F. et al. Genome-wide identification of simple sequence repeats and development of polymorphic SSR markers for genetic studies in tea plant (Camellia sinensis). Mol Breeding 38, 59 (2018). https://doi.org/10.1007/s11032-018-0824-z
Received:

Accepted:

Published:
Keywords
Tea (Camellia sinensis)

SSR markers

Phylogeny

Genetic diversity

Genome-wide identification