Abstract
The peach [Prunus persica L. (Batsch)] slow ripening (SR) trait is a mutation preventing the normal ripening process. Individuals with this phenotype are discarded in peach breeding programs. This trait is determined by a single gene (Sr/sr), where the recessive homozygote (sr/sr) confers the SR phenotype, and has been mapped to linkage group 4 of the peach genome. A large deletion of 26.6 kb containing the sequence of a NAC transcription factor has been proposed as the causal mutation. Two dominant markers based on the sequence of this region have been assayed previously and found to be diagnostic (genotypes always predicted the phenotypes). However, their dominant nature—a null allele for the marker was associated with the sr allele—made it impossible to predict the individuals that carried the SR trait. Here we used resequencing information to develop a codominant molecular marker for the SR trait in peach. The marker was validated in the 'Belbinette' × 'Nectalady' F1 and the 'Venus' F2 populations, and in 27 lines, 18 of which are known to carry the sr allele. The marker cosegregated with the SR phenotype in all cases, allowing the discrimination of two DNA fragments of different size associated with normal-ripening alleles, in addition to a third fragment associated with the sr allele. The utility of this marker in peach breeding programs is discussed.
Access options
Buy single article
Instant access to the full article PDF.
USD 39.95
Price excludes VAT (USA)
Tax calculation will be finalised during checkout.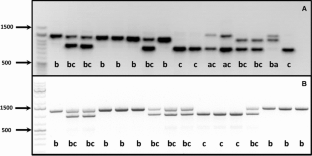 References
Doyle JJ, Doyle JL (1990) Isolation of plant DNA from fresh tissue. Focus 12:13–15

Eduardo I, Picañol R, Rojas E, Batlle I, Howad W, Aranzana MJ, Arús P (2015) Mapping of a major gene for the slow ripening character in peach: co-location with the maturity date gene and development of a candidate gene-based diagnostic marker for its selection. Euphytica 205:627–636

Martínez-García PJ, Parfitt DE, Ogundiwin EA, Fass J, Chan HM, Ahmad R, Lurie S, Dandekar A, Gradziel TM, Crisosto CH (2013) High density SNP mapping and QTL analysis for fruit quality characteristics in peach (Prunus persica L.). Tree Genet Genomes 9:19–36

Nuñez-Lillo G, Cifuentes-Esquivel A, Troggio M, Micheletti D, Infante R, Campos-Vargas R, Orellana A, Blanco-Herrera F, Meneses C (2015) Identification of candidate genes associated with mealiness and maturity date in peach [Prunus persica (L.) Batsch] using QTL analysis and deep sequencing. Tree Genet Genomes 11:86

Picañol R, Eduardo I, Aranzana MJ, Howad W, Batlle I, Iglesias I, Alonso JM, Arús P (2013) Combining linkage and association mapping to search for markers linked to the flat fruit character in peach. Euphytica 190:279–288

Pirona R, Eduardo I, Pacheco I, Da Silva LingeC, Miculan M, Verde I, Tartarini S, Dondini L, Pea G, Bassi D, Rossini L (2013) Fine mapping and identification of a candidate gene for a major locus controlling maturity date in peach. BMC Plant Biol 13:166

Ramming DW (1991) Genetic control of a slow-ripening fruit trait in nectarine. Can J Plant Sci 71:601–603

Ru S, Main D, Evans K, Peace C (2015) Current applications, challenges, and perspectives of marker-assisted seedling selection in Rosaceae tree fruit breeding. Tree Genet Genomes 11:8
Acknowledgments
Funds for this research were provided in part by a project of the Spanish Ministry of Economy and Knowledge (AGL2012-40228-C02-01). This work also was supported by Fondo de Areas Prioritarias Centro de Regulación del Genoma 15090007, CORFO Consorcio Biofrutales 13 CTI-21520-SP03 and 13 CTI-21520-SP04, FONDECYT 1160584, FONDEF Genoma G13i10005 and CORFO-Innova 09PMG7240.
About this article
Cite this article
Meneses, C., Ulloa-Zepeda, L., Cifuentes-Esquivel, A. et al. A codominant diagnostic marker for the slow ripening trait in peach. Mol Breeding 36, 77 (2016). https://doi.org/10.1007/s11032-016-0506-7
Received:

Accepted:

Published:

DOI: https://doi.org/10.1007/s11032-016-0506-7
Keywords
Fruit quality

Molecular marker

Prunus persica

Marker-assisted selection