Abstract
Cultivation of sunflower is often associated with substantial pathogen-related yield losses. Natural defense mechanisms of plants might be improved by advantageous combination of genes encoding proteins that suppress important pathogenicity factors. Endopolygalacturonases (endoPGs) as cell-wall-degrading enzymes contribute to the virulence of fungi, bacterial pathogens, and oomycetes. However, plants have evolved families of polygalacturonase-inhibiting proteins (PGIPs) that specifically recognize and inactivate these polygalacturonases (PGs). Here, we describe the identification of four sunflower pgip genes. The genes were cloned, genetically mapped, in silico characterized, and subjected to expression analyses in response to pathogen infection. Three Helianthus annuus pgip genes (Hapgip2–4) are located on linkage group (LG) 10 and phylogenetically closely related to other dicot pgips. In contrast, Hapgip1 was mapped on LG1 and formed a separate Asteraceae branch, suggesting that HaPGIPs may represent structurally and functionally distinct proteins. All HaPGIPs displayed characteristic sequence structures such as the tandem repetition of leucine-rich domains. WRKY transcription factor-binding sites identified through in silico promoter analyses differed between Hapgips in number and architecture. A comprehensive diversity analysis indicated that HaPGIP1–HaPGIP4 are rather conserved in current breeding material but genetically diverse in wild species. Based on homologous positions determined as amino acids with known influence on PvPGIP–PG interaction, non-synonymous substitutions in HaPGIPs were identified in H. maximiliani, H. ciliaris, H. paradoxus, H. tuberosis, and H. petiolaris. Furthermore, relative real-time quantitative PCR analyses revealed enhanced Hapgip1–Hapgip4 expression upon Botrytis cinerea inoculation and an increased expression level of Hapgip3 in response to the oomycete Plasmopara halstedii.
Access options
Buy single article
Instant access to the full article PDF.
USD 39.95
Price excludes VAT (USA)
Tax calculation will be finalised during checkout.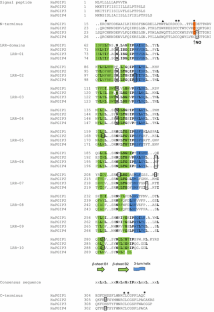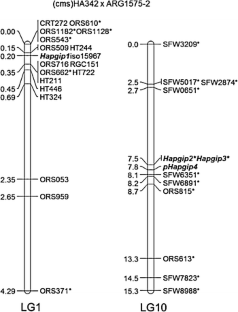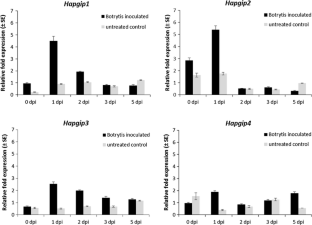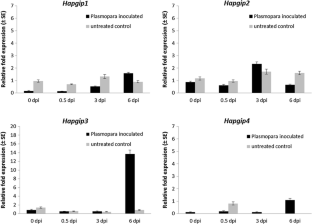 References
Achere V, Faivre-Rampant P, Jeandroz S, Besnard G, Markussen T, Aragones A, Fladung M, Ritter E, Favre JM (2004) A full saturated linkage map of Picea abies including AFLP, SSR, ESTP, 5S rDNA and morphological markers. Theor Appl Genet 108:1602–1613

Aguero CB, Uratsu SL, Greve C, Powell ALT, Labavitch JM, Meredith CP, Dandekar AM (2005) Evaluation of tolerance to Pierce's disease and Botrytis in transgenic plants of Vitis vinifera L. expressing the pear PGIP gene. Mol Plant Pathol 6:43–51

Altschul SF, Madden TL, Schaffer AA, Zhang JH, Zhang Z, Miller W, Lipman DJ (1997) Gapped BLAST and PSI-BLAST: a new generation of protein database search programs. Nucleic Acids Res 25:3389–3402. doi:10.1093/nar/25.17.3389

Artimo P, Jonnalagedda M, Arnold K, Baratin D, Csardi G, de Castro E, Duvaud S, Flegel V, Fortier A, Gasteiger E, Grosdidier A, Hernandez C, Ioannidis V, Kuznetsov D, Liechti R, Moretti S, Mostaguir K, Redaschi N, Rossier G, Xenarios I, Stockinger H (2012) ExPASy: SIB bioinformatics resource portal. Nucleic Acids Res 40:597–603. doi:10.1093/nar/gks400

Astier J, Lindermayr C (2012) Nitric oxide-dependent posttranslational modification in plants: an update. Int J Mol Sci 13:15193–15208. doi:10.3390/ijms131115193

Aziz A, Heyraud A, Lambert B (2004) Oligogalacturonide signal transduction, induction of defense-related responses and protection of grapevine against Botrytis cinerea. Planta 218:767–774. doi:10.1007/s00425-003-1153-x

Bachlava E, Taylor CA, Tang S, Bowers JE, Mandel JR, Burke JM, Knapp SJ (2012) SNP discovery and development of a high-density genotyping array for sunflower. PLoS One 7:e29814. doi:10.1371/journal.pone.0029814

Bashi ZD, Rimmer SR, Khachatourians GG, Hegedus DD (2013) Brassica napus polygalacturonase inhibitor proteins inhibit Sclerotinia sclerotiorum polygalacturonase enzymatic and necrotizing activities and delay symptoms in transgenic plants. Can J Microbiol 59:79–86. doi:10.1139/cjm-2012-0352

Baute GJ, Kane NC, Grassa CJ, Lai Z, Rieseberg LH (2015) Genome scans reveal candidate domestication and improvement genes in cultivated sunflower, as well as post-domestication introgression with wild relatives. New Phytol 206:830–838. doi:10.1111/nph.13255

Berger DK, Oelofse D, Arendse MS, Du Plessis E, Dubery IA (2000) Bean polygalacturonase inhibitor protein-1 (PGIP-1) inhibits polygalacturonases from Stenocarpella maydis. Physiol Mol Plant Pathol 57:5–14. doi:10.1006/pmpp.2000.0274

Blackman BK, Rasmussen DA, Strasburg JL, Raduski AR, Burke JM, Knapp SJ, Michaels SD, Rieseberg LH (2011) Contributions of flowering time genes to sunflower domestication and improvement. Genetics 187:271–287. doi:10.1534/genetics.110.121327

Borras-Hidalgo O, Caprari C, Hernandez-Estevez I, De Lorenzo G, Cervone F (2012) A gene for plant protection: expression of a bean polygalacturonase inhibitor in tobacco confers a strong resistance against Rhizoctonia solani and two oomycetes. Front Plant Sci 3:1–6. doi:10.3389/fpls.2012.00268

Bowers JE, Bachlava E, Brunick RL, Rieseberg LH, Knapp SJ, Burke JM (2012) Development of a 10,000 locus genetic map of the sunflower genome based on multiple crosses. G3 (Bethesda) 2:721–729. doi:10.1534/g3.112.002659

Casasoli M, Federici L, Spinelli F, Di Matteo A, Vella N, Scaloni F, Fernandez-Recio J, Cervone F, De Lorenzo G (2009) Integration of evolutionary and desolvation energy analysis identifies functional sites in a plant immunity protein. Proc Natl Acad Sci USA 106:7666–7671. doi:10.1073/pnas.0812625106

Chaki M, Fernandez-Ocana AM, Valderrama R, Carreras A, Esteban FJ, Luque F, Gomez-Rodriguez MV, Begara-Morales JC, Corpas FJ, Barroso JB (2009) Involvement of reactive nitrogen and oxygen species (RNS and ROS) in sunflower–mildew interaction. Plant Cell Physiol 50:265–279

Chi Y, Yang Y, Zhou Y, Zhou J, Fan B, Yu JQ, Chen Z (2013) Protein–protein interactions in the regulation of WRKY transcription factors. Mol Plant 6:287–300. doi:10.1093/mp/sst026

Ciolkowski I, Wanke D, Birkenbihl RP, Somssich IE (2008) Studies on DNA-binding selectivity of WRKY transcription factors lend structural clues into WRKY-domain function. Plant Mol Biol 68:81–92

De Lorenzo G, D'Ovidio R, Cervone F (2001) The role of polygalacturonase-inhibiting proteins (PGIPs) in defense against pathogenic fungi. Annu Rev Phytopathol 39:313–335

Dereeper A, Guignon V, Blanc G, Audic S, Buffet S, Chevenet F, Dufayard JF, Guindon S, Lefort V, Lescot M, Claverie JM, Gascuel O (2008) Phylogeny.fr: robust phylogenetic analysis for the non-specialist. Nucleic Acids Res 36:465–469

Desiderio A, Aracri B, Leckie F, Mattei B, Salvi G, Tigelaar H, Van Roekel JS, Baulcombe DC, Melchers LS, De Lorenzo G, Cervone F (1997) Polygalacturonase-inhibiting proteins (PGIPs) with different specificities are expressed in Phaseolus vulgaris. Mol Plant Microbe Interact 10:852–860

DeYoung BJ, Innes RW (2006) Plant NBS-LRR proteins in pathogen sensing and host defense. Nat Immunol 7:1243–1249

Di Matteo A, Federici L, Mattei B, Salvi G, Johnson KA, Savino C, De Lorenzo G, Tsernoglou D, Cervone F (2003) The crystal structure of polygalacturonase-inhibiting protein (PGIP), a leucine-rich repeat protein involved in plant defense. Proc Natl Acad Sci USA 100:10124–10128

Di Matteo A, Bonivento D, Tsernoglou D, Federici L, Cervone F (2006) Polygalacturonase-inhibiting protein (PGIP) in plant defence: a structural view. Phytochemistry 67:528–533. doi:10.1016/j.phytochem.2005.12.025

Di CX, Li M, Long F, Bai MQ, Liu YJ, Zheng XL, Xu SJ, Xiang Y, Sun ZL, An LZ (2009) Molecular cloning, functional analysis and localization of a novel gene encoding polygalacturonase-inhibiting protein in Chorispora bungeana. Planta 231:169–178

D'Ovidio R, Raiola A, Capodicasa C, Devoto A, Pontiggia D, Roberti S, Galletti R, Conti E, O'Sullivan D, De Lorenzo G (2004) Characterization of the complex locus of bean encoding polygalacturonase-inhibiting proteins reveals subfunctionalization for defense against fungi and insects. Plant Physiol 135:2424–2435. doi:10.1104/pp.104.044644

D'Ovidio R, Roberti S, Di Giovanni M, Capodicasa C, Melaragni M, Sella L, Tosi P, Favaron F (2006) The characterization of the soybean polygalacturonase-inhibiting proteins (Pgip) gene family reveals that a single member is responsible for the activity detected in soybean tissues. Planta 224:633–645

Du LQ, Chen ZX (2000) Identification of genes encoding receptor-like protein kinases as possible targets of pathogen- and salicylic acid-induced WRKY DNA-binding proteins in Arabidopsis. Plant Journal 24:837–847

Dunning FM, Sun W, Jansen KL, Helft L, Bent AF (2007) Identification and mutational analysis of Arabidopsis FLS2 leucine-rich repeat domain residues that contribute to flagellin perception. Plant Cell 19:3297–3313

Dußle CM, Hahn V, Knapp SJ, Bauer E (2004) Pl ARG from Helianthus argophyllus is unlinked to other known downy mildew resistance genes in sunflower. Theor Appl Genet 109:1083–1086. doi:10.1007/s00122-004-1722-9

Eulgem T, Rushton PJ, Robatzek S, Somssich IE (2000) The WRKY superfamily of plant transcription factors. Trends Plant Sci 5:199–206

Farina A, Rocchi V, Janni M, Benedettelli S, De Lorenzo G, D'Ovidio R (2009) The bean polygalacturonase-inhibiting protein 2 (PvPGIP2) is highly conserved in common bean (Phaseolus vulgaris L.) germplasm and related species. Theor Appl Genet 118:1371–1379. doi:10.1007/s00122-009-0987-4

Favaron F, Destro T, D'Ovidio RD (2000) Transcript accumulation of polygalacturonase inhibiting protein (PGIP) following pathogen infections in soybean. J Plant Pathol 82:103–109

Federici L, Caprari C, Mattei B, Savino C, Di Matteo A, De Lorenzo G, Cervone F, Tsernoglou D (2001) Structural requirements of endopolygalacturonase for the interaction with PGIP (polygalacturonase-inhibiting protein). Proc Natl Acad Sci USA 98:13425–13430. doi:10.1073/pnas.231473698

Ferrari S, Vairo D, Ausubel FM, Cervone F, De Lorenzo G (2003) Tandemly duplicated arabidopsis genes that encode polygalacturonase-inhibiting proteins are regulated coordinately by different signal transduction pathways in response to fungal infection. Plant Cell 15:93–106. doi:10.1105/tpc.005165

Frediani M, Cremonini R, Salvi G, Caprari C, Desiderio A, D'Ovidio R, Cervone F, Lorenzo G (1993) Cytological localization of the PGIP genes in the embryo suspensor cells of Phaseolus vulgaris L. Theor Appl Genet 87:369–373. doi:10.1007/bf01184925

Fusari CM, Lia VV, Hopp HE, Heinz RA, Paniego NB (2008) Identification of single nucleotide polymorphisms and analysis of linkage disequilibrium in sunflower elite inbred lines using the candidate gene approach. BMC Plant Biol. doi:10.1186/1471-2229-8-7

Giacomelli JI, Ribichich KF, Dezar CA, Chan RL (2010) Expression analyses indicate the involvement of sunflower WRKY transcription factors in stress responses, and phylogenetic reconstructions reveal the existence of a novel clade in the Asteraceae. Plant Sci 178:398–410. doi:10.1016/j.plantsci.2010.02.008

Hadfield KA, Bennett AB (1998) Polygalacturonases: many genes in search of a function. Plant Physiol 117:337–343. doi:10.1104/pp.117.2.337

Hardham AR, Cahill DM (2010) The role of oomycete effectors in plant–pathogen interactions. Funct Plant Biol 37:919–925. doi:10.1071/FP10073

Hegedus DD, Li R, Buchwaldt L, Parkin I, Whitwill S, Coutu C, Bekkaoui D, Roger Rimmer S (2008) Brassica napus possesses an expanded set of polygalacturonase inhibitor protein genes that are differentially regulated in response to Sclerotinia sclerotiorum infection, wounding and defense hormone treatment. Planta 228:241–253. doi:10.1007/s00425-008-0733-1

Higo K, Ugawa Y, Iwamoto M, Korenaga T (1999) Plant cis-acting regulatory DNA elements (PLACE) database: 1999. Nucleic Acids Res 27:297–300. doi:10.1093/nar/27.1.297

Holz G, Coertze S, Williamson B (2007) The ecology of Botrytis on plant surfaces. In: Elad Y, Williamson B, Tudzynski P, Delen N (eds) Botrytis: biology, pathology and control. Springer, Dordrecht

Isshiki A, Akimitsu K, Yamamoto M, Yamamoto H (2001) endopolygalacturonase is essential for citrus black rot caused by Alternaria citri but not brown spot caused by Alternaria alternata. Mol Plant Microbe Interact 14:749–757. doi:10.1094/mpmi.2001.14.6.749

Janni M, Giovanni M, Roberti S, Capodicasa C, D'Ovidio R (2006) Characterization of expressed Pgip genes in rice and wheat reveals similar extent of sequence variation to dicot PGIPs and identifies an active PGIP lacking an entire LRR repeat. Theor Appl Genet 113:1233–1245. doi:10.1007/s00122-006-0378-z

Janni M, Sella L, Favaron F, Blechl AE, De Lorenzo G, D'Ovidio R (2008) The expression of a bean PGIP in transgenic wheat confers increased resistance to the fungal pathogen Bipolaris sorokiniana. Mol Plant Microbe Interact 21:171–177. doi:10.1094/mpmi-21-2-0171

Johnston DJ, Ramanathan V, Williamson B (1993) A protein from immature raspberry fruits which inhibits endopolygalacturonases from Botrytis cinerea and other microorganisms. J Exp Bot 44:971–976

Jones DA, Jones JDG (1997) The role of leucine-rich repeat proteins in plant defences. In: Andrews JHICT, Callow JA (eds) Advances in botanical research, vol 24. Academic Press, London, pp 89–167. doi:10.1016/S0065-2296(08)60072-5

Kalunke RM, Cenci A, Volpi C, O'Sullivan DM, Sella L, Favaron F, Cervone F, De Lorenzo G, D'Ovidio R (2014) The pgip family in soybean and three other legume species: evidence for a birth-and-death model of evolution. BMC Plant Biol 14:189. doi:10.1186/s12870-014-0189-3

Kalunke RM, Tundo S, Benedetti M, Cervone F, De Lorenzo G, D'Ovidio R (2015) An update on polygalacturonase-inhibiting protein (PGIP), a leucine-rich repeat protein that protects crop plants against pathogens. Front Plant Sci 6:146. doi:10.3389/fpls.2015.00146

Kane NC, Gill N, King MG, Bowers JE, Berges H, Gouzy J, Bachlava E, Langlade NB, Lai Z, Stewart M, Burke JM, Vincourt P, Knapp SJ, Rieseberg LH (2011) Progress towards a reference genome for sunflower. Botany 89:429–437. doi:10.1139/B11-032

Karr AL, Albersheim P (1970) Polysaccharide-degrading enzymes are unable to attack plant cell walls without prior action by a wall-modifying-enzyme. Plant Physiol 46:69–80

Kawakami T, Darby BJ, Ungerer MC (2014) Transcriptome resources for the perennial sunflower Helianthus maximiliani obtained from ecologically divergent populations. Mol Ecol Resour 14:812–819. doi:10.1111/1755-0998.12227

Kelley LA, Mezulis S, Yates CM, Wass MN, Sternberg MJE (2015) The Phyre2 web portal for protein modeling, prediction and analysis. Nat Protoc 10:845–858. doi:10.1038/nprot.2015.053

Kolkman JM, Berry ST, Leon AJ, Slabaugh MB, Tang S, Gao WX, Shintani DK, Burke JM, Knapp SJ (2007) Single nucleotide polymorphisms and linkage disequilibrium in sunflower. Genetics 177:457–468. doi:10.1534/genetics.107.074054

Konieczny A, Ausubel FM (1993) A procedure for mapping Arabidopsis mutations using co-dominant ecotype-specific PCR-based markers. Plant J 4:403–410

Kosambi DD (1944) The estimation of map distance from recombination values. Ann Eugen 12:172–175

Kovacs I, Lindermayr C (2013) Nitric oxide-based protein modification: formation and site-specificity of protein S-nitrosylation. Front Plant Sci 4:1–10. doi:10.3389/fpls.2013.00137

Larkin MA, Blackshields G, Brown NP, Chenna R, McGettigan PA, McWilliam H, Valentin F, Wallace IM, Wilm A, Lopez R, Thompson JD, Gibson TJ, Higgins DG (2007) Clustal W and Clustal X version 2.0. Bioinformatics 23:2947–2948. doi:10.1093/bioinformatics/btm404

Leckie F, Mattei B, Capodicasa C, Hemmings A, Nuss L, Aracri B, De Lorenzo G, Cervone F (1999) The specificity of polygalacturonase-inhibiting protein (PGIP): a single amino acid substitution in the solvent-exposed beta-strand/beta-turn region of the leucine-rich repeats (LRRs) confers a new recognition capability. EMBO J 18:2352–2363

Li R, Rimmer R, Yu M, Sharpe A, Séguin-Swartz G, Lydiate D, Hegedus D (2003) Two Brassica napus polygalacturonase inhibitory protein genes are expressed at different levels in response to biotic and abiotic stresses. Planta 217:299–308. doi:10.1007/s00425-003-0988-5

Li YQ, Wang XJ, Sun ZX, Feng BZ, Fu L, Zhang XG (2012) Expression and functional analysis of polygalacturonase gene Pcipg5 from the plant pathogen Phytophthora capsici. Afr J Biotechnol 11:2477–2489. doi:10.5897/AJB11.2043

Librado P, Rozas J (2009) DnaSP v5: a software for comprehensive analysis of DNA polymorphism data. Bioinformatics 25:1451–1452. doi:10.1093/bioinformatics/btp187

Liu A, Burke JM (2006) Patterns of nucleotide diversity in wild and cultivated sunflower. Genetics 173:321–330. doi:10.1534/genetics.105.051110

Livaja M, Wang Y, Wieckhorst S, Haseneyer G, Seidel M, Hahn V, Knapp S, Taudien S, Schön C-C, Bauer E (2013) BSTA: a targeted approach combines bulked segregant analysis with next- generation sequencing and de novo transcriptome assembly for SNP discovery in sunflower. BMC Genom 14:628

Mandel JR, Dechaine JM, Marek LF, Burke JM (2011) Genetic diversity and population structure in cultivated sunflower and a comparison to its wild progenitor, Helianthus annuus L. Theor Appl Genet 123:693–704. doi:10.1007/s00122-011-1619-3

Manfredini C, Sicilia F, Ferrari S, Pontiggia D, Salvi G, Caprari C, Lorito M, Lorenzo GD (2005) Polygalacturonase-inhibiting protein 2 of Phaseolus vulgaris inhibits BcPG1, a polygalacturonase of Botrytis cinerea important for pathogenicity, and protects transgenic plants from infection. Physiol Mol Plant Pathol 67:108–115. doi:10.1016/j.pmpp.2005.10.002

Mattei B, Bernalda MS, Federici L, Roepstorff P, Cervone F, Boffi A (2001a) Secondary structure and post-translational modifications of the leucine-rich repeat protein PGIP (polygalacturonase-inhibiting protein) from Phaseolus vulgaris. Biochemistry 40:569–576

Mattei B, Cervone F, Roepstorff P (2001b) The interaction between Endopolygalacturonase from Fusarium moniliforme and PGIP from Phaseolus vulgaris studied by surface plasmon resonance and mass spectrometry. Comp Funct Genomics 2:359–364. doi:10.1002/cfg.113

Mehli L, Schaart JG, Kjellsen TD, Tran DH, Salentijn EMJ, Schouten HJ, Iversen T-H (2004) A gene encoding a polygalacturonase-inhibiting protein (PGIP) shows developmental regulation and pathogen-induced expression in strawberry. New Phytol 163:99–110. doi:10.2307/1514431

Micic Z, Hahn V, Bauer E, Schon CC, Knapp SJ, Tang S, Melchinger AE (2004) QTL mapping of Sclerotinia midstalk-rot resistance in sunflower. Theor Appl Genet 109:1474–1484. doi:10.1007/s00122-004-1764-z

Micic Z, Hahn V, Bauer E, Schön CC, Melchinger AE (2005) QTL mapping of resistance to Sclerotinia midstalk rot in RIL of sunflower population NDBLOSsel x CM625. Theor Appl Genet 110:1490–1498. doi:10.1007/s00122-005-1984-x

Mohammadzadeh R, Zamani M, Motallebi M, Norouzi P, Jourabchi E, Benedetti M, De Lorenzo G (2012) Agrobacterium tumefaciens-mediated introduction of polygalacturonase inhibiting protein 2 gene (PvPGIP2) from Phaseolus vulgaris into sugar beet (Beta vulgaris L.). Aust J Crop Sci 6:1290–1297

Nolan T, Hands RE, Ogunkolade W, Bustin SA (2006) SPUD: a quantitative PCR assay for the detection of inhibitors in nucleic acid preparations. Anal Biochem 351:308–310

Oros G (2010) Differential responses of Plasmopara halstedii developmental forms to various steroid alkaloids. Int J Life Sci 4:1–15

Palmieri MC, Sell S, Huang X, Scherf M, Werner T, Durner J, Lindermayr C (2008) Nitric oxide-responsive genes and promoters in Arabidopsis thaliana: a bioinformatics approach. J Exp Bot 59:177–186

Petersen TN, Brunak S, von Heijne G, Nielsen H (2011) SignalP 4.0: discriminating signal peptides from transmembrane regions. Nat Methods 8:785–786

Powell ALT, van Kan J, ten Have A, Visser J, Greve LC, Bennett AB, Labavitch JM (2000) Transgenic expression of pear PGIP in tomato limits fungal colonization. Mol Plant Microbe Interact 13:942–950

Prabhu SA, Kini KR, Raj SN, Moerschbacher BM, Shetty HS (2012) Polygalacturonase-inhibitor proteins in pearl millet: possible involvement in resistance against downy mildew. Acta Biochim Biophys Sin 44:415–423

Prabhu SA, Singh R, Kolkenbrock S, Sujeeth N, El Gueddari NE, Moerschbacher BM, Kini RK, Wagenknecht M (2014) Experimental and bioinformatic characterization of a recombinant polygalacturonase-inhibitor protein from pearl millet and its interaction with fungal polygalacturonases. J Exp Bot 65:5033–5047. doi:10.1093/jxb/eru266

Prabhu SA, Wagenknecht M, Melvin P, Gnanesh Kumar BS, Veena M, Shailasree S, Moerschbacher BM, Kini KR (2015) Immuno-affinity purification of PglPGIP1, a polygalacturonase-inhibitor protein from pearl millet: studies on its inhibition of fungal polygalacturonases and role in resistance against the downy mildew pathogen. Mol Biol Rep 42:1123–1138. doi:10.1007/s11033-015-3850-5

Radwan O, Mouzeyar S, Nicolas P, Bouzidi MF (2005) Induction of a sunflower CC-NBS-LRR resistance gene analogue during incompatible interaction with Plasmopara halstedii. J Exp Bot 56:567–575

Raiola A, Sella L, Castiglioni C, Balmas V, Favaron F (2008) A single amino acid substitution in highly similar endo-PGs from Fusarium verticillioides and related Fusarium species affects PGIP inhibition. Fungal Genet Biol 45:776–789

Rasul S, Dubreuil-Maurizi C, Lamotte O, Koen E, Poinssot B, Alcaraz G, Wendehenne D, Jeandroz S (2012) Nitric oxide production mediates oligogalacturonide-triggered immunity and resistance to Botrytis cinerea in Arabidopsis thaliana. Plant Cell Environ 35:1483–1499

Riano-Pachon DM, Nagel A, Neigenfind J, Wagner R, Basekow R, Weber E, Mueller-Roeber B, Diehl S, Kersten B (2009) GabiPD: the GABI primary database—a plant integrative 'omics' database. Nucleic Acids Res 37:D954–D959. doi:10.1093/nar/gkn611

Rushton PJ, Somssich IE, Ringler P, Shen QXJ (2010) WRKY transcription factors. Trends Plant Sci 15:247–258

Sackston WE (1981) Downy mildew of sunflower. In: Spencer DM (ed) The downy mildew. Academic Press, New York, pp 545–575

Sackston WE (1992) On a treadmill—breeding sunflowers for resistance to disease. Ann Rev Phytopathol 30:529–551

Schuster WH, Marquard RA (2003) Die Sonnenblume (Helianthus annuus L.). Giessen, pp 1–185. http://geb.uni-giessen.de/geb/volltexte/2003/1272/

Sicilia F, Fernandez-Recio J, Caprari C, De Lorenzo G, Tsernoglou D, Cervone F, Federici L (2005) The polygalacturonase-inhibiting protein PGIP2 of Phaseolus vulgaris has evolved a mixed mode of inhibition of endopolygalacturonase PG1 of Botrytis cinerea. Plant Physiol 139:1380–1388. doi:10.1104/pp.105.067546

Spadoni S, Zabotina O, Di Matteo A, Mikkelsen JD, Cervone F, De Lorenzo G, Mattei B, Bellincampi D (2006) Polygalacturonase-inhibiting protein interacts with pectin through a binding site formed by four clustered residues of arginine and lysine. Plant Physiol 141:557–564. doi:10.1104/pp.106.076950

Stotz HU, Bishop JG, Bergmann CW, Koch M, Albersheim P, Darvill AG, Labavitch JM (2000) Identification of target amino acids that affect interactions of fungal polygalacturonases and their plant inhibitors. Physiol Mol Plant Pathol 56:117–130. doi:10.1006/pmpp.2000.0258

Tajima F (1983) Evolutionary relationship of DNA sequences in finite populations. Genetics 105:437–460

Tajima F (1989) Statistical method for testing the neutral mutation hypothesis by DNA polymorphism. Genetics 123:585–595

Tang S, Yu JK, Slabaugh MB, Shintani DK, Knapp SJ (2002) Simple sequence repeat map of the sunflower genome. Theor Appl Genet 105:1124–1136. doi:10.1007/s00122-002-0989-y

ten Have A, Mulder W, Visser J, van Kan JAL (1998) The endopolygalacturonase gene Bcpg1 is required for full virulence of Botrytis cinerea. Mol Plant Microbe Interact 11:1009–1016

Thiel T, Kota R, Grosse I, Stein N, Graner A (2004) SNP2CAPS: a SNP and INDEL analysis tool for CAPS marker development. Nucleic Acids Res 32:e5. doi:10.1093/nar/gnh006

Usadel B, Schwacke R, Nagel A, Kersten B (2012) GabiPD—the GABI Primary Database integrates plant proteomic data with gene-centric information. Front Plant Sci 3:154

van Ooijen JW (2006) JoinMap 4, software for the calculation of genetic linkage maps in experimental populations. Kyazma, B.V., Wageningen

Wang X, Zhu X, Tooley P, Zhang X (2013) Cloning and functional analysis of three genes encoding polygalacturonase-inhibiting proteins from Capsicum annuum and transgenic CaPGIP1 in tobacco in relation to increased resistance to two fungal pathogens. Plant Mol Biol 81:379–400. doi:10.1007/s11103-013-0007-6

Wieckhorst S (2012) Characterization of the Pl ARG locus mediating resistance against Plasmopara halstedii in sunflower. PhD thesis, TU Muenchen

Wieckhorst S, Bachlava E, Dussle CM, Tang S, Gao W, Saski C, Knapp SJ, Schon CC, Hahn V, Bauer E (2010) Fine mapping of the sunflower resistance locus Pl ARG introduced from the wild species Helianthus argophyllus. Theor Appl Genet 121:1633–1644. doi:10.1007/s00122-010-1416-4

Wu CH, Yan HZ, Liu LF, Liou RF (2008) Functional characterization of a gene family encoding polygalacturonases in Phytophthora parasitica. Mol Plant Microbe Interact 21:480–489. doi:10.1094/MPMI-21-4-0480

Xue Y, Liu ZX, Gao XJ, Jin CJ, Wen LP, Yao XB, Ren JA (2010) GPS-SNO: computational prediction of protein S-nitrosylation sites with a modified GPS algorithm. PLoS One 5:e11290. doi:10.1371/journal.pone.0011290

Yao C, Conway WS, Sams CE (1995) Purification and characterization of a polygalacturonase-inhibiting protein from apple fruit. Biochem Cell Biol 85:1317–1377. doi:10.1094/Phyto-85-1373

Yao C, Conway W, Ren R, Smith D, Ross G, Sams C (1999) Gene encoding polygalacturonase inhibitor in apple fruit is developmentally regulated and activated by wounding and fungal infection. Plant Mol Biol 39:1231–1241. doi:10.1023/a:1006155723059

You FM, Huo N, Gu YQ, Luo M-C, Ma Y, Hane D, Lazo GR, Dvorak J, Anderson OD (2008) BatchPrimer3: a high throughput web application for PCR and sequencing primer design. BMC Bioinform 9:253
Acknowledgments
We thank Loren Rieseberg and the entire research consortium for the opportunity to use the sunflower reference genome (https://www.sunflowergenome.org/) for comparative sequence analyses and for mapping information. We are grateful to KWS SAAT SE, Einbeck, Germany (S. Wieckhorst), and University of Hohenheim, State Plant Breeding Institute, Germany (Volker Hahn), for providing seeds of sunflower accessions used for Hapgip diversity analysis. Seeds that originate from the USDA can be requested via http://www.ars-grin.gov/npgs/, French inbred lines at INRA Toulouse, France (Patrick Vincourt), respectively. We would like to thank A. Fiedler for the excellent technical assistance, O. Spring for providing Plasmopara halstedii race 730, and Ralph Hückelhoven for his generous gift of the Botrytis cinerea strain.
Authors' contribution
M.L. designed the experiments, carried out bioinformatics analyses, and performed phytopathology experiments, SNP validation, genetic mapping and diversity analysis. S.S. designed and conducted the expression analyses. M.L., S.S, and C.C.S. drafted and revised the manuscript. All authors read and approved the final version of the manuscript.
Ethics declarations
Conflict of interests
The authors declare that they have no competing interests.
Electronic supplementary material
Below is the link to the electronic supplementary material.
About this article
Cite this article
Livaja, M., Steinemann, S. & Schön, CC. Sunflower polygalacturonase-inhibiting proteins (HaPGIP) are genetically conserved in cultivated sunflower (Helianthus annuus L.) but diverse in wild species. Mol Breeding 36, 17 (2016). https://doi.org/10.1007/s11032-016-0444-4
Received:

Accepted:

Published:

DOI: https://doi.org/10.1007/s11032-016-0444-4
Keywords
Helianthus annuus

Polygalacturonase-inhibiting proteins

Leucine-rich repeat proteins

Gene diversity

Botrytis cinerea
Plasmopara halstedii