Abstract
The wilt caused by Fusarium oxysporum f.sp. Ciceris is a major problem for chickpea. The large-scale discovery of DNA polymorphisms in different cultivars can provide insights into the genetic basis of phenotypic differences. In the present study, we sequenced the transcriptomes of four chickpea cultivars with contrasting response to Fusarium infection, including susceptible JG62 and resistant/tolerant ICCV2, K850 and WR315. Based on the analysis of their transcriptome sequences, we identified at least 303 polymorphic microsatellites, of which 64 % could be physically mapped on the chickpea genome. Further, we identified a total of 14,462 single nucleotide polymorphisms (SNPs) and 1864 insertions/deletions (InDels) among the chickpea cultivars analysed. More than 50 % of the SNPs and 19 % of the InDels were detected in the predicted coding regions, and about 46 % of these SNPs resulted in nonsynonymous changes. In addition, we identified at least 60 large-effect SNPs and 248 InDels that affected the integrity of the encoded protein. Several defence-related genes involved in different cellular processes were found to harbour nonsynonymous and/or large-effect SNPs and/or InDels. These data will provide functional markers and promising target genes for wilt resistance and present a valuable resource for molecular breeding for this important trait in chickpea.
This is a preview of subscription content,
to check access.
Access this article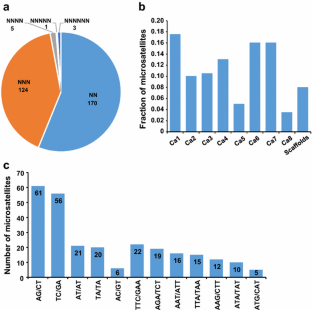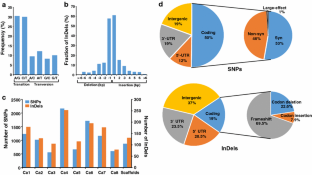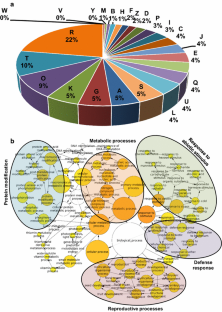 References
Agarwal G, Jhanwar S, Priya P, Singh VK, Saxena MS, Parida SK, Garg R, Tyagi AK, Jain M (2012) Comparative analysis of kabuli chickpea transcriptome with desi and wild chickpea provides a rich resource for development of functional markers. PLoS ONE 7:e52443

Akram A, Ongena M, Duby F, Dommes J, Thonart P (2008) Systemic resistance and lipoxygenase-related defence response induced in tomato by Pseudomonas putida strain BTP1. BMC Plant Biol 8:113

Ashraf N, Ghai D, Barman P, Basu S, Gangisetty N, Mandal MK, Chakraborty N, Datta A, Chakraborty S (2009) Comparative analyses of genotype dependent expressed sequence tags and stress-responsive transcriptome of chickpea wilt illustrate predicted and unexpected genes and novel regulators of plant immunity. BMC Genomics 10:415

Chatterjee M, Gupta S, Bhar A, Chakraborti D, Basu D, Das S (2014) Analysis of root proteome unravels differential molecular responses during compatible and incompatible interaction between chickpea (Cicer arietinum L.) and Fusarium oxysporum f. sp. ciceri Race1 (Foc1). BMC Genomics 15:949

Garg R, Patel RK, Jhanwar S, Priya P, Bhattacharjee A, Yadav G, Bhatia S, Chattopadhyay D, Tyagi AK, Jain M (2011) Gene discovery and tissue-specific transcriptome analysis in chickpea with massively parallel pyrosequencing and web resource development. Plant Physiol 156:1661–1678

Goff KE, Ramonell KM (2007) The role and regulation of receptor-like kinases in plant defense. Gene Regul Syst Biol 1:167–175

Gowda SJM, Radhika P, Kadoo NY, Mhase LB, Gupta VS (2009) Molecular mapping of wilt resistance genes in chickpea. Mol Breed 24:177–183

Hiremath PJ, Kumar A, Penmetsa RV, Farmer A, Schlueter JA, Chamarthi SK, Whaley AM, Carrasquilla-Garcia N, Gaur PM, Upadhyaya HD, Kavi Kishor PB, Shah TM, Cook DR, Varshney RK (2012) Large-scale development of cost-effective SNP marker assays for diversity assessment and genetic mapping in chickpea and comparative mapping in legumes. Plant Biotechnol J 10:716–732

Hou M, Xu W, Bai H, Liu Y, Li L, Liu L, Liu B, Liu G (2012) Characteristic expression of rice pathogenesis-related proteins in rice leaves during interactions with Xanthomonas oryzae pv. Oryzae. Plant Cell Rep 31:895–904

Jain M, Mishra G, Patel RK, Priya P, Jhanwar S, Khan AW, Shah N, Singh VK, Garg R, Jeena G, Sharma P, Kant C, Yadav M, Yadav G, Bhatia S, Tyagi AK, Chattopadhyay D (2013) A draft genome sequence of the pulse crop chickpea (Cicer arietinum L.). Plant J 74:715–729

Jain M, Moharana KC, Shankar R, Kumari R, Garg R (2014) Genome-wide discovery of DNA polymorphisms in rice cultivars with contrasting drought and salinity stress response and their functional relevance. Plant Biotechnol J 12:253–264

Jhanwar S, Priya P, Garg R, Parida SK, Tyagi AK, Jain M (2012) Transcriptome sequencing of wild chickpea as a rich resource for marker development. Plant Biotechnol J 10:690–702

Lichtenzveig J, Scheuring C, Dodge J, Abbo S, Zhang HB (2005) Construction of BAC and BIBAC libraries and their applications for generation of SSR markers for genome analysis of chickpea, Cicer arietinum L. Theor Appl Genet 110:492–510

Palomares-Rius JE, Castillo P, Navas-Cortés JA, Jiménez-Díaz RM, Tena M (2011) A proteomic study of in-root interactions between chickpea pathogens: the root-knot nematode Meloidogyne artiellia and the soil-borne fungus Fusarium oxysporum f. sp. ciceris race 5. J Proteomics. 74:2034–2051

Patel RK, Jain M (2012) NGS QC Toolkit: a toolkit for quality control of next generation sequencing data. PLoS ONE 7:e30619

Patil BS, Ravikumar RL, Bhat JS, Soregaon CD (2014) Molecular mapping of QTLs for resistance to early and late Fusarium wilt in chickpea. Czech J Genet Plant Breed 50:171–176

Sabbavarapu MM, Sharma M, Chamarthi SK, Swapna N, Rathore A, Thudi M, Gaur PM, Pande S, Singh S, Kaur L, Varshney RK (2013) Molecular mapping of QTLs for resistance to Fusarium wilt (race 1) and Ascochyta blight in chickpea (Cicer arietinum L.). Euphytica 193:121–133

Sharma KD, Muehlbauer FJ (2007) Fusarium wilt of chickpea: physiological specialization, genetics of resistance and resistance gene tagging. Euphytica 157:1–14

Varshney RK, Song C, Saxena RK, Azam S, Yu S, Sharpe AG, Cannon S, Baek J, Rosen BD, Tar'an B, Millan T, Zhang X, Ramsay LD, Iwata A, Wang Y, Nelson W, Farmer AD, Gaur PM, Soderlund C, Penmetsa RV, Xu C, Bharti AK, He W, Winter P, Zhao S, Hane JK, Carrasquilla-Garcia N, Condie JA, Upadhyaya HD, Luo MC, Thudi M, Gowda CL, Singh NP, Lichtenzveig J, Gali KK, Rubio J, Nadarajan N, Dolezel J, Bansal KC, Xu X, Edwards D, Zhang G, Kahl G, Gil J, Singh KB, Datta SK, Jackson SA, Wang J, Cook DR (2013) Draft genome sequence of chickpea (Cicer arietinum) provides a resource for trait improvement. Nat Biotechnol 31:240–246

Varshney RK, Mir RR, Bhatia S, Thudi M, Hu Y, Azam S, Zhang Y, Jaganathan D, You FM, Gao J, Riera-Lizarazu O, Luo MC (2014) Integrated physical, genetic and genome map of chickpea (Cicer arietinum L.). Funct Integr Genomics 14:59–73

Verma M, Kumar V, Patel RK, Garg R, Jain M (2015) CTDB: an integrated chickpea transcriptome database for functional and applied genomics. PLoS ONE 10:e0136880

Winter P, PfaV T, Udupa SM, Huttel B, Sharma PC, Sahi S, Arreguin-Espinoza R, Weigand F, Muehlbauer FJ, Kahl G (1999) Characterization and mapping of sequence-tagged microsatellite sites in the chickpea (Cicer arietinum L.) genome. Mol Gen Genet 262:90–101

Yan L, Zhai Q, Wei J, Li S, Wang B, Huang T, Du D, Sun J, Kang L, Li CB, Li C (2013) Role of tomato lipoxygenase D in wound-induced jasmonate biosynthesis and plant immunity to insect herbivores. PLoS Genet 9:e1003422
Acknowledgments
This work was supported financially by the Department of Biotechnology, Government of India, New Delhi, under the Challenge Programme on Chickpea Functional Genomics and core grant from the National Institute of Plant Genome Research.
Electronic supplementary material
Below is the link to the electronic supplementary material.
About this article
Cite this article
Jain, M., Pole, A.K., Singh, V.K. et al. Discovery of molecular markers for Fusarium wilt via transcriptome sequencing of chickpea cultivars. Mol Breeding 35, 198 (2015). https://doi.org/10.1007/s11032-015-0387-1
Received:

Accepted:

Published:

DOI: https://doi.org/10.1007/s11032-015-0387-1
Keywords