Abstract
The BARLEYMAP pipeline was designed to map both genomic sequences and transcripts against sequence-enriched genetic/physical frameworks, with plant breeders as the main target users. It reports the most probable genomic locations of queries after merging results from different resources so that diversity obtained from re-sequencing experiments can be exploited. In addition, the application lists surrounding annotated genes and markers, facilitating downstream analyses. Pre-computed marker datasets can also be created and browsed to facilitate searches and cross referencing. Performance is evaluated by mapping two sets of long transcripts and by locating the physical and genetic positions of four marker collections widely used for high-throughput genotyping of barley cultivars. In addition, genome positions retrieved by BARLEYMAP are compared to positions within a conventional genetic map for a population of recombinant inbred lines, yielding a gene-order accuracy of 96 %. These results reveal advantages and drawbacks of current in silico approaches for barley genomics. A web application to make use of barley data is available at http://floresta.eead.csic.es/barleymap. The pipeline can be set up for any species with similar sequence resources, for which a fully functional standalone version is available for download.
Access options
Buy single article
Instant access to the full article PDF.
US$ 39.95
Tax calculation will be finalised during checkout.
Subscribe to journal
Immediate online access to all issues from 2019. Subscription will auto renew annually.
US$ 79
Tax calculation will be finalised during checkout.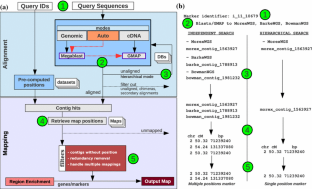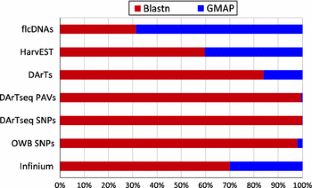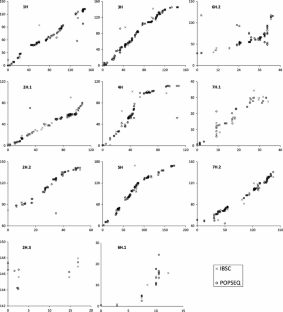 References
Altschul SF, Madden TL, Schaffer AA, Zhang J, Zhang Z, Miller W, Lipman DJ (1997) Gapped BLAST and PSI-BLAST: a new generation of protein database search programs. Nucleic Acids Res 25:3389–3402

Boller B (2013) Interview with Beat Boller, President of EUCARPIA. the European Association for Research on Plant Breeding, International Innovation (Environment), pp 42–43

Close TJ, Wanamaker S, Roose ML, Lyon M (2007) HarvEST. Methods Mol Biol 406:161–177

Comadran J, Kilian B, Russell J, Ramsay L, Stein N, Ganal M, Shaw P, Bayer M, Thomas W, Marshall D, Hedley P, Tondelli A, Pecchioni N, Francia E, Korzun V, Walther A, Waugh R (2012) Natural variation in a homolog of Antirrhinum CENTRORADIALIS contributed to spring growth habit and environmental adaptation in cultivated barley. Nat Genet 44:1388–1392

Contreras-Moreira B, Vinuesa P (2013) GET_HOMOLOGUES, a versatile software package for scalable and robust microbial pangenome analysis. Appl Environ Microbiol 79:7696–7701

Farré A, Cuadrado A, Lacasa-Benito I, Cistué L, Schubert I, Comadran J, Jansen J, Romagosa I (2012) Genetic characterization of a reciprocal translocation present in a widely grown barley variety. Mol Breed 30:1109–1119

Gotoh O (2008) A space-efficient and accurate method for mapping and aligning cDNA sequences onto genomic sequence. Nucleic Acids Res 36:2630–2638

Hofmann K, Silvar C, Casas AM, Herz M, Buttner B, Gracia MP, Contreras-Moreira B, Wallwork H, Igartua E, Schweizer G (2013) Fine mapping of the Rrs1 resistance locus against scald in two large populations derived from Spanish barley landraces. Theor Appl Genet 126:3091–3102

International Barley Genome Sequence Consortium (2012) A physical, genetic and functional sequence assembly of the barley genome. Nature 491:711–716

International Brachypodium Initiative (2010) Genome sequencing and analysis of the model grass Brachypodium distachyon. Nature 463:763–768

Jaillon O, Aury JM, Noel B, Policriti A, Clepet C, Casagrande A, Choisne N, Aubourg S, Vitulo N, Jubin C, Vezzi A, Legeai F, Hugueney P, Dasilva C, Horner D, Mica E, Jublot D, Poulain J, Bruyere C, Billault A, Segurens B, Gouyvenoux M, Ugarte E, Cattonaro F, Anthouard V, Vico V, Del Fabbro C, Alaux M, Di Gaspero G, Dumas V, Felice N, Paillard S, Juman I, Moroldo M, Scalabrin S, Canaguier A, Le Clainche I, Malacrida G, Durand E, Pesole G, Laucou V, Chatelet P, Merdinoglu D, Delledonne M, Pezzotti M, Lecharny A, Scarpelli C, Artiguenave F, Pe ME, Valle G, Morgante M, Caboche M, Adam-Blondon AF, Weissenbach J, Quetier F, Wincker P, French-Italian Public Consortium for Grapevine Genome C (2007) The grapevine genome sequence suggests ancestral hexaploidization in major angiosperm phyla. Nature 449:463–467

Jia J, Zhao S, Kong X, Li Y, Zhao G, He W, Appels R, Pfeifer M, Tao Y, Zhang X, Jing R, Zhang C, Ma Y, Gao L, Gao C, Spannagl M, Mayer KF, Li D, Pan S, Zheng F, Hu Q, Xia X, Li J, Liang Q, Chen J, Wicker T, Gou C, Kuang H, He G, Luo Y, Keller B, Xia Q, Lu P, Wang J, Zou H, Zhang R, Xu J, Gao J, Middleton C, Quan Z, Liu G, Yang H, Liu X, He Z, Mao L (2013) Aegilops tauschii draft genome sequence reveals a gene repertoire for wheat adaptation. Nature 496:91–95

Kersey PJ, Allen JE, Christensen M, Davis P, Falin LJ, Grabmueller C, Hughes DS, Humphrey J, Kerhornou A, Khobova J, Langridge N, McDowall MD, Maheswari U, Maslen G, Nuhn M, Ong CK, Paulini M, Pedro H, Toneva I, Tuli MA, Walts B, Williams G, Wilson D, Youens-Clark K, Monaco MK, Stein J, Wei X, Ware D, Bolser DM, Howe KL, Kulesha E, Lawson D, Staines DM (2014) Ensembl genomes 2013: scaling up access to genome-wide data. Nucleic Acids Res 42:D546–D552

Kilian A, Wenzl P, Huttner E, Carling J, Xia L, Blois H, Caig V, Heller-Uszynska K, Jaccoud D, Hopper C, Aschenbrenner-Kilian M, Evers M, Peng K, Cayla C, Hok P, Uszynski G (2012) Diversity arrays technology: a generic genome profiling technology on open platforms. Methods Mol Biol 888:67–89

Liu H, Bayer M, Druka A, Russell JR, Hackett CA, Poland J, Ramsay L, Hedley PE, Waugh R (2014) An evaluation of genotyping by sequencing (GBS) to map the Breviaristatum-e (ari-e) locus in cultivated barley. BMC Genom 15:104

Mascher M, Muehlbauer GJ, Rokhsar DS, Chapman J, Schmutz J, Barry K, Munoz-Amatriain M, Close TJ, Wise RP, Schulman AH, Himmelbach A, Mayer KF, Scholz U, Poland JA, Stein N, Waugh R (2013) Anchoring and ordering NGS contig assemblies by population sequencing (POPSEQ). Plant J 76:718–727

Matsumoto T, Tanaka T, Sakai H, Amano N, Kanamori H, Kurita K, Kikuta A, Kamiya K, Yamamoto M, Ikawa H, Fujii N, Hori K, Itoh T, Sato K (2011) Comprehensive sequence analysis of 24,783 barley full-length cDNAs derived from 12 clone libraries. Plant Physiol 156:20–28

Mayer KF, Martis M, Hedley PE, Simkova H, Liu H, Morris JA, Steuernagel B, Taudien S, Roessner S, Gundlach H, Kubalakova M, Suchankova P, Murat F, Felder M, Nussbaumer T, Graner A, Salse J, Endo T, Sakai H, Tanaka T, Itoh T, Sato K, Platzer M, Matsumoto T, Scholz U, Dolezel J, Waugh R, Stein N (2011) Unlocking the barley genome by chromosomal and comparative genomics. Plant Cell 23:1249–1263

Muñoz-Amatriain M, Eichten SR, Wicker T, Richmond TA, Mascher M, Steuernagel B, Scholz U, Ariyadasa R, Spannagl M, Nussbaumer T, Mayer KF, Taudien S, Platzer M, Jeddeloh JA, Springer NM, Muehlbauer GJ, Stein N (2013) Distribution, functional impact, and origin mechanisms of copy number variation in the barley genome. Genome Biol 14:R58

Paux E, Sourdille P, Salse J, Saintenac C, Choulet F, Leroy P, Korol A, Michalak M, Kianian S, Spielmeyer W, Lagudah E, Somers D, Kilian A, Alaux M, Vautrin S, Berges H, Eversole K, Appels R, Safar J, Simkova H, Dolezel J, Bernard M, Feuillet C (2008) A physical map of the 1-gigabase bread wheat chromosome 3B. Science 322:101–104

Paux E, Sourdille P, Mackay I, Feuillet C (2012) Sequence-based marker development in wheat: advances and applications to breeding. Biotechnol Adv 30:1071–1088

Payne RW, Murray DA, Harding SA, Baird DB, Soutar DM (2009) GenStat for windows (12th edn) introduction. VSN International, Hemel Hempstead

Poland JA, Brown PJ, Sorrells ME, Jannink JL (2012) Development of high-density genetic maps for barley and wheat using a novel two-enzyme genotyping-by-sequencing approach. PLoS ONE 7:e32253

Poursarebani N, Ariyadasa R, Zhou R, Schulte D, Steuernagel B, Martis MM, Graner A, Schweizer P, Scholz U, Mayer K, Stein N (2013) Conserved synteny-based anchoring of the barley genome physical map. Funct Integr Genomics 13:339–350

Sharma SK, Bolser D, de Boer J, Sonderkaer M, Amoros W, Carboni MF, D'Ambrosio JM, de la Cruz G, Di Genova A, Douches DS, Eguiluz M, Guo X, Guzman F, Hackett CA, Hamilton JP, Li G, Li Y, Lozano R, Maass A, Marshall D, Martinez D, McLean K, Mejia N, Milne L, Munive S, Nagy I, Ponce O, Ramirez M, Simon R, Thomson SJ, Torres Y, Waugh R, Zhang Z, Huang S, Visser RG, Bachem CW, Sagredo B, Feingold SE, Orjeda G, Veilleux RE, Bonierbale M, Jacobs JM, Milbourne D, Martin DM, Bryan GJ (2013) Construction of reference chromosome-scale pseudomolecules for potato: integrating the potato genome with genetic and physical maps. G3 3:2031–2047

Van Ooijen JW (2006) JoinMap 4, software for the calculation of genetics linkage maps in experimental populations. Kyazma B.V, Wageningen

von Zitzewitz J, Szucs P, Dubcovsky J, Yan L, Francia E, Pecchioni N, Casas A, Chen TH, Hayes PM, Skinner JS (2005) Molecular and structural characterization of barley vernalization genes. Plant Mol Biol 59:449–467

Wenzl P, Li H, Carling J, Zhou M, Raman H, Paul E, Hearnden P, Maier C, Xia L, Caig V, Ovesna J, Cakir M, Poulsen D, Wang J, Raman R, Smith KP, Muehlbauer GJ, Chalmers KJ, Kleinhofs A, Huttner E, Kilian A (2006) A high-density consensus map of barley linking DArT markers to SSR, RFLP and STS loci and agricultural traits. BMC Genom 7:206

Wu TD, Watanabe CK (2005) GMAP: a genomic mapping and alignment program for mRNA and EST sequences. Bioinformatics 21:1859–1875

Wu Y, Bhat PR, Close TJ, Lonardi S (2008) Efficient and accurate construction of genetic linkage maps from the minimum spanning tree of a graph. PLoS Genet 4:e1000212

Yahiaoui S, Cuesta-Marcos A, Gracia MP, Medina B, Lasa JM, Casas AM, Ciudad FJ, Montoya JL, Moralejo M, Molina-Cano JL, Igartua E (2014) Spanish barley landraces outperform modern cultivars at low-productivity sites. Plant Breeding 133:218–226

Yu JZ, Young CJL, Pepper AE, Li F, Yu S, Buyyarapu R, Sharma GC, Hinze LL, Percy RG (2014) Toward cotton molecular breeding: challenges and opportunities. In: International plant and animal genome XXII, San Diego, CA, USA, p W604
Acknowledgments
We thank Andrzej Kilian for his help with DArT markers. This work was funded by DGA—Obra Social La Caixa (Grant Number GA-LC-059-2011) and by the Spanish Ministry of Science and Innovation (Projects AGL2010-21929 and RTA2009-00006-C04-02). Carlos P. Cantalapiedra is funded by Spanish Ministry of Science and Innovation (Grant Number BES-2011-045905 linked to Project AGL2010-21929). Ridha Boudiar was supported by a Master's fellowship from IAMZ-CIHEAM.
Electronic supplementary material
Below is the link to the electronic supplementary material.
About this article
Cite this article
Cantalapiedra, C.P., Boudiar, R., Casas, A.M. et al. BARLEYMAP: physical and genetic mapping of nucleotide sequences and annotation of surrounding loci in barley. Mol Breeding 35, 13 (2015). https://doi.org/10.1007/s11032-015-0253-1
Received:

Accepted:

Published:
Keywords
Barley

Marker

Genetic and physical maps

Genotyping-by-sequencing

Gene annotation

Sequence mapping