Abstract
Expansins are cell wall loosening proteins which generally play important roles as endogenous regulators in plants. Here we report a rice (Oryza sativa L.) β-expansin gene, OsEXPB2, which encodes a 28.6-kDa protein of 261 amino acids. Sequence alignment revealed that the N-terminal and C-terminal of OsEXPB2 share six discontinuous cysteine residues and four intermittent tryptophan residues, respectively. The OsEXPB2 promoter contains conserved root hair-specific elements. Subcellular localization assay revealed that OsEXPB2 was localized in the cell wall. Analysis of spatial and temporal expression patterns demonstrated that OsEXPB2 was predominantly expressed in root of rice. OsEXPB2 expression levels were up-regulated by abiotic stresses, such as phosphate or iron deficiency, and also suppressed by abscisic acid. A clear difference was observed between RNA interference (RNAi) lines and wild-type in root system architecture and plant height, and the suppression of OsEXPB2 resulted in a visible alteration of the width of the leaf blade. Anatomical analysis found that the cell size of root cortical cells in OsEXPB2-suppressed lines was significantly smaller than that of their counterparts in wild-type plants. Furthermore, cryo-scanning electron microscopy analysis showed that the development of root hair was suppressed in RNAi lines. All these results suggest that OsEXPB2 is a root-predominant gene with a key role in root-hair formation and has the potential to be utilized in transgenic root breeding to improve abiotic stress tolerance.
Access options
Buy single article
Instant access to the full article PDF.
US$ 39.95
Tax calculation will be finalised during checkout.
Subscribe to journal
Immediate online access to all issues from 2019. Subscription will auto renew annually.
US$ 79
Tax calculation will be finalised during checkout.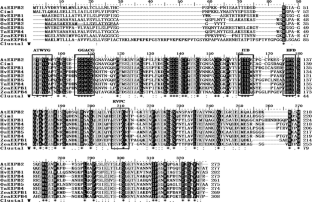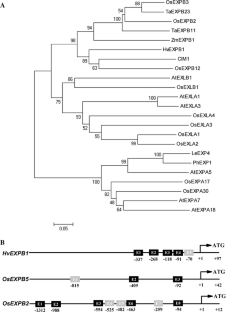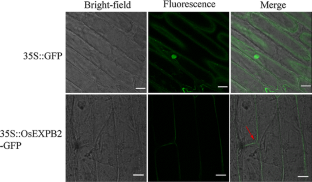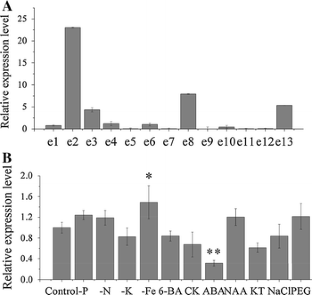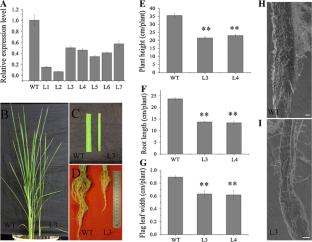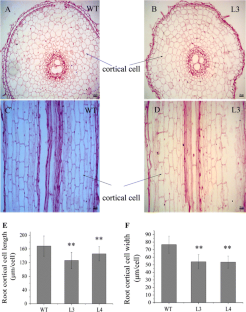 Abbreviations
2,4-D:

2,4-Dichlorophenoxyacetic acid

6-BA:

6-Benzyl aminopurine

ABA:

Abscisic acid

cDNA:

Complementary DNA

CK:

Cytokinin

Cryo-SEM:

Cryo-scanning electron microscope

EG:

Endo-1,4-d-glucanase

ET:

Ethylene

GA:

Gibberellin

IAA:

Indole-3-acetic acid

KT:

Kinetin

MeJA:

Methyl jasmonate

NAA:

α-Naphthalene acetic acid

PEG6000 :

Polyethylene glycol 6000

qRT-PCR:

Quantitative real-time PCR

RHE:

Root hair-specific cis-element

RNAi:

RNA interference

XET:

Xyloglucan endotransglycosylase
References
Baker S, Wilhelm K, Thomashow M (1994) The 5′-region of Arabidopsis thaliana cor15a has cis-acting elements that confer cold-, drought- and ABA-regulated gene expression. Plant Mol Biol 24(5):701–713

Baluska F, Salaj J, Mathur J, Braun M, Jasper F, Samaj J, Chua NH, Barlow P, Volkmann D (2000) Root hair formation: F-actin-dependent tip growth is initiated by local assembly of profilin-supported F-actin meshworks accumulated within expansin-enriched bulges. Dev Biol 227(2):618–632

Bourquin V, Nishikubo N, Abe H, Brumer H, Denman S, Eklund M, Christiernin M, Teeri T, Sundberg B, Mellerowicz E (2002) Xyloglucan endotransglycosylases have a function during the formation of secondary cell walls of vascular tissues. Plant Cell 14(12):3073–3088

Brummell D, Harpster M, Civello P, Palys J, Bennett A, Dunsmuir P (1999a) Modification of expansin protein abundance in tomato fruit alters softening and cell wall polymer metabolism during ripening. Plant Cell 11(11):2203–2216

Brummell D, Harpster M, Dunsmuir P (1999b) Differential expression of expansin gene family members during growth and ripening of tomato fruit. Plant Mol Biol 39(1):161–169

Busk P, Pagès M (1998) Regulation of abscisic acid-induced transcription. Plant Mol Biol 37(3):425–435

Busk P, Jensen A, Pagès M (1997) Regulatory elements in vivo in the promoter of the abscisic acid responsive gene rab17 from maize. Plant J 11(6):1285–1295

Chen F, Bradford K (2000) Expression of an expansin is associated with endosperm weakening during tomato seed germination. Plant Physiol 124(3):1265–1274

Chen F, Dahal P, Bradford K (2001) Two tomato expansin genes show divergent expression and localization in embryos during seed development and germination. Plant Physiol 127(3):928–936

Cho H, Cosgrove D (2000) Altered expression of expansin modulates leaf growth and pedicel abscission in Arabidopsis thaliana. Proc Natl Acad Sci USA 97(17):9783–9788

Cho H, Cosgrove D (2002) Regulation of root hair initiation and expansin gene expression in Arabidopsis. Plant Cell 14(12):3237–3253

Choi D, Lee Y, Cho H, Kende H (2003) Regulation of expansin gene expression affects growth and development in transgenic rice plants. Plant Cell 15(6):1386–1398

Chomczynski P, Sacchi N (1987) Single-step method of RNA isolation by acid guanidinium thiocyanate–phenol–chloroform extraction. Anal Biochem 162(1):156–159

Cosgrove D (1996) Plant cell enlargement and the action of expansins. BioEssays 18(7):533–540

Cosgrove D (1997) Relaxation in a high-stress environment: the molecular bases of extensible cell walls and cell enlargement. Plant Cell 9(7):1031–1041

Cosgrove D (2000a) Loosening of plant cell walls by expansins. Nature 407(6802):321–326

Cosgrove D (2000b) New genes and new biological roles for expansins. Curr Opin Plant Biol 3(1):73–78

Crowell D, Kadlecek A, John M, Amasino R (1990) Cytokinin-induced mRNAs in cultured soybean cells. Proc Natl Acad Sci USA 87(22):8815–8819

Ding W, Yu Z, Tong Y, Huang W, Chen H, Wu P (2009) A transcription factor with a bHLH domain regulates root hair development in rice. Cell Res 19(11):1309–1311

Downes B, Steinbaker C, Crowell D (2001) Expression and processing of a hormonally regulated beta-expansin from soybean. Plant Physiol 126(1):244–252

Dubouzet J, Sakuma Y, Ito Y, Kasuga M, Dubouzet E, Miura S, Seki M, Shinozaki K, Yamaguchi-Shinozaki K (2003) OsDREB genes in rice, Oryza sativa L., encode transcription activators that function in drought-, high-salt- and cold-responsive gene expression. Plant J 33(4):751–763

Elmayan T, Tepfer M (1995) Evaluation in tobacco of the organ specificity and strength of the rolD promoter, domain A of the 35S promoter and the 35S2 promoter. Transgenic Res 4(6):388–396

Fehlberg V, Vieweg M, Dohmann E, Hohnjec N, Pühler A, Perlick A, Küster H (2005) The promoter of the leghaemoglobin gene VfLb29: functional analysis and identification of modules necessary for its activation in the infected cells of root nodules and in the arbuscule-containing cells of mycorrhizal roots. J Exp Bot 56(413):799–806

Fleming A, McQueen-Mason S, Mandel T, Kuhlemeier C (1997) Induction of leaf primordia by the cell wall protein expansin. Science 276(5317):1415–1418

Gilroy S, Jones D (2000) Through form to function: root hair development and nutrient uptake. Trends Plant Sci 5(2):56–60

Goh H, Sloan J, Dorca-Fornell C, Fleming A (2012) Inducible repression of multiple expansin genes leads to growth suppression during leaf development. Plant Physiol 159(4):1759–1770

Gray-Mitsumune M, Mellerowicz E, Abe H, Schrader J, Winzéll A, Sterky F, Blomqvist K, McQueen-Mason S, Teeri T, Sundberg B (2004) Expansins abundant in secondary xylem belong to subgroup A of the alpha-expansin gene family. Plant Physiol 135(3):1552–1564

Guo W, Zhao J, Li X, Qin L, Yan X (2011) A soybean β-expansin gene GmEXPB2 intrinsically involved in root system architecture responses to abiotic stresses. Plant J 66(3):541–552

Han Y, Li A, Li F, Zhao M, Wang W (2012) Characterization of a wheat (Triticum aestivum L.) expansin gene, TaEXPB23, involved in the abiotic stress response and phytohormone regulation. Plant Physiol Biochem 54:49–58

Hiwasa K, Rose J, Nakano R, Inaba A, Kubo Y (2003) Differential expression of seven alpha-expansin genes during growth and ripening of pear fruit. Physiol Plant 117(4):564–572

Im K, Cosgrove D, Jones A (2000) Subcellular localization of expansin mRNA in xylem cells. Plant Physiol 123(2):463–470

Ishida S, Takahashi Y, Nagata T (1993) Isolation of cDNA of an auxin-regulated gene encoding a G protein beta subunit-like protein from tobacco BY-2 cells. Proc Natl Acad Sci USA 90(23):11152–11156

Jiang C, Lu B, Singh J (1996) Requirement of a CCGAC cis-acting element for cold induction of the BN115 gene from winter Brassica napus. Plant Mol Biol 30(3):679–684

Johansson P, Brumer H, Baumann M, Kallas A, Henriksson H, Denman S, Teeri T, Jones T (2004) Crystal structures of a poplar xyloglucan endotransglycosylase reveal details of transglycosylation acceptor binding. Plant Cell 16(4):874–886

Kamiya N, Nagasaki H, Morikami A, Sato Y, Matsuoka M (2003) Isolation and characterization of a rice WUSCHEL-type homeobox gene that is specifically expressed in the central cells of a quiescent center in the root apical meristem. Plant J 35(4):429–441

Kende H, Bradford K, Brummell D, Cho H, Cosgrove D, Fleming A, Gehring C, Lee Y, McQueen-Mason S, Rose J, Voesenek L (2004) Nomenclature for members of the expansin superfamily of genes and proteins. Plant Mol Biol 55(3):311–314

Kim H, Kim Y, Park J, Kim J (2002) Light signalling mediated by phytochrome plays an important role in cold-induced gene expression through the C-repeat/dehydration responsive element (C/DRE) in Arabidopsis thaliana. Plant J 29(6):693–704

Kim DW, Lee SH, Choi SB, Won SK, Heo YK, Cho M, Park YI, Cho HT (2006) Functional conservation of a root hair cell-specific cis-element in angiosperms with different root hair distribution patterns. Plant Cell 18(11):2958–2970

Kim H, Hwang H, Hong J, Lee Y, Ahn I, Yoon I, Yoo S, Lee S, Lee S, Kim B (2012) A rice orthologue of the ABA receptor, OsPYL/RCAR5, is a positive regulator of the ABA signal transduction pathway in seed germination and early seedling growth. J Exp Bot 63(2):1013–1024

Kizis D, Pagès M (2002) Maize DRE-binding proteins DBF1 and DBF2 are involved in rab17 regulation through the drought-responsive element in an ABA-dependent pathway. Plant J 30(6):679–689

Kwasniewski M, Szarejko I (2006) Molecular cloning and characterization of beta-expansin gene related to root hair formation in barley. Plant Physiol 141(3):1149–1158

Lee Y, Kende H (2001) Expression of beta-expansins is correlated with internodal elongation in deepwater rice. Plant Physiol 127(2):645–654

Lee D, Ahn J, Song S, Choi Y, Lee J (2003) Expression of an expansin gene is correlated with root elongation in soybean. Plant Physiol 131(3):985–997

Li Y, Darley C, Ongaro V, Fleming A, Schipper O, Baldauf S, McQueen-Mason S (2002) Plant expansins are a complex multigene family with an ancient evolutionary origin. Plant Physiol 128(3):854–864

Li L, Bedinger P, Volk C, Jones A, Cosgrove D (2003) Purification and characterization of four beta-expansins (Zea m 1 isoforms) from maize pollen. Plant Physiol 132(4):2073–2085

Li F, Xing S, Guo Q, Zhao M, Zhang J, Gao Q, Wang G, Wang W (2011) Drought tolerance through overexpression of the expansin gene TaEXPB23 in transgenic tobacco. J Plant Physiol 168(9):960–966

Lim S, Lee C, Jang C (2014) The rice RING E3 ligase, OsCTR1, inhibits trafficking to the chloroplasts of OsCP12 and OsRP1, and its overexpression confers drought tolerance in Arabidopsis. Plant, Cell Environ 37(5):1097–1113

Lin C, Choi H, Cho H (2011) Root hair-specific EXPANSIN A7 is required for root hair elongation in Arabidopsis. Mol Cell 31(4):393–397

Link B, Cosgrove D (1998) Acid-growth response and alpha-expansins in suspension cultures of bright yellow 2 tobacco. Plant Physiol 118(3):907–916

Liu X, Bai X, Wang X, Chu C (2007) OsWRKY71, a rice transcription factor, is involved in rice defense response. J Plant Physiol 164(8):969–979

Lu W, Wang Y, Jiang Y, Li J, Liu H, Duan X, Song L (2006) Differential expression of litchi XET genes in relation to fruit growth. Plant Physiol Biochem 44(11–12):707–713

Ma N, Wang Y, Qiu S, Kang Z, Che S, Wang G, Huang J (2013) Overexpression of OsEXPA8, a root-specific gene, improves rice growth and root system architecture by facilitating cell extension. PLoS ONE 8(10):e75997

Masucci J, Schiefelbein J (1994) The rhd6 mutation of Arabidopsis thaliana alters root-hair initiation through an auxin- and ethylene-associated process. Plant Physiol 106(4):1335–1346

Masucci J, Schiefelbein J (1996) Hormones act downstream of TTG and GL2 to promote root hair outgrowth during epidermis development in the Arabidopsis root. Plant Cell 8(9):1505–1517

Miki D, Shimamoto K (2004) Simple RNAi vectors for stable and transient suppression of gene function in rice. Plant Cell Physiol 45(4):490–495

Miki D, Itoh R, Shimamoto K (2005) RNA silencing of single and multiple members in a gene family of rice. Plant Physiol 138(4):1903–1913

Nishikubo N, Takahashi J, Roos A, Derba-Maceluch M, Piens K, Brumer H, Teeri T, Stålbrand H, Mellerowicz E (2011) Xyloglucan endo-transglycosylase-mediated xyloglucan rearrangements in developing wood of hybrid aspen. Plant Physiol 155(1):399–413

Nordin K, Vahala T, Palva E (1993) Differential expression of two related, low-temperature-induced genes in Arabidopsis thaliana (L.) Heynh. Plant Mol Biol 21(4):641–653

Park H, Kim M, Kang Y, Jeon J, Yoo J, Kim M, Park C, Jeong J, Moon B, Lee J, Yoon H, Lee S, Chung W, Lim C, Lee S, Hong J, Cho M (2004) Pathogen- and NaCl-induced expression of the SCaM-4 promoter is mediated in part by a GT-1 box that interacts with a GT-1-like transcription factor. Plant Physiol 135(4):2150–2161

Park C, Kim T, Son S, Hwang J, Lee S, Chang S, Kim S, Kim S, Kim S (2010) Brassinosteroids control AtEXPA5 gene expression in Arabidopsis thaliana. Phytochemistry 71(4):380–387

Pezzotti M, Feron R, Mariani C (2002) Pollination modulates expression of the PPAL gene, a pistil-specific β-expansin. Plant Mol Biol 49(2):187–197

Pien S, Wyrzykowska J, McQueen-Mason S, Smart C, Fleming A (2001) Local expression of expansin induces the entire process of leaf development and modifies leaf shape. Proc Natl Acad Sci USA 98(20):11812–11817

Pitts R, Cernac A, Estelle M (1998) Auxin and ethylene promote root hair elongation in Arabidopsis. Plant J 16(5):553–560

Reinhardt D, Wittwer F, Mandel T, Kuhlemeier C (1998) Localized upregulation of a new expansin gene predicts the site of leaf formation in the tomato meristem. Plant Cell 10(9):1427–1437

Ringli C, Baumberger N, Keller B (2005) The Arabidopsis root hair mutants der2-der9 are affected at different stages of root hair development. Plant Cell Physiol 46(7):1046–1053

Rose J, Lee H, Bennett A (1997) Expression of a divergent expansin gene is fruit-specific and ripening-regulated. Proc Natl Acad Sci USA 94(11):5955–5960

Rubio V, Linhares F, Solano R, Martín A, Iglesias J, Leyva A, Paz-Ares J (2001) A conserved MYB transcription factor involved in phosphate starvation signaling both in vascular plants and in unicellular algae. Genes Dev 15(16):2122–2133

Rubio V, Bustos R, Irigoyen M, Cardona-López X, Rojas-Triana M, Paz-Ares J (2009) Plant hormones and nutrient signaling. Plant Mol Biol 69(4):361–373

Sampedro J, Cosgrove D (2005) The expansin superfamily. Genome Biol 6(12):242

Schiefelbein J, Masucci J, Wang H (1997) Building a root: the control of patterning and morphogenesis during root development. Plant Cell 9(7):1089–1098

Schmidt R, Schippers JH, Mieulet D, Obata T, Fernie AR, Guiderdoni E, Mueller-Roeber B (2013) MULTIPASS, a rice R2R3-type MYB transcription factor, regulates adaptive growth by integrating multiple hormonal pathways. Plant J 76(2):258–273

Schünmann P, Richardson A, Smith F, Delhaize E (2004a) Characterization of promoter expression patterns derived from the Pht1 phosphate transporter genes of barley (Hordeum vulgare L.). J Exp Bot 55(398):855–865

Schünmann P, Richardson A, Vickers C, Delhaize E (2004b) Promoter analysis of the barley Pht1;1 phosphate transporter gene identifies regions controlling root expression and responsiveness to phosphate deprivation. Plant Physiol 136(4):4205–4214

Slabaugh E, Held M, Brandizzi F (2011) Control of root hair development in Arabidopsis thaliana by an endoplasmic reticulum anchored member of the R2R3-MYB transcription factor family. Plant J 67(3):395–405

Sloan J, Backhaus A, Malinowski R, McQueen-Mason S, Fleming A (2009) Phased control of expansin activity during leaf development identifies a sensitivity window for expansin-mediated induction of leaf growth. Plant Physiol 151(4):1844–1854

Son S, Chang S, Park C, Kim S (2012) Ethylene negatively regulates EXPA5 expression in Arabidopsis thaliana. Physiol Plant 144(3):254–262

Stratilová E, Ait-Mohand F, Rehulka P, Garajová S, Flodrová D, Rehulková H, Farkas V (2010) Xyloglucan endotransglycosylases (XETs) from germinating nasturtium (Tropaeolum majus) seeds: isolation and characterization of the major form. Plant Physiol Biochem 48(4):207–215

Sun T, Zhang Y, Chai T (2011) Cloning, characterization, and expression of the BjEXPA1 gene and its promoter region from Brassica juncea L. Plant Growth Regul 64:39–51

Sutoh K, Yamauchi D (2003) Two cis-acting elements necessary and sufficient for gibberellin-upregulated proteinase expression in rice seeds. Plant J 34(5):635–645

Thompson J, Higgins D, Gibson T (1994) CLUSTAL W: improving the sensitivity of progressive multiple sequence alignment through sequence weighting, position-specific gap penalties and weight matrix choice. Nucleic Acids Res 22(22):4673–4680

Vieweg M, Frühling M, Quandt H, Heim U, Bäumlein H, Pühler A, Küster H, Andreas M (2004) The promoter of the Vicia faba L. leghemoglobin gene VfLb29 is specifically activated in the infected cells of root nodules and in the arbuscule-containing cells of mycorrhizal roots from different legume and nonlegume plants. Mol Plant Microbe Interact 17(1):62–69

White A, Dunn M, Brown K, Hughes M (1994) Comparative analysis of genomic sequence and expression of a lipid transfer protein gene family in winter barley. J Exp Bot 45:1885–1892

Won S, Choi S, Kumari S, Cho M, Lee S, Cho H (2010) Root hair-specific EXPANSIN B genes have been selected for Graminaceae root hairs. Mol Cells 30(4):369–376

Wu Y, Sharp R, Durachko D, Cosgrove D (1996) Growth maintenance of the maize primary root at low water potentials involves increases in cell-wall extension properties, expansin activity, and wall susceptibility to expansins. Plant Physiol 111(3):765–772

Wu Y, Meeley R, Cosgrove D (2001) Analysis and expression of the alpha-expansin and beta-expansin gene families in maize. Plant Physiol 126(1):222–232

Yi K, Menand B, Bell E, Dolan L (2010) A basic helix-loop-helix transcription factor controls cell growth and size in root hairs. Nat Genet 42(3):264–267

Yu Z, Kang B, He X, Lv S, Bai Y, Ding W, Chen M, Cho H, Wu P (2011) Root hair-specific expansins modulate root hair elongation in rice. Plant J 66(5):725–734

Zhang X, Wei P, Xiong Y, Yang Y, Chen J, Wang X (2011) Overexpression of the Arabidopsis α-expansin gene AtEXPA1 accelerates stomatal opening by decreasing the volumetric elastic modulus. Plant Cell Rep 30(1):27–36

Zhu C, Gan L, Shen Z, Xia K (2006) Interactions between jasmonates and ethylene in the regulation of root hair development in Arabidopsis. J Exp Bot 57(6):1299–1308
Acknowledgments
This research was supported by grants from National Natural Science Foundation of China (Grant No. 31271685), National Genetically Modified Organisms Breeding Major Projects (2009ZX08009-103B), the National Key Technology R & D Program of China (2011BAD35B 02-05) as well as Chengdu Jinzhuo Agriculture Co., Ltd and the Public Experiment Center of State Bioindustrial Base (Chongqing), China. The authors are grateful to Associate Professor Bing Yang (Department of Genetics, Development and Cell Biology, Iowa State University, USA) for giving us some advice on RNAi vectors.
Conflict of interest
The authors declare that they have no competing interests.
Additional information
Hanyan Zou and Yihao Wenwen have been contributed equally to this work.
Electronic supplementary material
Below is the link to the electronic supplementary material.
About this article
Cite this article
Zou, H., Wenwen, Y., Zang, G. et al. OsEXPB2, a β-expansin gene, is involved in rice root system architecture. Mol Breeding 35, 41 (2015). https://doi.org/10.1007/s11032-015-0203-y
Received:

Accepted:

Published:
Keywords
Expansins

OsEXPB2

Root system architecture

Plant development