Abstract
Malting barley is of high economic and scientific importance. Determining barley grains that are suitable for malting involves measuring malting quality, which is an expensive and complex process. In order to decrease the cost of phenotyping and accelerate the process of developing superior malting barley cultivars, markers for marker-assisted breeding are needed. In this study, we identified quantitative trait loci (QTLs) for malting traits in a Stellar/01Ab8219 F6:8 recombinant inbred line population grown at Aberdeen and Tetonia, Idaho, USA in 2009 and 2010. We identified QTLs associated with malt extract (ME), wort protein, soluble/total protein (S/T), diastatic power (DP), alpha-amylase, beta-glucan (BG) and free amino nitrogen (FAN) at a logarithm of odds score ≥2.5 using a high-density genetic map produced by merging Diversity Arrays Technology markers with the current single nucleotide polymorphism map. Novel QTLs were identified for DP and FAN on chromosome 5H, S/T on 6H, and BG and ME on 7H. Dissection of the genetic regions associated with malting traits suggests the involvement of multiple molecular pathways. The resulting molecular markers may prove useful for barley improvement.
Access options
Buy single article
Instant access to the full article PDF.
US$ 39.95
Tax calculation will be finalised during checkout.
Subscribe to journal
Immediate online access to all issues from 2019. Subscription will auto renew annually.
US$ 79
Tax calculation will be finalised during checkout.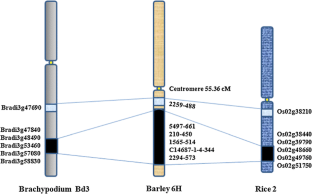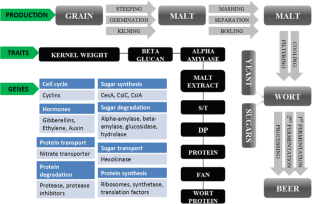 References
Bravi E, Marconi O, Perretti G, Fantozzi P (2012) Influence of barley variety and malting process on lipid content of malt. Food Chem 135(3):1112–1117. doi:10.1016/j.foodchem.2012.06.041

Castro, A, Cammarota L, Gomez B, Gutierrez L, Hayes PM, Locatelli A, Motta L, Pieroni S (2013) Genome-wide association mapping of malting quality traits in relevant barley germplasm in uruguay. Advances in barley sciences. Springer, New York, pp 37–46. doi:10.1007/978-94-007-4682-4_3

Churchill GA, Doerge RW (1994) Empirical threshold values for quantitative trait mapping. Genetics 138:963–971

Close TJ, Bhat PR, Lonardi S, Wu Y, Rostoks N, Ramsay L, Druka A, Stein N, Svensson JT, Wanamaker S, Bozdag S, Roose ML, Moscou MJ, Chao S, Varshney RK, Szucs P, Sato K, Hayes PM, Matthews DE, Kleinhofs A, Muehlbauer GJ, DeYoung J, Marshall DF, Madishetty K, Fenton RD, Condamine P, Graner A, Waugh R (2009) Development and implementation of high-throughput SNP genotyping in barley. BMC Genom 10:582

Coventry SJ, Collins HM, Barr AR, Jefferies SP, Chalmers KJ, Logue SJ, Langridge P (2003) Use of putative QTL and structural genes in marker assisted selection for diastatic power in malting barley (Hordeum vulgare L.). Aust J Agric Res 54:1241–1250

Edney MJ, Mather DE (2004) Quantitative trait loci affecting germination traits and malt friability in a two-rowed by six rowed barley cross. J Cereal Sci 39:283–290

Fan JB, Oliphant A, Shen R, Kermani BG, Garcia F, Gunderson KL, Hansen M, Steemers F, Butler SL, Deloukas P, Galver L, Hunt S, McBride C, Bibikova M, Rubano T, Chen J, Wickham E, Doucet D, Chang W, Campbell D, Zhang B, Kruglyak S, Bentley D, Haas J, Rigault P, Zhou L, Stuelpnagel J, Chee MS (2003) Highly parallel SNP genotyping. Cold Spring Harb Symp Quant Biol 68:69–78

Gao W, Clancy JA, Han F, Jones BL, Budde A, Wesenberg DM, Kleinhofs A, Ullrich SE, North American Barley Genome Project (2004) Fine mapping of a malting-quality QTL complex near the chromosome 4H S telomere in barley. Theor Appl Genet 109:750–760

Goodall AJ, Kumar P, Tobin AK (2013) Identification and expression of cytosolic glutamine synthetase genes in barley (Hordeum vulgare L.). Plant Cell Physiol 54:492–505

Han F, Ullrich SE, Chirat S, Menteur S, Jestin L, Sarrafi A, Hayes PM, Jones BL, Blake TK, Wesenberg DM, Kleinhofs A, Kilian A (1995) Mapping of β-glucan content and β-glucanase activity loci in barley grain and malt. Theor Appl Genet 91:921–927

Han F, Romagosa I, Ullrich SE, Jones BL, Hayes PM, Wesenberg DM (1997) Molecular marker-assisted selection for malting quality traits in barley. Mol Breed 3:427–437

Han F, Clancy JA, Jones BL, Wesenberg DM, Kleinhofs A, Ullrich SE (2004) Dissection of a malting quality QTL region on chromosome 1 (7H) of barley. Mol Breed 14:339–347

Hayes PM, Castro A, Marquez-Cedillo L, Corey A, Henson C, Jones BL, Kling J, Mather D, Matus I, Rossi C, Sato K (2003) Genetic diversity for quantitative inherited agronomic and malting quality traits. In: Von-Bothmer R (ed) Diversity in barley. Elsevier, Amsterdam, pp 201–226

Hearnden PR, Eckermann PJ, McMichael GL, Hayden MJ, Eglinton JK, Chalmers KJ (2007) A genetic map of 1,000 SSR and DArT markers in a wide barley cross. Theor Appl Genet 115:383–391

Horsley RD, Franckowiak JD, Schwrz PB, Neate SM (2006) Registration of "Stellar-ND" barley. Crop Sci 46:980–981

Islamovic E, Obert DE, Oliver RE, Harrison SA, Ibrahim A, Marshall JM, Miclaus KJ, Hu G, Jackson EW (2013) Genetic dissection of grain beta-glucan and amylose content in barley (Hordeum vulgare L.). Mol Breed 31:15–25

Jones BL, Marinac LA (1995) Barley LTP1 (PAPI) and LTP2: inhibitors of green malt cysteine endoprotease. J Am Soc Brew Chem 53:194–195

Kleinhofs A, Kilian A, Saghai Maroof MA, Biyashev RM, Hayes P, Chen FQ, Lapitan N, Fenwick A, Blake TK, Kanazin V, Ananiev E, Dahleen L, Kudrna D, Bollinger J, Knapp SJ, Liu B, Sorrells M, Heun M, Franckowiak JD, Hoffman D, Skadsen R, Steffenson BJ (1993) A molecular, isozyme and morpohological map of the barley (Hordeum vulgare) genome. Theor Appl Genet 86:705–712

Lorbiecke R, Steffens M, Tomm JD, Scholten S, von Wiegen P, Kranz E, Wienand U, Sauter M (2005) Phytosulphokine gene regulation during maize (Zea mays L.) reproduction. J Exp Bot 56:1805–1819

Marcel TC, Varshney RK, Barbieri M, Jafary H, de Kock MJD, Graner A, Niks RE (2007) High-density consensus map of barley to compare the distribution of QTLs for partial resistance of Puccinia hordei A and of defense gene homologues. Theor Appl Genet 114:487–500

March TJ, Richter D, Colby T, Harzen A, Schmidt J, Pillen K (2012) Identification of proteins associated with malting quality in a subset of wild barley introgression lines. Proteomics 12:2843–2851. doi:10.1002/pmic.201200117

Marquez-Cedillo LA, Hayes PM, Kleinhofs A, Legge WG, Rossnagel BG, Sato K, Ullrich SE, Wesenberg DM (2001) QTL analysis of agronomic traits in barley based on the double haploid progeny of two elite North American varieties representing different germplasm groups. Theor Appl Genet 103:625–637

Mather DE, Tinker NA, LaBerge DE, Edney M, Jones BL, Rossnagel BG, Legge WG, Briggs KG, Irvine RB, Falk DE, Kasha KJ (1997) Regions of the genome that affect grain and malt quality in a North American two-row barley cross. Crop Sci 37:544–554

Mester D, Ronin Y, Minkov D, Nevo E, Korol AB (2003a) Constructing large-scale genetic maps using an evolutionary strategy algorithm. Genetics 165:2269–2282

Mester DI, Ronin YI, Hu Y, Peng J, Nevo E, Korol AB (2003b) Efficient multipoint mapping: making use of dominant repulsion-phase markers. Theor Appl Genet 107:1002–1112

Muñoz-Amatriaín M, Xiong Y, Schmitt MR, Bilgic H, Budde AD, Chao S, Smith KP, Muehlbauer GJ (2010) Transcriptome analysis of a barley breeding program examines gene expression diversity and reveals target genes for malting quality improvement. BMC Genom 11:653. doi:10.1186/1471-2164-11-653

Panozzo JF, Eckermann PJ, Mather DE, Moody DB, Black CK, Collins HM, Barr AR, Lim P, Cullis BR (2007) QTL analysis of malting quality traits in two barley populations. Aust J Agr Res 58:858–866

Potokina E, Druka A, Luo Z, Wise R, Waugh R, Kearsey M (2008) Gene expression quantitative trait locus analysis of 16,000 barley genes reveals a complex pattern of genome-wide transcriptional regulation. Plant J 53:90–101

Rae SJ, Macaulay M, Ramsay L, Leigh F, Matthews D, O'Sullivan DM, Donini P, Morris PC, Powell W, Marshall DF, Waugh R, Thomas WTB (2007) Molecular barley breed. Euphytica 158:295–303

Rasmusson DC, Wilcoxson RW (1979) Registration of "Morex" barley. Crop Sci 19:293

Rasmusson DC, Smith KP, Dill-Macky R, Schiefelbein EL, Wiersma JV (2001) Registration of "Lacey" barley. Crop Sci 41:6

Rostoks N, Mudie S, Cardle L, Russell J, Ramsay L, Booth A, Svensson JT, Wanamaker SI, Walia H, Rodriguez EM, Hedley PE, Liu H, Morris J, Close TJ, Marshall DF, Robbie Waugh R (2005) Genome-wide SNP discovery and linkage analysis in barley based on genes responsive to abiotic stress. Mol Genet Genom 274:515–527

Sato K, Nankaku N, Takeda K (2009) A high density transcript linkage map of barley derived from a single population. Heredity 103:110–117

Schmalenbach I, Pillen K (2009) Detection and verification of malting quality QTLs using wild barley introgression lines. Theor Appl Genet 118:1411–1427

Schmitt MR, Budde AD (2011) Malting extremely small quantities of barley. J Am Soc Brew Chem 69:191–199

Shewry PR, Halford NG (2002) Cereal seed storage proteins: structures, properties and role in grain utilization. J Exp Bot 53:947–958

Stein N, Prasad M, Scholz U, Thiel T, Zhang H, Wolf M, Kota R, Varshney RK, Perovic D, Grosse I, Graner A (2007) A 1,000-loci transcript map of the barley genome: new anchoring points for integrative grass genomics. Theor Appl Genet 114:823–839

Szucs P, Blake VC, Bhat PR, Close TJ, Cuesta-Marcos A, Muehlbauer GJ, Ramsay LV, Waugh R, Hayes PM (2009) An integrated resource for barley linkage map and malting quality QTL alignment. Plant Genome 2:134–140

Varshney RK, Marcel TC, Ramsay L, Russell J, Roder MS, Stein N, Waugh R, Langridge P, Niks RE, Graner A (2007) A high density barley microsatellite consensus map with 775 SSR loci. Theor Appl Genet 114:1091–1103

Wang S, Basten CJ, Zeng Z-B (2005) Windows QTL Cartographer 2.5. Available at statgen.ncsu.edu/qtlcart/WQTL-Cart.htm. Department of Statistics, North Carolina State University, Raleigh

Wenzl P, Li H, Carling J, Zhou M, Raman H, Paul E, Hearnden P, Maier C, Xia L, Caig V, Ovesná J, Cakir M, Poulsen D, Wang J, Raman R, Smith KP, Muehlbauer GJ, Chalmers KJ, Kleinhofs A, Huttner E, Kilian A (2006) A high-density consensus map of barley linking DArT markers to SSR, RFLP and STS loci and agricultural traits. BMC Genom 7:206

Zeng Z (1994) Precision mapping of quantitative trait loci. Genetics 136:1457–1468
Acknowledgments
We thank and recognize the efforts of Chris Evans, Kathy Satterfield, Irene Shackelford and Robert Campbell for their management of the Idaho field projects and barley samples. We thank MillerCoors staff Kathy Adams and Krista Huettig for malting analysis of specific RILs and Christopher Martens from USDA-ARS Cereal Crops Research Unit (CCRU) at Madison, WI for his assistance with malting data. In addition we thank the staff of the University of Idaho Research and Extension Experiment Stations in Tetonia and Aberdeen, Idaho for field management. This work was funded by the USDA Barley for Rural Development Grant, Idaho Barley Commission and American Malting Barley Association (AMBA). The authors recognize and appreciate the support of Idaho barley growers and Ms. Kelly Olson.
Electronic supplementary material
Below is the link to the electronic supplementary material.
About this article
Cite this article
Islamovic, E., Obert, D.E., Budde, A.D. et al. Quantitative trait loci of barley malting quality trait components in the Stellar/01Ab8219 mapping population. Mol Breeding 34, 59–73 (2014). https://doi.org/10.1007/s11032-014-0017-3
Received:

Accepted:

Published:

Issue Date:
Keywords
Molecular markers

Genetic linkage map

QTL mapping

Barley

Malt

Diastatic power

Soluble/total protein

Free amino nitrogen

Amylase