Abstract
Orange head Chinese cabbage accumulates significant amounts of carotenoids with enhanced nutritional quality. To develop molecular markers for breeding of Chinese cabbage lines with high carotenoid content and to isolate the candidate gene underlying carotenoid synthesis, we performed fine mapping of the orange locus in a F2S4 mapping population. Genetic analysis revealed that the phenotype of the orange head trait was controlled by a single recessive gene, Br-or. The F2S4 mapping population consisting of 1,724 individuals was developed from the cross between parental lines 11J16 and 11S39-2 by continuous selfing of a single heterozygous individual. Twenty-one tightly linked simple sequence repeat (SSR) and insertion/deletion polymorphism (InDel) markers were obtained. High-resolution genetic mapping of these markers in the F2S4 mapping population placed Br-InDel2 and Br-InDel1 at genetic distances of 0.1 and 0.2 cM, respectively, on either side of the Br-or locus. Based on comparison of these two marker sequences with the fully sequenced Brassica rapa genome, the Br-or locus was delimited to a 16.7 kb genomic region. Three open reading frames (ORFs) were predicted in the target region. ORF1 encoded carotenoid isomerase, which is involved in the isomerization of carotenoids. ORF1 was found to be co-segregated with the Br-or locus and was thus the most likely candidate gene for Br-or. The information obtained here will facilitate the breeding of nutrient-enriched Chinese cabbage through marker-assisted selection and provide a platform for gaining a better understanding of the regulation of carotenoid biosynthesis in these plants.
This is a preview of subscription content,
to check access.
Access this article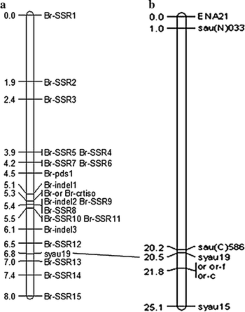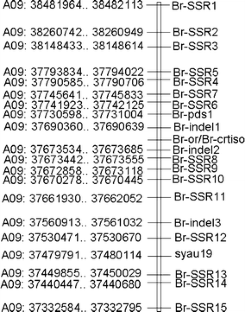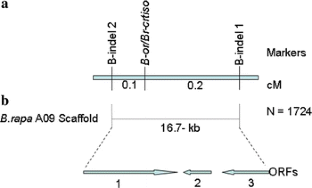 References
Beatty S, Nolan J, Kavanagh H, O'Donovan O (2004) Macular pigment optical density and its relationship with serum and dietary levels of lutein and zeaxanthin. Arch Biochem Biophys 430:70–76

Caffall KH, Pattathil S, Phillips SE, Hahn MG, Mohnen D (2009) Arabidopsis thaliana T-DNA mutants implicate GAUT genes in the biosynthesis of pectin and xylan in cell walls and seed testa. Mol Plant 2:1000–1014

Cazzonelli CI, Pogson BJ (2010) Source to sink: regulation of carotenoid biosynthesis in plants. Trends Plant Sci 15:266–274

Feng H, Li YF, Liu ZY, Liu J (2012) Mapping of or, a gene conferring orange color on the inner leaf of the Chinese cabbage (Brassica rapa L. ssp. pekinensis). Mol Breed 29:235–244

Hannoufa A, Hossain Z (2012) Regulation of carotenoid accumulation in plants. Biocatal Agric Biotechnol 1(3):198–202

Isaacson T, Ronen G, Zamir D, Hirschberg J (2002) Cloning of tangerine from tomato reveals a carotenoid isomerase essential for the production of beta-carotene and xanthophylls in plants. Plant Cell 14:333–342

Kosambi D (1943) The estimation of map distances from recombination values. Ann Hum Genet 12:172–175

Li Q, Wan JM (2005) SSRHunter: development of a local searching software for SSR sites. Hereditas (Beijing) 27:808–810

Lu S, Van Eck J, Zhou XJ, Lopez AB, O'Halloran DM, Cosman KM, Conlin BJ, Paolillo DJ, Garvin DF, Vrebalov J, Kochian LV, Küpper H, D. Earle E, Cao J, Li Li (2006) The cauliflower Or gene encodes a DnaJ cysteine-rich domain-containing protein that mediates high levels of β-carotene accumulation. Plant Cell 18:3594–3605

Matsumoto E, Yasui C, Ohi M, Tsukada M (1998) Linkage analysis of RFLP markers for clubroot resistance and pigmentation in Chinese cabbage (Brassica rapa ssp. pekinensis). Euphytica 104:79–86

Michelmore RW, Paran I, Kesseli RV (1991) Identification of markers linked to disease-resistance genes by bulked segregant analysis: a rapid method to detect markers in specific genomic regions by using segregating populations. Proc Natl Acad Sci USA 88:9828–9832

Misawa N (2009) Pathway engineering of plants toward astaxanthin production. Plant Biotechnol 26:93–99

Park H, Kreunen SS, Cuttriss AJ, DellaPenna D, Pogson BJ (2002) Identification of the carotenoid isomerase provides insight into carotenoid biosynthesis, prolamellar body formation, and photomorphogenesis. Plant Cell 14:321–332

Park YH, Choi C, Park EM, Kim HS, Park HJ, Bae SC, Ahn I, Kim MG, Park SR, Hwang DJ (2012) Over-expression of rice leucine-rich repeat protein results in activation of defense response, thereby enhancing resistance to bacterial soft rot in Chinese cabbage. Plant Cell Rep 31(10):1845–1850

Porebski S, Bailey LG, Baum BR (1997) Modification of a CTAB DNA extraction protocol for plants containing high polysaccharide and polyphenol components. Plant Mol Biol Rep 15:8–15

Ruiz-Sola MÁ, Rodríguez-Concepción M (2012) Carotenoid biosynthesis in arabidopsis: a colorful pathway. Arabidopsis Book 10:e0158. doi:10.1199/tab.0158

Tuan PA, Park NI, Park WT, Kim YB, Kim JK, Lee J, Lee S, Yang TJ, Park SU (2012) Carotenoids accumulation and expression of carotenogenesis genes during seedling and leaf development in Chinese cabbage (Brassica rapa subsp. pekinensis). Plant Omics 5(2):143–148

Van Ooijen JW, Voorrips RE (2001) JoinMap version 3.0: software for the calculation of genetic linkage maps. Plant Research International, Wageningen

Wang Q (2006) Molecular markers linked to orange color of leaf head and purity identification of hybrid in Chinese cabbage. Dissertation, Northwest A&F University

Wang XW, Wang HZ, Wang J, Sun RF, Wu J, Liu SY et al (2011) The genome of the mesopolyploid crop species Brassica rapa. Nat Genet 43:1035–1039

Watanabe M, Musumi K, Ayugase J (2011) Carotenoid pigment composition, polyphenol content, and antioxidant activities of extracts from orange-colored Chinese cabbage. LWT Food Sci Technol 44:1971–1975

Zhang FL, Wang GC, Wang M, Liu XC, Zhao XY, Yu YG, Zhang DS, Yu SC (2008) Identification of SCAR markers linked to or, a gene inducing beta-carotene accumulation in Chinese cabbage. Euphytica 164:463–471
Acknowledgments
We thank Dr. Xiaowu Wang (Institute of Vegetables and Flowers, Chinese Academy of Agricultural Sciences) for kindly providing the Scaffold sequence in A09 of B. rapa and Divyashree C. Nageswaran (Department of Plant Breeding and Genetics, Cornell University) for critical reading of the manuscript. J. X. Zhang thanks the support of China Scholarship Council (CSC). This research was financially supported by the National Natural Science Foundation of China (No. 31171965), Science and technology support program of China (2012BAD02B01) and 863 plan (2012AA100105).
Electronic supplementary material
Below is the link to the electronic supplementary material.
About this article
Cite this article
Zhang, J., Li, H., Zhang, M. et al. Fine mapping and identification of candidate Br-or gene controlling orange head of Chinese cabbage (Brassica rapa L. ssp. pekinensis). Mol Breeding 32, 799–805 (2013). https://doi.org/10.1007/s11032-013-9907-z
Received:

Accepted:

Published:

Issue Date:

DOI: https://doi.org/10.1007/s11032-013-9907-z
Keywords