Abstract
The germplasm of the genus Nicotiana contains more than 5,000 accessions and plays an important role in modern biological research. Tobacco can be used as a model system to develop methodologies for plant transformation and for investigating gene function. In order to develop the study of Nicotiana, a large quantity of data on germplasm, sequences, molecular markers and genetically modified tobacco was required for in-depth and systematic collation and research. It became necessary to establish a special database for tobacco genetics and breeding. The tobacco genetics and breeding (TGB, http://yancao.sdau.edu.cn/tgb) database was developed with the aim of bringing together tobacco genetics and breeding. The database has three main features: (1) a materials database with information on 1,472 Nicotiana germplasm accessions, as well as updated genomic and expressed sequence tag (EST) data available from the public database; (2) a molecular markers database containing a total of 12,388 potential intron polymorphisms 10,551 EST-simple sequence repeat (EST-SSR) and 66,297 genomic-SSR markers; and (3) an applications database with genetic maps and some genetically modified studies in tobacco. The TGB database also makes Basic Local Alignment Search Tool and primer designing tools publicly available. As far as can be ascertained, the TGB database is the first tobacco genetics and breeding database to be created, and all this comprehensive information will aid basic research into Nicotiana and other related plants. It will serve as an excellent resource for the online tobacco research community.
This is a preview of subscription content, log in to check access.
Access options
Buy single article
Instant access to the full article PDF.
US$ 39.95
Price includes VAT for USA
Subscribe to journal
Immediate online access to all issues from 2019. Subscription will auto renew annually.
US$ 99
This is the net price. Taxes to be calculated in checkout.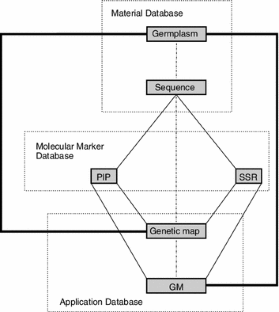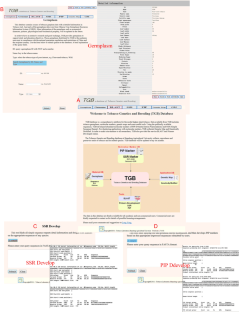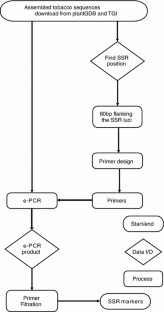 Abbreviations
TGB:

Tobacco genetics and breeding

EST:

Expressed sequence tag

BLAST:

Basic Local Alignment Search Tool

PIP:

Potential intron polymorphism

SSR:

Simple sequence repeat

GM:

Genetically modified

QTL:

Quantitative trait loci

MAS:

Marker-assisted selection
References
Adetimirin VO, Vroh-Bi I, The C, Menkir A, Mitchell SE, Kresovich S (2008) Diversity analysis of elite maize inbred lines adapted to West and Central Africa using SSR markers. Maydica 53:143–149

Bai D, Reeleder R, Brandie JE (1995) Identification of two RAPD markers tightly linked with the Nicotiana debneyi gene for resistance to black root rot of tobacco. Theor Appl Genet 91:1184–1189

Bindler G, Plieske J, Bakaher N, Gunduz I, Ivanov N, Van der Hoeven R, Ganal M, Donini P (2011) A high density genetic map of tobacco (Nicotiana tabacum L.) obtained from large scale microsatellite marker development. Theor Appl Genet 123(2):219–230

Day-Rubenstein K, Heisey P (2003) Plant genetic resources: new rules for international exchange. Amber Waves 1(3):23–29

Denduangboripant J, Setaphan S, Suwanprasart W, Panha S (2010) Determination of local tobacco cultivars using ISSR molecular marker. Chiang Mai J Sci 37(2):293–303

Edwards KD, Bombarely A, Story GW, Allen F, Mueller LA, Coates SA, Jones L (2010) TobEA: an atlas of tobacco gene expression from seed to senescence. BMC Genomics 11:142

Ganapathi TR, Suprasanna P et al (2004) Tobacco (Nicotiana tabacum L.)—a model system for tissue culture interventions and genetic engineering. Indian J Biotechnol 3:171–184

Goodspeed TH, Thompson MC (1945) Cytotaxonomy of Nicotiana. Bot Rev 11:533–585

Goodspeed TH, Thompson MC (1959) Cytotaxonomy of Nicotiana ΙΙ. Bot Rev 25:385–415

Hawkes JG (1977) The importance of wild germplasm in plant breeding. Euphytica 26:615–621

Hoekema A, Hirsch PR, Hooykaas PJJ, Schilperoort RA (1983) A binary plant vector strategy based on separation of vir- and T-region of the Agrobacterium tumefaciens Ti-plasmid. Nature 303:179–180

James EA, Wang C, Wang Z, Reeves R, Shin JH, Magnuson NS, Lee JM (2000) Production and characterization of biologically active human GM-CSF secreted by genetically modified plant cells. Protein Exp Purif 19:131–138

Knapp S, Chase MW, Clarkson JJ (2004) Nomenclatural changes and a new sectional classification in Nicotiana (Solanaceae). Taxon 53(1):73–82

Lawrence CJ, Dong Q, Polacco ML, Seigfried TE, Brendel V (2004) MaizeGDB, the community database for maize genetics and genomics. Nucleic Acids Res 32(Database issue):D393–D397

Leitch IJ, Hanson L, Lim KY, Kovarik A, Chase MW, Clarkson JJ, Leitch AR (2008) The ups and downs of genome size evolution in polyploid species of Nicotiana (Solanaceae). Ann Bot 101(6):805–814

Lewis RS (2011) Nicotiana. In: Kole C (ed) Wild crop relatives: genomic and breeding resources, plantation and ornamental crops. Springer, Berlin

Magnuson NS, Linzmaier PM, Reeves R, An G, HayGlass K, Lee JM (1998) Secretion of biologically active human interleukin-2 and interleukin-4 from genetically modified tobacco cells in suspension culture. Protein Expr Purif 13:45–52

Martz F, Maury S, Pincon G, Legrand M (1998) cDNA cloning, substrate specificity and expression study of tobacco caffeoyl-CoA 3-O-methyltransferase, a lignin biosynthetic enzyme. Plant Mol Biol 36(3):427–437

Moon HS, Nicholson JS, Lewis RS (2008) Use of transferable Nicotiana tabacum L. microsatellite markers for investigating genetic diversity in the genus Nicotiana. Genome 51:547–559

Moon HS, Nicholson JS, Heineman A, Lion K, Hoeven R, Hayes AJ, Lewis RS (2009a) Changes in genetic diversity of U.S. flue-cured tobacco germplasm over seven decades of cultivar development. Crop Sci 49:498–509

Moon HS, Nifong JM, Nicholson JS, Heineman A, Lion K, Hoeven R, Hayes AJ, Lewis RS (2009b) Microsatellite-based analysis of tobacco (Nicotiana tabacum L.) genetic resources. Crop Sci 49:2149–2159

Ravisankar H, Sarala K, Krishnamurthy V, Rao RVS (2008) A software system for tobacco germplasm data. Plant Genet Resour Charact Util 7(2):139–141

Ren N, Timco MP (2001) AFLP analysis of genetic polymorphism and evolutionary relationships among cultivated and wild Nicotiana species. Genome Res 44:559–571

Rhee SY, Beavis W, Berardini TZ, Chen G, Dixon D, Doyle A, Garcia-Hernandez M, Huala E, Lander G, Montoya M, Miller N, Mueller LA, Mundodi S, Reiser L, Tacklind J, Weems DC, Wu Y, Xu I, Yoo D, Yoon J, Zhang P (2003) The Arabidopsis Information Resource (TAIR): a model organism database providing a centralized, curated gateway to Arabidopsis biology, research materials and community. Nucleic Acids Res 31(1):224–228

Ribaut JM, Hoisington D (1998) Marker-assisted selection: new tools and strategies. Trends Plant Sci 3:236–239

Rozen S, Skaletsky H (2000) Primer3 on the WWW for general users and for biologist programmers. Methods Mol Biol 132:365–386

Ruan CJ, Xu XX, Shao HB, Jaleel CA (2010) Germplasm-regression-combined (GRC) marker-trait association identification in plant breeding: a challenge for plant biotechnological breeding under soil water deficit conditions. Crit Rev Biotechnol 30(3):192–199

Rushton PJ, Bokowiec MT, Laudeman TW, Brannock JF, Chen X, Timko MP (2008) TOBFAC: the database of tobacco transcription factors. BMC Bioinform 9:53

Schuler GD (1997) Sequence mapping by electronic PCR. Genome Res 7(5):541–550

Upadhyaya HD, Gowda CLL, Sastry DVSSR (2008) Plant genetic resources management: collection, characterization, conservation and utilization. Int Crops Res Inst Semi-Arid Trop 6:1–16

Van Inghelandt D, Melchinger A, Lebreton C, Stich B (2010) Population structure and genetic diversity in a commercial maize breeding program assessed with SSR and SNP markers. Theor Appl Genet 120(7):1289–1299

Wei X, Yuan X, Yu H, Wang Y, Xu Q, Tang S (2009) Temporal changes in SSR allelic diversity of major rice cultivars in China. J Genet Genomics 36(6):363–370

Wilde F, Korzun V, Ebmeyer E, Geiger HH, Miedaner T (2007) Comparison of phenotypic and marker-based selection for Fusarium head blight resistance and DON content in spring wheat. Mol Breed 19:357–370

Yang L, Jin G, Zhao X, Zheng Y, Xu Z, Wu W (2007) PIP: a database of potential intron polymorphism markers. Bioinformatics 23(16):2174–2177

Zhang XZ, Kong FS, Yang MK (1990) A design scheme for a database system of crop germplasm resources. Sci Agric Sin 23:79–87
Acknowledgments
This work was supported by grants from the National Natural Science Foundation of China (No. 30900780), China Postdoctoral Science Foundation (No. 20090461260 & No. 201104647) and Special Funds for Postdoctoral Innovative Projects of Shandong Province (No. 201003030). The authors thank Dr. Jiajie Wu from the College of Agronomy, Shandong Agricultural University, for helpful suggestions on the manuscript.
Conflict of interest
The authors declare that they have no competing interests.
About this article
Cite this article
Cao, H., Wang, Y., Xie, Z. et al. TGB: the tobacco genetics and breeding database. Mol Breeding 31, 655–663 (2013). https://doi.org/10.1007/s11032-012-9823-7
Received:

Accepted:

Published:

Issue Date:
Keywords
Tobacco

Germplasm

Molecular markers

Genetics

Breeding

Database