Abstract
Blue wheat grain contains different groups of pigments that can be used for making specialty foods or as food colorants. Thinopyrum bessarabicum, a wild relative of wheat, carries a blue-grained gene on chromosome 4J. In this study, we analyzed the mitotic chromosomes of 159 F7 lines derived from the cross between Triticum aestivum cv. Chinese Spring (CS) and a CS–Th. bessarabicum amphiploid by using multi-color fluorescence in situ hybridization, genomic in situ hybridization, and newly developed chromosome 4J-specific DNA markers. Intact chromosome 4J and various 4J chromosomal segments were identified in the 159 lines. The blue-grained gene of Th. bessarabicum was physically localized to the region between the centromere and FL0.52 on chromosome arm 4JL. The chromosomal location of this gene differed from the location of previously reported blue-grained genes. In addition, a strong dosage effect was observed with this gene. These results suggest that the blue-grained gene in Th. bessarabicum represents a novel gene locus for blue aleurone, designated BaThb. The wheat lines and 4J chromosome-specific molecular markers developed in this study will facilitate the introgression and utilization of BaThb for wheat nutritional quality improvement.
Access options
Buy single article
Instant access to the full article PDF.
USD 39.95
Price excludes VAT (USA)
Tax calculation will be finalised during checkout.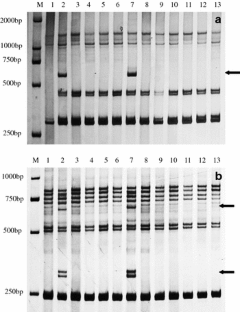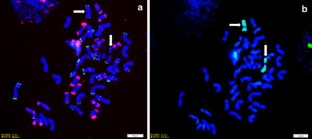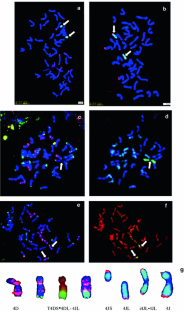 References
Abdel-Aal EM, Pierre H (2003) Composition and stability of anthocyanins in blue-grained wheat. J Agric Food Chem 51:2174–2180

Abdel-Aal EM, Young JC, Rabalski I (2006) Anthocyanin composition in black, blue, pink, purple, and red cereal grains. J Agric Food Chem 54:4696–4704

Bedbrook JR, Jones J, O'Dell M, Thompson RD, Flavell RB (1980) A molecular description of telomeric heterochromatin in Secale species. Cell 19:545–560

Chen HF, Qian BL, Zhuang LF, Chen QZ, Feng YG, Pei ZY, Qi ZJ, Chen PD, Liu DJ (2007) Molecular marker analysis on common wheat landrace Chinese Spring alien chromosome lines derived from Thinopyrum bessarabicum Löve. Acta Agron Sin 33:1232–1239 (in Chinese with English abstract)

Dawadondup (2009) Development and molecular characterization of wheat–Thinopyrum bessarabicum Löve alien chromosome lines involving 4J and 5J. Master's thesis. Nanjing Agricultural University, Nanjing

Dubcovsky J, Luo MC, Zhong GY, Bransteitter R, Desai A, Kilian A, Kleinhofs A, Dvorak J (1996) Genetic map of diploid wheat, Triticum monococcum L., and its comparison with maps of Hordeum vulgare L. Genetics 143:983–999

Gorham J, McDonnell E, Budrewicz E, Wynn Jones RG (1985) Salt tolerance in the Triticeae: growth and solute accumulation in leaves of Thinopyrum bessarabicum. J Exp Bot 36:1021–1031

Hanson BD, Mallory-Smith CA, Shafii B, Thill DC, Zemetra RS (2005) Pollen-mediated gene flow from blue aleurone wheat to other wheat cultivars. Crop Sci 45:1610–1617

Jan CC, Dvorak J, Qualset CO, Soliman KM (1981) Selection and identification of a spontaneous alien chromosome translocation in wheat. Genetics 98:389–398

Jiang J, Gill BS (1993) Sequential chromosome banding and in situ hybridization analysis. Genome 36:792–795

Keppenne VD, Baenziger S (1990) Inheritance of the blue aleurone trait in diverse wheat crosses. Genome 33:525–529

King IP, Forster BP, Law CC, Cant KA, Orford SE, Gorham J, Reader S, Miller TE (1997) Introgression of salt-tolerance genes from Thinopyrum bessarabicum into wheat. New Phytol 137:75–81

Ma ZQ, Sorrells ME (1995) Genetic analysis of fertility restoration in wheat using restriction fragment length polymorphisms. Crop Sci 35:1137–1143

McIntyre CL, Pereira S, Moran LB, Apples R (1990) New Secale cereale (rye) DNA derivatives for the detection of rye chromosome segments in wheat. Genome 33:317–323

Metzger RJ, Sebesta E (2004) Registration of three blue-seeded wheat genetic stocks exhibiting xenia. Crop Sci 44:2281–2282

Miftahudin RK, Ma X-F, Mahmoud AA, Layton J, Rodriguez Milla MA, Chikmawati T, Ramalingam J, Feril O, Pathan MS, Surlan Momirovic G, Kim S, Chema K, Fang P, Haule L, Struxness H, Birkes J, Yaghoubian C, Skinner R, McAllister J, Nguyen V, Qi LL, Echalier B, Gill BS, Linkiewicz AM, Dubcovsky J, Akhunov ED, Dvořák J, Dilbirligi M, Gill KS, Peng JH, Lapitan NLV, Bermudez-Kandianis SorrellsME, Hossain KG, Kalavacharla V, Kianian SF, Lazo GR, Chao S, Anderson OD, Gonzalez-Hernandez J, Conley EJ, Anderson JA, Choi D-W, Fenton RD, Close TJ, McGuire PE, Qualset CO, Nguyen HT, Gustafson JP (2004) Analysis of expressed sequence tag loci on wheat chromosome group 4. Genetics 168:651–663

Morrison LA, Metzger RJ, Lukaszewski AJ (2004) Origin of the blue-aleurone gene in 'Sebesta Blue' wheat genetic stocks and a protocol for its use in apomixis screening. Crop Sci 44:2063–2067

Mukai Y, Nakahara Y, Yamamoto M (1993) Simultaneous discrimination of the three genomes in hexaploid wheat by multicolor fluorescence in situ hybridization using total genomic and highly repeated DNA probes. Genome 36:489–494

Niu ZX, Klindworth DL, Friesen TL, Chao SM, Jin Y, Cai XW, Xu SS (2011) Targeted introgression of a wheat stem rust resistance gene by DNA marker-assisted chromosome engineering. Genetics 187:1011–1021

Qi ZJ, Du P, Qian BL,·Zhuang LF,·Chen HF, Chen TT, Shen J, Guo J, Feng YG, Pei ZY (2010) Characterization of a wheat–Thinopyrum bessarabicum (T2JS-2BS·2BL) translocation line. Theor Appl Genet 121:589–597

Rayburn AL, Gill BS (1986) Molecular identification of the D-genome chromosomes of wheat. J Hered 77:253–255

Shen J (2011) Development and molecular cytogenetic characterization of wheat–Thinopyrum bessarabicum alien chromosome lines. Master's thesis. Nanjing Agricultural University, Nanjing

Singh K, Ghai M, Garg M, Chhuneja P, Kaur P, Schnurbusch T, Keller B, Dhaliwal HS (2007) An integrated molecular linkage map of diploid wheat based on a Triticum boeoticum x T. monococcum RIL population. Theor Appl Genet 115:301–312

Tan LJ (2011) Development and identification of structural variations involving chromosomes 1J and 5J of Thinopyrum bessarabicum Löve, Master's thesis. Nanjing Agricultural University, Nanjing

Wang RRC, Larson SR, Jensen KB (2010) Analyses of Thinopyrum bessarabicum, Th. elongatum and Th. junceum chromosomes using EST-SSR markers. Genome 53:1083–1089

William MDHM, Mujeeb-Kazi A (1993) Thinopyrum bessarabicum: biochemical and cytological markers for the detection of genetic introgression in its hybrid derivatives with Triticum aestivum L. Theor Appl Genet 86:365–370

William MDHM, Mujeeb-Kazi A (1995) Biochemical and molecular diagnostics of Thinopyrum bessarabicum chromosomes in Triticum aestivum germplasm. Theor Appl Genet 90:952–956

Zeven AC (1991) Wheats with purple and blue grains: a review. Euphytica 56:243–258

Zhang JY, Li XM, Wang RRC, Cortes A, Rosas V, Mujeebi-Kazi A (2002) Molecular cytogenetic characterization of Eb-genome chromosomes in Thinopyrum bessarabicum disomic addition lines of bread wheat. Plant Sci 163:167–174

Zheng Q, Li B, Mu SM, Zhou HP, Li ZS (2006) Physical mapping of the blue-grained gene(s) from Thinopyrum ponticum by GISH and FISH in a set of translocation lines with different seed colors in wheat. Genome 49:1109–1114

Zheng Q, Li B, Li HW, Li ZS (2009) Utilization of blue-grained character in wheat breeding derived from Thinopyrum poticum. J Genet Genomics 36:575–580

Zhuang LF, Qi ZJ, Ying J, Chen PD, Liu DJ (2003) Development and identification of a whole set of Triticum aestivum–Thinopyrum bessarabicum disomic alien addition lines. Acta Genet Sin 30:919–925 (in Chinese with English abstract)

Zhuang LF, Qi ZJ, Chen PD, Feng YG, Liu DJ (2004) Development and identification of Triticum aestivum L.–Thinopyrum bessarabicum Löve chromosome translocations. Agric Sci China 3:649–655
Acknowledgments
The authors sincerely thank Dr. Mujeeb-Kazi from CIMMYT, Mexico for providing seeds of the amphiploid of wheat Chinese Spring and Th. bessarabicum, Dr. Gill from the Plant Pathology Department, Kansas State University, Manhattan, KS, USA, for providing clones of pSc119.2 and pAs1, and Dr. Xiwen Cai from the Department of Plant Sciences, North Dakota State University for critical review. This project was supported by the National Natural Science Foundation of China (No. 31170302) and the National 863 Program of China (2012AA101105).
Additional information
Yuefeng Shen and Jian Shen equally contributed to this manuscript.
Electronic supplementary material
Below is the link to the electronic supplementary material.
About this article
Cite this article
Shen, Y., Shen, J., Dawadondup et al. Physical localization of a novel blue-grained gene derived from Thinopyrum bessarabicum . Mol Breeding 31, 195–204 (2013). https://doi.org/10.1007/s11032-012-9783-y
Received:

Accepted:

Published:

Issue Date:

DOI: https://doi.org/10.1007/s11032-012-9783-y
Keywords
Triticum aestivum
Thinopyrum bessarabicum

Marker-assisted selection

Fluorescence in situ hybridization

Chromosome variation

Seed color