Abstract
Bacterial blight (BB) is a major production threat to Basmati, the aromatic rice prized for its unique quality. In order to improve the BB resistance of two elite, traditional BB-susceptible Basmati varieties (Taraori Basmati and Basmati 386), we utilized the strategy of limited marker-assisted backcrossing for introgression of two major BB resistance genes, Xa21 and xa13, coupled with phenotype-based selection for improvement of their plant type and yield. Improved Samba Mahsuri, an elite high-yielding, fine-grain-type BB-resistant rice variety served as donor for BB resistance. Backcross-derived improved Basmati lines at BC1F5 possessing a single resistance gene (i.e. either Xa21 or xa13) displayed moderate resistance to BB, while lines possessing both Xa21 and xa13 showed significantly higher levels of resistance. Two-gene pyramid lines (Xa21 + xa13) possessing good grain and cooking quality similar to their respective traditional Basmati parents, short plant stature (<110 cm plant height) and higher grain yield than the recurrent parent(s) were identified and advanced. This work demonstrates the successful application of marker-assisted selection in conjunction with phenotype-based selection for targeted introgression of multiple resistance genes into traditional Basmati varieties along with improvement of their plant stature and yield.
Access options
Buy single article
Instant access to the full article PDF.
USD 39.95
Price excludes VAT (USA)
Tax calculation will be finalised during checkout.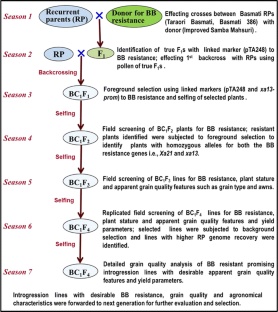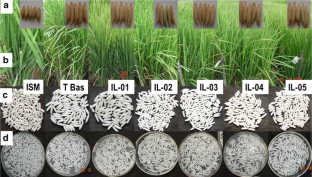 References
Basavaraj SH, Singh VK, Singh A, Singh D, Nagarajan M, Mohapatra T, Prabhu KV, Singh AK (2009) Marker aided improvement of Pusa 6B, the maintainer parent of rice hybrid Pusa RH10, for resistance to bacterial blight. Indian J Genet 69:10–16

Basavaraj H, Singh VK, Singh A, Singh A, Singh A, Anand D, Yadav S, Ellur RK, Singh D, Krishnan SG, Nagarajan M, Mohapatra T, Prabhu KV, Singh AK (2010) Marker-assisted improvement of bacterial blight resistance in parental lines of Pusa RH10, a superfine grain aromatic rice hybrids. Mol Breed 26:293–305

Chen S, Lin XH, Xu CG, Zhang QF (2000) Improvement of bacterial blight resistance of Minghui 63 an elite restorer line of hybrid rice, by molecular marker-assisted selection. Crop Sci 40:239–244

Deng Q, Wang S, Zheng A, Zhang H, Li P (2006) Breeding rice restorer lines with high resistance to bacterial blight by using molecular marker-assisted selection. Rice Sci 13:22–28

Joseph MS, Gopalakrishnan RK, Sharma VP, Singh AK, Singh NK, Mohapatra T (2004) Combining bacterial blight resistance and Basmati quality characteristics by phenotypic and molecular marker-assisted selection in rice. Mol Breed 13:377–387

Kauffman HE, Reddy APK, Hsieh SPY, Merca SD (1973) An improved technique for evaluating resistance of rice varieties to Xanthomonas oryzae. Plant Dis Rep 57:537–541

POS (1979) Production oriented survey. Directorate of rice research (DRR), Hyderabad, India

POS (1980) Production oriented survey. Directorate of rice research (DRR), Hyderabad, India

Rajpurohit D, Kumar R, Kumar M, Paul P, Awasthi A, Basha PO, Puri A, Jhang T, Singh K, Dhaliwal HS (2011) Pyramiding of two bacterial blight resistance and a semidwarfing gene in Type 3 Basmati using marker-assisted selection. Euphytica 178:111–126. doi:10.1007/s10681-010-0279-8

Ronald PC, Albano B, Tabien R, Abenes L, Wu K, McCouch SR, Tanksley SD (1992) Genetic and physical analysis of the rice bacterial blight disease resistance locus, Xa21. Mol Gen Genet 236:113–120

Sanchez AC, Brar DS, Huang N, Li Z, Khush GS (2000) Sequence tagged site marker-assisted selection for three bacterial blight resistance genes in rice. Crop Sci 40:792–797

Shobha Rani N, Pandey MK, Prasad GSV, Sudharshan I (2006) Historical significance, grain quality features and precision breeding for improvement of export quality basmati varieties in India. Indian J Crop Sci 1:29–41

Singh S, Sidhu JS, Huang N, Vikal Y, Li Z, Brar DS, Dhaliwal HS, Khush GS (2001) Pyramiding three bacterial blight resistance genes (xa5, xa13 and Xa21) using marker-assisted selection into indica rice cultivar PR-106. Theor Appl Genet 102:1011–1015

Sundaram RM, Vishnupriya MR, Biradar SK, Laha GS, Reddy AG, Rani NS, Sarma NP, Sonti RV (2008) Marker assisted introgression of bacterial blight resistance in Samba Mahsuri, an elite indica rice variety. Euphytica 160:411–422

Sundaram RM, Laha GS, Viraktamath BC, Sujatha K, Natarajkumar P, Hari Y, Srinivasa Rao K, Reddy CS, Balachandran SM, Madhav MS, Hajira SK, Rani NS, Vishnupriya MR, Sonti RV (2011). Marker Assisted Breeding For Development Of Bacterial Blight Resistant Rice. In: Muralidharan K, Siddiq EA (eds) Genomics and Crop Improvement: Relevance and Reservations, Acharya NG Ranga Agricultural University, Hyderabad 500030 India, pp 154–182

Zhang J, Li X, Jiang G, Xu Y, He Y (2006) Pyramiding of Xa7 and Xa21 for the improvement of disease resistance to bacterial blight in hybrid rice. Plant Breed 125:600–605

Zheng K, Huang N, Bennett J, Khush GS (1995) PCR-based marker assisted selection in rice breeding. IRRI Discussion Paper Series No. 12. International Rice Research Institute, Manila, Philippines
Acknowledgments
The authors thank the Indian Council of Agricultural Research (ICAR), India for providing financial support. We also thank Mr. M. Vijay Kumar, B. Venkaiah and A. Ashok Reddy for their help in field experiments and grain quality assessment.
Additional information
Manish K. Pandey, N. Shobha Rani and R. M. Sundaram contributed equally.
Electronic supplementary material
Below is the link to the electronic supplementary material.
About this article
Cite this article
Pandey, M.K., Shobha Rani, N., Sundaram, R.M. et al. Improvement of two traditional Basmati rice varieties for bacterial blight resistance and plant stature through morphological and marker-assisted selection. Mol Breeding 31, 239–246 (2013). https://doi.org/10.1007/s11032-012-9779-7
Received:

Accepted:

Published:

Issue Date:

DOI: https://doi.org/10.1007/s11032-012-9779-7
Keywords
Gene pyramiding

Bacterial blight resistance

Basmati rice

Grain quality

Marker-assisted selection

Morphological selection