Abstract
Several options are available to the scientific community for genetic map construction but few are simple to install and use. Available programs either lack intuitive interface or are commercial, expensive for many laboratories. We present MapDisto, a free, user-friendly and powerful program for constructing genetic maps from experimental segregating populations. MapDisto is freely available at http://mapdisto.free.fr/DL/. Current version: 1.7.5.
Access options
Buy single article
Instant access to the full article PDF.
US$ 39.95
Tax calculation will be finalised during checkout.
Subscribe to journal
Immediate online access to all issues from 2019. Subscription will auto renew annually.
US$ 79
Tax calculation will be finalised during checkout.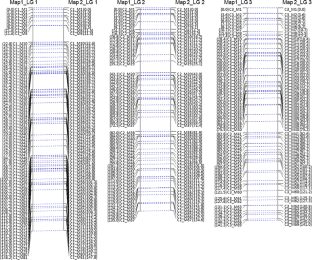 References
Allard RW (1956) Formulas and tables to facilitate the calculation of recombination values in heredity. Hilgardia 24:235–278

Bailey NTJ (1949) The estimation of linkage with differential viability, II and III. Heredity 3:220–228

Garavito A, Guyot R, Lozano J, Gavory F, Samain S, Panaud O, Tohme J, Ghesquiere A, Lorieux M (2010) A genetic model for the female sterility barrier between Asian and African cultivated rice species. Genetics 185(4):1425–1440

Holloway J, Knapp SJ (1994) Gmendel 3.0 users guide. http://www.css.orst.edu/G-Mendel/Default.htm

Joehanes R, Nelson JC (2008) QGene 4.0, an extensible Java QTL-analysis platform. Bioinformatics 24:2788–2789

Lander ES, Green P, Abrahamson J, Barlow A, Daly MJ, Lincoln SE, Newburg L (1987) Mapmaker: an interactive computer package for constructing primary genetic linkage maps of experimental and natural populations. Genomics 1:174–181

Lorieux M, Goffinet B, Perrier X, González de León D, Lanaud C (1995a) Maximum-likelihood models for mapping genetic markers showing segregation distortion. 1. Backcross populations. Theor Appl Genet 90:73–80

Lorieux M, Perrier X, Goffinet B, Lanaud C, González de León D (1995b) Maximum-likelihood models for mapping genetic markers showing segregation distortion. 2. F2 populations. Theor Appl Genet 90:81–89

Manly KF, Cudmore RH, Meer JM (2001) Map manager QTX, cross-platform software for genetic mapping. Mamm Genome 12(12):930–932

Mester DI, Ronin YI, Minkov D, Nevo E, Korol AB (2003) Constructing large scale genetic maps using an evolutionary strategy algorithm. Genetics 165:2269–2282

Rebai A, Goffinet B, Mangin B (1995) Comparing power of different methods for QTL detection. Biometrics 51(1):87–99

Schiex T, Gaspin C (1997) CARTHAGENE: constructing and joining maximum likelihood genetic maps. In: Proceedings of ISMB (1997), pp 258–267

Stam P (1993) Construction of integrated genetic-linkage maps by means of a new computer package—Joinmap. Plant J 3(5):739–744

Van Os H, Stam P, Visser RGF, Van Eck HJ (2005) RECORD: a novel method for ordering loci on a genetic linkage map. Theor Appl Genet 112(1):30–40. doi:10.1007/S00122-005-0097-X

Wu YH, Bhat P, Close TJ, Lonardi S (2008) Efficient and accurate construction of genetic linkage maps from the minimum spanning tree of a graph. PLoS Genet 4(10):e1000212

Wu JX, Jenkins JN, McCarty JC, Lou XY (2011) Comparisons of four approximation algorithms for large-scale linkage map construction. Theor Appl Genet 123(4):649–655. doi:10.1007/S00122-011-1614-8
Acknowledgments
My thanks go to Ian Mackay, Jean-François Rami, Stéphane Dussert and Denis Lespinasse for their kind help and advice.
Conflict of interest
None declared.
About this article
Cite this article
Lorieux, M. MapDisto: fast and efficient computation of genetic linkage maps. Mol Breeding 30, 1231–1235 (2012). https://doi.org/10.1007/s11032-012-9706-y
Received:

Accepted:

Published:

Issue Date:
Keywords
Genetic mapping

Segregation distortion

Locus ordering algorithms

Molecular markers

Maximum likelihood

Genotyping errors