Abstract
Cell wall invertase (CWI) is a critical enzyme for sink tissue development and carbon partition, and has a high association with kernel weight. Characterization of Cwi genes and development of functional markers are of importance for marker-assisted selection in wheat breeding. In the present study, the full-length genomic DNA sequence of a Cwi gene located on wheat chromosome 2A, designated TaCwi-A1, was characterized by in silico cloning and experimental validation. TaCwi-A1 comprises seven exons and six introns, with 3,676 bp in total, and an open reading frame (ORF) of 1,767 bp. A pair of complementary dominant markers, CWI21 and CWI22, was developed based on allelic variations at the TaCwi-A1 locus. A 404-bp PCR fragment was amplified by CWI21 in varieties with lower kernel weights, whereas a 402-bp fragment was generated by CWI22 in the varieties with higher kernel weights. The markers CWI21 and CWI22 were located on chromosome 2AL using a F2:3 population from a cross Doumai/Shi 4185, and a set of Chinese Spring nullisomic–tetrasomic lines. They were linked to the SSR locus Xbarc15-2AL with a genetic distance of 10.9 cM. QTL analysis indicated that TaCwi-A1 could explain 4.8% of phenotypic variance for kernel weight over 2 years. Two sets of Chinese landraces and two sets of commercial wheat varieties were used to validate the association of CWI21 and CWI22 with kernel weight. The results indicated that the functional markers CWI21 and CWI22 were closely related to kernel weight and could be used in wheat breeding for improving grain yield.
Access options
Buy single article
Instant access to the full article PDF.
US$ 39.95
Tax calculation will be finalised during checkout.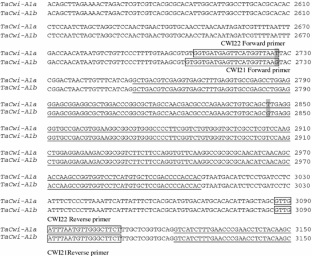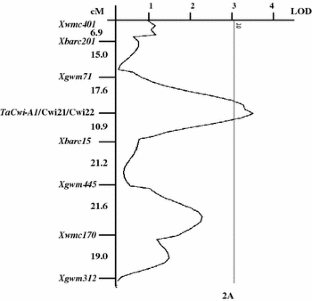 References
Bagge M, Xia XC, Lübberstedt T (2007) Functional markers in wheat. Curr Opin Plant Biol 10:211–216

Bergman J (2001) The functions of introns: from junk DNA to designed DNA. Perspect Sci Chris Faith 53:170–178

Carlson SJ, Shanker S, Chourey PS (2000) A point mutation at the Miniature1 seed locus reduces levels of the encoded protein, but not its mRNA, in maize. Mol Gen Genet 263:367–373

Cheng WH, Taliercio EW, Chourey PS (1996) The Miniature1 seed locus of maize encodes a cell wall invertase required for normal development of endosperm and maternal cells in the pedicel. Plant Cell 8:971–983

Chourey PS, Jain M, Li QB, Carlson SJ (2006) Genetic control of cell wall invertases in developing endosperm of maize. Planta 223:159–167

Collaku A (1989) Analysis of the structure of correlations between yield and some quantitative traits in bread wheat. Buletini i Shkencave Bujqësore 28:137–144

Copenald L (1990) Enzyme of sucrose metabolism. Methods Plant Biochem 3:73–85

Dimou M, Flemetakis E, Delis C, Aivalakis G, Spyropoulos KG, Katinakis P (2005) Genes coding for a putative cell-wall invertase and two putative monosaccharide/H+ transporters are expressed in roots of etiolated glycine max seedlings. Plant Sci 169:798–804

Fedorova L, Fedorov A (2003) Introns in gene evolution. Genetica 118:123–131

Godt DE, Roitsch T (1997) Regulation and tissue-specific distribution of mRNAs for three extracellular invertase isoenzymes of tomato suggests an important function in establishing and maintaining sink metabolism. Plant Physiol 115:273–282

Goetz M, Roitsh T (1999) The different pH optima and substrate specificities of extracellular and vacuolar invertases from plants are determined by a single amino-acid substitution. Plant J 20:707–711

Hirose T, Takano M, Terao T (2002) Cell wall invertase in the developing rice caryopsis: molecular cloning of OsCIN1 and analysis of its expression in relation to its role in grain filling. Plant Cell Physiol 43:452–459

Huang XQ, Cöster H, Ganal MW, Röder MS (2003) Advanced backcross QTL analysis for the identification of quantitative trait loci alleles from wild relatives of wheat (Triticum aestivum L.). Theor Appl Genet 106:1379–1389

Jain M, Chourey PS, Li QB, Pring DR (2008) Expression of cell wall invertase and several other genes of sugar metabolism in relation to seed development in sorghum (Sorghum bicolor). J Plant Physiol 165:331–344

Kim JY, Mahe A, Guy S, Brangeon J, Roche O, Chourey PS, Prioul JL (2000) Characterization of two members of the maize gene family, Incw3 and Incw4, encoding cell-wall invertases. Gene 245:89–102

Kosambi DD (1944) The estimation of map distance from recombination values. Ann Eugen 12:172–175

Kumar N, Kulwal PL, Gaur A, Tyagi AK, Khurana JP, Khurana P, Balyan HS, Gupta PK (2006) QTL analysis for grain weight in common wheat. Euphytica 151:135–144

Kumbhar MB, Larik AS, Hafiz HMI, Rind MJ (1983) Interrelationship of polygenic traits affecting grain yield in Triticum aestivum L. Wheat Inf Serv 57:42–45

Lagudah ES, Appels R, Brown AHD, McNeil D (1991) The Nor-D3 locus of Triticum tauschii: natural variation and linkage to markers in chromosome 5. Genome 34:387–395

Li SS, Jia JZ, Wei XY, Zhang XC, Li LZ, Chen HM, Fan YD, Sun HY, Zhao XH, Lei TD, Xu YF, Jiang FS, Wang HG, Li LH (2007) A intervarietal genetic map and QTL analysis for yield traits in wheat. Mol Breed 20:167–178

Manly KF, Cudmore RH, Meer JM (2001) Map manager QTX, cross-platform software for genetic mapping. Mamm Genome 12:930–932

Miller ME, Chourey PS (1992) The maize invertase-deficient miniature-1 seed mutation is associated with aberrant pedicel and endosperm development. Plant Cell 4:297–305

Quarrie SA, Steed A, Calestani C, Semikhodskii A, Lebreton C, Chinoy C (2005) A high-density genetic map of hexaploid wheat (Triticum aestivum L.) from the cross Chinese Spring × SQ1 and its uses to compare QTLs for grain yield across a range of environments. Theor Appl Genet 110:865–880

Sturm A (1999) Invertase. Primary structures, functions, and roles in plant development and sucrose partitioning. Plant Physiol 121:1–8

Sturm A, Chrispeels MJ (1990) cDNA cloning of carrot extracellular β-fructodisase and its expression in response to wounding and bacterial infection. Plant Cell 2:1107–1119

Su JY, Tong YP, Liu QY, Li B, Jing RL, Li JY, Li ZS (2006) Mapping quantitative trait loci for post-anthesis dry matter accumulation in wheat. J Integra Plant Biol 48:938–944

Sun XY, Wu K, Zhao Y, Kong FM, Han GZ, Jiang HM, Huang XJ, Li RJ, Wang HG, Li SS (2009) QTL analysis of kernel shape and weight using recombinant inbred linesin wheat. Euphytica 165:615–624

Tang GQ, Lüscher M, Sturm A (1999) Antisense repression of vacuolar and cell wall invertase in transgenic carrot alters early plant development and sucrose partitioning. Plant Cell 11:177–189

Tian JC, Deng ZY, Hu RB, Wang YX (2006) Yield components of super wheat cultivars with different types and the path coefficient analysis on grain yield. Acta Agron Sin 32:1699–1705

Tymowska-Lalanne Z, Kreis M (1998) Expression of the Arabidopsis thaliana invertase gene family. Planta 207:259–265

Wang S, Basten CJ, Zeng ZB (2005) Windows QTL cartographer 2.5. Department of Statistics, North Carolina State University. http://statgen.ncsu.edu/qtlcart/WQTLCart.htm

Wang E, Wang JJ, Zhu XD, Wei H, Wang LY, Li Q, Zhang LX, He W, Lu BR, Lin HX, Ma H, Zhang GQ, He ZH (2008) Control of rice grain-filling and yield by a gene with a potential signature of domestication. Nat Genet 40:1370–1374

Wang RX, Hai L, Zhang XY, You GX, Yan CS, Xiao SH (2009) QTL mapping for grain filling rate and yield-related traits in RILs of the Chinese winter wheat population Heshangmai × Yu8679. Theor Appl Genet 118:313–325

Weber H, Borisjuk L, Heim U, Buchner P, Wobus U (1995) Seed coat-associated invertase of fava bean control both unloading and storage functions: cloning of cDNAs and cell type-specific expression. Plant Cell 7:1835–1846

Zhang XK, Xiao YG, Zhang Y, Xia XC, Dubcovsky J, He ZH (2008) Allelic variation at the vernalization genes Vrn-A1, Vrn-B1, Vrn-D1, and Vrn-B3 in Chinese wheat cultivars and their association with growth habit. Crop Sci 48:458–470

Zhou Y, He ZH, Sui XX, Xia XC, Zhang XK, Zhang GS (2007a) Genetic improvement of grain yield and associated traits in the Northern China winter wheat region from 1960 to 2000. Crop Sci 47:245–253

Zhou Y, Zhu HZ, Cai SB, He ZH, Zhang XK, Xia XC, Zhang GS (2007b) Genetic improvement of grain yield and associated traits in the Southern China winter wheat region: 1949 to 2000. Euphytica 157:465–473
Acknowledgments
The authors are very grateful to Prof. Robert McIntosh, Plant Breeding Institute, University of Sydney, for reviewing this manuscript. This study was supported by the National Basic Research Program (2009CB118300), the National Science Foundation of China (30830072), National 863 Program (2006AA10Z1A7 and 2006AA100102), International Collaboration Project from the Ministry of Agriculture (2006-G2), and an earmarked fund for the Modern Agro-industry Technology Research System.
Additional information
Dongyun Ma and Jun Yan contributed equally to this work.
Electronic supplementary material
Below is the link to the electronic supplementary material.
About this article
Cite this article
Ma, D., Yan, J., He, Z. et al. Characterization of a cell wall invertase gene TaCwi-A1 on common wheat chromosome 2A and development of functional markers. Mol Breeding 29, 43–52 (2012). https://doi.org/10.1007/s11032-010-9524-z
Received:

Accepted:

Published:

Issue Date:
Keywords
Allelic variation

Cwi gene

Kernel weight

QTL

Triticum aestivum