Abstract
The Restorer-of-fertility (Rf) gene is used for efficient hybrid seed production in chili pepper. Although molecular markers linked to Rf in pepper are available, their applications have been limited by lack of agreement between marker genotype and phenotype. To overcome this limitation, we developed new molecular markers using an Rf-segregating population for which most of previously developed markers are not suitable, because of lack of polymorphism. The petunia Rf gene was used as a candidate for marker development. First of all, a pepper bacterial artificial chromosome (BAC) library was screened using a pepper homolog of the petunia Rf gene. The 52 selected BAC clones were classified into three contig groups and each contig group was mapped to chromosome 6. Three markers were developed using the three groups; their genetic distances from the Rf locus were 1.4, 3.2 and 14 cM, respectively. In the second place, an Rf-linked marker was developed from the sequence of a tomoto BAC clone containing three genes which are homologous to petunia Rf gene. Genetic distance between this marker and Rf gene was 1.4 cM. When newly-, and previously-developed molecular markers linked to Rf were applied to 55 pepper breeding lines, one marker named CRF-SCAR was found to be the most broadly applicable, based on correct determination of phenotypes. In the present study, we demonstrate that previously cloned Rf genes can be used as candidate genes for development of new markers for the reliable detection of restorer lines. We expect that the newly-developed markers and information obtained from application of markers will be useful for reliable detection of restorer lines.
This is a preview of subscription content,
to check access.
Access this article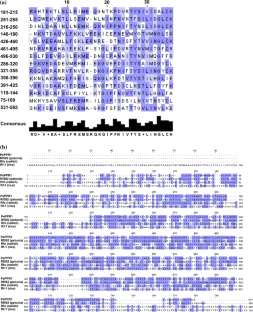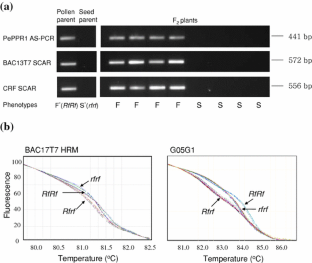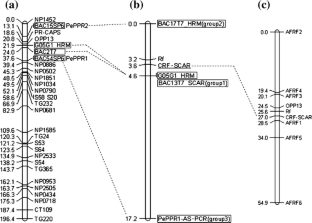 References
Balk J, Leaver CJ (2001) The PET1-CMS mitochondrial mutation in sunflower is associated with premature programmed cell death and cytochrome c release. Plant Cell 13:1803–1818

Bannai H, Tamada Y, Maruyama O, Nakai K, Miyano S (2002) Extensive feature detection of N-terminal protein sorting signals. Bioinformatics 18:298–305

Bentolila S, Alfonso AA, Hanson MR (2002) A pentatricopeptide repeat-containing gene restores fertility to cytoplasmic male-sterile plants. Proc Natl Acad Sci USA 99:10887–10892

Bergman P, Edqvist J, Farbos I, Glimelius K (2000) Male-sterile tobacco displays abnormal mitochondrial atp1 transcript accumulation and reduced floral ATP/ADP ratio. Plant Mol Biol 42:531–544

Brown GG, Formanova N, Jin H, Wargachuk R, Dendy C, Patil P, Laforest M, Zhang J, Cheung WY, Landry BS (2003) The radish Rfo restorer gene of Ogura cytoplasmic male sterility encodes a protein with multiple pentatricopeptide repeats. Plant J 35:262–272

Carlsson J, Leino M, Sohlberg J, Sundstrom JF, Glimelius K (2008) Mitochondrial regulation of flower development. Mitochondrion 8:74–86

Cui X, Wise RP, Schnable PS (1996) The rf2 nuclear restorer gene of male-sterile T-cytoplasm maize. Science 272:1334–1336

Desloire S, Gherbi H, Laloui W, Marhadour S, Clouet V, Cattolico L, Falentin C, Giancola S, Renard M, Budar F, Small I, Caboche M, Delourme R, Bendahmane A (2003) Identification of the fertility restoration locus, Rfo, in radish, as a member of the pentatricopeptide-repeat protein family. EMBO Rep 4:588–594

Geddy R, Brown GG (2007) Genes encoding pentatricopeptide repeat (PPR) proteins are not conserved in location in plant genomes and may be subject to diversifying selection. BMC Genomics 8:130

Givry SD, Bouchez M, Chabrier P, Milan D, Schiex T (2005) CARTHAGENE: multi-population integrated genetic and radiation hybrid mapping. Bioinformatics 21:1703–1704

Gulyas G, Pakozdi K, Lee JS, Hirata Y (2006) Analysis of fertility restoration by using cytoplasmic male-sterile red pepper (Capsicum annuum L.) lines. Breed Sci 56:331–334

Hanson MR, Bentolila S (2004) Interactions of mitochondrial and nuclear genes that affect male gametophyte development. Plant Cell 16(Suppl):S154–S169

Kang BC, Yeam I, Frantz JD, Murphy JF, Jahn MM (2005) The pvr1 locus in Capsicum encodes a translation initiation factor eIF4E that interacts with Tobacco etch virus VPg. Plant J 42:392–405

Kim DS (2005) Development of RAPD and AFLP markers linked to fertility restorer (Rf) gene in chili pepper (Capsicum annuum L.). Thesis, Seoul National University

Kim DS, Kim DH, Yoo JH, Kim BD (2006) Cleaved amplified polymorphic sequence and amplified fragment length polymorphism markers linked to the fertility restorer gene in chili pepper (Capsicum annuum L.). Mol Cells 21:135–140

Kim DH, Kang JG, Kim BD (2007) Isolation and characterization of the cytoplasmic male sterility-associated orf456 gene of chili pepper (Capsicum annuum L.). Plant Mol Biol 63:519–532

Koizuka N, Imai R, Fujimoto H, Hayakawa T, Kimura Y, Kohno-Murase J, Sakai T, Kawasaki S, Imamura J (2003) Genetic characterization of a pentatricopeptide repeat protein gene, orf687, that restores fertility in the cytoplasmic male-sterile Kosena radish. Plant J 34:407–415

Komori T, Ohta S, Murai N, Takakura Y, Kuraya Y, Suzuki S, Hiei Y, Imaseki H, Nitta N (2004) Map-based cloning of a fertility restorer gene, Rf-1, in rice (Oryza sativa L.). Plant J 37:315–325

Kotera E, Tasaka M, Shikanai T (2005) A pentatricopeptide repeat protein is essential for RNA editing in chloroplasts. Nature 433:326–330

Lee DH (2001) Studies on unstable fertility of CGMS (cytoplasmic-genic male sterility) in Capsicum annuum L. Dissertation, Seoul National University

Lee J, Yoon JB, Park HG (2008) Linkage analysis between the partial restoration (pr) and the restorer-of-fertility (Rf) loci in pepper cytoplasmic male sterility. Theor Appl Genet 117:383–389

Liu F, Cui X, Horner HT, Weiner H, Schnable PS (2001) Mitochondrial aldehyde dehydrogenase activity is required for male fertility in maize. Plant Cell 13:1063–1078

Livingstone KD, Lackney VK, Blauth JR, van Wijk R, Jahn MK (1999) Genome mapping in Capsicum and the evolution of genome structure in the Solanaceae. Genetics 152:1183–1202

Lurin C, Andres C, Aubourg S, Bellaoui M, Bitton F, Bruyere C, Caboche M, Debast C, Gualberto J, Hoffmann B, Lecharny A, Le Ret M, Martin-Magniette ML, Mireau H, Peeters N, Renou JP, Szurek B, Taconnat L, Small I (2004) Genome-wide analysis of Arabidopsis pentatricopeptide repeat proteins reveals their essential role in organelle biogenesis. Plant Cell 16:2089–2103

Min WK, Lim H, Lee YP, Sung SK, Kim BD, Kim S (2008) Identification of a third haplotype of the sequence linked to the Restorer-of-fertility (Rf) gene and its implications for male-sterility phenotypes in peppers (Capsicum annuum L.). Mol Cells 25:20–29

Novak F, Betlach J, Dubovsky J (1971) Cytoplasmic male sterility in sweet pepper (Casicum annuum L.). I. Phenotype and inheritance of male sterile character. Z Pflanzenzucht 65:129–140

Peterson PA (1958) Cytoplasmically inherited male sterility in Capsicum. Am Nat 92:111–119

Pflieger S, Lefebvre V, Causse M (2001) The candidate gene approach in plant genetics: a review. Mol Breed 7:275–291

Ruffel S, Dussault MH, Palloix A, Moury B, Bendahmane A, Robaglia C, Caranta C (2002) A natural recessive resistance gene against Potato virus Y in pepper corresponds to the eukaryotic initiation factor 4E (eIF4E). Plant J 32:1067–1075

Sabar M, De Paepe R, de Kouchkovsky Y (2000) Complex I impairment, respiratory compensations, and photosynthetic decrease in nuclear and mitochondrial male sterile mutants of Nicotiana sylvestris. Plant Physiol 124:1239–1250

Schnable PS, Wise RP (1998) The molecular basis of cytoplasmic male sterility and fertility restoration. Trends Plant Sci 3:175–180

Shi ZX, Chen XM, Line RF, Leung H, Wellings CR (2001) Development of resistance gene analog polymorphism markers for the Yr9 gene resistance to wheat stripe rust. Genome 44:509–516

Shifriss C (1997) Male sterility in pepper (Capsicum annuum L.). Euphytica 93:83–88

Small ID, Peeters N (2000) The PPR motif—a TPR-related motif prevalent in plant organellar proteins. Trends Biochem Sci 25:46–47

Tomita R, Murai J, Miura Y, Ishihara H, Liu S, Kubotera Y, Honda A, Hatta R, Kuroda T, Hamada H, Sakamoto M, Munemura I, Nunomura O, Ishikawa K, Genda Y, Kawasaki S, Suzuki K, Meksem K, Kobayashi K (2008) Fine mapping and DNA fiber FISH analysis locates the tobamovirus resistance gene L (3) of Capsicum chinense in a 400-kb region of R-like genes cluster embedded in highly repetitive sequences. Theor Appl Genet 117:1107–1118

Wang LH, Zhang BX, Lefebvre V, Huang SW, Daubeze AM, Palloix A (2004) QTL analysis of fertility restoration in cytoplasmic male sterile pepper. Theor Appl Genet 109:1058–1063

Wang Z, Zou Y, Li X, Zhang Q, Chen L, Wu H, Su D, Chen Y, Guo J, Luo D, Long Y, Zhong Y, Liu YG (2006) Cytoplasmic male sterility of rice with boro II cytoplasm is caused by a cytotoxic peptide and is restored by two related PPR motif genes via distinct modes of mRNA silencing. Plant Cell 18:676–687

Wen WE, Li GQ, He ZH, Ynag WY, Xu ML, Xia XC (2008) Development of an STS marker tightly linked to Yr26 against wheat stripe rust using the resistance gene-analog polymorphism (RGAP) technique. Mol Breeding 22:507–515

Yoo EY, Kim S, Kim YH, Lee CJ, Kim BD (2003) Construction of a deep coverage BAC library from Capsicum annuum, 'CM334'. Theor Appl Genet 107:540–543

Zhang BX, Huang SW, Yang GM, Guo JZ (2000) Two RAPD markers linked to a major fertility restorer gene in pepper. Euphytica 113:155–161
Acknowledgments
This work was supported by a grant (code20070301034022) from the BioGreen21 program, by the Rural Development Administration, the Republic of Korea, and a grant (GC1132-1) from the Crop Functional Genomics Center of the 21st Century Frontier Research Program, funded by the Ministry of Education, Science and Technology of The Republic of Korea.
About this article
Cite this article
Jo, Y.D., Kim, YM., Park, MN. et al. Development and evaluation of broadly applicable markers for Restorer-of-fertility in pepper. Mol Breeding 25, 187–201 (2010). https://doi.org/10.1007/s11032-009-9318-3
Received:

Accepted:

Published:

Issue Date:

DOI: https://doi.org/10.1007/s11032-009-9318-3
Keywords