Abstract
The relationship between positive emotions and implicit racial prejudice is unclear. Interventions using positive emotions to reduce racial bias have been found wanting, while other research shows that positive affect can sometimes exacerbate implicit prejudice. Nevertheless, loving-kindness meditation (LKM) has shown some promise as a method of reducing bias despite increasing a broad range of positive emotions. A randomised control trial (n = 69) showed that a short-term induction of LKM decreased automatic processing, increased controlled processing, and was sufficient to reduce implicit prejudice towards the target's racial group but not towards a group untargeted by the meditation. Furthermore, the reduction in bias was shown to be mediated by other-regarding positive emotions alongside increased control and decreased automaticity on the IAT. Non-other-regarding positive emotions conversely showed no correlation with bias. The study is the first to show that a short-term positive emotional induction can reduce racial prejudice, and aids the understanding of how positive emotions functionally differentiate in affecting bias.
Access options
Buy single article
Instant access to the full article PDF.
US$ 39.95
Tax calculation will be finalised during checkout.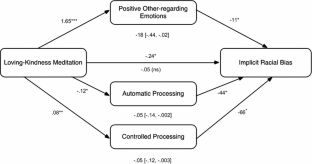 Notes
1.

Inclusion of these participants' data did not alter the interpretation of any of the substantive findings.
References
Abele, A., Silvia, P., & Zöller-Utz, I. (2005). Flexible effects of positive mood on self-focused attention. Cognition and Emotion, 19(4), 623–631. doi:10.1080/02699930441000391.

Bodenhausen, G. V., Kramer, G. P., & Süsser, K. (1994). Happiness and stereotypic thinking in social judgment. Journal of Personality and Social Psychology, 66(4), 621–632. doi:10.1037/0022-3514.66.4.621.

Dasgupta, N., DeSteno, D., Williams, L. A., & Hunsinger, M. (2009). Fanning the flames of prejudice: The influence of specific incidental emotions on implicit prejudice. Emotion, 9(4), 585–591. doi:10.1037/a0015961.

Fredrickson, B. L., Tugade, M. M., Waugh, C. E., & Larkin, G. R. (2003). What good are positive emotions in crisis? A prospective study of resilience and emotions following the terrorist attacks on the United States on September 11th, 2001. Journal of Personality and Social Psychology, 84(2), 365–376. doi:10.1037/0022-3514.84.2.365.

Greenwald, A. G., Nosek, B. A., & Banaji, M. R. (2003). Understanding and using the implicit association test: I. An improved scoring algorithm. Journal of Personality and Social Psychology, 85(2), 197–216. doi:10.1037/0022-3514.85.2.197.

Griskevicius, V., Shiota, M., & Neufeld, S. (2010). Influence of different positive emotions on persuasion processing: A functional evolutionary approach. Emotion, 10(2), 190–206. doi:10.1037/a0018421.

Haidt, J. (2003). The moral emotions. In R. J. Davidson, K. R. Scherer, & H. H. Goldsmith (Eds.), Handbook of affective sciences (pp. 852–870). Oxford: Oxford University Press.

Horberg, E. J., Oveis, C., & Keltner, D. (2011). Emotions as moral amplifiers: An appraisal tendency approach to the influences of distinct emotions upon moral judgment. Emotion Review, 3(3), 237–244. doi:10.1177/1754073911402384.

Hunsinger, M., Livingston, R., & Isbell, L. (2012). Spirituality and intergroup harmony: Meditation and racial prejudice. Mindfulness, 5(2), 139–144. doi:10.1007/s12671-012-0159-5.

Huntsinger, J. R., Sinclair, S., & Clore, G. L. (2009). Affective regulation of implicitly measured stereotypes and attitudes: Automatic and controlled processes. Journal of Experimental Social Psychology, 45(3), 560–566. doi:10.1016/j.jesp.2009.01.007.

Hutcherson, C. A., Seppala, E. M., & Gross, J. J. (2008). Loving-kindness meditation increases social connectedness. Emotion, 8(5), 720–724. doi:10.1037/a0013237.

Johnson, K., & Fredrickson, B. (2005). "We all look the same to me": Positive emotions eliminate the own-race bias in face recognition. Psychological Science, 16(11), 875–881. doi:10.1111/j.1467-9280.2005.01631.x.

Kang, Y., Gray, J. R., & Dovidio, J. F. (2014). The nondiscriminating heart: Lovingkindness meditation training decreases implicit intergroup bias. Journal of Experimental Psychology: General, 143(3), 1306–1313. doi:10.1037/a0034150.

Kok, B. E., Coffey, K. A., Cohn, M. A., Catalino, L. I., Vacharkulksemsuk, T., Algoe, S. B., et al. (2013). How positive emotions build physical health: Perceived positive social connections account for the upward spiral between positive emotions and vagal tone. Psychological Science, 24(7), 1123–1132. doi:10.1177/0956797612470827.

Lai, C. K., Haidt, J., & Nosek, B. A. (2013). Moral elevation reduces prejudice against gay men. Cognition and Emotion, 28(5), 781–794. doi:10.1080/02699931.2013.861342.

Lai, C. K., Marini, M., Lehr, S. A., Cerruti, C., Shin, J.-E. L., Joy-Gaba, J. A., et al. (2014). Reducing implicit racial preferences: I. A comparative investigation of 17 interventions. Journal of Experimental Psychology: General, 143(4), 1765–1785. doi:10.1037/a0036260.

Leiberg, S., Klimecki, O., & Singer, T. (2011). Short-term compassion training increases prosocial behavior in a newly developed prosocial game. PLoS ONE, 6(3), e17798. doi:10.1371/journal.pone.0017798.

Minear, M., & Park, D. C. (2004). A lifespan database of adult facial stimuli. Behavior Research Methods, Instruments, and Computers, 36, 630–633. doi:10.3758/BF03206543.

Moore, A., & Malinowski, P. (2009). Meditation, mindfulness and cognitive flexibility. Consciousness and Cognition, 18(1), 176–186. doi:10.1016/j.concog.2008.12.008.

Nosek, B. A., Greenwald, A. G., & Banaji, M. R. (2007). The implicit association test at age 7: A methodological and conceptual review. In J. A. Bargh (Ed.), Social psychology and the unconscious: The automaticity of higher mental processes (pp. 265–292). New York, NY: Psychology Press.

Nosek, B. A., Sriram, N., Smith, C. T., & Bar-Anan, Y. (2014). The multi-category implicit association test (unpublished manuscript).

Preacher, K., & Hayes, A. (2008). Asymptotic and resampling strategies for assessing and comparing indirect effects in multiple mediator models. Behavior Research Methods, 40(3), 879–891. doi:10.3758/brm.40.3.879.

Prinz, J. J. (2007). The emotional construction of morals. Oxford: Oxford University Press.

Salzberg, S. (1995). Loving-kindness: The revolutionary art of happiness. Boston, MA: Shambhala Publications.

Scherer, K. R. (2005). What are emotions? And how can they be measured? Social Science Information, 44(4), 695–729. doi:10.1177/0539018405058216.

Shiota, M. N. (2014). The evolutionary perspective in positive emotion research. In M. M. Tugade, M. N. Shiota, & L. D. Kirby (Eds.), Handbook of positive emotions (pp. 44–59). New York: Guilford Publications.

Singer, P. (2011). The expanding circle: Ethics, evolution, and moral progress. Princeton, NJ: Princeton University Press.

Weng, H. Y., Fox, A. S., Shackman, A. J., Stodola, D. E., Caldwell, J. Z., Olson, M. C., et al. (2013). Compassion training alters altruism and neural responses to suffering. Psychological Science, 24(7), 1171–1180. doi:10.1177/0956797612469537.

Westermann, R., Spies, K., Stahl, G., & Hesse, F. W. (1996). Relative effectiveness and validity of mood induction procedures: A meta-analysis. European Journal of Social Psychology, 26(4), 557–580. doi:10.1002/(SICI)1099-0992(199607)26:4<557:AID-EJSP769>3.0.CO;2-4.
About this article
Cite this article
Stell, A.J., Farsides, T. Brief loving-kindness meditation reduces racial bias, mediated by positive other-regarding emotions. Motiv Emot 40, 140–147 (2016). https://doi.org/10.1007/s11031-015-9514-x
Keywords
Loving-kindness meditation

Implicit social cognition

Prejudice

Positive other-regarding emotions

Implicit association task