Abstract
Separate lines of research show that individuals: (a) understand immorality metaphorically as physical contamination; (b) project undesirable self-attributes onto others; and (c) view punishment as eliminating a transgressor's immorality. Integrating these findings, we hypothesized that individuals project guilt over their own immorality—represented as physical contamination—onto another transgressor whose punishment restores their own moral and physical purity. In Study 1, personal immorality salience decreased felt physical cleanliness unless another transgressor was punished. In Study 2, personal immorality salience led participants to see another transgressor as physically dirtier, an effect mediated by guilt. Furthermore, the punishment of the contaminated transgressor restored participants' personal morality and eliminated restorative moral behavior. In Study 3, punishing a transgressor who served as a projection target for participants' immorality removed felt physical contamination indirectly through decreased guilt. These studies are the first to show that another's punishment can "cleanse" the self of "dirty" immorality feelings.
Access options
Buy single article
Instant access to the full article PDF.
USD 39.95
Price excludes VAT (USA)
Tax calculation will be finalised during checkout.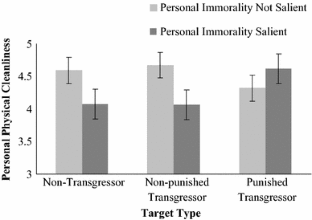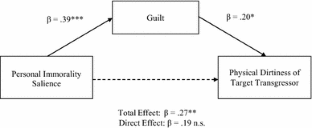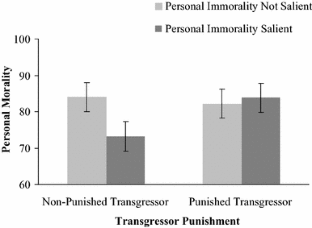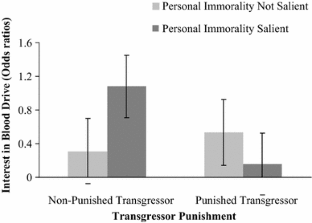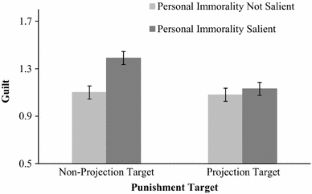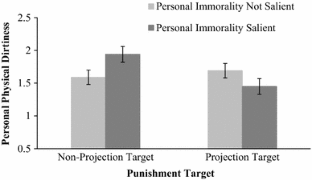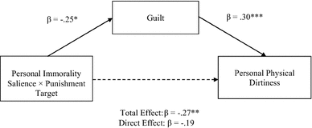 Notes
It is also worth noting that these findings provide what is, to our knowledge, the most direct evidence to date that people can feel soiled by their own moral violations. Zhong and Liljenquist (2006) indirectly assessing participant's felt physical contamination by measuring the accessibility of cleaning-related words (Study 1), or willingness to pay more for cleaning products (Study 2). The current study directly assessed participants' self-reported feelings of personal physical cleanliness.

Data for 9 participants were excluded from all analyses for failing to correctly identify that the topic of the news article was a hit-and-run car accident.

In an effort to increase the internal reliability of our non-moral negative trait measure, for Study 2 we selected three negative traits that were all related to the target transgressor's perceived competence.

This interaction remained significant when controlling for participants' comparative rankings of their standing on morally-irrelevant positive traits (p = .03).

To ensure the validity and reliability of our findings we included a series of key attention check items following the two articles describing the transgression targets. These items required participants to identify (a) the nature of the transgressions described in the articles, (b) whether or not the transgressor described in the article was punished, and, (c) whether or not both articles described the same transgressor or different transgressors.

Submitting participants' BJW scores to a 2 (personal immorality salience) × 2 (punishment target) ANOVA did yield a marginal two-way interaction, F(1, 280) = 3.22, p = .07, η 2p  = .01. However, in contrast to the pattern of effects on guilt and personal physical dirtiness scores, significant differences in BJW scores only emerged for participants in the immorality-not-salient condition. Specifically, pairwise comparisons revealed that when immorality was not made salient, participants exposed to the punishment of the projection target reported significantly greater BJW scores (M = 3.74, SD = .93) than those exposed to the punishment of a non-projection target (M = 3.33, SD = .99). In contrast, when immorality was made salient, BJW scores did not differ between those exposed to the punishment of the projection target (M = 3.56, SD = .95) and those exposed to the punishment of the non-projection target (M = 3.56, SD = .96).

We also tested a reversed mediated moderation analysis but switching the mediator (guilt) and outcome variable (personal physical dirtiness). The 95 % confidence interval obtained for the indirect effects of immorality salience × punishment target interaction on guilt through perceived personal dirtiness scores through guilt did not contain zero (−.20, −.02).
References
Adams, G. S. (2011). Punishers become more deviant (Doctoral dissertation). Retrieved from http://purl.stanford.edu/yz983kw3263.

Adams, G. S., & Mullen, E. (2014). Punishing the perpetrator decreases compensation for victims. Social and Personality Science, 6, 31–38.

Alexander, F., & Staub, H. (1956). The criminal, the judge, and the public: A psychological analysis. Glencoe, IL: Free Press.

Allport, G. W. (1979). The nature of prejudice. Reading, MA: Addison-Wesley. (Original work published 1954).

Bastian, B., Jetten, J., & Fasoli, F. (2011). Cleansing the soul by hurting the flesh: The guilt-reducing effect of pain. Psychological Science, 22, 334–335.

Carlsmith, J. M., & Gross, A. E. (1969). Some effects of guilt on compliance. Journal of Personality and Social Psychology, 11, 232–239.

Chapman, H. A., Kim, D. A., Susskind, J. M., & Anderson, A. K. (2009). In bad taste: Evidence for the oral origins of moral disgust. Science, 323, 1179–1180.

Dalbert, C., Montada, L., & Schmitt, M. (1987). Glaube an eine gerechte Welt as Motiv: Validierungskorrelate zweier Skalen [Belief in a just world as motive: Concurrent validation of two scales]. Psychologische Beiträge, 4, 596–615.

Darlington, R. B., & Macker, C. E. (1966). Displacement of guilt-produced altruistic behavior. Journal of Personality and Social Psychology, 4, 442–443.

Douglas, T. (1995). Scapegoats: Transferring blame. New York: Routledge Press.

Fein, S., & Spencer, S. J. (1997). Prejudice as self-image maintenance. Journal of Personality and Social Psychology, 73, 31–44.

Festinger, L. (1954). A theory of social comparison processes. Human Relations, 7, 117–141.

Foucault, M. (1977). Discipline and punish: The birth of prison (A. Sheridan, Trans.). New York: Random House Inc.

Frazer, J. G. (2002). The golden bough (Abridged ed.). New York: Macmillan. (Original work published 1922).

Freud, A. (1936). The ego and the mechanisms of defense. London: Hogarth.

Freud, S. (1957). Instincts and their vicissitudes. In J. Rickman (Ed.), A general selection from the works of Sigmund Freud. New York: Liveright. (Original work published 1915).

Govorun, O., Fuegen, K., & Payne, B. K. (2006). Stereotypes focus defensive projection. Personality and Social Psychology Bulletin, 32, 781–793.

Haidt, J., Koller, S. H., & Dias, M. G. (1993). Affect, culture, and morality, or is it wrong to eat your dog? Journal of Personality and Social Psychology, 65, 613–628.

Halpern, J. (1977). Projection: A test of the psychoanalytic hypothesis. Journal of Abnormal Psychology, 86, 536–542.

Holmes, D. S., & Houston, B. K. (1971). The defensive function of projection. Journal of Personality and Social Psychology, 20, 208–213.

Inbar, Y., Pizzaro, D. A., Gilovich, T., & Ariely, D. (2013). Moral masochism: On the connection between guilt and self-punishment. Emotion, 13, 14–18.

Johnson, D. J., Cheung, F., & Donnellan, M. B. (2014). Does cleanliness influence moral judgments? A direct replication of Schnall, Benton, and Harvey (2008). Social Psychology, 45, 209–215.

Jung, C. G. (1968). Analytical psychology: Its theory and practice (the Tavistock lectures). New York: Pantheon.

Kaspar, K. (2013). Washing one's hands after failure enhances optimism but hampers future performance. Social Psychological and Personality Science, 4, 69–73.

Lakoff, G., & Johnson, M. (1980). Metaphors we live by. Chicago: University of Chicago Press.

Lakoff, G., & Johnson, M. (1999). Philosophy in the flesh: The embodied mind and its challenge to Western thought. New York, NY: Basic Books.

Landau, M. J., Meier, B. P., & Keefer, L. K. (2010). A metaphor-enriched social cognition. Psychology bulletin, 136, 1045–1067.

Lee, S. W. S., & Schwarz, N. (2010a). Dirty hands and dirty mouths: Embodiment of the moral-purity metaphor is specific to the motor modality involved in moral transgression. Psychological Science, 21, 1423–1425.

Lee, S. W. S., & Schwarz, N. (2010b). Washing away postdecisional dissonance. Science, 328, 709.

Lee, S. W. S., & Schwarz, N. (2011). Wiping the slate clean: Psychological consequences of physical cleansing. Current Directions in Psychological Science, 20, 307–311.

Lee, S. W. S., & Schwarz, N. (2012). Bidirectionality, mediation, and moderation of metaphorical effects: The embodiment of social suspicion and fishy smells. Journal of Personality and Social Psychology, 103, 737–749.

Lerner, M. J. (1980). The belief in a just world: A fundamental delusion. New York: Plenum.

Lobel, T. E., Cohen, A., Shahin, L. K., Malov, S., Golan, Y., & Busnach, S. (2014). Being clean and acting dirty: The paradoxical effect of self-cleansing. Ethics & Behavior. doi:10.1080/10508422.2014.931230.

Merritt, A. C., Effron, D. A., & Monin, B. (2010). Moral self-licensing: When being good frees us to be bad. Social and Personality Psychology Compass, 4, 344–357.

Moll, J., de Oliveira-Souza, R., Moll, F. T., Ignacio, F. A., Bramati, I. E., Caparelli-Daquer, E. M., et al. (2005). The moral affiliations of disgust. Cognitive and Behavioral Neurology, 18, 68–78.

Nelissen, R. M. A., & Zeelenberg, M. (2009). When guilt evokes self-punishment: Evidence for the existence of a Dobby effect. Emotion, 9, 118–122.

Preacher, K. J., & Hayes, A. F. (2008). Asymptotic and resampling strategies for assessing and comparing indirect effects in multiple mediator models. Behavior Research Methods, 40, 879–891.

Regan, D. T., Williams, M., & Sparling, S. (1972). Voluntary expiation of guilt: A field experiment. Journal of Personality and Social Psychology, 24, 42–45.

Rothschild, Z. K., Landau, M. J., Molina, L. E., Branscombe, N. R., & Sullivan, D. (2013). Displacing blame over the ingroup's harming of a disadvantaged group can fuel moral outrage at a third-party scapegoat. Journal of Experimental Social Psychology, 49, 898–906.

Rozin, P., Lowery, L., & Ebert, R. (1994a). Varieties of disgust faces and the structure of disgust. Journal of Personality and Social Psychology, 66, 870–881.

Rozin, P., Markwith, M., & McCauley, C. (1994b). Sensitivity to indirect contacts with other persons: AIDS aversion as a composite of aversion to strangers, infection, moral taint and misfortune. Journal of Abnormal Psychology, 103, 495–504.

Schimel, J., Greenberg, J., & Martens, A. (2003). Evidence that projection of a feared trait can serve a defensive function. Personality and Social Psychology Bulletin, 29, 969–979.

Schnall, S., Benton, J., & Harvey, S. (2008a). With a clean conscience: Cleanliness reduces the severity of moral judgments. Psychological Science, 19, 1219–1222.

Schnall, S., Haidt, J., Clore, G. L., & Jordan, A. H. (2008b). Disgust as embodied moral judgment. Personality and Social Psychology Bulletin, 34, 1096–1109.

Tomarken, A. J., & Serlin, R. C. (1986). Comparison of ANOVA alternatives under variance heterogeneity and specific noncentrality structures. Psychological Bulletin, 99, 90–99.

Victor, G. (2003). Scapegoating—A ritual of purification. Journal of Psychohistory, 30(3), 271–288.

Watson, D., Clark, L. A., & Tellegen, A. (1988). Development and validation of brief measures of positive and negative affect: The PANAS scales. Journal of Personality and Social Psychology, 54, 1063–1070.

Xu, A. J., Zwick, R., & Schwarz, N. (2012). Washing away your (good or bad) luck: Physical cleansing affects risk-taking behavior. Journal of Experimental Psychology: General, 141, 26–30.

Zhong, C. B., & Liljenquist, K. A. (2006). Washing away your sins: Threatened morality and physical cleansing. Science, 313, 1451–1452.

Zhong, C. B., Strejcek, B., & Sivanathan, N. (2010). A clean self can render harsh moral judgment. Journal of Experimental Social Psychology, 46, 859–862.
About this article
Cite this article
Rothschild, Z.K., Landau, M.J., Keefer, L.A. et al. Another's punishment cleanses the self: Evidence for a moral cleansing function of punishing transgressors. Motiv Emot 39, 722–741 (2015). https://doi.org/10.1007/s11031-015-9487-9
Published:

Issue Date:

DOI: https://doi.org/10.1007/s11031-015-9487-9
Keywords
Conceptual metaphor

Punishment

Defensive projection

Morality