Abstract
Analyzing emotional states under duress or during heightened, life-and-death situations is extremely difficult, especially given the inability of laboratory experiments to replicate the environment and given the inherent biases of post event surveys. This is where natural experiments, such as the pager communications from September 11th can provide the kind of natural experiment emotion researchers have been seeking. We demonstrate that positive and pro-social communications are the first to emerge followed by the slower and lower negative communications. Religious sentiment is the last to emerge, as individual attempt to make sense of event. Additionally we provide a methodological discussion about the preparation and analysis of such natural experiments (the pager message content) and show the importance of using multiple methods to extract the broadest possible understanding.
Access options
Buy single article
Instant access to the full article PDF.
USD 39.95
Price excludes VAT (USA)
Tax calculation will be finalised during checkout.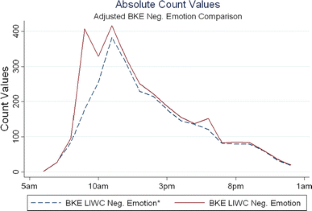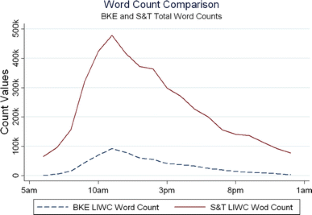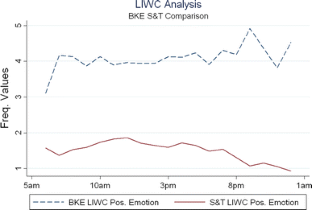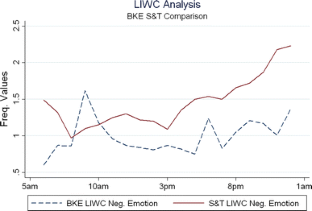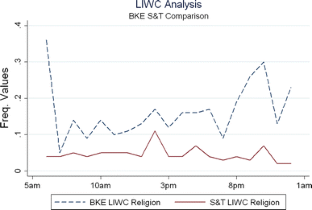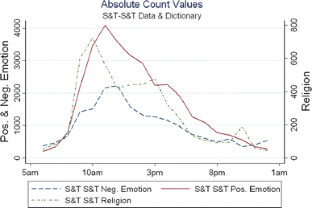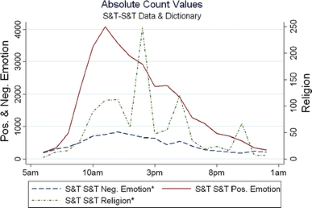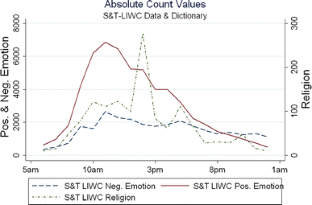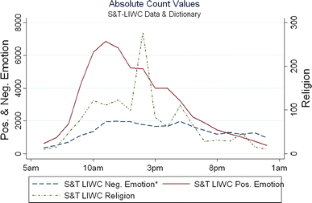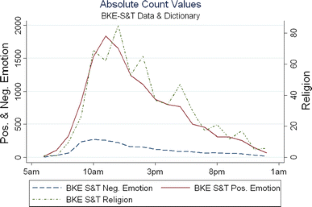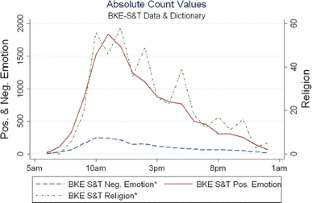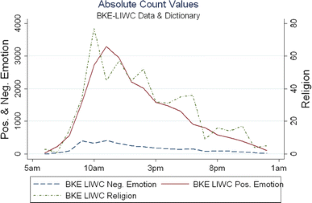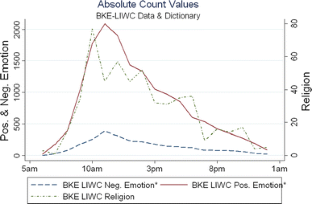 Notes
While this research does show the change in emotion over time, the one week block sizes only provides a coarse analysis and does not specifically look at the event as it is occurring.

Note, the BKE dataset only begins at 6:45 am.

Communication Timeline: 8:14 am American Airlines Flight 11 hijacked, between 8:42–8:46 am United Airlines Flight 175 aircraft hijacked. 8:46:40 am American 11 flew into WTC Tower 1. 8:51–8:54 am American Airlines Flight 77 hijacked. 9:02:59 am United Airlines Flight 175 hits south side of WTC Tower 2. 9:37:46 am, American Airlines Flight 77 crashes into the Pentagon. 9:28 am hijackers take over United Airlines Flight 93. 9:58:59 am Collapse of WTC Tower 2. 10:02:23 am Flight 93 crashes into an empty field in Pennsylvania. 10:28:22 am Collapse of WTC 1.

We believe that the results do indicate a positive swing towards religion and not merely the use of phrases such as "oh my god" after the event. When this phrase is analysed we find that it occurs only 14 times through out the day—12 of which occur between 8 am–11 am.
References
Andreoni, J., & Miller, J. H. (2002). Giving according to garp: An experimental test of the consistency of preferences for altruism. Econometrica, 70, 737–753.

Aspinwall, L. G. (1998). Rethinking the role of positive affect in self-regulation. Motivation and Emotion, 22(1), 1–32.

Aspinwall, L. G. (2004). Dealing with adversity: Self-regulation, coping, adaptation, and health. Applied Social Psychology, 1, 3–27.

Back, M. D., Küfner, A. C., & Egloff, B. (2010). The emotional timeline of September 11, 2001. Psychological Science, 21(10), 1417–1419.

Back, M. D., Küfner, A. C. P., & Egloff, B. (2011). Automatic or the people?. Psychological Science, 22(6), 837–838.

Batson, D., Pate, S., Lawless, H., Sparkman, P., Lambers, S., & Worman, B. (1979). Helping under conditions of common threat: Increased we-feeling or ensuring reciprocity. Social Psychology Quarterly, 42, 410–414.

Becker, G. S. (1974). A theory of social interaction. Journal of the Political Economy, 41(1), 54–73.

Bolton, G. E., & Ockenfels, A. (2000). Erc: Theory of equity, reciprocity, and competition. American Economic Review, 90, 166–193.

Camerer, C. F. (2004). Prospect theory in the wild: Evidence from the field. In C. F. Camerer, G. Loewenstein, & M. Rabin (Eds.), Advances in behavioral economics (pp. 148–161). Princeton: Princeton University Press.

Cohn, M. A., Mehl, M. R., & Pennebaker, J. W. (2004). Linguistic markers of psychological change surrounding September 11, 2001. Psychological Science, 15(10), 687–693.

Drago, R., & Garvey, G. T. (1998). Incentives for helping on the job: Theory and evidence. Journal of Labor Economics, 16, 1–25.

Dufwenberg, M., & Kirchsteiger, G. (2004). A theory of sequential reciprocity. Games and Economic Behavior, 47, 268–298.

Elster, J. (2007). Explaining social behaviour. More nuts and bolts for the social sciences. Cambridge: Cambridge University Press.

Emmons, R. A. (2005). Striving for the sacred: Personal goals, life meaning, and religion. Journal of Social Issues, 61(4), 731–745.

Emmons, R. A., & Paloutzian, R. F. (2003). The psychology of religion. Annual Review of Psychology, 54(1), 377–402.

Fehr, E., & Schmidt, K. M. (1999). A theory of fairness, competition, and cooperation. Quarterly Journal of Economics, 114, 817–868.

Folkman, S., & Moskowitz, J. T. (2000). Positive affect and the other side of coping. American Psychologist, 55(6), 647.

Foltz, P. W., Kintsch, W., & Landauer, T. K. (1998). The measurement of textual coherence with latent semantic analysis. Discourse Processes, 25(2&3), 285–307.

Fredrickson, B. L., Tugade, M. M., Waugh, C. E., & Larkin, G. R. (2003). What good are positive emotions in crisis? A prospective study of resilience and emotions following the terrorist attacks on the United States on September 11th, 2001. Journal of Personality and Social Psychology, 84(2), 365.

Freud, S. (1901). Psychopathology of everyday life. New York: Basic Books.

Frey, B. S. (1997). Not just for the money: An economic theory of personal motivation. London: Cheltenham.

Frey, B. S., Savage, D. A., & Torgler, B. (2010). Interaction of natural survival instincts and internalized social norms exploring the Titanic and Lusitania disasters. Proceedings of the National Academy of Sciences, 107(11), 4862.

Hart, R. (2001). Redeveloping diction: Theoretical considerations. In M. West (Ed.), Theory, method and practice in computer content analysis. New York: Alblex.

Heide, E. A. d. (2004). Common misconceptions about disasters: Panic, the disaster syndrome, and looting. In M. O'Leary (Ed.), The first 72 hours: A community approach to disaster preparedness (pp. 340–380). Lincoln: iUniverse Publishing.

Hogg, M. A., Adelman, J. R., & Blagg, R. D. (2010). Religion in the face of uncertainty: An uncertainty-identity theory account of religiousness. Personality and Social Psychology Review, 14(1), 72–83.

Hood, R. W., Hill, P. C., & Spilka, B. (2009). The psychology of religion. An empirical approach. New York: Guilford Press.

Hård Segerstad, Y. (2005). Language in sms a socio-linguistic view. In R. Harper et al. (Eds.), The inside text, volume 4 of the Kluwer international series on computer supported cooperative work (pp. 33–51). Netherlands: Springer.

Kean, T. H., & Hamilton, L. (2004). 9/11 commission report: Final report of the national commission on terrorist attacks upon the United States. New York:WW Norton & Company.

Kelley, H. (1971). Attribution in social interaction. In E. Jones, D. Kanouse, H. Kelley, R. Nisbett, S. Valins, & B. Weiner (Eds.), Attribution perceiving the causes of behavior. Morristown: General Learning Press.

Lacan, J. (1968). The language of the self: The function of language in psychoanalysis. Baltimore: John Hopkins Press.

Ling, R. (2003). The socio-linguistics of SMS: An analysis of SMS use by a random sample of Norwegians. Mobile Communication and the Renegotiation of the Social Sphere, 31(4), 335–349.

Martos, T., Kézdy, A., & Horváth-Szabó, K. (2011). Religious motivations for everyday goals: Their religious context and potential consequences. Motivation and Emotion, 35(1), 75–88.

Mawson, A. R. (2007). Mass panic and social attachment: The dynamics of human behavior. Ashgate: Aldershot.

Pargament, K. I., Magyar-Russell, G. M., & Murray-Swank, N. A. (2005). The sacred and the search for significance: Religion as a unique process. Journal of Social Issues, 61(4), 665–687.

Park, C. L. (2005). Religion as a meaning-making framework in coping with life stress. Journal of Social Issues, 61(4), 707–729.

Pennebaker, J. W., Mehl, M. R., & Niederhoffer, K. G. (2003). Psychological aspects of natural language use: Our words, our selves. Annual Review of Psychology, 54, 547–577.

Popping, R. (2000). Computer-assisted text analysis. London: Sage.

Pury, C. L. S. (2011). Automation can lead to confounds in text analysis: Back, Küfner, and Egloff (2010) and the not-so-angry Americans. Psychological Science, 22(6), 835–836.

Rabin, M. (1993). Incorperating fairness into game theory and economics. The Americian Economic Review, 83(5), 1281–1302.

Ripley, A. (2008). The unthinkable: Who survives when disaster strikes—and why?. London: Random House.

Savage, D. A., & Torgler, B. (2010). Fairness and allocations systems. Economic Analysis and Policy, 40(2), 229–248.

Silberman, I. (2005). Religion as a meaning system: Implications for the new millennium. Journal of Social Issues, 61(4), 641–663.

Sobel, J. (2005). Interdependent preferences and reciprocity. Journal of Economic Literature, 42, 392–436.

Spilka, B., Shaver, P., & Kirkpatrick, L. A. (1985). A general attribution theory for the psychology of religion. Journal for the Scientific Study of Religion, 24(1), 1–20.

The Federal Building & Fire Saftey Investigation of the World Trade Center Disaster. (2008). Final report on the collapse of world trade center building 7 (Tech. Rep.). National institute of Standards and Technology: US Department of Commerce.

Thurlow, C. (2003). Generation txt? Exposing the sociolinguistics of young peopleŠs text messaging (Vol. 1) (No. 1). Sheffield Hallam University, 20th June 2012.

Tix, A. P., & Frazier, P. A. (2005). Mediation and moderation of the relationship between intrinsic religiousness and mental health. Personality and Social Psychology Bulletin, 31(3), 295–306.

Torgler, B. (2007). Tax compliance and tax morale: A theoretical and empirical analysis. Cheltenham: Edward Elgar.

Weber, R. P. (1990). Basic content analysis (Vol. 7). Newbury Park: Sage.
About this article
Cite this article
Savage, D.A., Torgler, B. The emergence of emotions and religious sentiments during the September 11 disaster. Motiv Emot 37, 586–599 (2013). https://doi.org/10.1007/s11031-012-9330-5
Published:

Issue Date:

DOI: https://doi.org/10.1007/s11031-012-9330-5
Keywords