Abstract
Relative autonomy (RA) is high when goals are value-consistent and volitionally enacted. This research compared 2 views of RA's influence on excuse-making after hypothetical or recalled failures to attain exercise goals: i.e., RA could reduce all forms of excuse-making (nondefensiveness), or only those that harm continued goal-pursuit (selective defensiveness). Drawing on the typology of excuses by Schlenker et al. (Psychol Rev 101:632–652, 1994), Studies 1–3 showed that individuals with higher RA toward exercise perceived less legitimacy in, and especially avoided using excuses that denied the goal's self-relevance. This excuse-type, when compared with denying control, was most harmful to commitment, and was less effective at reducing culpability. Study 4 showed that internalization of the exercise goal was supported only when excuse-making was tolerated by an ostensible authority. Together, these findings support the selective defensiveness view.
Access options
Buy single article
Instant access to the full article PDF.
USD 39.95
Price includes VAT (USA)
Tax calculation will be finalised during checkout.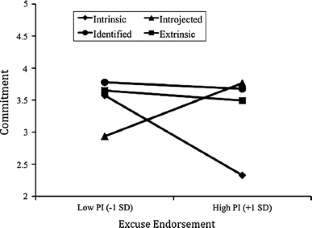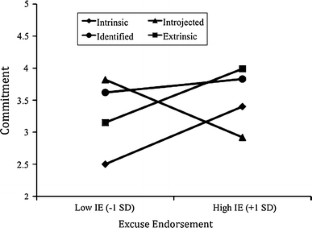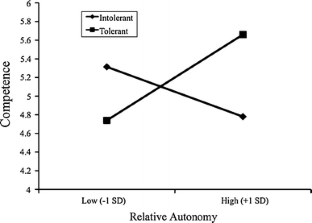 References
Blair, S. N., Haskell, W. L., Ho, P., Paffenbarger, R. S., Jr., Vranizan, K. M., Farquhar, J. W., et al. (1985). Assessment of habitual physical activity by a seven-day recall in a community survey and controlled experiments. American Journal of Epidemiology, 122, 794–804.

Brandtstader, J., & Rothermund, K. (2002). The life-course dynamics of goal pursuit and goal adjustment: A two-process framework. Developmental Review, 22, 117–150.

Brown, K. W., Ryan, R. M., & Creswell, J. D. (2007). Mindfuleness: Theoretical foundations and evidence for its salutary effects. Psychological Inquiry, 18, 211–237.

Courneya, K. S., Nigg, C. R., & Estabrooks, P. A. (2000). Relationships among the theory of planned behavior, stages of change, and exercise behavior in older persons over a three year period. In P. Norman, C. Abraham, & M. Conner (Eds.), Understanding and changing health behavior: From health beliefs to self-regulation (pp. 189–203). Amsterdam, Netherlands: Harwood Academic.

Crowne, D. P., & Marlowe, D. (1960). A new scale of social desirability independent of psychopathology. Journal of Consulting Psychology, 24, 349–354.

Deci, E. L., & Ryan, R. M. (2000). The "what" and "why" of goal pursuits: Human needs and the self-determination of behavior. Psychological Inquiry, 11, 227–268.

Dishman, R. K., & Steinhardt, M. (1988). Reliability and concurrent validity for a 7-d recall of physical activity in college students. Medicine and Science in Sports and Exercise, 20, 14–25.

Edmunds, J., Ntoumanis, N., & Duda, J. L. (2006). A test of self-determination theory in the exercise domain. Journal of Applied Social Psychology, 36, 2240–2265.

Gillison, F., Osborn, M., Standage, M., & Skevington, S. (2009). Exploring the experience of introjected regulation for exercise across gender in adolescence. Psychology of Sport and Exercise, 10, 309–319.

Goffman, E. (1955). On face-work: An analysis of ritual elements of social interaction. Psychiatry: Journal for the Study of Interpersonal Processes, 18, 213–231.

Guay, F., Ratelle, C. F., & Chanel, J. (2008). Optimal learning in optimal contexts: The role of self-determination in education. Canadian Psychology, 49, 233–240.

Hagger, M. S., Chatzisarantis, N. L. D., & Harris, J. (2006). The process by which relative autonomous motivation affects intentional behavior: Comparing effects across dieting and exercise behaviors. Motivation and Emotion, 30, 307–321.

Heckhausen, J., Wrosch, C., & Schulz, R. (2010). A motivational theory of life-span development. Psychological Review, 117, 32–60.

Hodgins, H. S. (2008). Motivation, threshold for threat, and quieting the ego. In H. A. Wayment & J. J. Bauer, (Eds.), Transcending self-interest: Psychological explorations of the quiet ego (pp. 117–124). Washington, DC: American Psychological Association.

Hodgins, H. S., & Liebeskind, E. (2003). Apology versus defense: Antecedents and consequences. Journal of Experimental Social Psychology, 39, 297–316.

Kernis, M. H., & Goldman, B. M. (2006). A multicomponent conceptualization of authenticity: Theory and research. In M. P. Zanna (Ed.), Advances in experimental social psychology (pp. 284–357). San Diego: Elsevier Academic Press.

Kruglanski, A. W., Shah, J. Y., Fishbach, A., Friedman, R., Chun, W. Y., & Sleeth-Keppler, D. (2002). A theory of goal systems. In M. P. Zanna (Ed.), Advances in experimental social psychology (Vol. 34, pp. 331–378). San Diego, CA: Academic Press.

Lakey, C. E., Kernis, M. H., Heppner, W. L., & Lance, C. E. (2008). Individual differences in authenticity and mindfulness as predictors of verbal defensiveness. Journal of Research in Personality, 42, 230–238.

Marcus, B., Selby, V., Niarua, R., & Rossi, J. (1992). Self-efficacy and the stages of exercise behavior change. Research Quarterly for Exercise and Sport, 63, 60–66.

Murray, S. L., & Holmes, J. G. (1993). Seeing virtues in faults: Negativity and the transformation of interpersonal narratives in close relationships. Journal of Personality and Social Psychology, 65, 707–722.

Neff, K. D. (2003). Development and validation of a scale to measure self-compassion. Self and Identity, 2, 223–250.

Paulhus, D. (1991). Measurement and control of response bias. In J. P. Robinson, P. R. Shaver, & L. S. Wrightsman (Eds.), Measures of personality and social psychological attitudes (Vol. 1, pp. 17–59). San Diego, CA: Academic Press.

Polivy, J., & Herman, P. C. (2002). If at first you don't succeed: False hope of self-change. American Psychologist, 57, 677–689.

Rhodewalt, F., Sanbonmatsu, D. M., Tschanz, B., Feick, D. L., & Waller, A. (1995). Self-handicapping and interpersonal trade-offs: The effects of claimed self-handicaps on observers' performance evaluations and feedback. Personality and Social Psychology Bulletin, 21, 1042–1050.

Rosenberg, M. (1965). Society and the adolescent self-image. Princeton, NJ: Princeton University Press.

Schlenker, B. R., Britt, T. W., Pennington, J., Murphy, R., & Doherty, K. (1994). The triangle model of responsibility. Psychological Review, 101, 632–652.

Sheldon, K. M., & Elliot, A. J. (1999). Goal striving, need satisfaction, and longitudinal well- being: The self-concordance model. Journal of Personality and Social Psychology, 76, 482–497.

Sheldon, K. M., & Schachtman, T. R. (2007). Obligations, commitment, and excuse-making: Integrating the triangle model and self-determination theory. Journal of Personality, 75, 359–382.

Wiener, B. (1986). An attributional theory of achievement motivation and emotion. Psychological Review, 92, 548–573.

Williams, G. C., McGregor, H. A., Zeldman, A., Freedman, Z. R., & Deci, E. L. (2004). Testing a self-determination theory process model for promoting glycemic control through diabetes self-management. Health Psychology, 23, 58–66.

Wilson, P. M., Rogers, T. W., Rodgers, W. M., & Wild, T. C. (2006). The psychological need satisfaction in exercise scale. Journal of Sport and Exercise Psychology, 28, 231–251.

Wrosch, C., & Scheier, M. F. (2002). Personality and quality of life: The importance of optimism and goal adjustment. Quality of Life Research, 12, 59–72.
Acknowledgments
Financial support for this research was received from the Social Sciences and Humanities Research Council of Canada, Sport Canada, the Province of Manitoba, and the University of Manitoba. Preliminary findings were presented at the Annual Conventions for the Society for Personality and Social Psychology in Tampa, Florida in February 2009, and in Las Vegas, Nevada in January 2010; at the 4th International Self-Determination Theory Conference in Ghent, Belgium, and at the 71st Annual Convention for the Canadian Psychological Association. We would like to thank Ryan Reyes for assistance with data collection.
About this article
Cite this article
Thacher, T.M., Bailis, D.S. Selective defensiveness or nondefensiveness: How does relative autonomy relate to excuse-making when goal pursuits do not succeed?. Motiv Emot 36, 323–337 (2012). https://doi.org/10.1007/s11031-011-9248-3
Keywords
Relative autonomy

Defensiveness

Excuse-making

Goal pursuit