Abstract
There is a growing literature suggesting important associations between the perceived work situation, individual health, and organizational outcomes. Less research has investigated employee experiences in the moment, which might help explain why the broader outcomes emerge. We examined momentary affect and cortisol from a within-day and between-day perspective, comparing working time to nonworking time for employees in engaging and disengaging workplaces. Findings indicate significantly lower momentary happiness and interest and higher stress and sadness are associated with work, and, in particular, with disengaging work environments. The connections between momentary affect and cortisol confirmed prior research, but cortisol was higher during non-work weekday moments. Employees with engaging work conditions had lower cortisol during weekday (working) mornings in comparison to employees with disengaging work conditions. There was no difference on Saturdays. These results provide evidence that work, and especially the work situation, is associated with affective and physiological momentary states.
Access options
Buy single article
Instant access to the full article PDF.
USD 39.95
Price excludes VAT (USA)
Tax calculation will be finalised during checkout.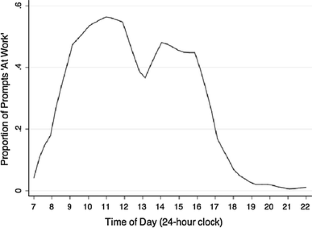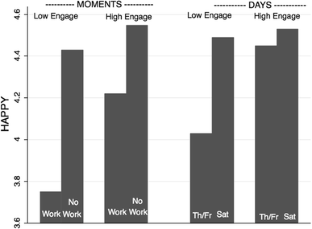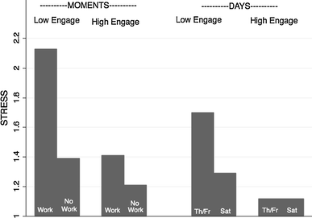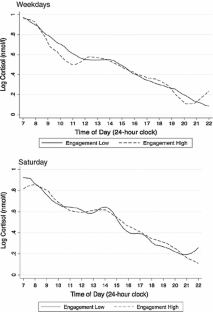 References
Aboa-Eboule, C., Brisson, C., Maunsell, E., Masse, B., Bourbonnais, R., Vezina, M., et al. (2007). Job strain and risk of acute recurrent coronary heart disease events. Journal of American Medical Association (JAMA), 298, 1652–1660.

Cohen, S., Kamarck, T., & Mermelstein, R. (1983). A Global Measure of Perceived Stress. [Article]. Journal of Health and Social Behavior, 24(4), 385–396.

Csikszentmihalyi, M., & Hunter, J. (2003). Happiness in everyday life: The uses of experience sampling. Journal of Happiness Studies, 4(2), 185–199.

Csikszentmihalyi, M., & LeFevre, J. (1989). Optimal experience in work and leisure. Journal of Personality and Social Psychology, 56, 815–822.

Dickerson, S. S., & Kemeny, M. E. (2004). Acute stressors and cortisol responses: A theoretical integration and synthesis of laboratory research. [Review]. Psychological Bulletin, 130(3), 355–391.

Dressendorfer, R. A., Kirschbaum, C., Rohde, W., Stahl, F., & Strasburger, C. J. (1992). Synthesis of a cortisol-biotin conjugate and evaluation as a tracer in an immunoassay for salivary cortisol measurement. Journal of Steriod Biochemistry and Molecular Biology, 43, 683–692.

Egloff, B., Tausch, A., Kohlmann, C., & Krohne, H. W. (1995). Relationships between time of day, day of week, and positive mood: Exploring the role of the mood measure. Motivation and Emotion, 19, 99–100.

Fries, E., Dettenborn, L., & Kirschbaum, C. (2009). The cortisol awakening response (CAR): Facts and future directions. [Review]. International Journal of Psychophysiology, 72(1), 67–73.

Harter, J. K. & Arora, R. (2008). Social time crucial to daily emotional well-being in U.S. Gallup.com, June 5, 2008.

Harter, J. K., & Arora, R. (2009). The impact of time spent working and job fit on well-being around the world. In E. Diener, D. Kahneman, & J. Helliwell (Eds.), International differences in well-being (pp. 389–426). Oxford, UK: Oxford University Press.

Harter, J. K., Schmidt, F. L., Asplund, J. A., Killham, E. A., & Agrawal, S. A. (2010). Causal impact of employee work perceptions on the bottom line of organizations. Perspectives on Psychological Science, 5(4), 378–389.

Harter, J. K., Schmidt, F. L., & Hayes, T. L. (2002a). Business-unit-level relationship between employee satisfaction, employee engagement, and business outcomes: A meta-analysis. Journal of Applied Psychology, 87(2), 268–279.

Harter, J. K., Schmidt, F. L., & Keyes, C. L. (2002b). Well-being in the workplace and its relationship to business outcomes: A review of the gallup studies. In C. L. Keyes & J. Haidt (Eds.), Flourishing: The positive person and the good life (pp. 205–224). Washington D.C.: American Psychological Association.

Harter, J. K., Schmidt, F. L., Killham, E. A., & Agrawal, S. (2009). Q12 meta-analysis: The relationship between engagement at work and organizational outcomes. The Gallup Organization: Omaha, NE.

Judge, T. A., & Illies, R. (2004). Affect and job satisfaction: A study of their relationship at work and at home. Journal of Applied Psychology, 89(4), 661–673.

Judge, T. A., Thoresen, C. J., Bono, J. E., & Patton, G. K. (2001). The job satisfaction-job performance relationship: A qualitative and quantitative review. Psychological Bulletin, 127(3), 376–407.

Kivimaki, M., Ferrie, J., Brunner, E., Head, J., Shipley, M., Vahtera, J., et al. (2005). Justice at work and reduced risk of coronary heart disease among employees. Archives of Internal Medicine, 165, 2245–2251.

Krueger, A. B., Kahneman, D., Schkade, D., Schwarz, N., & Stone, A. A. (2008). National time accounting: The currency of life (Working Papers No. 1061). Princeton, NJ: Princeton University, Department of Economics, Industrial Relations Section.

Krueger, A., Kahneman, D., Schkade, D., Schwarz, N., & Stone, A. A. (2009). National time accounting: The currency of life. In A. Krueger (Ed.), National time accounts (pp. 9–86). Chicago: University of Chicago Press.

Langelaan, S., Bakker, A., Schaufeli, W., van Rhenen, W., & van Doornen, L. (2006). Do burned-out and work-engaged employees differ in the functioning of the hypothalamic-pituitary-adrenal axis? Scandanavian Journal of Work Environment Health, 32(5), 339–348.

Larsen, R. J., Augustine, A. A., & Prizmic, Z. (2009). A process approach to emotion and personality: Using time as a facet of data. Cognition and Emotion, 23, 1407–1426.

Maina, G., Palmas, A., Bovenzi, M., & Filon, F. L. (2009). Salivary cortisol and psychosocial hazards at work. American Journal of Industrial Medicine, 52, 251–260.

Mikolajczak, M., Quoidbach, J., Vanootighem, V., Lambert, F., Lahaye, M., Fillee, C., & de Timary, P. (in press). Cortisol awakening response (CAR)'s flexibility leads to larger and more consistent association with psychological factors than CAR magnitude. Psychoneuroendocrinology.

Nyberg, A., Alfredsson, L., Theorell, T., Westerlund, H., Vahtera, J., & Kivimaki, M. (2009). Managerial leadership and ischaemic heart disease among employees: the Swedish WOLF study. Occupational Environmental Medicine;, 66(1), 51–55.

Okenfels, M. C., Porter, L., Smyth, J., Kirschbaum, C., Hellhammer, D. H., & Stone, A. A. (1995). The effect of chronic stress associated with unemployment on salivary cortisol: Overall cortisol levels, diurnal rhythm, and acute stress reactivity. Psychosomatic Medicine, 57, 460–467.

Ryan, R. M., Bernstein, J. H., Brown, K. W. (2010). Weekends, work, and well-being: Psychological need satisfactions and day of week effects on mood, vitality, and physical symptoms, Journal of Social and Clinical Psychology 29:1, 95–122.

Schlotz, W., Hellhammer, J., Schulz, P., & Stone, A. A. (2004). Perceived work overload and chronic worrying predict weekend-weekday differences in the cortisol awakening response. Psychosomatic Medicine, 66(2), 207–214.

Schwartz, J. E., & Stone, A. A. (1998). Strategies for analyzing ecological momentary assessment data. Health Psychology, 17(1), 6–16.

Smyth, J., Ockenfels, M. C., Porter, L., Kirschbaum, C., Hellhammer, D. H., & Stone, A. A. (1998). Stressors and mood measured on a momentary basis are associated with salivary cortisol secretion. Psychoneuroendocrinology, 23(4), 353–370.

Stone, A. A., Schneider, S. & Harter, J. K. (2010). Day-of-week mood patterns in the United States: On the existance of "blue Monday", "TGIF", and other weekly patterns. Research Paper.

Stone, A. A., Schwartz, J. E., Broderick, J. E., & Deaton, A. (2010b). A snapshot of the age distribution of psychological well-being in the United States. Proc Natl Acad Sci U S A, 107(22), 9985–9990.

vanEck, M., Berkhof, H., Nicolson, N., & Sulon, J. (1996). The effects of perceived stress, traits, mood states, and stressful daily events on salivary cortisol. Psychosomatic Medicine, 58(5), 447–458.
About this article
Cite this article
Harter, J.K., Stone, A.A. Engaging and disengaging work conditions, momentary experiences and cortisol response. Motiv Emot 36, 104–113 (2012). https://doi.org/10.1007/s11031-011-9231-z
Published:

Issue Date:

DOI: https://doi.org/10.1007/s11031-011-9231-z
Keywords
Work

Affect

Physiology

Cortisol

Weekday-weekend differences