Abstract
Microbial biofilms play a critical role in environmental biotechnology and associated applications. Biofilm production can be enhanced by inhibiting the function of proteins that negatively regulate their formation. With this objective, an in silico approach was adopted to identify competitive inhibitors of eight biofilm-antagonistic proteins, namely AbrB and SinR (from Bacillus subtilis) and AmrZ, PDE (EAL), PslG, RetS, ShrA and TpbA (from Pseudomonas aeruginosa). Fifteen inhibitors that structurally resembled the natural ligand of each protein were shortlisted using ligand-based and structure-based virtual screening. The top four inhibitors obtained from molecular docking using Autodock Vina were further docked using SwissDock and DOCK 6.9 to obtain a consensus hit for each protein based on different scoring functions. Further analysis of the protein–ligand complexes revealed that these top inhibitors formed significant non-covalent interactions with their respective protein binding sites. The eight protein-ligand complexes were then subjected to molecular dynamics simulations for 30 ns using GROMACS. RMSD and radius of gyration values of 0.1–0.4 nm and 1.0–3.5 nm, respectively, along with hydrogen bond formation throughout the trajectory indicated that all the complexes remained stable, compact and intact during the simulation period. Binding energy values between –20 and –77 kJ/mol obtained from MM-PBSA calculations further confirmed the high affinities of the eight inhibitors for their respective receptors. The outcome of this study holds great promise to enhance biofilms that are central to biotechnological processes associated with microbial electrochemical technologies, wastewater treatment, bioremediation and the industrial production of value-added products.
Graphic abstract

Access options
Buy single article
Instant access to the full article PDF.
US$ 39.95
Tax calculation will be finalised during checkout.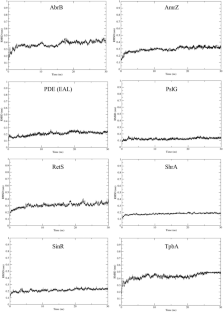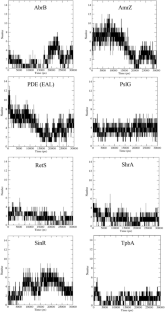 Availability of data and material
All additional data relating to the study are available from the authors upon reasonable request.
Acknowledgements
This work is dedicated to Bhagawan Sri Sathya Sai Baba, the founder chancellor of the Sri Sathya Sai Institute of Higher Learning. The authors thank Mr. Prasanth Ghanta, Mr. Sahashransu Satyajeet Mahapatra and Ms. Jyotsna Jai for their support in carrying out this study. Computational facilities provided by the Department of Mathematics and Computer Science, SSSIHL, and DBT-BIF, Govt. of India, are gratefully acknowledged. The valuable comments provided in the peer-review process brought in more clarity to the discussion of results.
Additional information
Publisher's Note
Springer Nature remains neutral with regard to jurisdictional claims in published maps and institutional affiliations.
Supplementary Information
Below is the link to the electronic supplementary material.
About this article
Cite this article
Mukhi, M., Vishwanathan, A.S. Identifying potential inhibitors of biofilm-antagonistic proteins to promote biofilm formation: a virtual screening and molecular dynamics simulations approach. Mol Divers (2021). https://doi.org/10.1007/s11030-021-10320-5
Received:

Accepted:

Published:
Keywords
In silico

Biofilms

Biofilm-antagonistic proteins

Virtual screening

Molecular docking

Molecular dynamics