Abstract
We synthesized a series of novel pyrrole- and pyrazole-substituted coumarin derivatives and evaluated their antifungal activity against six phytopathogenic fungi in vitro. The primary assay results demonstrated that some designed compounds displayed potent activities. Among them, compounds 5g, 6a, 6b, 6c, 6d and 6h exhibited more effective control than Osthole against Cucumber anthrax and Alternaria leaf spot. Furthermore, compound 5g displayed stronger antifungal activity against Rhizoctorzia solani (EC50 = 15.4 µg/mL) than positive control Osthole (EC50 = 67.2 µg/mL).
Graphical abstract

This is a preview of subscription content, log in to check access.
Access options
Buy single article
Instant access to the full article PDF.
US$ 39.95
Price includes VAT for USA
Subscribe to journal
Immediate online access to all issues from 2019. Subscription will auto renew annually.
US$ 99
This is the net price. Taxes to be calculated in checkout.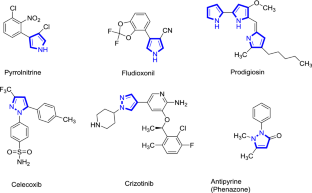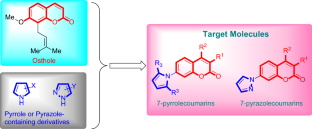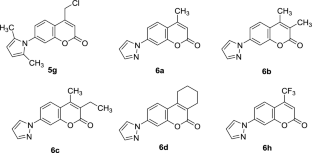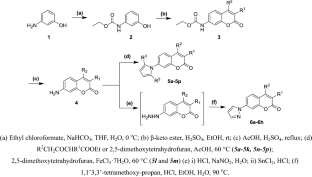 Acknowledgements
The authors are grateful to the Program of National Key R&D Program of China (2018YFD0200103) and the Fundamental Research Funds for the Central Universities (KYTZ 201604) for partially funding this work.
Ethics declarations
Conflict of interest
The authors declare that they have no conflict of interest.
Additional information
Publisher's Note
Springer Nature remains neutral with regard to jurisdictional claims in published maps and institutional affiliations
Electronic supplementary material
Below is the link to the electronic supplementary material.
About this article
Cite this article
Zhang, S., Liang, C., Sun, Y. et al. Design, synthesis and antifungal activities of novel pyrrole- and pyrazole-substituted coumarin derivatives. Mol Divers 23, 915–925 (2019). https://doi.org/10.1007/s11030-019-09920-z
Received:

Accepted:

Published:

Issue Date:
Keywords
Aminocoumarin derivatives

Nitrogen-containing

Synthesis

Antifungal activity