Abstract
Novel-substituted pyrazoles were synthesized using an aminal-based approach. The key steps in the synthetic strategy involve the formation of 1,1-dihydrazino-2-nitroethylene from hydrazine hydrate with nitro ketene dithioacetal and its reaction with Knoevenagel adduct derived from the corresponding aldehyde and malononitrile in ethanol media. The formation of 5-membered pyrazole ring is confirmed based on the electrostatic surface potential computed by density functional theory. This strategy can provide a concise and eco-friendly route for easy access to the highly substituted pyrazoles derivatives in excellent yields using four simple and readily available building blocks under mild conditions and particularly attractive due to features such as atom economy, high yield and mild condition.
This is a preview of subscription content, log in to check access.
Access options
Buy single article
Instant access to the full article PDF.
US$ 39.95
Price includes VAT for USA
Subscribe to journal
Immediate online access to all issues from 2019. Subscription will auto renew annually.
US$ 99
This is the net price. Taxes to be calculated in checkout.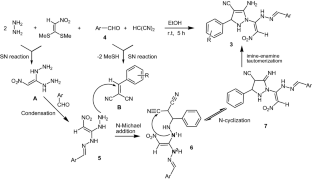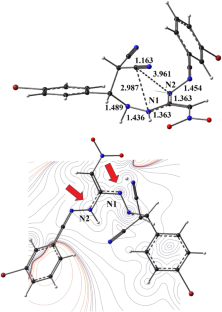 References
1.

Arbaciauskiene E, Vilkauskaite G, Eller GA, Holzer W, Sackus A (2009) Pd-catalyzed cross-coupling reactions of halogenated 1-phenylpyrazol-3-ols and related triflates. Tetrahedron 65:817

2.

Ishibuchi S, Morimoto H, Oe T, Ikebe T, Inoue TH, Fukunari A, Kamezawa M, YamadaI NY (2001) Synthesis and structure–activity relationships of 1-phenylpyrazoles as xanthine oxidase inhibitors. Bioorg Med Chem Lett 11:879

3.

Lamberth C (2007) Pyrazole chemistry in crop protection. Heterocycles 71:1467

4.

Penning TD, Talley JJ, Bertenshaw SR, Carter JS, Collins PW, Docter S, Graneto MJ, Lee LF, Malecha JW, Miyashiro JM, Rogers RS, Rogier DJ, Yu SS, Anderson GD, Burton EG, Cogburn JN, Gregory SA, Koboldt CM, Perkins WE, Seibert K, Veenhuizen AW, Zhang YY, Isakson PC (1997) Synthesis and biological evaluation of the 1,5-diarylpyrazole class of cyclooxygenase-2 inhibitors: identification of 4-[5-(4-methylphenyl)-3- (trifluoromethyl)-1 h-pyrazol-1-yl]benzenesulfonamide (SC-58635, Celecoxib). J Med Chem 40:1347

5.

Deng XH, Mani NS (2008) Base-mediated reaction of hydrazones and nitroolefins with a reversed regioselectivity: a novel synthesis of 1,3,4-trisubstituted pyrazoles. Org Lett 10:1307

6.

Batulin YM (1968) On the mechanism of the anticonvulsant action of some derivatives of pyrazole. Farmakol Toksikol 31:533

7.

Parmar SS, Pandey BR, Dwivedi C, Harbinson RD (1974) Anticonvulsant activity and monoamine oxidase inhibitory properties of 1,3,5 trisubstituted pyrazolines. J Pharm Sci 63:1152

8.

Soni N, Pande K, Kalsi R, Gupta TK, Parmar SS, Barthwal JP (1987) Inhibition of rat brain monoamine oxidase and succinic dehydrogenase by anticonvulsant pyrazolines. Res Commun Chem Pathol Pharmacol 56:129

9.

Turan-Zitouni G, Chevallet P, Kilic FS, Erol K (2000) Synthesis of some thiazolyl-pyrazoline derivatives and preliminary investigation of their hypotensive activity. Eur J Med Chem 35:635

10.

Ethan P, Mutlu A, Tayfun U, Dilek E (2001) Synthesis and antidepressant activities of some 3,5-diphenyl-2-pyrazolines. Eur J Med Chem 36:539

11.

Manojkumar P, Ravi TK, Subbuchettiar G (2009) Syntheses, characterization and evaluation of some 1,3,4-tri substituted-5-pyrazolone derivatives as dual anti-inflammatory and antimicrobial agents. Acta Pharm 59:159

12.

Sauzem PD, Sant'anna GD, Machado P, Duarte MM, Ferreira J, Mello CF, Beck P, Bonacorso HG, Zanatta N, Martins MA, Rubin MA (2009) Effect of 5-trifluoromethyl-4, 5-dihydro-1H-pyrazoles on chronic inflammatory pain model in rats. Eur J Pharmacol 616:91

13.

Karthikeyan K, Veenus Seelan T, Lalitha KG, Perumal PT (2009) Synthesis and antinociceptive activity of pyrazolylisoxazolines and pyrazolylisoxazoles. Bioorg Med Chem Lett 19:3370

14.

Damljanović I, Vukićević M, Radulović N, Palić R, Ellmerer E, RatkovićZ Joksović MD, Vukićević RD (2009) Synthesis and antimicrobial activity of some new pyrazole derivatives containing a ferrocene unit. Bioorg Med Chem Lett 19:1093

15.

Srivastava KB, Joharapurkar A, RavalS Patel JZ, Soni R, Raval P, Gite A, Goswami A, Sadhwani N, Gandhi N, Patel H, Mishra B, Solanki M, Pandey B, Jain MR, Patel PR (2007) Diaryl Dihydropyrazole-3-carboxamides with significant in vivo antiobesity activity related to CB1 receptor antagonism: synthesis, biological evaluation, and molecular modeling in the homology model. J Med Chem 50:5951

16.

Hashimoto H, Imamura K, Haruta JI, Wakitani K (2002) 4-(4-Cycloalkyl/aryl-oxazol-5-yl)benzenesulfonamides as selective cyclooxygenase-2 inhibitors: enhancement of the selectivity by introduction of a fluorine atom and identification of a potent, highly selective, and orally active COX-2 inhibitor JTE-522. J Med Chem 45:1511–1517

17.

Huang YR, Katzenellenbogen JA (2000) Regioselective synthesis of 1,3,5-triaryl-4-alkylpyrazoles: novel ligands for the estrogen receptor. Org Lett 2:2833

18.

Genin MJ, BilesC Keiser BJ, Poppe SM, Swaney SM, Tarpley WG, Yagi Y, Romero DL (2000) Novel 1,5-diphenylpyrazole nonnucleoside HIV-1 reverse transcriptase inhibitors with enhanced activity versus the delavirdine-resistant P236L mutant: lead identification and SAR of 3- and 4-substituted derivatives. J Med Chem 43:1034

19.

Kees KL, Fitzgerald KJJ Jr, Steiner KE, Mattes JF, Mihan B, Tosi T, Mondoro D, McCaleb ML (1996) New potent antihyperglycemic agents in db/db mice: synthesis and structure–activity relationship studies of (4-substituted benzyl)(trifluoromethyl)pyrazoles and –pyrazolones. J Med Chem 39:3920

20.

Willy B, Müller TJ (2011) Rapid one-pot, four-step synthesis of highly fluorescent 1,3,4,5-tetrasubstituted pyrazoles. J Organ Lett 13:2082

21.

Chandrasekhar S, Rajaiah G, Srihari P (2001) New and practical synthesis of 1,4-dihydrobenzopyrano-pyrazoles. Tetrahedron Lett 42:6599

22.

Katritzky AR, Wang MY, Zhang SM, Voronkov MV (2001) Regioselective synthesis of polysubstitutedpyrazoles and isoxazoles. J Org Chem 66:6787

23.

Aggarwal VK, de Vicente J, Bonnert RV (2003) A novel one-pot method for the preparation of pyrazoles by 1,3-dipolar cycloadditions of diazo compounds generated in situ. J Org Chem 68:5381

24.

Shen DM, Shu M, Chapman KT (2000) Versatile and efficient solid-phase syntheses of pyrazoles and isoxazoles. Org Lett 2:2789

25.

Deng XH, Mani NS (2006) Reaction of N-monosubstituted hydrazones with nitroolefins: a novel regioselective pyrazole synthesis. Org Lett 8:3505

26.

Kost AN (1966) Progress in pyrazole chemistry. J Heterocycl Chem 6:347

27.

Stanovnik B, Svete J (2002) Pyrazoles in science of synthesis, Houben-Weyl methods of organic transformations, vol 12. Georg Thieme Verlag, Stuttgart, p 15

28.

Kumar D, Singh SP (2004) Structural revision in pyrazole chemistry. Heterocycles 63:145

29.

Langer P, Freiberg W (2004) Cyclization reactions of dianions in organic synthesis. Chem Rev 104:4125

30.

Duncan DC, Trumbo TA, Almquist CD, Lentz TA, Beam CF (1987) The preparation of N-carboalkoxypyrazoles and N-phenylpyrazoles from C(α)dianions of carboalkoxyhydrazones and phenylhydrazones. J Heterocycl Chem 24:555

31.

Matsumura N, Kunigihara A, Yoneda S (1984) Reaction of α-chloroketones with 1,4-dianion of acetophenone n-ethoxy-carbonylhydrazone. Tetrahedron Lett 25:4529

32.

Matsumura N, Kunigihara A, Yoneda S (1983) 1,4-Dianion of acetophenone n-ethoxycarbonylhydrazone as a synthetic intermediate. Tetrahedron Lett 24:3239

33.

Beam CF, Reames DC, Harris CE, Dasher IW, Hollinger WM, Shealy NL, Sandifer RM, Perkins M, Hauser CR (1975) New method for the preparation of 4-acylpyrazoles. Reaction of C (alpha), N dianions of phenylhydrazones with acid chlorides. J Org Chem 40:514

34.

Rezvanian A (2016) An expedient synthesis strategy to the 1,4-dihydropyridines and pyrido [1,2-a] quinoxalines: iodine catalyzed one-pot four-component domino reactions. Tetrahedron 72:6428

35.

Rezvanian A (2015) Iodine catalyzed mild 4CR protocol for synthesis of tetrahydroimidazo [1,2-a] pyridines: cascade construction of multiple C–C and C–Hetero bonds. Tetrahedron 71:4752

36.

Rezvanian A, Heravi MM, Shaabani Z, Tajbakhsh M (2017) Five-component synthesis of dihydropyridines based on diketene. Tetrahedron 73:2009

37.

Rezvanian A, Alinaghian F, Heravi MM (2018) Metal-free assemblage of four C − N and two C − C bonds via a cascade five component diastereoselective synthesis of pyrido[1,2-a]pyrimidines. Chem Select 41:11565

38.

Talaei B, Heravi MM, Oskooie HA, Rezvanian A (2018) An approach to the diastereoselective synthesis of cyclohexane-1,3-dicarboxamide derivatives via a pseudo five-component reaction based on diketene. Synlett 29:225

39.

Alizadeh A, Rezvanian A, Zhu LG (2012) Synthesis of heterocyclic [3.3. 3] propellanes via a sequential four-component reaction. J Org Chem 77:4385

40.

Rezvanian A, Alizadeh A (2012) Powerful approach to synthesis of fused oxa-aza [3.3. 3] propellanes via chemoselective sequential MCR in a single pot. Tetrahedron 68:10164

41.

Rezvanian A, Alizadeh A, Zhu LG (2012) Chemo-and regioselective 4CR synthesis of oxathiaaza [3.3.3] propellanes via sequential C–S, C–N and C–O bond formation in a single pot. Synlett 23:2526

42.

Alizadeh A, Rezvanian A (2014) Catalyst- and solvent-free synthesis of highly functionalized octahydro-imidazo[1,2-a]quinolin-6-ones via a one-pot sequential four-component reaction in melt conditions. A C R Chim 17:103

43.

Lashanizadegan M, Karimi Alavijeh R, Anafcheh M (2017) Facile synthesis of Co (II) and Cu (II) complexes of 2-hydroxybenzophenone: an efficient catalyst for oxidation of olefins and DFT study. J Mol Struct 1146:450

44.

Ektefa F, Anafche M, Hadipour NL (2011) A DFT exploration of structural and electronic properties of a photoswitchable octapeptide cyclized with (4-aminomethyl) phenylazobenzoic acid. Comput Theor Chem 977:1

45.

Zhao Y, Truhlar DG (2008) The M06 suite of density functionals for main group thermochemistry, thermochemical kinetics, noncovalent interactions, excited states, and transition elements: two new functionals and systematic testing of four M06-class functionals and 12 other functionals. Theor Chem Acc 120:215

46.

Murray J, Seminario JM, Concha MC, Politzer P (1992) An analysis of molecular electrostatic potentials obtained by a local density functional approach. Int J Quantum Chem 44:113

47.

Crasto CJ, Stevens ED (1998) Use of electrostatic potentials to study non-bonded intramolecular interactions in 1, 8-disubstituted naphthalenes with carbonyl groups as electrophilic substituents. J Mol Struct 454:51
Acknowledgements
Financial support of this research from Alzahra University, Iran, is gratefully acknowledged. A. Rezvanian is also thankful to Iran National Science Foundation (INSF) for the allocated grant by the awarded individual research chair.
Additional information
Publisher's Note
Springer Nature remains neutral with regard to jurisdictional claims in published maps and institutional affiliations.
Electronic supplementary material
Below is the link to the electronic supplementary material.
About this article
Cite this article
Rezvanian, A., Babashah, M. & Anafcheh, M. A novel pseudo six-component synthesis of functionalized pyrazoles in ethanol by cascade reaction. Mol Divers 23, 875–883 (2019). https://doi.org/10.1007/s11030-018-9908-2
Received:

Accepted:

Published:

Issue Date:
Keywords
Pseudo six component

Functionalized pyrazoles

Nitro ketene dithioacetal

Geometric isomer