New biocomposites and the cattle bone tissue were investigated. The composites were made from an endodontic cement (EC) and natural hydroxyapatite (NHAp.) The results of experiments performed by the method of infrared spectroscopy showed that protein was removed from the heat-treated specimens of bone tissue practically completely. The structure of bone tissue before and after deproteinization and the structure of the composite materials based on NHAp and ЕC (with different percentage) were investigated by the method of optical microscopy. The characteristics of mechanical properties (the initial elastic modulus, breaking tensile and compressive stresses, and breaking strain) and the density and porosity of these materials were determined. The new composite materials were implanted in the live tissue of rat. Biocompatibility between the live tissue and the new biocomposites was estimated.
This is a preview of subscription content, log in to check access.
Access options
Buy single article
Instant access to the full article PDF.
US$ 39.95
Price includes VAT for USA
Subscribe to journal
Immediate online access to all issues from 2019. Subscription will auto renew annually.
US$ 199
This is the net price. Taxes to be calculated in checkout.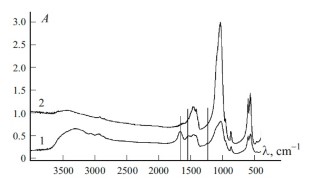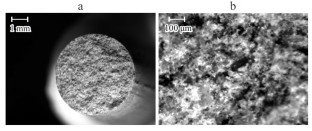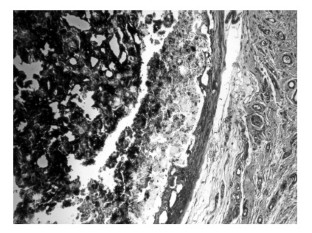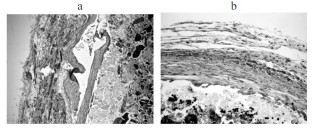 References
1.

S. M. Barinov, "Ceramic and composite materials on the basis of calcium phosphates for medicine," Zhurn. Uspekhi Khimii, 79, No. 1, 15-32 (2010).

2.

D.F. Williams and R, Rouf, Implant in Surgery [Russian translation], M.: Medicine, 1987, 552.

3.

Yu. A. Yuzhelevskii and S. V. Sokolov," Elastic silaxane materials for endoprosthetics,"Zhurn. Vses. Khim. D. I. Mendeleyev Obshch., 27, No. 2, 132-138 (1982).

4.

Guo-Hui Wang, Shu Yu, Shai-Hong Zhu, Chang-Qing Gao, Yong Liu, Yun-Liang Miu, and Bo-Yun Huang, "Biological properties of carbon/carbon implant composites with unique manufacturing processes," J. Materials Sci. / Materials in Medicine, 20, No. 12, 2487-2492 (2009).

5.

Y. H. Hsu, I. G. Turner, and A. W. Miles, "Mechanical properties of three different compositions of calcium phosphate bioceramic following immersion in Ringer's solution and distilled water," J. Materials Sci. / Materials in Medicine, 20, No. 12, 2367-2374 (2009).

6.

J. Brandt, S. Henning, G. Michler, W. Hein, A. Bernstein, and M Schulz, "Nanocrystalline hydroxyapatite for bone repair: an animal study," J. Materials Sci. / Materials in Medicine, 21, No. 1, 283-294 (2010).

7.

V. V. Filipenkov and I. V. Knets, "Technology and some mechanical properties of biocomposites based on mineral components," Mech. Compos. Mater., 41, No. 2, 187-194 (2005).

8.

V. Filipenkovs, L. Rupeks, I. Knets, N. Borodajenko, Z. Irbe, L Mezmale, I. Rozenstrauha, and V. Vitins, "Mechanical properties of cattle bone tissue and natural hydroxyapatite," Riga Technical University, Material Sci. and Appl. Chemistry, No. 25, 26-30 (2012).

9.

I. V. Knets, G. O. Pfafrod, J. Z. Saulgozis, Deformation and Destruction of Rigid Biological Tissue [in Russian], Riga: Zinatne, 1980, 320.

10.

V. Filipenkov, L. Rupeks, I. Knets, Z. Irbe, and I. Rozenstrauha, "Composite biomaterials made on the basis of natural hydroxyapatite and bone cement for bone tissue replacement," Int. Conf. of the Polish Society of Biomechanics, Poland, Bialystok, 71-74 (2012).
Additional information
Translated from Mekhanika Kompozitnykh Materialov, Vol. 53, No. 3, pp. 543-554 , May-June, 2017.
About this article
Cite this article
Filipenkov, V.V., Rupeks, L.E., Vitins, V.M. et al. Characteristics of Bone Tissue and Composite Materials on the Basis of Natural Hydroxyapatite and Endodontic Cement for Replacement of the Tissue. Mech Compos Mater 53, 381–388 (2017). https://doi.org/10.1007/s11029-017-9669-5
Received:

Published:

Issue Date:
Keywords
bone tissue

biocomposite

mechanical properties

natural hydroxyapatite

endodontic cement

biocompatibility