Abstract
Maintaining and enhancing soil organic carbon (SOC) stocks are options to tackle climate change and food security. However, the large-scale implementation of SOC sequestration in contrasted social and economic environments is a challenge. Giving economic value to SOC is seen as an efficient incentive for farmers to enhance SOC sequestration. There is currently an ever growing number of SOC certification standards for offsetting (OS) greenhouse gases emissions or certifying farmers' practices (SCP). It is therefore challenging for farmers to find their way in this "jungle". An analytic and critical review of these SOC standards is crucial to support them. The objectives of our study were therefore to inventory SOC standards, to elaborate a grid to analyse them, and to compare them. We inventoried 22 SOC standards: 16 OS and 6 SCP. Despite transparency for the majority of SOC standards, only 3 standards gave information on the costs and expected benefits from certification. Therefore, how SOC standards could incentivize the implementation of practices boosting SOC sequestration is still to be demonstrated. However, we do not expect OS to be an economic incentive for smallholder farmers due to their complexity and the type of costs. For OS, we highlighted the risk of decoupling SOC sequestration and food production, as no safeguard criteria are included. SCP offers a more holistic approach to SOC sequestration, but SCP will have to improve transparency and guarantee that internal certification is robust to deliver its promises to farmers.
Access options
Buy single article
Instant access to the full article PDF.
USD 39.95
Price excludes VAT (USA)
Tax calculation will be finalised during checkout.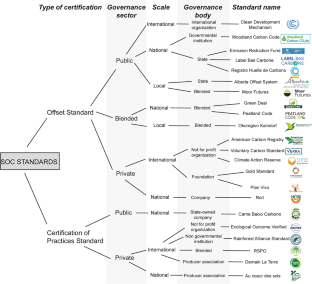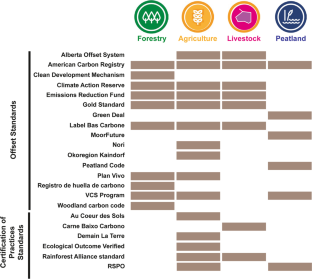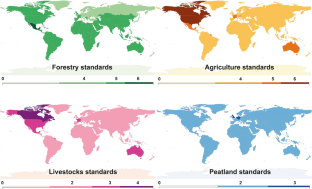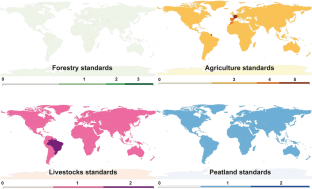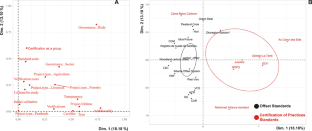 Notes
Verra sets a "global buffer" of carbon credits to mutualize the risk of non-permanence of individual projects. Each project is requested to pour a certain amount of certified carbon credits in a buffer managed by VCS, according to risk of non-permanence assessed by an auditor. If one project fails (e.g. plantations devastated by a fire), an amount of carbon credits equivalent to the unexpected emissions is cancelled in the buffer. This "insurance device" guarantees the carbon credit buyer that he/she still has credits corresponding to a sequestration somewhere.

In 2010, parties to the UN Framework Convention on Climate Change (UNFCCC) agreed in Cancun on seven broad safeguard principles for the implementation of REDD + addressing transparency, participation of stakeholders, protection of biodiversity and ecosystem services, and respect for rights of indigenous and local communities (Roe et al. 2013).
References
Amelung W, Bossio D, de Vries W, Kögel-Knabner I, Lehmann J, Amundson R, Bol R, Collins C, Lal R, Leifeld J, Minasny B, Pan G, Paustian K, Rumpel C, Sanderman J, van Groenigen JW, Mooney S, van Wesemael B, Wander M, Chabbi A (2020) Towards a global-scale soil climate mitigation strategy. Nat Commun 11:5427. https://doi.org/10.1038/s41467-020-18887-7

Amézketa E (1999) Soil aggregate stability: a review. J Sustain Agric 14:83–151. https://doi.org/10.1300/J064v14n02_08

Amundson R, Biardeau L (2018) Soil carbon sequestration is an elusive climate mitigation tool. PNAS 115:11652–11656. https://doi.org/10.1073/pnas.1815901115

Balesdent J, Recous S (1997) Les temps de résidence du carbone et le potentiel de stockage de carbone dans quelques sols cultivés français. Can J Soil Sci 77:187–193. https://doi.org/10.4141/s96-109

Balesdent J, Basile-Doelsch I, Chadoeuf J, Cornu S, Derrien D, Fekiacova Z, Hatté C (2018) Atmosphere–soil carbon transfer as a function of soil depth. Nature 559:599–602. https://doi.org/10.1038/s41586-018-0328-3

Batjes NH (1986) Total carbon and nitrogen in the soils of the world. Eur J Soil Sci 47:151–163

Bossio DA, Cook-Patton SC et al (2020) The role of soil carbon in natural climate solutions. Nat Sustain 3(5):391–398. https://doi.org/10.1038/s41893-020-0491-z

Chenost C, Gardette Y-M, Demenois J, Grondard N, Perrier M, Wemaëre M (2010) Bringing forest carbon projects to the market, UNEP - ONFI - AFD - FFEM - BioCF - World Bank. https://agritrop.cirad.fr/589590/

Chevallier T, Loireau M, Courault R, Chapuis-Lardy L, Desjardins T, Gomez C, Grondin A, Guérin F, Orange D, Pélissier R, Serpantié G, Durand M-H, Derioz P, Laruelle GG, Schwoob M-H, Viovy N, Barrière O, Blanchart E, Blanfort V, Brossard M, Demenois J, Fargette M, Heulin T, Mahe G, Manlay R, Podwojewski P, Rumpel C, Sultan B, Chotte J-L (2020) Paris Climate Agreement: promoting interdisciplinary science and stakeholders' approaches for multi-scale implementation of continental carbon sequestration. Sustainability 12:6715

Dayet and Demenois (2020) "Qualitative data on soil carbon certification schemes in agriculture and forestry" , CIRAD Dataverse, V1.  https://doi.org/10.18167/DVN1/04IS0L

Demenois J, Torquebiau E, Arnoult MH, Eglin T, Masse D, Assouma MH, Blanfort V, Chenu C, Chapuis-Lardy L, Medoc J-M, Sall SN (2020) Barriers and strategies to boost soil carbon sequestration in agriculture. Front Sustain Food Syst 4.https://doi.org/10.3389/fsufs.2020.00037

Follett RF (2001) Soil management concepts and carbon sequestration in cropland soils. Soil Till Res 61:77–92

Foucherot C, Brûlez C, Bellassen V (2019) Création d'un cadre de certification carbone pour le secteur agricole. ADEME. https://librairie.ademe.fr/changement-climatique-et-energie/3781-creation-d-un-cadre-de-certification-carbone-pour-le-secteur-agricole.html

Fouilleux E, Loconto A (2017) Dans les coulisses des labels : régulation tripartite et marchés imbriqués: De l'européanisation à la globalisation de l'agriculture biologique. Rev Fr Sociol 58:501–531. https://doi.org/10.3917/rfs.583.0501

Friedlingstein P, Jones MW, O'Sullivan M, Andrew RM, Hauck J, Peters GP, Peters W, Pongratz J, Sitch S, Le Quéré C, Bakker DCE, Canadell JG, Ciais P, Jackson RB, Anthoni P, Barbero L, Bastos A, Bastrikov V, Becker M, Bopp L, Buitenhuis E, Chandra N, Chevallier F, Chini LP, Currie KI, Feely RA, Gehlen M, Gilfillan D, Gkritzalis T, Goll DS, Gruber N, Gutekunst S, Harris I, Haverd V, Houghton RA, Hurtt G, Ilyina T, Jain AK, Joetzjer E, Kaplan JO, Kato E, Klein Goldewijk K, Korsbakken JI, Landschützer P, Lauvset SK, Lefèvre N, Lenton A, Lienert S, Lombardozzi D, Marland G, McGuire PC, Melton JR, Metzl N, Munro DR, Nabel JEMS, Nakaoka SI, Neill C, Omar AM, Ono T, Peregon A, Pierrot D, Poulter B, Rehder G, Resplandy L, Robertson E, Rödenbeck C, Séférian R, Schwinger J, Smith N, Tans PP, Tian H, Tilbrook B, Tubiello FN, van der Werf GR, Wiltshire AJ, Zaehle S (2019) Global carbon budget 2019. Earth Syst Sci Data 11:1783–1838. https://doi.org/10.5194/essd-11-1783-2019

Fuss S, Lamb WF, Callaghan MW, Hilaire J, Creutzig F, Amann T, Beringer T, de Oliveira GW, Hartmann J, Khanna T, Luderer G, Nemet GF, Rogelj J, Smith P, Vicente JLV, Wilcox J, del Mar Zamora Dominguez M, Minx JC (2018) Negative emissions—Part 2: costs, potentials and side effects. Environ Res Lett 13:063002. https://doi.org/10.1088/1748-9326/aabf9f

Husson F, Lê S, Pagès J (2017) Exploratory multivariate data analysis by example using R. Chapman & Hall/CRC Computer Science & Data Analysis. https://www.researchgate.net/publication/345676857_Exploratory_Multivariate_Analysis_by_Example_Using_R

IPBES (2018) Summary for policymakers of the thematic assessment report on land degradation and restoration of the intergovernmental science-policy platform on biodiversity and ecosystem services. . In: Scholes LMR, Brainich A, Barger N, ten Brink B, Cantele M, Erasmus B, Fisher J, Gardner T, Holland TG, Kohler F, Kotiaho JS, Von Maltitz G, Nangendo G, Pandit R, Parrotta J, Potts MD, Prince S, Sankaran M, Willemen L (eds) IPBES, Bonn, Germany. http://www.ipbes.dk/wp-content/uploads/2018/09/LandDegradation_SPM_2018.pdf

IPCC (2019) Summary for Policymakers. In: Climate Change and Land: an IPCC special report on climate change, desertification, land degradation, sustainable land management, food security, and greenhouse gas fluxes in terrestrial ecosystems [P.R. Shukla, J. Skea, E. Calvo Buendia, V. Masson-Delmotte, H.- O. Pörtner, D. C. Roberts, P. Zhai, R. Slade, S. Connors, R. van Diemen, M. Ferrat, E. Haughey, S. Luz, S. Neogi, M. Pathak, J. Petzold, J. Portugal Pereira, P. Vyas, E. Huntley, K. Kissick, M. Belkacemi, J. Malley, (eds.)]

Janzen HH (2006) The soil carbon dilemma: shall we hoard it or use it ? Soil Biol Biochem 38:419–424. https://doi.org/10.1016/j.soilbio.2005.10.008

Janzen HH, Campbell CA, Izaurralde RC, Ellert BH, Juma N, McGill WB, Zentner RP (1998) Management effects on soil C storage on the Canadian prairies. Soil Till Res 47:181–195

Karsenty A (2019) Certification of tropical forests: a private instrument of public interest? A focus on the Congo Basin. For Policy Econ 106:101974

Lal R (2008) Carbon sequestration. Philos Trans R Soc Lond B Biol Sci 363:815–830

Lal R (2016) Beyond COP21: potential and challenges of the "4 per Thousand" initiative. J Soil Water Conserv 71:20–25. https://doi.org/10.2489/jswc.71.1.20A

Lê S, Josse J, Husson F (2008) FactoMineR: an R package for multivariate analysis. J Stat Softw 25:1–18

Locatelli B, Pedroni L (2004) Accounting methods for carbon credits:impacts on the minimum area of forestry projects under the clean development mechanism. Climate Policy 4(2):193–204. https://doi.org/10.1080/14693062.2004.9685520

Minasny B, Malone BP, McBratney AB, Angers DA, Arrouays D, Chambers A, Chaplot V, Chen Z-S, Cheng K, Das BS, Field DJ, Gimona A, Hedley CB, Hong SY, Mandal B, Marchant BP, Martin M, McConkey BG, Mulder VL, O'Rourke S, Richer-de-Forges AC, Odeh I, JoséPadarian PK, Pan G, Poggio L, Savin I, Stolbovoy V, Stockmann U, Sulaeman Y, Tsui C-C, Vågen T-G, van Wesemael B, Winowiecki L (2017) Soil carbon 4 per mille. Geoderma 292:59–86. https://doi.org/10.1016/j.geoderma.2017.01.002

Oldfield EE, Bradford MA, Wood SA (2019) Global meta-analysis of the relationship between soil organic matter and crop yields. Soil 5:15–32. https://doi.org/10.5194/soil-5-15-2019

Oorts K, Vanlauwe B, Merckx R (2003) Cation exchange capacities of soil organic matter fractions in a Ferric Lixisol with different organic matter inputs. Agric Ecosyst Environ 100:161–171. https://doi.org/10.1016/S0167-8809(03)00190-7

Paustian K, Lehmann J, Ogle S, Reay D, Robertson GP, Smith P (2016) Climate-smart soils. Nature 532:49–57. https://doi.org/10.1038/nature17174

Pellerin S, Bamière L, Camille Launay, Raphaël Martin, Michele Schiavo, Denis Angers, Laurent Augusto, Jérôme Balesdent, Isabelle Basile-Doelsch, Valentin Bellassen, Rémi Cardinael, Lauric Cécillon, Eric Ceschia, Claire Chenu, Julie Constantin, Joël Darroussin, Philippe Delacote, Nathalie Delame, François Gastal, Daniel Gilbert, Anne-Isabelle Graux, Bertrand Guenet, Sabine Houot, Katja Klumpp, Elodie Letort, Isabelle Litrico, Manuel Martin, Safya Menasseri, Delphine Mézière, Thierry Morvan, Claire Mosnier, Jean Roger-Estrade, Laurent Saint-André, Jorge Sierra, Olivier Thérond, Valérie Viaud, Régis Grateau, Sophie Le Perchec, Isabelle Savini, Réchauchère O (2019) Stocker du carbone dans les sols français - Quel potentiel au regard de l'objectif 4 pour 1000 et à quel coût ? Synthèse du rapport d'étude ADEME. https://hal.archives-ouvertes.fr/hal-03163517

Perez Corréa S, Demenois J, Wemaëre M (2011) Le régime des crédits carbone générés par les projets de Boisement ou de Reboisement dans le cadre du Mécanisme pour un Développement Propre : un défi pour les juristes et les développeurs de projet. Revue Juridique De L'environnement 3:345–364

Piñeiro V, Arias J, Dürr J, Elverdin P, Ibáñez AM, Kinengyere A, Opazo CM, Owoo N, Page JR, Prager SD, Torero M (2020) A scoping review on incentives for adoption of sustainable agricultural practices and their outcomes. Nat Sustain 3:809–820. https://doi.org/10.1038/s41893-020-00617-y

Poeplau C, Don A et al (2011) Temporal dynamics of soil organic carbon after land-use change in the temperate zone – carbon response functions as a model approach. Glob Change Biol 17:2415–2427. https://doi.org/10.1111/j.1365-2486.2011.02408.x

R Core Team (2017) R: A language and environment for statistical computing. https://www.R-project.org/

Roe S, Streck C, Pritchard L, Costenbader J (2013) Safeguards in REDD+ and forest carbon standards: a review of social, environmental and procedural concepts and application. Clim Focus. https://www.researchgate.net/publication/281852190_Safeguards_in_REDD_and_Forest_Carbon_Standards_A_Review_of_Social_Environmental_and_Procedural_Concepts_and_Application

Rumpel C, Amiraslani F, Chenu C, Garcia Cardenas M, Kaonga M, Koutika L-S, Ladha J, Madari B, Shirato Y, Smith P, Soudi B, Soussana J-F, Whitehead D, Wollenberg E (2020) The 4p1000 initiative: opportunities, limitations and challenges for implementing soil organic carbon sequestration as a sustainable development strategy. Ambio 49:350–360. https://doi.org/10.1007/s13280-019-01165-2

Seyller C, Desbureaux S, Ongolo S, Karsenty A, Simonet G, Faure J, Brimont L (2016) The 'virtual economy' of REDD+ projects: does private certification of REDD+ projects ensure their environmental integrity? Int For Rev 18(2):231–244

Smith P (2012) Soils and climate change. Curr Opin Environ Sustain 4:539–544. https://doi.org/10.1016/j.cosust.2012.06.005

Smith P, Martino D, Cai Z, Gwary D, Janzen H, Kumar P, McCarl B, Ogle S, O'Mara F, Rice C, Scholes B, Sirotenko O, Howden M, McAllister T, Pan G, Romanenkov V, Schneider U, Towprayoon S, Wattenbach M, Smith J (2008) Greenhouse gas mitigation in agriculture. Philos Trans R Soc Lond B Biol Sci 363:789–813. https://doi.org/10.1098/rstb.2007.2184

Soussana J-F, Lutfalla S, Ehrhardt F, Rosenstock T, Lamanna C, Havlík P, Richards M, Wollenberg E, Chotte J-L, Torquebiau E, Ciais P, Smith P, Lal R (2018) Matching policy and science: rationale for the "4 per 1000 - soils for food security and climate" initiative. Soil Till Res. https://doi.org/10.1016/j.still.2017.12.002

von Unger M, Emmer I (2018) Carbon market incentives to conserve, restore and enhance soil carbon. Silvestrum and The Nature Conservancy, Arlington

West TA, Börner J, Sills EO, Kontoleon A (2020) Overstated carbon emission reductions from voluntary REDD+ projects in the Brazilian Amazon. Proc Natl Acad Sci 117(39):24188–24194

Wiesmeier M, Mayer S, Paul C, Helming K, Don A, Franko U, Steffens M, Kögel-Knabner I (2020) CO2 certificates for carbon sequestration in soils: methods, management practices and limitations. BonaRes Series. BonaRes Centre for Soil Research.  https://www.researchgate.net/publication/344787874_CO2_certificates_for_carbon_sequestration_in_soils_methods_management_practices_and_limitations

Wollenberg E, Richards M, Smith P, Havlík P, Obersteiner M, Tubiello FN, Herold M, Gerber P, Carter S, Reisinger A, van Vuuren DP, Dickie A, Neufeldt H, Sander BO, Wassmann R, Sommer R, Amonette JE, Falcucci A, Herrero M, Opio C, Roman-Cuesta RM, Stehfest E, Westhoek H, Ortiz-Monasterio I, Sapkota T, Rufino MC, Thornton PK, Verchot L, West PC, Soussana J-F, Baedeker T, Sadler M, Vermeulen S, Campbell BM (2016) Reducing emissions from agriculture to meet the 2 °C target. Glob Chang Biol 22:3859–3864. https://doi.org/10.1111/gcb.13340
Additional information
Publisher's note
Springer Nature remains neutral with regard to jurisdictional claims in published maps and institutional affiliations.
Supplementary Information
Below is the link to the electronic supplementary material.
About this article
Cite this article
Demenois, J., Dayet, A. & Karsenty, A. Surviving the jungle of soil organic carbon certification standards: an analytic and critical review. Mitig Adapt Strateg Glob Change 27, 1 (2022). https://doi.org/10.1007/s11027-021-09980-3
Received:

Accepted:

Published:

DOI: https://doi.org/10.1007/s11027-021-09980-3
Keywords