Abstract
Developmental success of sea turtle clutches depends on incubation temperature, which also determines sex ratio of hatchlings. As global temperatures are rising, several studies have proposed mitigation strategies such as irrigation and shading to increase hatching success. Our study expands upon this research and measures the effects of using boxes with different degrees of shade coverage (50%, 80%, and 90%) on sand temperature and water content. Boxes were fully covered with fabric in 2017/2018 (top and sides) but were side open in 2018/2019. We took measurements at olive ridley (Lepidochelys olivacea) and leatherback (Dermochelys coriacea) turtle nest depths (45 and 75 cm) at Playa Grande, Costa Rica. Shading reduced temperature by up to 0.8 °C and up to 0.4 °C at 45 cm and 75 cm, respectively. There were statistically significant differences between shading and control treatments at both depths, but differences between shade treatments were only significant when using side open boxes, possibly due to air flow. Shading had no effect on water content. While the impact of using shaded boxes on temperature was low, the potential impact on primary sex ratios was large. If shading were applied to leatherback clutches, the percentage of female hatchlings could vary by up to 50%, with a maximum difference around the pivotal temperature (temperature with 1:1 sex ratio). Shading can be useful to increase hatching success, but we recommend avoiding it at temperatures within the transitional range (temperatures that produce both sexes), or using it only during the last third of incubation, when sex is already determined. As global warming will likely continue, understanding potential impact and effectiveness of mitigation strategies may be critical for the survival of threatened sea turtle populations.
Access options
Buy single article
Instant access to the full article PDF.
US$ 39.95
Tax calculation will be finalised during checkout.
Subscribe to journal
Immediate online access to all issues from 2019. Subscription will auto renew annually.
US$ 79
Tax calculation will be finalised during checkout.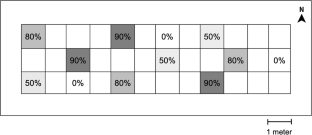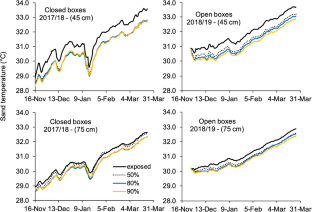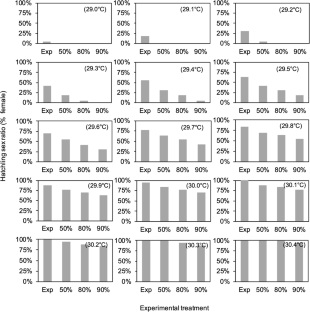 References
Ackerman RA (1997) The nest environment and the embryonic development of sea turtles. In: Lutz PL, Musick JA, Wyneken J (eds) The biology of sea turtles, vol 1. CRC Press, Boca Raton, pp 83–106

Binckley CA, Spotila JR, Wilson KS, Paladino FV (1998) Sex determination and sex ratios of Pacific leatherback turtles, Dermochelys coriacea. Copeia 2:291

Broderick AC, Godley BJ, Hays GC (2001) Metabolic heating and the prediction of sex ratios for green turtles (Chelonia mydas). Physiol Biochem Zool 74:161–170

Cheng I-J, Lin C, Tseng C-T (2015) Factors influencing variations of oxygen content in nests of green sea turtles during egg incubation with a comparison of two nesting environments. J Exp Mar Biol Ecol 471:104–111

Chevalier J, Godfrey MH, Girondot M (1999) Significant difference of temperature-dependent sex determination between French Guiana (Atlantic) and Playa Grande (Costa Rica, Pacific) leatherbacks (Dermochelys coriacea). Ann Sci Nat Zool Biol Anim 20:147–152

Esteban N, Laloë JO, Mortimer JA, Guzman AN, Hays GC (2016) Male hatchling production in sea turtles from one of the world's largest marine protected areas, the Chagos Archipelago. Sci Rep 6:20339

Esteban N, Laloë JO, Kiggen FSPL, Ubels SM, Becking LE, Meesters EH, Berkel J, Hays GC, Christianen MJA (2018) Optimism for mitigation of climate warming impacts for sea turtles through nest shading and relocation. Sci Rep 8:17625

Fuentes MMPB, Fish MR, Maynard JA (2012) Management strategies to mitigate the impacts of climate change on sea turtle's terrestrial reproductive phase. Mitig Adapt Strateg Glob Chang 17:51–63

Giorgi F (2006) Climate change hot-spots. Geophys Res Lett 33:1–4

Girondot M, Kaska Y (2015) Nest temperatures in a loggerhead nesting beach in Turkey is more determined by sea surface than air temperature. J Therm Bio 47:13–18

Glen F, Broderick AC, Godley BJ, Hays GC (2003) Incubation environment affects phenotype of naturally incubated green turtle hatchlings. J Mar Biol Assoc U K 83:1183–1186

Hays GC, Adams CR, Mortimer JA, Speakman JR (1995) Inter- and intra-beach thermal variation for green turtle nests on Ascension Island, South Atlantic. J Mar Biol Assoc U K 75:405–411

Hays GC, Ashworth JS, Barnsley MJ, Broderick AC, Emery DR, Godley BJ, Henwood A, Jones EL (2001) The importance of sand albedo for the thermal conditions on sea turtle nesting beaches. Oikos 93:87–94

Hays GC, Broderick AC, Glen F, Godley BJ (2003) Climate change and sea turtles: a 150-year reconstruction of incubation temperatures at a major marine turtle rookery. Glob Chang Biol 9:642–646

Hill JE, Paladino FV, Spotila JR, Santidrián Tomillo P (2015) Shading and watering as a tool to mitigate the impacts of climate change in sea turtle nests. PLoS One 10:e0129528

Hoegh-Guldberg O, Mumby PJ, Hooten AJ, Steneck RS, Greenfield P, Gomez E, Harwell CD, Sale PF, Edwards AJ, Caldeira K, Knowlton N, Eakin CM, Iglesias-Prieto R, Muthiga N, Bradbury RH, Dubi A, Hatziolos ME (2007) Coral reefs under rapid climate change and ocean acidification. Science 318:1737–1742

Jensen MP, Allen CD, Eguchi T, Bell IP, LaCasella EL, Hilton WA, Hof CAM, Dutton PH (2018) Environmental warming and feminization of one of the largest sea turtle populations in the world. Curr Biol 28:154–159.e4

Jourdan J, Fuentes MMPB (2013) Effectiveness of strategies at reducing sand temperature to mitigate potential impacts from changes in environmental temperature on sea turtle reproductive output. Mitig Adapt Strateg Glob Chang 20:121–133

McCoy CT, Vogt RC, Censky EJ (1983) Temperature-controlled sex determination in the sea turtle Lepidochelys olivacea. J Herpetol 17:404–406

Mickelson L, Downie J (2010) Influence of incubation temperature on morphology and locomotion performance of leatherback (Dermochelys coriacea) hatchlings. Can J Zool 88:359–368

Miller K, Packard GC, Packard MJ (1987) Hydric conditions during incubation influence locomotor performance of hatchling snapping turtles. J Exp Biol 127:401–412

Morreale SJ, Ruiz GJ, Spotila JR, Standora EA (1982) Temperature-dependent sex determination: current practices threaten conservation of sea turtles. Science 216:1245–1247

Mrosovsky N, Pieau C (1991) Transitional range of temperature, pivotal temperatures and thermosensitive stages for sex determination in reptiles. Amphibia-Reptila 12:169–179

Patino-Martínez J, Marco A, Quiñones L, Hawkes L (2012) A potential tool to mitigate the impacts of climate change to the Caribbean leatherback sea turtle. Glob Chang Biol 18:401–411

Pike D (2014) Forecasting the viability of sea turtle eggs in a warming world. Glob Chang Biol 20:7–15

Poloczanska ES, Brown CJ, Sydeman WJ, Kiessling W, Schoeman DS, Moore PJ, Brander K, Bruno JF, Buckley LB, Burrows MT, Duarte CM, Halpern BS, Holding J, Kappel CV, O'Connor MI, Pandolfi JM, Parmesan C, Schwing F, Thompson SA, Richardson AJ (2013) Global imprint of climate change on marine life. Nat Clim Chang 3:919–925

Santidrián Tomillo P, Spotila JR (2020) Temperature-dependent sex determination in sea turtles in the context of climate change: uncovering the adaptive significance. In: Bioessays, vol 42

Santidrián Tomillo P, Suss JS, Wallace BP, Magrini KD, Blanco G, Paladino FV, Spotila JR (2009) Influence of emergence success on the annual reproductive output of leatherback turtles. Mar Biol 156:2021–2031

Santidrián Tomillo P, Saba VS, Blanco GS, Stock CA, Paladino FV, Spotila JR (2012) Climate driven egg and hatchling mortality threatens survival of Eastern Pacific leatherback turtles. PLoS One 7:e37602

Santidrián Tomillo P, Oro D, Paladino FV, Piedra R, Sieg AE, Spotila JR (2014) High beach temperatures increased female-biased primary sex ratios but reduced output of female hatchlings in the leatherback turtle. Biol Conserv 176:71–79

Santidrián Tomillo P, Genovart M, Paladino FV, Spotila JR, Oro D (2015) Climate change overruns temperature resilience in sea turtles and threatens their survival. Glob Chang Biol 21:2980–2988

Santidrián Tomillo P, Fonseca L, Paladino FV, Spotila JR, Oro D (2017) Are thermal barriers "higher" in deep sea turtle nests? PLoS One 12:e0177256

Santidrián Tomillo P, Fonseca LG, Ward M, Tankersley N, Robinson NJ, Orrego CM, Paladino FV, Saba VS (2020) The impacts of extreme El Niño events on sea turtle nesting populations. Clim Chang 159:163–176

Staines MN, Booth DT, Limpus CJ (2019) Microclimatic effects on the incubation success, hatchling morphology and locomotor performance of marine turtles. Acta Oecol 97:49–56

Standora EA, Spotila JR (1985) Temperature dependent sex determination in sea turtles. Copeia 1985:711–722

Swiggs J, Paladino FV, Spotila JR, Santidrián Tomillo P (2018) Depth of the drying front and temperature affect emergence of leatherback turtle hatchlings from the nest. Mar Biol 165:91

Tanner CE, Marco A, Martins S, Abella-Perez A, Hawkes LA (2019) Highly feminized sex-ratio estimations for the world's third-largest nesting aggregation of loggerhead sea turtles. Mar Ecol Prog Ser 621:209–219

Valverde RA, Wingard S, Gómez F, Tordoir MT, Orrego CM (2010) Field lethal incubation temperature of olive ridley sea turtle Lepidochelys olivacea at a mass nesting rookery. Endanger Species Res 12:77–86

Van de Merwe J, Kamarruddin I, Whittier J (2006) Effects of nest depth, shading and metabolic heating on nest temperatures in sea turtle hatcheries. Chel Conserv Biol 5:210–215

Wallace BP, Sotherland PR, Spotila JR, Reina RD, Franks BR, Paladino FV (2004) Biotic and abiotic factors affect the nest environment of embryonic leatherback turtles, Dermochelys coriacea. Physiol Biochem Zool 77:423–432

Walther GR, Post E, Convey P, Menzel A, Parmesan C, Beebee TJC, Fromentin JM, Hoegh-Guldberg O, Bairlein F (2002) Ecological responses to recent climate change. Nature 416:389–395

Weber SB, Broderick AC, Groothuis TGG, Ellick J, Godley BJ, Blount JD (2015) Fine-scale thermal adaptation in a green turtle nesting population. P Roy Soc Lond B Bio 279:1077–1084

Wood A, Booth DT, Limpus CJ (2014) Sun exposure, nest temperature and loggerhead turtle hatchlings: implications for beach shading management strategies at sea turtle rookeries. J Exp Mar Biol Ecol 451:105–114

Yntema CL, Mrosovsky N (1982) Critical periods and pivotal temperatures for sexual differentiation in loggerhead sea turtles. Can J Zool 60:1012–1016
Acknowledgments
We thank all volunteers and field assistants that helped with the construction and deployment of the shading experiment at the Playa Grande hatchery, especially, Cory Snyder and Abigail Parker. We also thank Roberto Zúñiga and the Tempisque Conservation Area (ACT) from the Ministry of Environment and Energy (MINAE) for granting the research permits.
Funding
Funding for this project was provided by the National Fish and Wildlife Foundation (NFWF) of the USA, the Earthwatch Institute, the Disney Conservation Fund, and the Leatherback Trust.
Additional information
Publisher's note
Springer Nature remains neutral with regard to jurisdictional claims in published maps and institutional affiliations.
About this article
Cite this article
Vindas-Picado, J., Yaney-Keller, A., St. Andrews, L. et al. Effectiveness of shading to mitigate the impact of high temperature on sea turtle clutches considering the effect on primary sex ratios. Mitig Adapt Strateg Glob Change 25, 1509–1521 (2020). https://doi.org/10.1007/s11027-020-09932-3
Received:

Accepted:

Published:

Issue Date:
Keywords
Climate mitigation

Climate change

Hatchery

Hatching success

TSD