Abstract
Soil is the most important terrestrial carbon (C) reservoir but is greatly impacted by land use change (LUC). Previous analyses of LUC impacts on soil C have focused on biophysical variables, leaving aside the influence of socioeconomics. The aim of our study was to determine global soil organic carbon (SOC) change patterns after LUC and to assess the impacts of both biophysical and socioeconomic factors that influence stocks of SOC after LUC simultaneously. This was done at a global scale using 817 sites from 99 peer-reviewed publications. We performed separate analyses for cases in which there were gains and losses of SOC. The best predictors of SOC stock changes were the type of LUC and predictors related to sampling depth, climate, biome, soil order, relief, geology, years since LUC, and primary productivity. However, also, socioeconomic variables such as indices of poverty, population growth, and levels of corruption were important. They explained 33% of the variability in SOC on their own and helped improve model accuracy from 42 to 53% when considered in combination with biophysical variables. SOC losses were highly correlated to the type of LUC and social variables, while SOC gains correlated most strongly with years since LUC and the biophysical variables. The analyses confirm that one of the biggest drivers of SOC loss is conversion to agroindustrial scale cropping, whereas with regard to the recuperation of SOC after LUC, the factor "time since conversion" emerged as the most important predictive variable, which must be better integrated in respective policy expectations. We conclude that policies should more than ever incentivize holistic approaches that prevent additional loss of native SOC, while at the same time promoting sustainable intensification of existing agricultural regions. Finally future investments on LUC to regain SOC should be aligned with efforts to alleviate poverty and corruption for their potential to achieve mutual gains in soil fertility and socio-economic parameters.
Access options
Buy single article
Instant access to the full article PDF.
US$ 39.95
Tax calculation will be finalised during checkout.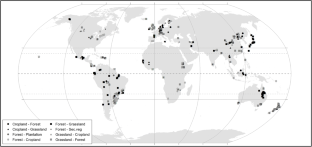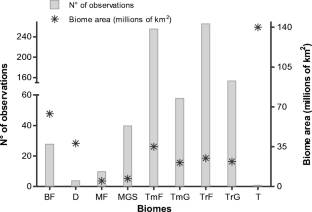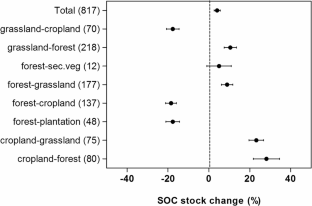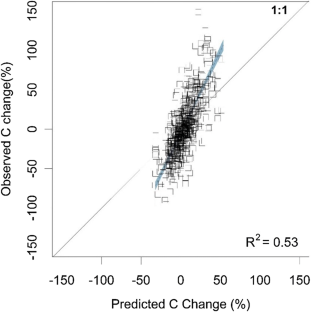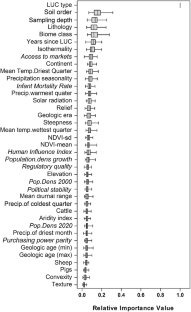 References
Amundson R (2001) The carbon budget in soils. Annu Rev Earth Planet 29:535–562

Baldi G, Verón SR, Jobbágy EG (2013) The imprint of humans on landscape patterns and vegetation functioning in the dry subtropics. Glob Chang Biol 19:441–458. https://doi.org/10.1111/gcb.12060

Barbier EB, Hochard JP (2016) Does land degradation increase poverty in developing countries? PLoS One 11:e0152973. https://doi.org/10.1371/journal.pone.0152973

Barbier EB, Burgess JC, Grainger A (2010) The forest transition: towards a more comprehensive theoretical framework. Land Use Policy 27:98–107. https://doi.org/10.1016/j.landusepol.2009.02.001

Barrett CB, Bevis LEM (2015) The self-reinforcing feedback between low soil fertility and chronic poverty. Nat Geosci 8:907–912. https://doi.org/10.1038/ngeo2591

Barrett CB, Marenya PP, Mcpeak J, Minten B, Murithi F, Oluoch-Kosura W, Place F, Randrianarisoa JC, Rasambainarivo J, Wangila J (2006) Welfare dynamics in rural Kenya and Madagascar. J Dev Stud 42:248–277. https://doi.org/10.1080/00220380500405394

Bastin JF, Finegold Y, Garcia C et al (2019) The global tree restoration potential. Science (80-) 364:76–79. https://doi.org/10.1126/science.aax0848

Batjes NH (1996) Total carbon and nitrogen in the soils of the world. Eur J Soil Sci 47:151–163

Berkes F, Folke C (1998) Linking social and ecological systems for resilience and sustainability. In: Linking social and ecological systems

Bestelmeyer BT, Okin GS, Duniway MC, Archer SR, Sayre NF, Williamson JC, Herrick JE (2015) Desertification, land use, and the transformation of global drylands. Front Ecol Environ 13:28–36. https://doi.org/10.1890/140162

Chabbi A, Lehmann J, Ciais P, Loescher HW, Cotrufo MF, Don A, SanClements M, Schipper L, Six J, Smith P, Rumpel C (2017) Aligning agriculture and climate policy. Nat Clim Chang 7:307–309. https://doi.org/10.1038/nclimate3286

Chaudhry IS, ur Rahman S (2009) The impact of gender inequality in education on rural poverty in Pakistan: an empirical analysis. Eur J Econ Finance Adm Sci 15:174–188

Chen S, Wang W, Xu W, Wang Y, Wan H, Chen D, Tang Z, Tang X, Zhou G, Xie Z, Zhou D, Shangguan Z, Huang J, He JS, Wang Y, Sheng J, Tang L, Li X, Dong M, Wu Y, Wang Q, Wang Z, Wu J, Chapin FS III, Bai Y (2018) Plant diversity enhances productivity and soil carbon storage. Proc Natl Acad Sci U S A 115:4027–4032. https://doi.org/10.1073/pnas.1700298114

CIESIN C for IESIN (1999) Poverty Mapping Project: global subnational infant mortality rates. NASA Socioecon Data Appl Cent (SEDAC), Palisades. https://doi.org/10.7927/H4PZ56R2

Collantes V, Kloos K, Henry P, Mboya A, Mor T, Metternicht G (2018) Moving towards a twin-agenda: gender equality and land degradation neutrality. Environ Sci Pol 89:247–253. https://doi.org/10.1016/j.envsci.2018.08.006

Conant RT, Paustian K, Elliott E (2001) Grassland management and conversion into grassland: effects on soil carbon. Ecol Appl 11:343–355. https://doi.org/10.1890/1051-0761(2001)011[0343:GMACIG]2.0.CO;2

Cowie AL, Orr BJ, Castillo Sanchez VM, Chasek P, Crossman ND, Erlewein A, Louwagie G, Maron M, Metternicht GI, Minelli S, Tengberg AE, Walter S, Welton S (2018) Land in balance: the scientific conceptual framework for land degradation neutrality. Environ Sci Pol 79:25–35. https://doi.org/10.1016/j.envsci.2017.10.011

de Koning GHJ, Veldkamp E, López-Ulloa M (2003) Quantification of carbon sequestration in soils following pasture to forest conversion in northwestern Ecuador. Glob Biogeochem Cycles. https://doi.org/10.1029/2003gb002099

DeFries RS, Rudel T, Uriarte M, Hansen M (2010) Deforestation driven by urban population growth and agricultural trade in the twenty-first century. Nat Geosci 3:178–181. https://doi.org/10.1038/ngeo756

Deng L, Zhu G, Tang Z, Shangguan Z (2016) Global patterns of the effects of land-use changes on soil carbon stocks. Glob Ecol Conserv 5:127–138

Dokuchaev V (1879) Mapping the Russian soils. Imp Univ St Petersbg

Don A, Schumacher J, Freibauer A (2011) Impact of tropical land-use change on soil organic carbon stocks – a meta-analysis. Glob Chang Biol 17:1658–1670. https://doi.org/10.1111/j.1365-2486.2010.02336.x

Duarte-Guardia S, Peri PL, Amelung W, Sheil D, Laffan SW, Borchard N, Bird MI, Dieleman W, Pepper DA, Zutta B, Jobbagy E, Silva LCR, Bonser SP, Berhongaray G, Piñeiro G, Martinez MJ, Cowie AL, Ladd B (2019) Better estimates of soil carbon from geographical data: a revised global approach. Mitig Adapt Strateg Glob Chang 24:355–372. https://doi.org/10.1007/s11027-018-9815-y

Eclesia RP, Jobbagy EG, Jackson RB, Biganzoli F, Piñeiro G (2012) Shifts in soil organic carbon for plantation and pasture establishment in native forests and grasslands of South America. Glob Chang Biol 18:3237–3251. https://doi.org/10.1111/j.1365-2486.2012.02761.x

Ellert BH, Bettany JR (1995) Calculation of organic matter and nutrients stored in soils under contrasting management regimes. Can J Soil Sci 75:529–538. https://doi.org/10.4141/cjss95-075

FAO (2015) Status of the World's Soil Resources

FAO (2019) Measuring and modelling soil carbon stocks and stock changes in livestock production systems

Fick SE, Hijmans RJ (2017) WorldClim 2: new 1-km spatial resolution climate surfaces for global land areas. Int J Climatol 37:4302–4315. https://doi.org/10.1002/joc.5086

Fisher MJ, Rao I, Ayarza MA et al (1994) Carbon storage by introduced deep-rooted grasses in the South American savannas. Nature 371:236–238

Friedlingsten P, Jones MW, O'Sullivan M et al (2019) Global carbon budget 2019. Earth Syst Sci Data 11:1783–1838

Fujisaki K, Chevallier T, Chapuis-Lardy L, Albrecht A, Razafimbelo T, Masse D, Ndour YB, Chotte JL (2018) Soil carbon stock changes in tropical croplands are mainly driven by carbon inputs: a synthesis. Agric Ecosyst Environ 259:147–158. https://doi.org/10.1016/j.agee.2017.12.008

Gardi C, Visioli G, Conti FD, Scotti M, Menta C, Bodini A (2016) High nature value farmland: assessment of soil organic carbon in Europe. Front Environ Sci 4:1–10. https://doi.org/10.3389/fenvs.2016.00047

Giardina CP, Hancock J, Lilleskov E, Loya W (2006) The response of belowground carbon allocation in forests to global change

Gross CD, Harrison RB (2019) The case for digging deeper: soil organic carbon storage, dynamics, and controls in our changing world. Soil Syst 3:28. https://doi.org/10.3390/soilsystems3020028

Guo LB, Gifford RM (2002) Soil carbon stocks and land use change: a meta analysis. Glob Chang Biol 8:345–360. https://doi.org/10.1046/j.1354-1013.2002.00486.x

Harper C, Marcus R, Moore K (2003) Enduring poverty and the conditions of childhood: lifecourse and intergenerational poverty transmissions. World Dev 31:535–554. https://doi.org/10.1016/S0305-750X(03)00010-X

Hartmann J, Moosdorf N (2012) The new global lithological map database GLiM: a representation of rock properties at the Earth surface. Geochem Geophys Geosyst 13. doi: https://doi.org/10.1029/2012GC004370

Hengl T, De Jesus JM, Heuvelink GBM, et al (2017) SoilGrids250m: global gridded soil information based on machine learning

Henry B, Murphy B, Cowie A (2018) Sustainable land management for environmental benefits and food security - a synthesis report for the GEF. 127. https://doi.org/10.13140/RG.2.2.25084.39041

Hijmans RJ, Cameron SE, Parra JL, Jones PG, Jarvis A (2005) Very high resolution interpolated climate surfaces for global land areas. Int J Climatol 25:1965–1978. https://doi.org/10.1002/joc.1276

Hothorn T, Hornik K, Strobl C, Zeileis A (2008) Party: a Laboratory for recursive part(y)itioning: R package. v 1.3-1. R Packag version 09-0, URL http//CRAN R-project org

Houghton RA, Nassikas AA (2017) Global and regional fluxes of carbon from land use and land cover change 1850–2015. Glob Biogeochem Cycles 31:456–472. https://doi.org/10.1002/2016GB005546

Hounkpatin KOL, Welp G, Akponikpè PBI, Rosendahl I, Amelung W (2018) Carbon losses from prolonged arable cropping of Plinthosols in Southwest Burkina Faso. Soil Tillage Res 175:51–61. https://doi.org/10.1016/j.still.2017.08.014

IPBES (2018) Summary for policymakers of the thematic assessment report on land degradation and restoration of the Intergovernmental Science-Policy Platform on Biodiversity and Ecosystem Services. Preliminary guide regarding diverse conceptualization of multiple values of nature and its benefits, including biodiversity and ecosystem functions and services (deliverable 3). doi: https://doi.org/10.1016/0025-326x(95)90325-6

IPCC (1996) Revised 1996 IPCC guidelines for national greenhouse gas inventories. Oceania

Iwahashi J, Pike RJ (2007) Automated classifications of topography from DEMs by an unsupervised nested-means algorithm and a three-part geometric signature. Geomorphology 86:409–440. https://doi.org/10.1016/j.geomorph.2006.09.012

Jandl R, Rodeghiero M, Martinez C, Cotrufo MF, Bampa F, van Wesemael B, Harrison RB, Guerrini IA, Richter DB Jr, Rustad L, Lorenz K, Chabbi A, Miglietta F (2014) Current status, uncertainty and future needs in soil organic carbon monitoring. Sci Total Environ 468-469:376–383. https://doi.org/10.1016/j.scitotenv.2013.08.026

Jenny H (1941) Factors of soil formation. A system of quantitative pedology, Soil Science. Dover Publications, New York

Jobbagy EG, Jackson RB (2000) The vertical distribution of soil organic carbon and its. Ecol Appl 10:423–436. https://doi.org/10.1890/1051-0761(2000)010[0423:TVDOSO]2.0.CO;2

Jones RJA, Hiederer R, Rusco E, Montanarella L (2005) Estimating organic carbon in the soils of Europe for policy support. Eur J Soil Sci 56:655–671. https://doi.org/10.1111/j.1365-2389.2005.00728.x

Kaufmann D, Kraay A, Mastruzzi M (2010) The worldwide governance indicators: a summary of methodology Data and Analytical Issues. World Bank Policy Res Work Pap 5430:220–246. https://doi.org/10.1017/S1876404511200046

Kirschbaum MUF (2000) Will changes in soil organic carbon act as a positive or. Biogeochemistry 48:21–51

Kögel-Knabner I, Amelung W (2014) Dynamics, chemistry, and preservation of organic matter in soils

Lal R (2004) Soil carbon sequestration impacts on global climate change and food security. Science (80-) 304:1623–1627

Lambin EF, Geist HJ, Lepers E (2003) Dynamics of land-use and land-cover change in tropical regions. Annu Rev Environ Resour 28:205–241. https://doi.org/10.1146/annurev.energy.28.050302.105459

Linstädter A, Kuhn A, Naumann C, Rasch S, Sandhage-Hofmann A, Amelung W, Jordaan J, du Preez CC, Bollig M (2016) Assessing the resilience of a real-world social-ecological system: lessons from a multidisciplinary evaluation of a south African pastoral system. Ecol Soc 21. doi: https://doi.org/10.5751/ES-08737-210335

Lloyd J, Taylor JA (1994) On the temperature dependence of soil respiration. Funct Ecol 8:315–323. https://doi.org/10.2307/2389824

Lobe I, Amelung W, Du Preez CC (2001) Losses of carbon and nitrogen with prolonged arable cropping from sandy soils of the south African Highveld. Eur J Soil Sci 52:93–101. https://doi.org/10.1046/j.1365-2389.2001.t01-1-00362.x

Lobe I, Bol R, Ludwig B, du Preez CC, Amelung W (2005) Savanna-derived organic matter remaining in arable soils of the south African Highveld long-term mixed cropping: evidence from 13C and 15N natural abundance. Soil Biol Biochem 37:1898–1909. https://doi.org/10.1016/j.soilbio.2005.02.030

Luo Z, Feng W, Luo Y, Baldock J, Wang E (2017) Soil organic carbon dynamics jointly controlled by climate, carbon inputs, soil properties and soil carbon fractions. Glob Chang Biol 23:4430–4439

Lugo AE, Brown S (1993) Management of tropical soils as sinks or sources of atmospheric carbon. Plant Soil 149:27–41 https://doi.org/10.1007/BF00010760

Lützow MV, Kögel-Knabner I, Ekschmitt K et al (2006) Stabilization of organic matter in temperate soils: mechanisms and their relevance under different soil conditions - a review. Eur J Soil Sci 57:426–445. https://doi.org/10.1111/j.1365-2389.2006.00809.x

Meybeck M, Green P, Vörösmarty C (2001) A new typology for mountains and other relief classes. Mt Res Dev 21:34–45. https://doi.org/10.1659/0276-4741(2001)021[0307:c]2.0.co;2

Minasny B, Malone BP, McBratney A et al (2017) Soil carbon 4 per mille. Geoderma 292:59–86

Mobley ML, Lajtha K, Kramer MG, Bacon AR, Heine PR, Richter DD (2015) Surficial gains and subsoil losses of soil carbon and nitrogen during secondary forest development. Glob Chang Biol 21:986–996. https://doi.org/10.1111/gcb.12715

Nelson A (2008) Travel time to major cities: a global map of accessibility. JRC, Eur Comm. https://doi.org/10.2788/95835

Nordhaus WD (2006) Geography and macroeconomics: new data and new findings. Proc Natl Acad Sci U S A 103:3510–3517. https://doi.org/10.1073/pnas.0509842103

Nordhaus WD, Chen X (2016) Global gridded geographically based economic data (G-Econ), version 4. Palisades, NY NASA Socioecon. Data Appl. Cent

Ostrom E (2009) A general framework for analyzing sustainability of social-ecological systems. Science (80-) 325:419–422. https://doi.org/10.1126/science.1172133

Panagos P, Borrelli P, Poesen J (2019) Soil loss due to crop harvesting in the European Union: a first estimation of an underrated geomorphic process. Sci Total Environ 664:487–498. https://doi.org/10.1016/j.scitotenv.2019.02.009

Paul KI, Polglase PJ, Nyakuengama JG, Khanna PK (2002) Change in soil carbon following afforestation. For Ecol Manag 168:241–257

Post W, Kwon K (2000) Soil carbon sequestration and land-use change: processes and potential. Glob Chang Biol 6:317–327. https://doi.org/10.1046/j.1365-2486.2000.00308.x

Powers JS, Schlesinger WH (2002) Relationships among soil carbon distributions and biophysical factors at nested spatial scales in rain forests of northeastern Costa Rica. Geoderma. 109:165–190. https://doi.org/10.1016/S0016-7061(02)00147-7

Powers JS, Corre MD, Twine TE, Veldkamp E (2011) Geographic bias of field observations of soil carbon stocks with tropical land-use changes precludes spatial extrapolation. Proc Natl Acad Sci 108:6318–6322. https://doi.org/10.1073/pnas.1016774108

Preger AC, Kösters R, Du Preez CC et al (2010) Carbon sequestration in secondary pasture soils: a chronosequence study in the South African Highveld. Eur J Soil Sci 61:551–562. https://doi.org/10.1111/j.1365-2389.2010.01248.x

Prentice IC, Cramer W, Harrison SP, Leemans R, Monserud RA, Solomon AM (1992) Special paper: a global biome model based on plant physiology and dominance, soil properties and climate. J Biogeogr 19:117–134. https://doi.org/10.2307/2845499

Quinn GP, Keough MJ (2002) Experimental design and data analysis for biologists. Cambridge University Press, Cambridge

Rabbi SMF, Tighe M, Cowie A, Wilson BR, Schwenke G, Mcleod M, Badgery W, Baldock J (2014) The relationships between land uses, soil management practices, and soil carbon fractions in South Eastern Australia. Agric Ecosyst Environ 197:41–52. https://doi.org/10.1016/j.agee.2014.06.020

Reynolds JF, Stafford Smith DM, Lambin EF et al (2007) Ecology: global desertification: building a science for dryland development. Science (80-):316, 847–851. https://doi.org/10.1126/science.1131634

Robinson TP, William Wint GR, Conchedda G et al (2014) Mapping the global distribution of livestock. PLoS One 9:e96084. https://doi.org/10.1371/journal.pone.0096084

Rstudio Team (2016) RStudio: integrated development for R. RStudio, Inc., Boston MA. RStudio

Rumpel C, Amiraslani F, Koutika L-S, Smith P, Whitehead D, Wollenberg E (2018) Put more carbon in soils to meet Paris climate pledges. Nature 564:32–34. https://doi.org/10.1038/d41586-018-07587-4

Sanderman J, Hengl T, Fiske GJ (2017) Soil carbon debt of 12,000 years of human land use. Proc Natl Acad Sci 114:9575–9580. https://doi.org/10.1073/pnas.1706103114

Scharlemann JPW, Tanner EVJ, Hiederer R, Kapos V (2014) Global soil carbon: understanding and managing the largest terrestrial carbon pool. Carbon Manag 5:81–91. https://doi.org/10.4155/cmt.13.77

Shively GE (2004) Poverty and forest degradation: introduction to the special issue. Environ Dev Econ 9:131–134. https://doi.org/10.1017/s1355770x03001153

Six J, Feller C, Denef K et al (2002) Soil organic matter, biota and aggregation in temperate and tropical soils - effects of no-tillage. Agronomie 22:575–579. https://doi.org/10.1051/agro

Smith P (2008) Land use change and soil organic carbon dynamics. Nutr Cycl Agroecosyst 81:169–178. https://doi.org/10.1007/s10705-007-9138-y

Stockmann U, Padarian J, McBratney A, Minasny B, de Brogniez D, Montanarella L, Hong SY, Rawlins BG, Field DJ (2015) Global soil organic carbon assessment. Glob Food Sec 6:9–16. https://doi.org/10.1016/j.gfs.2015.07.001

Strobl C, Malley J, Tutz G (2009) Characteristics of classification and regression trees, bagging and random forests. Psychol Methods 14:323–348. https://doi.org/10.1037/a0016973.An

Trabucco A, Zomer RJ (2009) Global potential evapo-transpiration (Global-PET) and global aridity index (Global-Aridity) geo-database. CGIAR Consort Spat Inf

Trabucco A, Zomer RJ (2010) Global soil water balance geospatial database. CGIAR Consort Spat Inf

Tsiafouli MA, Thébault E, Sgardelis SP, de Ruiter PC, van der Putten WH, Birkhofer K, Hemerik L, de Vries FT, Bardgett RD, Brady MV, Bjornlund L, Jørgensen HB, Christensen S, Hertefeldt TD', Hotes S, Gera Hol WH, Frouz J, Liiri M, Mortimer SR, Setälä H, Tzanopoulos J, Uteseny K, Pižl V, Stary J, Wolters V, Hedlund K (2015) Intensive agriculture reduces soil biodiversity across Europe. Glob Chang Biol 21:973–985. https://doi.org/10.1111/gcb.12752

Upson MA, Burgess PJ, Morison JIL (2016) Soil carbon changes after establishing woodland and agroforestry trees in a grazed pasture. Geoderma 283:10–20. https://doi.org/10.1016/j.geoderma.2016.07.002

Verburg PH, Metternicht G, Allen C et al (2019) Creating an enabling environment for land degradation neutrality and its potential contribution to enhancing well-being, livelihoods and the environment. A report of the science-policy Interface. United Nations Convention to Combat Desertification (UNCCD), Bonn

Walker B, Holling CS, Carpenter SR, Kinzig A (2004) Resilience, adaptability and transformability in social– ecological systems. Ecol Soc 9:5. https://doi.org/10.1103/PhysRevLett.95.258101

WCED (1987) Brutland report: our common future

WCS WCS, CIESIN C for IESIN (2005) Last of the wild project, version 2, 2005 (LWP-2): global human influence index (HII) dataset (geographic). Columbia Univ. doi: https://doi.org/10.7927/H4BP00QC

West PC, Gibbs HK, Monfreda C, Wagner J, Barford CC, Carpenter SR, Foley JA (2010) Trading carbon for food: global comparison of carbon stocks vs. crop yields on agricultural land. Proc Natl Acad Sci U S A 107:19645–19648. https://doi.org/10.1073/pnas.1011078107

Wiesmeier M, Schad P, von Lützow M, Poeplau C, Spörlein P, Geuß U, Hangen E, Reischl A, Schilling B, Kögel-Knabner I (2014) Quantification of functional soil organic carbon pools for major soil units and land uses in southeast Germany (Bavaria). Agric Ecosyst Environ 185:208–220. https://doi.org/10.1016/j.agee.2013.12.028

Wiesmeier M, Urbanski L, Hobley E, Lang B, von Lützow M, Marin-Spiotta E, van Wesemael B, Rabot E, Ließ M, Garcia-Franco N, Wollschläger U, Vogel HJ, Kögel-Knabner I (2019) Soil organic carbon storage as a key function of soils - a review of drivers and indicators at various scales. Geoderma 333:149–162. https://doi.org/10.1016/j.geoderma.2018.07.026
Acknowledgments
We thank INTA Argentina for supporting our work in Patagonia and Universidad Nacional de la Patagonia Austral (UNPA, Argentina) for supporting and promoting education through phD scholarship programs. Evert Thomas is supported by the CGIAR Fund donors.
Ethics declarations
Conflict of interest
The authors declare that they have no conflict of interest.
Additional information
Publisher's note
Springer Nature remains neutral with regard to jurisdictional claims in published maps and institutional affiliations.
Electronic supplementary material
About this article
Cite this article
Duarte-Guardia, S., Peri, P., Amelung, W. et al. Biophysical and socioeconomic factors influencing soil carbon stocks: a global assessment. Mitig Adapt Strateg Glob Change 25, 1129–1148 (2020). https://doi.org/10.1007/s11027-020-09926-1
Received:

Accepted:

Published:

Issue Date:
Keywords
Land use change

Socioeconomic context

Biophysical

Global

Soil organic carbon change