Abstract
Understanding the movement of water through peat is essential for effective conservation and management strategies for peatlands. Saturated hydraulic conductivity, Ks, describes water movement through the peat profile. However, the spatial variability of Ks in tropical peatlands and the effects of land conversion on peat characteristics are poorly understood. Utilizing the slug test method, we estimated hydraulic conductivity in tropical peatlands in West Kalimantan, Indonesia, at three depths (0.75, 3.5, and 5.5 m) across four different land-cover types (undrained forests, recently burned forests, early seral communities, and oil palm (Elaeis guineensis Jacq.) plantations). We found strong spatial autocorrelation among measurements collected at our 19 study sites and evaluated the relationship between hydraulic conductivity and land-cover types, peat properties, and depth of measurement with a hierarchical linear model. Hydraulic conductivity varied greatly (c. 0.001–13.9 m d−1). The best approximating model for estimating Ks contained depth, forest cover, a depth and forest cover interaction, and the von Post degree of decomposition (Ks ~ depth + forest + depth × forest + von Post). Parameter estimates indicated that Ks was greater in forested than non-forested sites and decreased with increasing depth and decomposition stage. There was no evidence that Ks differed among the non-forested sites or was related to other physical and chemical peat properties. Our results suggest that Ks should be measured directly in tropical peatlands rather than estimated as a function of peat properties. Additionally, the strong spatial dependence suggests that similar research designs should examine the sample data for spatial dependence and, if necessary, incorporate hierarchical models.
Access options
Buy single article
Instant access to the full article PDF.
USD 39.95
Price includes VAT (USA)
Tax calculation will be finalised during checkout.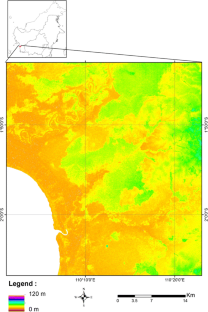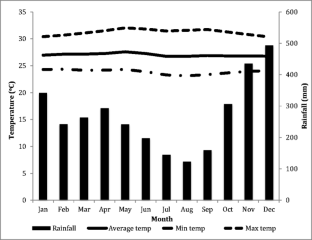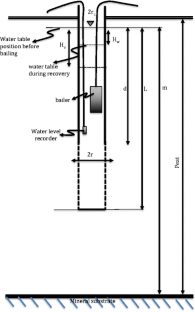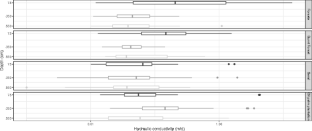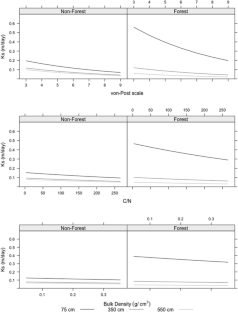 References
Akaike H (1973) Information theory and an extension of the maximum likelihood principle. In: Petrov BN, Csaki F (eds) Second international symposium on information theory. Akademiai Kiado, Budapest, Hungary, pp 267–281

Aldrian E, Dwi Susanto R (2003) Identification of three dominant rainfall regions within Indonesia and their relationship to sea surface temperature. Int J Climatol 23:1435–1452. https://doi.org/10.1002/joc.950

Anderson DE (2002) Carbon accumulation and C/N ratios of peat bogs in North-West Scotland carbon accumulation and C/N ratios of peat bogs in North-West Scotland. Scottish Geogr J 118:323–341

Anshari GZ, Afifudin M, Nuriman M, Gusmayanti E, Arianie L, Susana R, Nusantara RW, Sugardjito J, Rafiastanto A (2010) Drainage and land use impacts on changes in selected peat properties and peat degradation in West Kalimantan Province, Indonesia. Biogeosciences 7:3403–3419. https://doi.org/10.5194/bg-7-3403-2010

Baird AJ (1997) Field estimation of macropore functioning and surface hydraulic conductivity in a fen peat. Hydrol Process 11:287–295

Bartoń K (2016) MuMIn: Multi-Model Inference

Basuki I (2017) Carbon dynamics in response to land cover change in tropical peatland, Kalimantan. Oregon State University, Indonesia

Bates D, Mächler M, Bolker B, Walker S (2015) Fitting linear mixed-effects models using lme4. J stat Softw 67:1–48. Doi: https://doi.org/10.18637/jss.v067.i01

Beckwith CW, Baird AJ (2001) Effect of biogenic gas bubbles on water flow through poorly decomposed blanket peat. Water Resour Res 37:551–558

Boelter DH (1969) Physical properties of peats as related to degree of decomposition. Soil Sci Soc Am Proc 33:606–609

Bouwer H, Rice R (1976) A slug test for determining hydraulic conductivity of unconfined aquifers.Pdf. Water Resour Res 12:423–428

Burnham K, Anderson D (2002) Model selection and inference: an information-theoretic approach, 2nd edn. Springer-Verlag, New York

Carlson KM, Goodman LK, May-Tobin CC (2015) Modeling relationships between water table depth and peat soil carbon loss in southeast Asian plantations. Environ Res Lett 10:74006. https://doi.org/10.1088/1748-9326/10/7/074006

Chambers FM, Beilman DW, Yu Z (2011) Methods for determining peat humification and for quantifying peat bulk density, organic matter and carbon content for palaeostudies of climate and peatland carbon dynamics. Mires Peat 7:1–10

Chason D, Siegel DI (1986) Hydraulic conductiviy and related physical properties of peat, lost river peatland, northern Minnesota. Soil Sci 142:91–99

Chimner RA, Ewel KC (2005) A tropical freshwater wetland: II. Production, decomposition, and peat formation. Wetl Ecol Manag 13:671–684. https://doi.org/10.1007/s11273-005-0965-9

Clymo RS (2004) Hydraulic conductivity of peat at Ellergower Moss, Scotland. Hydrol Process 18:261–274. https://doi.org/10.1002/hyp.1374

Cobb AR, Hoyt AM, Gandois L, Eri J, Dommain R, Abu Salim K, Kai FM, Haji Su'ut NS, Harvey CF (2017) How temporal patterns in rainfall determine the geomorphology and carbon fluxes of tropical peatlands. Proc Natl Acad Sci 201701090:201701090. https://doi.org/10.1073/pnas.1701090114

Comas X, Kettridge N, Binley A, Slater L, Parsekian A, Baird AJ, Strack M, Waddington JM (2014) The effect of peat structure on the spatial distribution of biogenic gases within bogs. Hydrol Process 28:5483–5494. https://doi.org/10.1002/hyp.10056

Couwenberg J, Hooijer A (2013) Towards robust subsidence-based soil carbon emission factors for peat soils in south-East Asia, with special reference to oil palm plantations. Mires Peat 12:1–13

Dommain R, Couwenberg J, Joosten H (2010) Hydrological self-regulation of domed peatlands in south-East Asia and consequences for conservation and restoration. Mires Peat, Artic 6:1–17

Dommain R, Couwenberg J, Glaser PH, Joosten H, Suryadiputra INN (2014) Carbon storage and release in Indonesian peatlands since the last deglaciation. Quat Sci Rev 97:1–32. https://doi.org/10.1016/j.quascirev.2014.05.002

Evers S, Yule C, Padfield R et al (2016) Keep wetlands wet: the myth of sustainable development of tropical peatlands - implications for policies and management. Glob Chang Biol 23:1–16. https://doi.org/10.1111/gcb.13422

Frolking S, Roulet NT, Tuittila E, Bubier JL, Quillet A, Talbot J, Richard PJH (2010) A new model of Holocene peatland net primary production, decomposition, water balance, and peat accumulation. Earth Syst Dyn 1:1–21. https://doi.org/10.5194/esd-1-1-2010

Gaveau DLA, Sheil D, Husnayaen et al (2016) Rapid conversions and avoided deforestation: examining four decades of industrial plantation expansion in Borneo. Sci Rep 6:32017. doi: https://doi.org/10.1038/srep32017

Grover SPP, Baldock JA (2013) The link between peat hydrology and decomposition: beyond von post. J Hydrol 479:130–138. https://doi.org/10.1016/j.jhydrol.2012.11.049

Heil A, Langmann B, Aldrian E (2006) Indonesian peat and vegetation fire emissions: study on factors influencing large-scale smoke haze pollution using a regional atmospheric chemistry model. Mitig Adapt Strateg Glob Chang 12:113–133. https://doi.org/10.1007/s11027-006-9045-6

Holden J, Burt TP (2003a) Hydraulic conductivity in upland blanket peat: measurement and variability. Hydrol Process 17:1227–1237. https://doi.org/10.1002/hyp.1182

Holden J, Burt TP (2003b) Hydrological studies on blanket peat: the significance of the acrotelm-catotelm model. J Ecol 91:86–102. https://doi.org/10.1046/j.1365-2745.2003.00748.x

Holden J, Burt TP, Cox NJ (2001) Macroporosity and infiltration in blanket peat: the implicaions of tension disc infiltrometer measurements. Hydrol Process 15:289–303. https://doi.org/10.1002/hyp.93

Hooijer A, Page S, Canadell JG, Silvius M, Kwadijk J, Wösten H, Jauhiainen J (2010) Current and future CO2 emissions from drained peatlands in Southeast Asia. Biogeosciences 7:1505–1514. https://doi.org/10.5194/bg-7-1505-2010

Hooijer A, Page S, Jauhiainen J, Lee WA, Lu XX, Idris A, Anshari G (2012) Subsidence and carbon loss in drained tropical peatlands. Biogeosciences 9:1053–1071. https://doi.org/10.5194/bg-9-1053-2012

Hurvich CM, Tsai C-L (1989) Regression and time series model selection in small samples. Biometrika 76:297–307. https://doi.org/10.1093/biomet/76.2.297

Kettridge N, Kellner E, Price JS, Waddington JM (2013) Peat deformation and biogenic gas bubbles control seasonal variations in peat hydraulic conductivity. Hydrol Process 27:3208–3216. https://doi.org/10.1002/hyp.9369

Koh LP, Miettinen J, Liew SC, Ghazoul J (2011) Remotely sensed evidence of tropical peatland conversion to oil palm. Proc Natl Acad Sci U S A 108:5127–5132. https://doi.org/10.1073/pnas.1018776108

Könönen M, Jauhiainen J, Laiho R et al (2015) Physical and chemical properties of tropical peat under stabilised land uses. Mires Peat 16:1–13

Kool DM, Buurman P, Hoekman DH (2006) Oxidation and compaction of a collapsed peat dome in Central Kalimantan. Geoderma 137:217–225. https://doi.org/10.1016/j.geoderma.2006.08.021

Kuhry P, Vitt DH (1996) Fossil carbon/nitrogen ratios as a measure of peat decomposition. Ecology 77:271–275

Kurnianto S, Warren M, Talbot J, Kauffman B, Murdiyarso D, Frolking S (2014) Carbon accumulation of tropical peatlands over millennia: a modeling approach. Glob Chang Biol 21:1–14. https://doi.org/10.1111/gcb.12672

Lampela M, Jauhiainen J, Vasander H (2014) Surface peat structure and chemistry in a tropical peat swamp forest. Plant Soil 382:329–347. https://doi.org/10.1007/s11104-014-2187-5

Malmer N, Holm E (1984) Variation in the C/N-quotient of peat in relation to decomposition rate and age determination with 210 Pb. Oikos 43:171–182

Miettinen J, Liew SC (2010) Status of peatland degradation and development in Sumatra and Kalimantan. Ambio 39:394–401. https://doi.org/10.1007/s13280-010-0051-2

Miettinen J, Hooijer A, Shi C, Tollenaar D, Vernimmen R, Liew SC, Malins C, Page SE (2012a) Extent of industrial plantations on southeast Asian peatlands in 2010 with analysis of historical expansion and future projections. GCB Bioenergy 4:908–918. https://doi.org/10.1111/j.1757-1707.2012.01172.x

Miettinen J, Shi C, Liew SC (2012b) Two decades of destruction in Southeast Asia's peat swamp forests. Front Ecol Environ 10:124–128. https://doi.org/10.1890/100236

Miettinen J, Shi C, Liew SC (2016) Land cover distribution in the peatlands of peninsular Malaysia, Sumatra and Borneo in 2015 with changes since 1990. Glob Ecol Conserv 6:67–78. https://doi.org/10.1016/j.gecco.2016.02.004

Moore PA, Morris PJ, Waddington JM (2015) Multi-decadal water table manipulation alters peatland hydraulic structure and moisture retention. Hydrol Process 29:2970–2982. https://doi.org/10.1002/hyp.10416

Morris PJ, Baird AJ, Belyea LR (2015) Bridging the gap between models and measurements of peat hydraulic conductivity. Water Resour Res 51:5353–5364. https://doi.org/10.1002/2015WR017264

Mustamo P, Hyvärinen M, Ronkanen A-K, Kløve B (2016) Physical properties of peat soils under different land use options. Soil Use Manag 32:400–410. https://doi.org/10.1111/sum.12272

Nakagawa S, Schielzeth H (2013) A general and simple method for obtaining R 2 from generalized linear mixed-effects models. Methods E Col Evol 4:133–142. https://doi.org/10.1111/j.2041-210x.2012.00261.x

Page SE, Siegert F, Rieley JO et al (2002) The amount of carbon released from peat and forest fires in Indonesia during 1997. Nature 1999:61–65. https://doi.org/10.1038/nature01141.1

Page SE, Rieley JO, Banks CJ (2011) Global and regional importance of the tropical peatland carbon pool. Glob Chang Biol 17:798–818. https://doi.org/10.1111/j.1365-2486.2010.02279.x

Päivänen J (1973) Hydraulic conductivity and water retention in peat soils

Phillips VD (1998) Peatswamp ecology and sustainable development in Borneo. Biodivers Conserv 7:651–671

Price JS, Schlotzhauer SM (1999) Importance of shrinkage and compression in determining water storage changes in peat: the case of a mined peatland. Hydrol Process 13:2591–2601. https://doi.org/10.1002/(SICI)1099-1085(199911)13:16<2591::AID-HYP933>3.0.CO;2-E

Quinton WL, Hayashi M, Carey SK (2008) Peat hydraulic conductivity in cold regions and its relation to pore size and geometry. Hydrol Process 22:2829–2837. https://doi.org/10.1002/hyp

Raudenbush SW, Bryk AS (2002) Hierarchical linear models: applications and data analysis methods, 2nd editio. Sage Publications, Thousand Oaks

Reynolds WD, Brown DA, Mathur SP, Overend RP (1992) Effect of in-situ gas accumulation on the hydraulic conductivity of peat. Soil Sci 135:397–408

Rezanezhad F, Price JS, Quinton WL, Lennartz B, Milojevic T, van Cappellen P (2016) Structure of peat soils and implications for water storage, flow and solute transport: a review update for geochemists. Chem Geol 429:75–84. https://doi.org/10.1016/j.chemgeo.2016.03.010

Ritzema HP, Hassan AM, Moens R (1998) A new approach to water management of tropical peatlands: a case study from Malaysia. Irrig Drain Syst 12:123–139. https://doi.org/10.1023/A:1005976928479

Rizzuti AM, Cohen AD, Stack EM (2004) Using hydraulic conductivity and micropetrography to assess water flow through peat-containing wetlands. Int J Coal Geol 60:1–16. https://doi.org/10.1016/j.coal.2004.03.003

Rycroft DW, Williams DJA, Ingram HA (1975) The transmisiion of water through peat.Pdf. J Ecol 63:535–556

Verry E, Boelter DH, Paivanen J et al (2011) Physical properties of organic soils. In: Kolka RK, Sebestyen S, Verry E, Brooks K (eds) Peatland biogeochemistry and watershed hydrology at the Marcell experimental forests. CRC Press, Boca Raton, FL, pp 135–176

Warren MW, Kauffman JB, Murdiyarso D, Anshari G, Hergoualc'h K, Kurnianto S, Purbopuspito J, Gusmayanti E, Afifudin M, Rahajoe J, Alhamd L, Limin S, Iswandi A (2012) A cost-efficient method to assess carbon stocks in tropical peat soil. Biogeosciences 9:4477–4485. https://doi.org/10.5194/bg-9-4477-2012

Wösten H, Hooijer A, Siderius C, Rais DS, Idris A, Rieley J (2006a) Tropical peatland water management modelling of the air Hitam Laut catchment in Indonesia. Int J River Basin Manag 4:233–244

Wösten JHM, Van Den Berg J, Van Eijk P et al (2006b) Interrelationships between hydrology and ecology in fire degraded tropical peat swamp forests. Int J Water Resour Dev 22:157–174. https://doi.org/10.1080/07900620500405973

Yang S-Y, Yeh H-D (2004) A simple approach using Bouwer and Rice's method for slug test data analysis. Ground Water 42:781–784. https://doi.org/10.1111/j.1745-6584.2004.tb02732.x
Acknowledgments
We thank Pak Samsudin for field assistance and coordinating the field crews. We also thank two anonymous reviewers who helped improve this manuscript.
Funding
This study was part of the Kalimantan Wetlands and Climate Change Studies (KWACS) funded by US Agency for International Development (USAID)—Indonesia. Part of this study was also funded by Sustainable Wetlands Adaptation and Mitigation Program (SWAMP), a USAID funded collaboration between Center for International Forestry Research (CIFOR), the USDA Forest Service, and Oregon State University.
Electronic supplementary material
About this article
Cite this article
Kurnianto, S., Selker, J., Boone Kauffman, J. et al. The influence of land-cover changes on the variability of saturated hydraulic conductivity in tropical peatlands. Mitig Adapt Strateg Glob Change 24, 535–555 (2019). https://doi.org/10.1007/s11027-018-9802-3
Received:

Accepted:

Published:

Issue Date:
Keywords
Ecohydrology

Forest conversion

Hydroecology

Land-cover change

Peat properties

Permeability