Abstract
The effects of a 1.5 °C global change on irrigation costs and carbon emissions in a groundwater-dependent irrigation system were assessed in the northwestern region of Bangladesh and examined at the global scale to determine possible global impacts and propose necessary adaptation measures. Downscaled climate projections were obtained from an ensemble of eight general circulation models (GCMs) for three representative concentration pathways (RCPs), RCP2.6, RCP4.5, and RCP8.5 and were used to generate the 1.5 °C warming scenarios. A water balance model was used to estimate irrigation demand, a support vector machine (SVM) model was used to simulate groundwater levels, an energy-use model was used to estimate carbon emissions from the irrigation pump, and a multiple linear regression (MLR) model was used to simulate the irrigation costs. The results showed that groundwater levels would likely drop by only 0.03 to 0.4 m under a 1.5 °C temperature increase, which would result in an increase in irrigation costs and carbon emissions ranging from 11.14 to 148.4 Bangladesh taka (BDT) and 0.3 to 4% CO2 emissions/ha, respectively, in northwestern Bangladesh. The results indicate that the impacts of climate change on irrigation costs for groundwater-dependent irrigation would be negligible if warming is limited to 1.5 °C; however, increased emissions, up to 4%, from irrigation pumps can have a significant impact on the total emissions from agriculture. This study revealed that similar impacts from irrigation pumps worldwide would result in an increase in carbon emissions by 4.65 to 65.06 thousand tons, based only on emissions from groundwater-dependent rice fields. Restricting groundwater-based irrigation in regions where the groundwater is already vulnerable, improving irrigation efficiency by educating farmers and enhancing pump efficiency by following optimum pumping guidelines can mitigate the impacts of climate change on groundwater resources, increase farmers' profits, and reduce carbon emissions in regions with groundwater-dependent irrigation.
This is a preview of subscription content,
to check access.
Access this article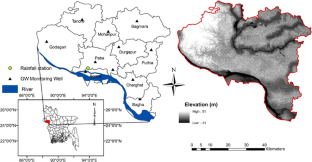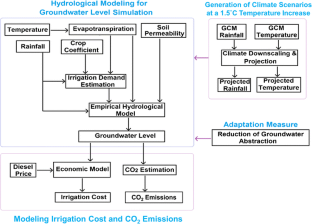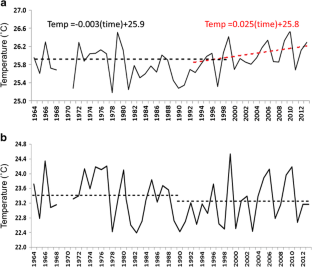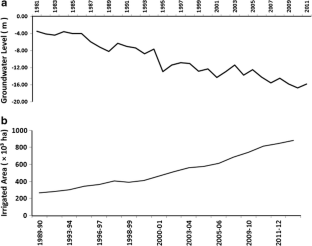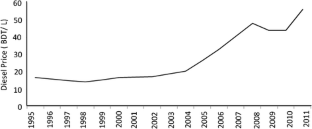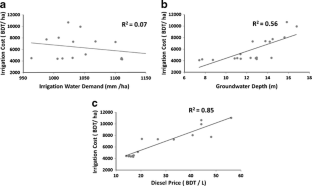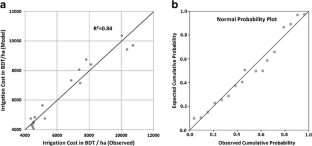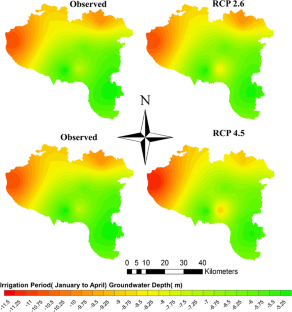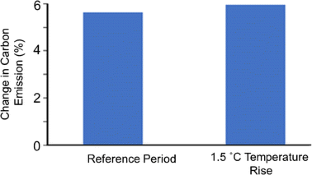 Similar content being viewed by others
References
Adegoke JO, Pielke RA Sr, Eastman J, Mahmood R, Hubbard KG (2003) Impact of irrigation on midsummer surface fluxes and temperature under dry synoptic conditions: a regional atmospheric model study of the U.S. High Plains. Mon Weather Rev 131:556–564. https://doi.org/10.1175/1520-0493(2003)131<0556:IOIOMS>2.0.CO;2

Ahmad I, Ambreen R, Sun Z, Deng W (2015) Winter-spring precipitation variability in Pakistan. A J Clim Change 4(1):115–139. https://doi.org/10.4236/ajcc.2015.41010

Alam K (2015) Farmers' adaptation to water scarcity in drought-prone environments: a case study of Rajshahi District, Bangladesh. Agric Water Manag 148:196–206

Allen RG, Pereira LS, Raes D, Smith M (1998) Crop evapotranspiration-guidelines for computing crop water requirements, FAO Irrigation and Drainage Paper 56 FAO, Rome 300: D05109

Bangladesh Bureau of Statistics (2012) Statistical yearbook of Bangladesh. Statistical & Informatics Division, Ministry of Planning Government of the People's Republic of Bangladesh, Dhaka, Bangladesh

Bangladesh Bureau of Statistics (2016) Statistical yearbook of Bangladesh. Statistical & Informatics Division, Ministry of Planning Government of the People's Republic of Bangladesh, Dhaka, Bangladesh

Bonfils C, Suffy PB, Santer BD, Wigley TML, Lobell DB, Phillips TJ, Doutriaux C (2008) Identification of external influences on temperatures in California. Clim Chang 87(suppl 1):43–55

Brouwer C, Heibloem M (1986) Irrigation water management: irrigation water needs. Food and Agriculture Organization (FAO), Rome

Cook BI, Puma MJ, Krakauer NY (2010) Irrigation induced surface cooling in the context of modern and increased greenhouse gas forcing. Clim Dyn 37:1587–1600

Cook BI, Smerdon JE, Seager R, Coats S (2014) Global warming and 21st century drying. Clim Dyam 43:2607–2627

Daccache A, Ciurana JS, Rodriguez Diaz JA, Knox JW (2014) Water and energy footprint of irrigated agriculture in the Mediterranean region. Environ Res Lett 9:124014

Dalin C, Wada Y, Kastner T, Puma MJ (2017) Groundwater depletion embedded in international food trade. Nature 543:700–704. https://doi.org/10.1038/nature21403

Dey NC, Bala SK, Hayakawa S (2006) Assessing the economic benefits of improved irrigation management: a case study of Bangladesh. Water Policy 8:573–584

Dey NC, Bala SK, Islam AKM, Saha R, Parvez M, Hossain M (2017) Sustainability of groundwater use for irrigation for dry-season crops in the northwest Bangladesh. Groundwater for Sustainable Development 4:66–77

Diffenbaugh NS, Swain DL, Touma D (2015) Anthropogenic warming has increased drought risk in California. Proc Natl Acad Sci 112:3931–3936

Döll P, Schmied HM, Schuh C, Portmann FT, Eicker A (2014) Global-scale assessment of groundwater depletion and related groundwater abstractions: combining hydrological modeling with information from well observations and GRACE satellites. Water Resour Res 50:5698–5720

EIA (2017) How much carbon dioxide is produced from burning gasoline and diesel fuel? U.S. Energy Information Administration (EIA). Accessed 25 Apr 2017. https://www.eia.gov/tools/faqs/faq.php?id=307&t=9

El-Gafy IKE, El-Bably WF (2016) Assessing greenhouse gasses emitted from on-farm irrigation pumps: case studies from Egypt. Ain Shams Eng J 7:939–951

Fang GH, Yang J, Chen YN, Zammit C (2015) Comparing bias correction methods in downscaling meteorological variables for a hydrologic impact study in an arid area in China. Hydrol Earth Syst Sci 19:2547–2559

FAO (2011) Energy-smart food for people and climate: issue paper, Food and Agriculture Organization of the United Nations, Rome, Italy

FAO (2014) Agriculture, forestry and other land use emissions by sources and removals by sinks, Food and Agriculture Organization of the United Nations, Rome, Italy

FAO (2016) AQUASTAT Main Database.Food and Agriculture Organization of the United Nations (FAO). http://www.fao.org/nr/water/aquastat/irrigationmap/index20.stm

Fischer EM, Knutti R (2015) Anthropogenic contribution to global occurrence of heavy-precipitation and high-temperature extremes. Nat Clim Chang 5:560–564

Gandhi VP, Namboodiri NV (2009) Groundwater irrigation in India: gains, costs, and risks. Indian Institute of Management Ahmedabad, Gujarat, India

Gunawardhana LN, Kazama S (2012) Statistical and numerical analyses of the influence of climate variability on aquifer water levels and groundwater temperatures: the impacts of climate change on aquifer thermal regimes. Glob Planet Chang 86:66–78

GWP (2012) Groundwater resources and irrigated agriculture: making a beneficial relation more sustainable. Perspectives Paper. Elanders: Sweden

Han S, Yang Z (2013) Cooling effect of agricultural irrigation over Xinjiang, Northwest China from 1959 to 2006. Environm Res Lett 8:024039

Haque ME, Islam MR, Islam MS, Haniu H, Akhter MS (2017) Life cycle cost and energy consumption behavior of submersible pumps using in the Barind area of Bangladesh. Energy Procedia 110:479–485

Henley BJ, King AD (2017) Trajectories toward the 1.5°C Paris target: modulation by the Interdecadal Pacific Oscillation. Geophys Res Lett. https://doi.org/10.1002/2017GL073480

Herrera-Pantoja M, Hiscock KM (2015) Projected impacts of climate change on water availability indicators in a semi-arid region of central Mexico. Environ Sci Pol 54:81–89

Hill N, Walker H, Choudrie S and James K (2012) Guidelines to Defra/DECC's GHG Conversion Factors for Company Reporting: Methodology Paper for Emission Factors. Department for Environment, Food and Rural Affairs (defra): PB 13792: London http://www.uplbooks.com/book/geography-bangladesh

Hulme M (2016) 1.5 °C and climate research after the Paris Agreement. Nat Clim Chang 2386(3):222–224

IAH (2015) Strategic overview series, food security & groundwater. S Foster & G Tyso (eds). International Association of Hydrogeologists https://iah.org/wp-content/uploads/2015/11/IAH-Food-Security-Groundwater-Nov-2015

IPCC (2007) Climate Change 2007: In: Parry et al (eds): Impacts, adaptation and vulnerability. Contribution of Working Group II to the Fourth Assessment Report of the Intergovernmental Panel on Climate Change. Cambridge, UK, Cambridge University Press, 273–313

IPCC (2013) Climate Change 2013: In: Stocker et al (eds): The Physical Science Basis, Contribution of Working Group I to the Fifth Assessment Report of the Intergovernmental Panel on Climate Change. Cambridge University Press, Cambridge, UK. Book section SPM, 1201330. https://doi.org/10.1017/CBO9781107415324.004, URL www.climatechange2013.org

James R, Washington R, Schleussner C-F, Rogelj J, Conway D (2017) Characterizing half-a-degree difference: a review of methods for identifying regional climate responses to global warming targets. WIREs Climate Change https://doi.org/10.1002/wcc.457

Karimi P, Qureshi AS, Bahramloo R, Molden D (2012) Reducing carbon emissions through improved irrigation and groundwater management: a case study from Iran. Agric Water Manag 108:52–60

Kingston DG, Todd MC, Taylor RG, Thompson JR, Arnell NW (2009) Uncertainty in the estimation of potential evapotranspiration under climate change. Geophys Res Lett 36. https://doi.org/10.1029/2009GL040267

Kirby JM, Mainuddin M, Mpelasoka F, Ahmad MD, Palash W, Quadir ME, Shah-Newaz SM, Hossain MM (2016) The impact of climate change on regional water balances in Bangladesh. Clim Chang 135:481–491

Kraaijenbrink PDA, Bierkens MFP, Lutz AF, Immerzeel WW (2017) Impact of a global temperature rise of 15 degrees Celsius on Asia's glaciers. Nature 549:257–260

Klove B, Ala-Aho P, Bertrand G, Gurdak JJ, Kupfersberger H, Kvaerner J, Muotka T, Mykra H, Preda E, Rossi P (2014) Climate change impacts on groundwater and dependent ecosystems. J Hydrol 518:250–266

Lal R (2004) Soil carbon sequestration impacts on global climate change and food security. Science 304:1623–1627

Leon A, Kohyama K, Yagi K, Takata Y, Obara H (2017) The effects of current water management practices on methane emissions in Japanese rice cultivation. Mitig Adapt Strat Glob Chang 22:85–98

Lobell D, Bonfils C (2008) The effect of irrigation on regional temperatures: aspatial and temporalanalysis of trends in California 1934-2002. J Clim 21:2063–2071

Lobell D, Bala G, Mirin A, Phillips T, Maxwell R, Rotman D (2009) Regional differences in the influence of irrigation on climate. J Clim 22:2248–2255

Maraun D, Wetterhall F, Ireson AM, Chandler RE, Kendon EJ, Widmann M, Brienen S, Rust HW, Sauter T, Themeßl M (2010) Precipitation downscaling under climate change: recent developments to bridge the gap between dynamical models and the end user. Rev Geophys. https://doi.org/10.1029/2009RG000314

Mitchell D, James R, Forster PM, Betts RA, Shiogama H, Allen M (2016) Realizing the impacts of a 1.5°C warmer world. Nat Clim Chang 2576(8):735–737

MoWR (2005) Report on third census of minor irrigation schemes (2000–2001), Minor Irrigation Division, Ministry of Water Resources, Government of India

Nelson GC, Robertson R, (2008) Estimating the contribution of groundwater irrigation pumping to CO2 emissions in India. Technical report, International Food Policy Research Institute (IFPRI)

NWMP (2001) Water resources planning organization. Government of the People's Republic of Bangladesh 46

OECD (2016) Tacking the challenges of agricultural groundwater use. Trade and Agricultural Directorate. OECDhttp://www.oecd.org/tad/sustainableagriculture/Challenges%20of%20groundwater%20use

Ogle SM, McCarl BA, Baker J, Grosso SJD, Adler PR, Paustian K, Parton WJ (2016) Managing the nitrogen cycle to reduce greenhouse gas emissions from crop production and biofuel expansion. Mitig Adapt Strateg Glob Change 21(8):1197–1212

Olsson A (2016) An evaluation of solar powered irrigation as carbon offset projects. Licentiate thesis in Chemical Engineering, KTH-Royal Institute of Technology, Stockholm

Pathak H, Li C, Wassmann R (2005) Greenhouse gas emissions from Indian rice fields: calibration and upscaling using the DNDC model. Biogeosciences 2:113–123

Pielke RA Sr, Marland G, Betts RA, Chase TN, Eastman JL, Niles JO, Niyogi D, Running S (2002) The influence of land-use change and landscape dynamics on the climate system: relevance to climate change policy beyond the radiative effect of greenhouse gases. The Philosophical Transactions of the Royal Society, London a Special Theme Issue 360:1705–1719

Pour SH, Harun SB, Shahid S (2014) Genetic programming for the downscaling of extreme rainfall events on the east coast of peninsular Malaysia. Atmosphere 5:914–936

Puma MJ, Cook BI (2010) Effects of irrigation on global climate during the 20th century. J Geophys Res-Atom 115. https://doi.org/10.1029/2010JD014122

Qureshi AS (2014) Reducing carbon emissions through improved irrigation management: a case study from Pakistan. Irrig Drain 63:132–138

Qureshi AS, Ahmed Z, Krupnik TJ (2014) Groundwater management in Bangladesh: an analysis of problems and opportunities. Cereal Systems Initiative for South Asia Mechanization and Irrigation (CSISA-MI) Project, Research Report No. 2., Dhaka, Bangladesh

Raghavendra NS, Deka PC (2015) Forecasting monthly groundwater table fluctuations in coastal aquifers using support vector regression. Paper presented at the International Multi Conference on innovations in engineering and technology (IMCIET-2014)

Ranjan P, Kazama S, Sawamotob M (2006) Effects of climate change on coastal fresh groundwater resources. Glob Environ Chang 16:388–399

Rashid H (1991) Geography of Bangladesh. The University Press Limited, Dhaka

Reddy KS, Kumar M, Maruthi V, Umesha B, Vijayalaxmi NRCVK (2015) Dynamics of well irrigation systems and CO2 emissions in different agroecosystems of South Central India. Curr Sci India 108:2063–2070

Rogelj J, Den Elzen M, Höhne N, Fransen T, Fekete H, Winkler H, Schaeffer R, Sha F, Riahi K, Meinshausen M (2016) Paris Agreement climate proposals need a boost to keep warming well below 2°C. Nature 534:631–639

Russell S (2014) Everything you need to know about agricultural emission. WRI Publishing. http://www.wri.org/blog/2014/05/everything-you-need-know-about-agricultural-emissions

Sa'adi Z, Shahid S, Chung E.-S, Ismail TB (2017) Projection of spatial and temporal changes of rainfall in Sarawak of Borneo Island using statistical downscaling of CMIP5 models. Atmos Res 197:446–460

Sacks WJ, Cook BI, Buenning N, Levis S, Helkowski JH (2009) Effects of global irrigation on the near-surface climate. Clim Dynam 33:159–175

Satter GS, Mohsenipour M, Alam A, Shahid S (2017) Interference and inefficiency of water wells: a constrain of water conservation in Bangladesh. ISH J Hydraul Eng 23:220–226

Schleussner CF, Lissner TK, Fischer EM, Wohland J, Perrette M, Golly A, Rogelj J, Childers K, Schewe J, Frieler K, Mengel M (2016a) Differential climate impacts for policy-relevant limits to global warming: the case of 1.5°C and 2°C. Earth System Dynam 7:327–351

Schleussner CF, Rogelj J, Schaeffer M, Lissner T, Licker R, Fischer EM, Knutti R, Levermann A, Frieler K, Hare W (2016b) Science and policy characteristics of the Paris Agreement temperature goal. Nat Clim Chang. https://doi.org/10.1038/NCLIMATE3096

Shah T (2009) Climate change and groundwater: India's opportunities for mitigation and adaptation. Environ Res Lett. https://doi.org/10.1088/1748-9326/4/3/035005

Shah T, Scott C, Kishore A, Sharma A (2004) Energy-irrigation nexus in South Asia: improving groundwater conservation and power sector viability. Research Report, IWMI: Sri Lanka

Shahid S (2010) Recent trends in the climate of Bangladesh. Clim Res 42:185–193

Shahid S (2011) Impact of climate change on irrigation water demand of dry season Boro rice in northwest Bangladesh. Clim Chang 105:433–453

Shahid S, Behrawan H (2008) Drought risk assessment in the western part of Bangladesh. Nat Hazards 46(3):391–413. https://doi.org/10.1007/s11069-007-9191-5

Shahid S, Harun SB, Katimon A (2012) Changes in diurnal temperature range in Bangladesh during the time period 1961-2008. Atmos Res 118:260–270

Shahid S, Hazarika MK (2010) Groundwater drought in the northwestern districts of Bangladesh. Water Resour Manag 24:1989–2006

Shahid S, Wang X-J, Rahman MM, Hasan R, Harun SB, Shamsudin S (2014) Spatial assessment of groundwater over-exploitation in Northwestern Districts of Bangladesh. J Geol Soc India 85:463–470

Sharif M, Ashok KR (2011) Impact of groundwater over-draft on farm income and efficiency in crop production. Agric Econ Res Rev 24:291–300

Shukla PR, Nair R, Kapshe M, Garg A, Balasubramaniam S, Menon D, Sharma KK (2003) Development and climate: an assessment for India. A report submitted to UCCEE, Denmark by the Indian Institute of Management, Ahmedabad, India

Siebert S, Burke J, Faures J.-M, Frenken K, Hoogeveen J, Doll P, Portmann FT (2010) Groundwater use for irrigation- global inventory. Hydrol Earth Syst Sci 14: 1863–1880

Sudheer C, Shrivastava NA, Panigrahi BK, Mathur S (2011) Groundwater level forecasting using SVM-QPSO. In: Panigrahi BKSP, Das S, Satapathy SC (eds) International conference on swarm, evolutionary, and memetic computing. Springer, Heidelberg. https://doi.org/10.1007/978-3-642-27172-4_86

Sugden C (2010) Carbon footprint of agricultural development: the potential impact of uptake of small electric and diesel pumps in five countries in sub Saharan Africa. Stockholm Environment Institute, Working Paper. Stockholm Environment Institute Sweden. https://www.sei-international.org/mediamanager/documents/Publications/Air-land-water-resources/carbon-footprint-agricultural-development

Sun S, Sun G, Caldwell P, McNulty S, Cohen E, Xiao J, Zhang Y (2015) Drought impacts on ecosystem functions of the US National Forests and grasslands: part II assessment results and management implications. Forest Ecol Manag 353:269–279

Swain DL, Horton DE, Singh D, Diffenbaugh NS (2016) Trends in atmospheric patterns conducive to seasonal precipitation and temperature extremes in California. Sci Adv 2:e1501344

Tapak L, Rahmani AR, Moghimbeigi A (2014) Prediction the groundwater level of Hamadan-Bahar plain, West of Iran using support vector machines. J Res Health Sci 14:82–87

Taylor RG, Scanlon B, Doll P, Rodell M et al (2013) Ground water and climate change. Nat Clim Chang 3:322–329

Tubiello F, van der Velde M (2010) Land and water use options for climate change adaptation and mitigation in agriculture. SOLAW Background Thematic Report-TR04A. Food and Agriculture Organization (FAO), Rome

UNFCCC (2001) Climate change information KiT; https://unfccc.int/essential_background/background_publications_htmlpdf/climate_change_information_kit/items/305.php

UNFCCC (2016) Climate action now. Summary for policymakers. United Nations Climate Change Secretariat, Bonn, Germany. http://unfccc.int/resource/climateaction2020/media/1281/unfccc_spm_2016.pdf

United States Department of Agriculture (1970) Irrigation water requirements. Technical Release No. 21. Irrigation water, Irrigation United States. Washington, D.C

Vetter SH, Sapkota TB, Hillier J, Stirling CM, Macdiarmid JI, Aleksandrowicz L, Green R, Joy EJM, Dangour AD, Smith P (2017) Greenhouse gas emissions from agricultural food production to supply Indian diets: implications for climate change mitigation. Agric Ecosyst Environ 237:234–241

Wang J, Rothausen SGSA, Conway D, Zhang L, Xiong W, Holman IP, Li Y (2012) China's water-energy nexus: greenhouse-gas emissions from groundwater use for agriculture. Environm Res Lett 7:014035

Wang X-J, Zhang J-Y, Ali M, Shahid S, He R-M, Xia X-H, Jiang Z (2016) Impact of climate change on regional irrigation water demand in Baojixia irrigation district of China. Mitig Adapt Strateg Glob Change 21:233–247

Watto MA (2015) The economics of groundwater irrigation in the Indus Basin, Pakistan: tube-well Adoption, Technical and Irrigation Water Efficiency and Optimal Allocation. Dissertation, The University of Western Australia

WeiB M, Menzel L (2008) A global comparison of four potential evapotranspiration equations and their relevance to stream flow modelling in semi-arid environments. Adv Geosci 18:15–23. https://doi.org/10.5194/adgeo-18-15-2008

World Bank 2010 Deep wells and prudence: towards pragmatic action for addressing groundwater overexploitation in India. 51676. World Bank: USA

Zhu X, Liang S, Pan Y (2012) Observational evidence of the cooling effect of agricultural irrigation in Jilin, China. Clim Chang 114:799–811

Zou X, Li Y, Li K, Cremades R, Gao Q, Wan Y, Qin X (2015) Greenhouse gas emissions from agricultural irrigation in China. Mitig Adapt Strateg Glob Chang 20:295–315
Funding
The research for this paper was sponsored by the Environment Research and Technology Development Fund (S-14) of the Ministry of the Environment Japan and the Social Implementation Program on Climate Change Adaptation Technology (SI-CAT) of MEXT, Japan.
About this article
Cite this article
Salem, G.S.A., Kazama, S., Shahid, S. et al. Groundwater-dependent irrigation costs and benefits for adaptation to global change. Mitig Adapt Strateg Glob Change 23, 953–979 (2018). https://doi.org/10.1007/s11027-017-9767-7
Received:

Accepted:

Published:

Issue Date:

DOI: https://doi.org/10.1007/s11027-017-9767-7
Keywords