Abstract
This paper discusses how the 630 million sub-Saharan Africa (SSA) people can be electrified with new government policy, new renewables, and innovative business models. These initiatives are translating the ambitious goals of Sustainable Development Goal 7 (SDG7) on energy and the United Nations Framework Convention on Climate Change Conference of the Parties 2015 Paris Agreement. The Paris Agreement's central aim is to strengthen the global response to the threat of climate change by keeping a global temperature rise in this century well below 2 °C above pre-industrial levels and to pursue efforts to limit the temperature increase even further to 1.5 °C. The objective of this paper is to evaluate the feasibility and cost-effectiveness to electrify the 630 million people within the Paris Agreement. Economic status and willingness to pay for electricity services by the poor are briefly analyzed for four new business models. Cost-effectiveness analyses on technologies are undertaken. The results show that a private investment-based financial model is the most effective and environmentally friendly in rural electrification for the poorest households in SSA. The new policy, new renewable energy technologies, and financing models are shaping contemporary climate strategies that facilitate investment in clean energy, spur community economy, enhance national energy security, and improve global environment.
Access options
Buy single article
Instant access to the full article PDF.
USD 39.95
Price excludes VAT (USA)
Tax calculation will be finalised during checkout.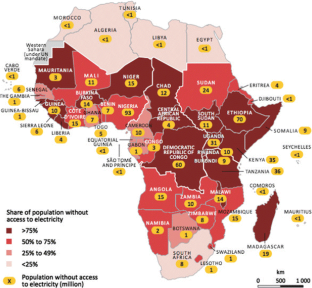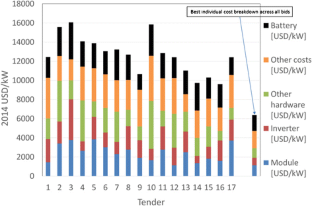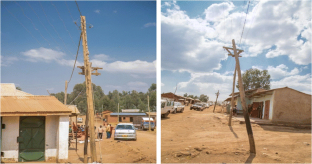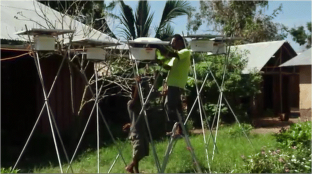 References
AfDB (2016) The new deal on energy for Africa: a transformative partnership to light up and power Africa by 2015. http://www.afdb.org/fileadmin/uploads/afdb/Documents/Generic-Documents/Brochure_New_Deal_2_red.pdf

AfDB—African Development Bank (2015) New deal on energy for Africa http://www.afdb.org/fileadmin/uploads/afdb/Documents/Generic-Documents/Brochure_New_Deal_2_red.pdf

Devergy (2016) http://devergy.com/about/. Accessed in December 2016

Faris S (2015) The solar company making a profit on poor Africans M-KOPA plans to be a $1 billion company by selling solar panels to rural residents—and providing them with credit. Bloomberg Business week. https://www.bloomberg.com/features/2015-mkopa-solar-in-africa/

IEA (2015) CO2 emissions from fuel combustion IEA statistics highlights 2015 edition. https://www.iea.org/publications/freepublications/publication/CO2EmissionsFromFuelCombustionHighlights2015.pdf

IEA (2016) World Energy Outlook 2016 http://www.worldenergyoutlook.org/resources/energydevelopment/energyaccessdatabase/. Accessed on 12/18/2016

IEA- International Energy Agency (1999) Electricity market reform: an IEA handbook. OECD/IEA, Paris, pp 106–118

IMF (2016a) Multispeed growth. Chapter 1, Regional Economic Outlook: Sub-Saharan Africa, International Monetary Fund, Fall, Washington, 2016

IMF (2016b) Weathering the commodity price slump. Chapter 2, Regional Economic Outlook: Sub-Saharan Africa, International Monetary Fund, Spring, Washington, 2016

IMF–International Monetary Fund (2015) How can sub-Saharan Africa harness the demographic dividend. chapter 2. Spring, Washington, 2015

IRENA—International Renewable Energy Agency (2014) The true costs of solar PV: IRENA's cost analysis, by Michael Taylor, at EU PVSEC Amsterdam, 25 Sept 2014

IRENA (2015) Africa 2030: roadmap for a renewable energy future. IRENA, Abu Dhabi www.irena.org/remap

Lazat E (2017) M-Kopa's shilling debt boosts solar kits in Africa Bloomberg new energy finance, 12 Oct 2017

Population Reference Bureau (2016) http://www.prb.org/publications/datasheets/2014/2014-world-population-data-sheet/data-sheet.aspx

UNDESA (2015) World urbanization prospects: the 2014 revision, New York

UNDP (2015) Project development document for GEF project ID Number 5673 (UNDP project ID 5324) promoting the use of electric water pumps for irrigation

UNOCHA (2016) Overview of el Nino response in east and southern Africa

World Bank (2013) Fact sheet: World Bank and energy in Africa http://web.worldbank.org/WBSITE/EXTERNAL/COUNTRIES/AFRICAEXT/0,,contentMDK:21935594~pagePK:146736~piPK:146830~theSitePK:258644,00.html
About this article
Cite this article
Yang, F., Yang, M. Rural electrification in sub-Saharan Africa with innovative energy policy and new financing models. Mitig Adapt Strateg Glob Change 23, 933–952 (2018). https://doi.org/10.1007/s11027-017-9766-8
Received:

Accepted:

Published:

Issue Date:

DOI: https://doi.org/10.1007/s11027-017-9766-8
Keywords
Cost-effectiveness assessment

Leasing financial model analysis

Policy for renewable energy investment