Abstract
Adaptation to climate change is an important theme in the strategy and policy of institutions around the world. Billions of dollars are allocated every year, based on cost estimates of actions to cope with, or benefit from the impacts of climate change. Costing adaptation, however, is complex, involving multiple actors with differing values and a spectrum of possible adaptation strategies and pathways. Currently, expert driven, top-down approaches dominate adaptation costing in practice. These approaches are subject to misallocation, with global funds not always reaching vulnerable communities in most need. This paper introduces an analytical framework called Participatory Social Return on Investment (PSROI), which provides a structured framework for multi-stakeholder planning, selection and valuation of appropriate methods of adaptation. The broader economic, social and environmental impacts of these adaptation actions are explored and valued through a participatory process. PSROI is strength-based, building local capacity and generating stakeholder buy-in. The financial valuation generated provides an additional tool for examining and prioritizing adaptation actions based on their impact. Results from a pilot of the PSROI framework in a smallholder farming community in Western Kenya provide empirical evidence for the difference between expert driven desk-based and ground-based cost estimates that involve local communities. There was an approximate 70 % reduction in the valuation of an agroforestry intervention, selected by the local community, when compared between the desk-based valuation and that of the local community, using primary field data. This reduced expectation of the desk-based PSROI is justified by coherent explanations such as lack of knowledge about the intervention, misconception about the potential costs and benefits, and the risk-averse nature of the farmers. These and other important insights are fundamental for planning and decision-making, as well as appropriate targeting and delivery of funding for adaptation.
Access options
Buy single article
Instant access to the full article PDF.
US$ 39.95
Tax calculation will be finalised during checkout.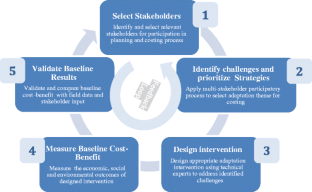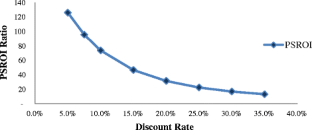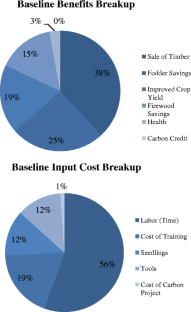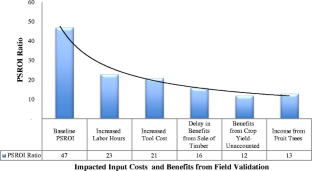 References
Ackoff RL (1974) Redesigning the future: a systems approach to societal problems. Wiley, New York

Adger WN, huq S, Brown K, Conway D, Hulme M (2003) Adaptation to climate change in the developing world. Prog Dev Stud 3:179–195

Appleford G (2013) Exploring strengths-based approaches in the design of a family planning project in Kenya. Dev Pract 23:145–150

Bateman IJ, Willis KG (2001) Valuing environmental preferences: theory and practice of the contingent valuation method in the US, EU, and developing countries. Oxford University Press, Oxford

Biernacki P, Waldorf D (1981) Snowball sampling: problems and techniques of chain referral sampling. Sociol Methods Res 10:141–163

Boyle D (2000) The tyranny of numbers: why counting can't make us happy. HarperCollins, New York

Brown T (2009) Change by design. HarperCollins, New York

Bryson JM (2004) What to do when stakeholders matter: stakeholder identification and analysis techniques. Public Manag Rev 6:21–53

Chambers R (1992) Rural apprasial: rapid, relaxed and participatory. Discussion Paper 311. Institute of Development Studies, Brighton

Chambers R (1994) Paradigm shifts and the practice of participatory research and development. Working Paper 2. Institute of Development Studies, Brighton

Chambers R (2002) Participatory workshops: a sourcebook of 21 sets of ideas and activities. UK and USA, Earthscan

Chambwera M, Stage J (20100 Climate change adaptation in developing countries: issues and perspectives for economic analysis. http://pubs.iied.org/15517IIED.html. London: International Institute for Environment and Development (IIED)

Cooke B, Kothari U (2001) Participation: The new tyranny? Zed Books Ltd, London and New York

Copperrider DL, Srivastva S (1987) Appreciative inquiry in organizational life. In: Woodman WPAR (ed) Research in organisational change and development. JAI Press Inc., Greenwich

Diamond PA, Hausman JA (1994) Contingent valuation: is some number better than no number? J Econ Perspect 8:45–64

Dove MR (2003) Bitter shade: throwing light on politics and ecology in contemporary Pakistan. Hum Organ 62:229–241

Economics of Climate Adaptation Working Group (2009) Shaping Climate-Resilient Development: a framework for decision-making. http://mckinseyonsociety.com/downloads/reports/Economic-Development/ECA_Shaping_Climate Resilent_Development.pdf. London: ClimateWorks Foundation, Global Environment Facility, European Commission, McKinsey & Company, The Rockefeller Foundation, Standard Chartered Bank and Swiss Re

Gaventa J (2004) Towards participatory governance: assessing the transformative possibilities. In: Hicky, S. & Mohan, G. (eds.) Participation: From tyranny to transformation. Zed Books Ltd

Goodman LA (1961) Snowball sampling. Inst Math Stat 32:148–170

Granovetter MS (1973) The strength of weak ties. Am J Sociol 78:1360–1380

Green M (2002) Development Theory and Practice. In: Kothari U, Minogue M (eds) Social development: issues and approaches. Critical Perspectives, Palgrave

Hanemann M, Loomis J, Kanninen B (1991) Statistical efficiency of double-bounded dichotomous choice contingent valuation. Am J Agric Econ 73:1255–1263

Hanley N (1992) Are there environmental limits to cost benefit analysis? Environ Resour Econ 2:33–59

Hausman J (1993) Contingent valuation: a critical assessment. North-Holland, Amsterdam

Hazell PB, Pomareda C, Valdés A (1986) Crop insurance for agricultural development: issues and experrience. The John Hopkins University Press, Baltimore and London

Helfgott A (2011) Resilience, adaptation and development. MSc Lecture Series. University of Oxford, Oxford

Huq S, Reid H (2004) Mainstreaming adaptation in development. IDS Bull 35:15–21

IPCC (2007) Climate change 2007: synthesis report. contribution of working groups I, II and III to the fourth assessment report of the Intergovernmental Panel on Climate Change. In: Core Writing Team P, RK, Reisinger A (eds) http://www.ipcc.ch/publications_and_data/publications_ipcc_fourth_assessment_report_synthesis_report.htm. Geneva, Switzerland: IPCC

IPCC (2014) Summary for policymakers. Climate change 2014: impacts, adaptation, and vulnerability. Part A: global and sectoral aspects. Contribution of working group II to the fifth assessment report of the Intergovernmental Panel on Climate Change. In: Field CB, Barros VR, Dokken DJ, Mach KJ, Mastrandrea MD, Bilir TE, Chatterjee M, Ebi KL, Estrada YO, Genova RC, Girma B, Kissel ES, Levy AN, Maccracken S, Mastrandrea PR, White LL (eds) http://ipcc-wg2.gov/AR5/images/uploads/WG2AR5_SPM_FINAL.pdf. Cambridge, United Kingdom and New York, NY, USA: IPCC

Iyiani C, Tony B, Shannon P, Shannon P (2011) HIV/AIDS prevention: building on community strengths in ajegunle, Lagos. Dev Pract 21:1080–1093

Khwaja AI (2004) Is increasing community participation always a good thing? J Eur Econ Assoc 2:427–436

King G, Keohane RO, Verba S (1994) Designing social inquiry: scientific inference in qualitative research. Princeton University Press, New Jersey

Lingane A, Olsen S (2004) Guidelines for social return on investment. Calif Manag Rev 46:116–135

Lunduka R, Bezabih M, Chaudhury A (2012) Stakeholder-focused cost benefit analysis in the water sector: A synthesis report. http://pubs.iied.org/pdfs/16523IIED.pdf? London: International Institute for Environment and Development (IIED)

Malpezzi S (2008) Hedonic pricing models: a selective and applied review. In: O'sullivan A, Gibb K (eds.) Housing economics and public policy. Oxford, UK: Blackwell Science Ltd

McGee R (2002) Participating in development. In: Kothari U, Minogue M (eds) Development theory and practice: Critical perspectives. Palgrave

McGray H, Hammill A, Bradley R, Schipper EL, Parry J-E (2007) Weathering the storm: Options for framing adaptation and development. http://www.wri.org/publication/weathering-storm. Washington, DC: World Resources Institute

Mikkelsen B (2005) Methods for development work and research: a new guide for practitioners. SAGE Publications Pvt, Limited

Mitchell RC, Carson RT (1989) Using surveys to value public goods: the contingent valuation method. Resource for the Future, New York

Mosse D (2004) Is good policy unimplementable? Reflections on the ethnography of aid policy and practice. Dev Chang 35:639–671

Munasinghe M (2003) Analysing the nexus of sustainable development and climate change: an overview. http://www.oecd.org/env/cc/2510070.pdf. Paris: OECD Development and Climate Change Project

Nelson N, Wright S (1995) Power and participatory development: theory and practice. Intermediate Technology Publications Ltd (ITP), London

Nicholls J, Lawlor E, Neitzert E, Goodspeed T (2012) A guide to Social Return on Investment. http://www.thesroinetwork.org/component/docman/cat_view/29-the-sroi-guide/223-the-guide-in-english-2012-edition?Itemid=362. London: The SROI Network

Noordin Q, Amadou N, Jama B, Nyasimi M (2001) Scaling up adoption and impact of agroforestry technologies: experiences from western Kenya. Dev Pract 11:509–523

Nordhaus WD (2007) A review of the" stern review on the economics of climate change". J Econ Lit 45:686–702

Nyong A, Adesina F, Elasha BO (2007) The value of indigenous knowledge in climate change mitigation and adaptation strategies in the African Sahel. Mitig Adapt Strateg Glob Chang 12:787–797

OECD (2009) Integrating climate change adaptation into development co-operation - policy guidance. http://www.oecd.org/dac/43652123.pdf. Paris: OECD

Oka T (2003) Effectiveness and limitations of cost-benefit analysis in policy appraisal. Gov Audit Rev 10:17–28

Omura M (2004) Cost-benefit analysis revisited: is it a useful tool for sustainable development? Kobe Univ Econ Rev 50:43–58

Orum AM, Feagin JR, Sjoberg G (1991) A case for the case study. University of North Carolina Press, USA

Ostrom E (2010) A multi-scale approach to coping with climate change and other collective action problems. Solutions 1:27–36

Parry M, Arnell N, Berry P, Dodman D, Fankhauser S, Hope C, Kovats S, Nicholls R, Satterthwaite D, Tiffin R, Wheeler T (2009) Assessing the costs of adaptation to climate change: a review of the UNFCCC and other recent estimates, London. International Institute for Environment and Development and Grantham Institute for Climate Change, London

Patton MQ (1990) Qualitative evaluation and research methods (2nd ed.), Touand Oaks, CA, SAGE Publications Inc

Prest AR, Turvey R (1965) Cost-benefit analysis: a survey. Econ J 75:683–735

Rahnema M (1992) Participation. In: Sachs W (ed) The development dictionary. Zed Books Ltd., London

Rittel H, Webber M (1973) Dilemmas in a general theory of planning. Policy Sci 4:155–169

Robinson JB (1982) Energy backcasting a proposed method of policy analysis. Energy policy 10:337–344

Salami A, Kamara AB, Brixiova Z (2010) Smallholder agriculture in East Africa: trends, constraints and opportunities, Working Paper Series N10. http://www.afdb.org/fileadmin/uploads/afdb/Documents/Publications/WORKING 105 PDF d.pdf. Tunis, Tunisia: African Development Bank Group

Saleebey D (1996) The strengths perspective in social work practice: extensions and cautions. Soc Work 41:296–305

Silverman D (2013) Doing qualitative research: a practical handbook. SAGE Publications Ltd, London

Smit B, Pilifosova O (2003) From adaptation to adaptive capacity and vulnerability reduction. In: Smith JB, Klein RJT, Huq S (eds) Climate change, adaptive capacity and development

Smit B, Wandel J (2006) Adaptation, adaptive capacity and vulnerability. Glob Environ Chang 16:282–292

Smith B, Burton I, Klein RJ, Wandel J (2000) An anatomy of adaptation to climate change and variability. Clim Chang 45:223–251

Smithers J, Smit B (1997) Human adaptation to climatic variability and change. Glob Environ Chang 7:129–146

Stern NH (2007) The economics of climate change : the stern review. Cambridge University Press, Cambridge

Sumernet (2013) Participatory Social Return on Investment (PSROI): Greater Mekong Basin Climate Change Adaptation Planning and Costing Project. http://www.bit.ly/1qHDOZg [Online]. Sumernet. [Accessed June 10, 2014]

Tellis W (1997) Application of a case study methodology. the qualitative report [On-line serial], 3 (3). http://www.nova.edu/ssss/QR/QR3-3/tellis2.html, 3, 1–17

Thomas DS, Twyman C (2005) Equity and justice in climate change adaptation amongst natural-resource-dependent societies. Glob Environ Chang 15:115–124

Thomas JC (1995) Public participation in public decisions: new skills and strategies for public managers. Jossey-Bass, San Francisco

Thornton PK, Jones PG, Owiyo T, Kruska R, Herrero M, Kristjanson P, Notenbaert A, Bekele N, Omolo A (2006) Mapping climate vulnerability and poverty in Africa. http://bit.ly/1jcwXWI. Nairobi: ILRI

Thornton TF, Manasfi N (2010) Adaptation—genuine and spurious: demystifying adaptation processes in relation to climate change. Environ Soc: Adv Res 1:132–155

Ulrich W (1987) Critical heuristics of social systems design. Eur J Oper Res 31:276–283

UNDP (2007) Human Development Report- fighting climate change: human solidarity in a divided world. http://hdr.undp.org/sites/default/files/reports/268/hdr_20072008_en_complete.pdf. New York: United Nations Development Programme

UNFCCC (2007) Investment and Financial Flows to Address Climate Change. http://unfccc.int/resource/docs/publications/financial_flows.pdf. Bonn: UNFCCC Change Secretariat

Weitzman ML (2007) A review of the stern review on the economics of climate change. J Econ Lit 45:703–724

Wiebke F, Patti K, Philip T, Kiplimo J (2011) Initial sites in the CCAFS Regions: East Africa, West Africa and Indo-Gangetic plains. http://ccafs.cgiar.org/sites/default/files/assets/docs/ccafs_siteportfolio_v2.pdf. Copenhagen, Denmark: CGIAR Research Program Climate Change, Agriculture and Food Security (CCAFS)

World Bank (2010a) Economics of adaptation to climate change - synthesis report. . http://documents.worldbank.org/curated/en/2010/01/16436675/economics-adaptation-climate-change-synthesis-report. Washington D.C.: World Bank

World Bank (2010b) Sustainable Agriculture Land Management practices (SALM). http://www.v-c-s.org/methodologies/VM0017. Carbon Finance Unit - The World Bank

World Bank (2011) Kenya: Agricultural Carbon Project. http://www.worldbank.org/projects/P107798/kenya-agricultural-carbon-project?lang=en [Online]. Carbon Finance Unit - The World Bank. [Accessed May 6, 2014]
Acknowledgement
This paper would not have been possible without the project and financial support of CGIAR Research Program on Climate Change, Agriculture and Food Security (CCAFS) and Climate and Development Knowledge Network (CDKN). We would also like to thank Caitlin Cornor-Dolloff for her valuable insights in shaping the PSROI framework and Michael Kettlewell, Nora Steurer and Sally Kingsborough for their editorial support.
About this article
Cite this article
Chaudhury, A.S., Helfgott, A., Thornton, T.F. et al. Participatory adaptation planning and costing. Applications in agricultural adaptation in western Kenya. Mitig Adapt Strateg Glob Change 21, 301–322 (2016). https://doi.org/10.1007/s11027-014-9600-5
Received:

Accepted:

Published:

Issue Date:
Keywords
Adaptation

Climate change

Costing

Cost benefit analysis

Decision-making

Multi-stakeholder

Participatory planning

Smallholder agriculture