Abstract
Research on climate change impacts and related adaptation to water demand is still very limited. A review summarising the findings related to climate change impacts on water demand is carried out in this article. A water management strategy is also proposed, which would help with adaptation to growing pressure on water resources due to climate change and socio-economic development. The study reveals that climate change will increase global water demand, though this will vary widely with geographic location and climatic conditions. Water demand in agriculture will be affected more heavily than will demands in other sectors. As irrigation comprises the major portion of global consumptive water use, increased water demand in irrigation may cause severe stress on water resources. Studies suggest that water demand management or water supply management alone will not able to adapt to mounting water stress. A combination of both water supply and water demand management strategies is necessary in order to adapt to varying environmental and associated uncertainties. A case study from the Haihe River basin of China is presented, to illustrate the effectiveness of water demand management strategies used alongside water supply management in adapting to environmental changes. It is expected that the study will help guide policy responses, with the goal of mitigating the impacts of climate change on water resources.
Access options
Buy single article
Instant access to the full article PDF.
US$ 39.95
Tax calculation will be finalised during checkout.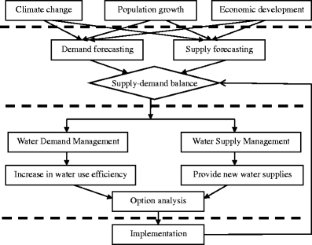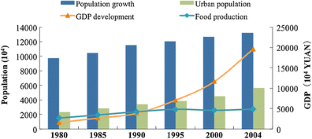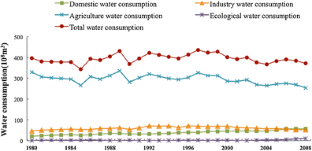 References
Abu-Taleb MF (2000) Impacts of global climate change scenarios on water supply and demand in Jordan. Water Int 25(3):457–463

Adamowski JF (2008) Peak daily water demand forecast modeling using artificial neural networks. J Water Res Plan 134(2):119–128

Ahamad MG, Khondker RK, Ahmed ZU, Tanin F (2013) Seasonal food insecurity in Bangladesh: evidences from northern areas. Mitig Adapt Strateg Glob Chang 18(7):1077–1088

Akhtar M, Ahmad N, Booij MJ (2008) The impact of climate change on the water resources of Hindukush-Karakorum-Himalaya region under different glacier coverage scenarios. J Hydrol 355:148–163

Alaa HA, Nisai W (2004) Short-term forecasting for urban water consumption. J Water Res Plan 130(5):405–410

Allan C, Xia J, Pahl-Wostl C (2013) Climate change and water security: challenges for adaptive water management. Curr Opin Environ Sustain 5(6):625–632

Altukaynak AS, Özger M, Çakmakci M (2005) Water consumption prediction of Istanbul city by using fuzzy logic approach. Water Resour Manag 19:641–654

Alvisi S, Franchini M, Marinelli A (2003) A stochastic model for representing drinking water demand at residential level. Water Resour Manag 17:197–222

Anseeuw W, Alden Wily L, Cotula L, Taylor M (2012) Land rights and the rush for land: findings of the global Commercial Pressures on Land research project. ILC, Rome, p 72

Arnell NW (1999) Climate change and global water resources. Glob Environ Chang 9:31–50

Ashour EK, Al-Najar A (2013) The impact of climate change and soil salinity in irrigation water demand on the Gaza Strip. J Water Clim Chang 4(2):118–130

Averyt K, Fisher J, Huber-Lee A, Lewis A, Macknick J, Madden N, Rogers J, Tellinghuisen S (2011) Freshwater use by U.S. power plants: electricity's thirst for a precious resource. A report of the Energy and Water in a Warming World initiative. Union of Concerned Scientists, Cambridge, MA

Babel MS, Das Gupta A, Pradhan PA (2007) Multivariate econometric approach for domestic water demand modeling: an application to Kathmandu, Nepal. Water Resour Manag 21:573–589

Barron O, Silberstein R, Ali R, Donohue R, McFarlane DJ, Davies P (2012) Climate change effects on water-dependent ecosystems in south-western Australia. J Hydrol 434:95–109

Bates BC, Kundzewicz ZW, Wu S (2008) Climate change and water demands. Intergovernmental Panel on Climate Change, Geneva

Belton V, Miller KA (2014) Water resource management and climate change adaptation: a holistic and multiple criteria perspective. Mitig Adapt Strateg Glob Chang. doi:10.1007/s11027-013-9537-0

Bhatia R, Falkenmark M (1992) Water resource policies and the urban poor: innovative approaches and policy imperatives. Background paper for the ICWE, Dublin, 26–31 January 1992

Bhatia R, Cestti R, Winpenny J (1995) Water conservation and reallocation: best practice cases in improving economic efficiency and environmental quality, A World Bank-ODI joint study. The World Bank, Washington, DC

Blignaut J, van Heerden J (2009) The impact of water scarcity on economic development initiatives. Water SA 35(4):415–420

Blokker EJM, Vreeburg JHG, van Dijk JC (2009) Simulating residential water demand with a stochastic end-use model. J Water Res Plan 136(2):19–26

Bougadis J, Adamowski K, Diduch R (2005) Short-term municipal water demand forecasting. Hydrol Process 19(1):137–148

Brooks DB (2006) An operational definition of water demand management. Water Resour Dev 22(4):521–528

Brumbelow K, Georgakakos A (2001) An assessment of irrigation needs and crop yield for the United States under potential climate changes. J Geophys Res Atmos 106:27383–27405

Butler D, Memon FA (2006) Water demand management. IWA Publishing, London

Caiado J (2010) Performance of combined double seasonal univariate time series models for forecasting water demand. J Hydrol Eng 15(3):215–222

Chen YN, Xu ZX (2005) Plausible impact of global climate change on water resources in the Tarim River basin. Sci China Ser D, Earth Sci 48(1):65–73

de Silva CS, Weatherhead EK, Knox JW, Rodriguez-Diaz JA (2007) Predicting the impacts of climate change—a case study of paddy irrigation water requirements in Sri Lanka. Agr Water Manag 93(1):19–29

Döll P (2002) Impact of climate change and variability on irrigation requirements: a global perspective. Clim Chang 54:269–293

Downing TE, Butterfield RE, Edmonds B (2003) Climate change and the demand for water, Research report. Stockholm Environment Institute Oxford Office, Oxford

Elgaali E, Garcia LA, Ojima DS (2007) High resolution modeling of the regional impacts of climate change on irrigation water demand. Clim Chang 84:441–461

Elmahdi A, ElGafy I, Kheireldin K (2009) Global warming-water Shortage and Food Security future planning interaction, System Analysis Approach (WBFSM). WRM 2009. Water Resource Management, Malta, pp 9–11, Sept 2009

EUREAU (2009) Statistics overview on water and wastewater in Europe 2008, Brussels

Fang CL, Bao C, Huang JC (2007) Management implications to water resources constraint force on socioeconomic system in rapid urbanization: a case study of the Hexi Corridor, NW China. Water Resour Manag 21:1613–1633

FAO (2009) How to feed the world in 2050, Proceedings of the expert meeting on how to feed the world in 2050. FAO Headquarters, Rome, pp 24–26, June 2009

Fischer G, Tubiello FN, van Velthuizen H (2007) Climate change impacts on irrigation water requirements: effects of mitigation, 1990–2080. Technol Forecast Soc 74:1083–1107

Förster H, Lilliestam J (2010) Modeling thermoelectric power generation in view of climate change. Reg Environ Chang 11:211–212

Frederick KD (1997) Adapting to climate impacts on the supply and demand for water. Clim Chang 37(1):141–156

Garcia VJ, Garcia-Bartual R, Cabrera E, Arregui F (2004) Stochastic model to evaluate residential water demands. J Water Res Plan 130(5):386–394

Ghiassi M, Zimbra DK, Saidane H (2008) Urban water demand forecasting with a dynamic artificial neural network model. J Water Res Plan 134(2):138–146

Global Water Partner (2012) Water demand management: the Mediterranean experience. Technical focus paper 1, Blue Plan and Global Water Partnership

Gowing J (2003) Food security for sub-Saharan Africa: does water scarcity limit the options? Land Use Water Resour Res 3:2.1–2.7

Graeser HJ (1958) Meter records in system planning. J Am Water Work Ass 50(11):1395–1402

Gutzler DS, Nims JS (2005) Interannual variability of water demand and summer climate in Albuquerque, New Mexico. J Appl Meteorol 44(12):1777–1787

Harlana SL, Yabikub ST, Larsenc L, Brazeld AJ (2009) Household water consumption in an arid city: affluence, affordance, and attitudes. Soc Nat Resour 22(8):691–709

Harte J, Torn MS, Chang FR, Feifarek B, Kinzig A, Shaw R, Shen K (1995) Global warming and soil microclimate: results from a meadow warming experiment. Eco Appl 5:132–150

Heiner M (2010) Power generation and water reuse – urgent, equal global priorities. http://www.spectrum.ieee.org/energy/environment/how-much-water-does-it-take-to-make-electricity

Herrington P (1996) Climate change and the demand for water. Department of the Environment, HMSO, London

Hu S, Liu C, Zheng H, Wang Z, Yu J (2012) Assessing the impacts of climate variability and human activities on streamflow in the water source area of Baiyangdian Lake. J Geogr Sci 22(5):895–905

IFPRI (2012) 2012 Global Hunger Index, chapter 3: sustainable food security under land, water, and energy stresses. International Food Policy Research Institute, Washington, DC

IPCC (2007) Climate change 2007: impacts, adaptation, and vulnerability. Contribution of Working Group II to the fourth assessment report of the Intergovernmental Panel on Climate Change. Cambridge University Press, Cambridge

IWMI (2007) Water for food, water for life: a comprehensive assessment of water management in agriculture. Earthscan, and Colombo, International Water Management Institute, London

Izaurralde RC, Rosenberg NJ, Brown RA (2003) Integrated assessment of Hadley Center (HadCM2) climate-change impacts on agricultural productivity and irrigation water supply in the conterminous United States: part II. Regional agricultural production in 2030 and 2095. Agric For Meteorol l117:97–122

Jain A, Varshney AK, Joshi UC (2001) Short-term water demand forecast modelling at IIT Kanpur using artificial neural networks. Water Resour 15:299–321

Jakimavičius D, Kriaučiūnienė J (2013) The climate change impact on the water balance of the Curonian Lagoon. Water Resour 40(2):120–132

Jampanil D, Suttinon P, Nasu S, Koontanakulvong S (2012) Application of input–output table for future water resources management under policy and climate change in Thailand: Rayong Province case study. PAWEES 2012: International Conference on Challenges of Water & Environmental Management in Monsoon Asia, Royal Irrigation Department (Pakkred), Thailand, 27–29 Nov 2012

Jessberger C, Sindram M, Zimmer M (2011) Global warming induced water-cycle changes and industrial production—a scenario analysis for the upper Danube River basin. J Econ Stat 231(3):415–439

Ji X-B, Kang E-S, Chen R-S, Zhao W-Z, Xiao S-C, Jin B-W (2005) Analysis of water resources supply and demand and security of water resources development in irrigation regions of the middle reaches of the Haihe River basin, Northwest China. Agric Sci China 5(2):130–140

Ji Y, Chen L, Sun R (2012) Temporal and spatial variability of water supply stress in the Haihe River basin, northern China. J Am Water Resour Assoc 48(5):999–1007

Karamouz M, Zahmatkesh Z, Nazif S (2011) Selecting a domestic water demand prediction model for climate change studies, Proceedings of the 2011 World Environmental and Water Resources Congress: Bearing Knowledge for Sustainability. Palm Springs, California, pp 1338–1346, May 22–26, 2011

Kenney DS, Goemans C, Klein R, Lowrey J, Reidy K (2008) Residential water demand management: lessons from Aurora, Colorado. J Am Water Resour Ass 44(1):192–207

Khan I, Chowdhury H, Alam F, Alam Q, Afrin S (2012) An investigation into the potential impacts of climate change on power generation in Bangladesh. J Sustain Energy E 3:103–110

Khatri KB, Vairavomoorty K (2009) Water demand forecasting for the city of the future against the uncertainties and the global change pressures: case of Birmingham. EWRI/ASCE 2009 Conference, Kansas City, Missouri, USA, 17–21 May 2009

Koch H, Vögele S (2009) Dynamic modeling of water demand, water availability and adaptation strategies for power plants to global change. Ecol Econ 68:2031–2039

Kundzewicz ZW, Mata LJ, Arnell NW, Döll P, Kabat P, Jiménez B, Miller KA, Oki T, Sen Z, Shiklomanov IA (2007) Freshwater resources and their management. In: Parry ML, Canziani OF, Palutikof JP, van der Linden PJ, Hanson CE (eds) Climate change 2007: impacts, adaptation and vulnerability. Cambridge University Press, Cambridge, UK, Contribution of Working Group II to the fourth assessment report of the Intergovernmental Panel on Climate Change, pp 173–210

Leipprand A, Dworak T, Benzle M (2008) Impacts of climate change on water resources: adaption strategies for Europe. Federal Environmental Agency, Sachsen

Linnerud K, Mideksa T, Eskeland G (2011) The impact of climate change on nuclear power supply. Energy J 32:149–168

Lott C, Tchigriaeva E, Rollins K (2013) The effects of climate change on residential municipal water demand in Nevada. A technical report for the Nevada EPSCoR Project: vulnerability and resilience of urban water systems under a changing climate. http://epscorspo.nevada.edu/nsf/climate1/awards.html

Magini R, Pallavicini I, Guercio R (2008) Spatial and temporal scaling properties of water demand. J Water Res Plan 134(3):276–284

Maidment DR, Miaou SP, Crawford MM (1985) Transfer function models of daily urban water use. Water Resour Res 21(4):425–432

Middelkoop H, Daamen K, Gellens D (2001) Impact of climate change on hydrological regimes and water resources management in the Rhine basin. Clim Chang 49:105–128

Mikhwanazi M (2006) Assessment of climate change impacts on irrigation requirements and productivity of sugarcane in Swaziland. MSc thesis, Cranfield University, UK

Mote P, Canning D, Fluharty D, et al. (1999) Impacts of climate variability and change, Pacific Northwest. National Atmospheric and Oceanic Administration, Office of Global Programs, and JISAO/SMA Climate Impacts Group, Seattle, WA

Neale T, Carmichael J, Cohen S (2007) Urban water futures: a multivariate analysis of population growth and climate change impacts on urban water demand in the Okanagan basin, BC. Can Water Resour J 32(4):315–330

OECD (2012) The OECD environmental outlook to 2050: the consequences of inaction. OECD and the PBL Netherlands Environmental Assessment Agency

Pahl-Wostl C (2007) Transitions towards adaptive management of water facing climate and global change. Water Resour Manag 21(1):49–62

Pahl-Wostl C, Craps M, Dewulf A, Mostert E, Tabara D, Taillieu T (2007) Social learning and water resources management. Ecol Soc 12(2)

Pang JZ, Zhang ZZ (2001) Issues on rational allocation of water resources in Northern China and South–north water transfer. China Water Publishing House, Beijing

Parry M, Evans A, Rosegrant MW, Wheeler T (2009) Climate change and hunger: responding to the challenge. World Food Programme, Rome

Piniewski M, Laize CLR, Acreman MC, Okruszko T, Schneider C (2012) Effect of Climate Change on Environmental Flow Indicators in the Narew Basin. Poland J Environ Qual. doi:10.2135/jeq2011.0386

Pohle I, Koch H, Gruenewald U (2012) Potential climate change impacts on the water balance of subcatchments of the River Spree, Germany. Adv Geosci 32:49–53

Polebitski AS, Palmer RN, Waddell P (2011) Evaluating water demands under climate change and transitions in the urban environment. J Water Res Plan 137(3):249–257

Price JI, Chermak JM, Felardo J (2014) Low-flow appliances and household water demand: an evaluation of demand-side management policy in Albuquerque, New Mexico. J Environ Manag 133:37–44

Protopapas A, Katchamart S, Platonova A (2000) Weather Effects on Daily Water Use in New York City. J Hydraul Eng 5(3):332–338

Qadir M, Sharma BR, Bruggeman A, Choukr-Allah R, Karajeh F (2007) Non-conventional water resources and opportunities for water augmentation to achieve food security in water scarce countries. Agric Water Manag 87:2–22

Razafindrabe BHN, Kada R, Arima M, Inoue S (2014) Analyzing flood risk and related impacts to urban communities in central Vietnam. Mitig Adapt Strateg Glob Chang 19(2):177–198

Ren LL, Wang MR, Li CH (2002) Impacts of human activity on river runoff in the northern area of China. J Hydro l261:204–217

Ringler C, Karelina Z, Pandya-Lorch R (2011) Emerging country strategies for improving food security: linkages and trade-offs for water and energy security. Bonn 2011 Conference: The Water, Energy, and Food Security Nexus, Bonn, Germany, 17 Nov 2011

Rodriguez Diaz JA, Weatherhead EK, Knox JW (2007) Climate change impacts on irrigation water requirements in the Guadalquivir River basin in Spain. Reg Environ Chang 7:149–159

Rosenzweig C, Strzepek KM, Major DC (2004) Water resources for agriculture in a changing climate: international case studies. Glob Environ Chang 14:345–360

Rübbelke D, Vögele S (2011) Impacts of climate change on European critical infrastructures: the case of the power sector. Environ Sci Policy 14:53–63

Safeeq M, Fares A (2012) Hydrologic response of a Hawaiian watershed to future climate change scenarios. Hydrol Process 26:2745–2764

Schewe J, Wada Y, Wisser D (2012) Future irrigation water demand under climate change: regional variability and uncertainties arising from GHMs and CMIP5 climate projections. AGU Fall Meeting 2012, San Francisco, 3–7 Dec 2012

Shahid S (2010) Recent trends in the climate of Bangladesh. Clim Res 42(3):185–193

Shahid S (2011) Impact of climate change on irrigation water demand of dry season Boro rice in northwest Bangladesh. Clim Chang 105(3–4):433–453

Shahid S, Hazarika MK (2010) Groundwater droughts in the northwestern districts of Bangladesh. Water Resour Manag 24(10):1989–2006

Shahid S, Harun S, Katimon A (2012) Changes in diurnal temperature range in Bangladesh during the time period 1961–2008. Atmos Res 118:260–270

Shiklomanov IA, Rodda JC (2003) World water resources at the beginning of the 21st century. Cambridge University Press, Cambridge

Spears M, Harrison A, Sankovich V, Gangopadhyay S (2013) Literature synthesis on climate change implications for water and environmental resources. Technical Memorandum 86-68210-2013-06, U.S. Department of the Interior Bureau of Reclamation

ten Brinke WBM, Kolen B, Dollee A, van Waveren H, Wouters CAH (2010) Contingency planning for large-scale floods in the Netherlands. J Conting Crisis Manag 18(1):55–69

United Nations (2005) Good practices on strategic planning and management of water resources in Asia and the Pacific. United Nations Publications

United Nations (2013) World population prospects: the 2012 revision: highlights and advance tables. Department of Economic and Social Affairs, Population Division, United Nations, New York

van der Voorn T, Pahl-Wostl C, Quist J (2012) Combining backcasting and adaptive management for climate adaptation in coastal regions: a methodology and a South African case study. Futures 44:346–364

Vörösmarty CJ, Douglas EM, Green PA, Revenga C (2005) Geospatial indicators of emerging water stress: an application to Africa. Ambio 34(3):230–236

Wada Y, Wisser D, Eisner S, Flörke M, Gerten D, Haddeland I, Hanasaki N, Masaki Y, Portmann F, Stacke T, Tessler Z, Schewe J (2013) Multimodel projections and uncertainties of irrigation water demand under climate change. Geophys Res Lett 40(17):4626–4632

Wang X-J, Zhang J-Y, Wang G (2010) Climate change and water management adaptation for China. Xth Kovacs Colloquium, Paris, France. IAHS-AISH, pp 258–259

Wang X-J, Zhang J-Y, He R, Amgad E, Sondoss E, Shang M (2011) A strategy to deal with water crisis under climate change for mainstream in the middle reaches of Yellow River. Mitig Adapt Strateg Glob Chang 16(5):555–566

Wang X-J, Zhang J-Y, Shahid S et al (2012a) Catastrophe theory to assess water security and adaptation strategy in the context of environmental change. Mitig Adapt Strateg Glob Chang. doi:10.1007/s11027-012-9443-x

Wang X-J, Zhang J-Y, Shahid S et al (2012b) Gini coefficient to assess equity in domestic water supply in the Yellow River. Mitig Adapt Strateg Glob Chang 17(1):65–75

Wang X-J, Zhang J-Y, Shahid S et al (2012c) Potential impact of climate change on future water demand in Yulin city, Northwest China. Mitig Adapt Strateg Glob Chang. doi:10.1007/s11027-013-9476-9

Wang X-J, Zhang J-Y, Shahid S et al (2012d) Water resources management strategy for adaptation to droughts in China. Mitig Adapt Strateg Glob Chang 17(8):923–937

Wang X-J, Zhang J-Y, Yang Z-F et al (2013) Historic water consumptions and future management strategies for Haihe River basin of Northern China. Mitig Adapt Strateg Glob Chang. doi:10.1007/s11027-013-9496-5

Wang X-J, Zhang J-Y, Wang J-H et al (2014) Climate change and water resources management in Tuwei River basin of Northwest China. Mitig Adapt Strateg Glob Chang 19(1):107–120

Wiley MW, Palmer RN (2008) Estimating the impacts and uncertainty of climate change on a municipal water supply system. J Water Res Plan 134(3):239–246

Wu B (2010) Ecological change detection using remote sensing in Hai Basin of China. Sino-French seminar on Biodiversity and management of natural resources 5–6 October 2010. http://www.cnrs.fr/inee/relationsinternationales/docs/WUBingfang_ SFseminarweb.pdf

Wu GH, Liu DW, Cong LM (2007) Management of water resources and water environment of Haihe River basin. Water Resour Prot 23(6):80–84

Xiao J, Shen Y (2008) Landscape pattern change and associated environmental implications in Haihe River basin, China. The International Archives of the Photogrammetry, Remote Sensing and Spatial Information Sciences, vol XXXVII part B4, Beijing

Yang H (2002) Water, environment and food security: a case study of the Haihe River basin in China. http://www.rioc.org/wwf/Water_in_China_Haihe.pdf

Yang B, Zhiyun O, Hua Z, Weihua X, Cheng Z, Changwei Z, Shuai C, Bo J (2010) Ecosystems patterns and dynamics in Haihe River basin. Acta Ecol Sin 30:327–334

Yano T, Koriyama M, Haraguchi T (2005) Prediction of future change of water demand following global warming in the Cukurova region of Turkey. In: Proceedings of the International Conference on Water, Land and Food Security in Arid and Semi-Arid Regions, Mediterranean Agronomic Institute Valenzano (CIHEAM-MAIB), Bari, Italy, 6–11 Sept 2005

Yano T, Aydin M, Haraguchi T (2007) Impact of climate change on irrigation demand and crop growth in a Mediterranean environment of Turkey. Sensors 7:2297–2315

Zachariadis T (2010) Residential water scarcity in Cyprus: impact of climate change and policy options. Water 2(4):788–814

Zhang L, Ma ZM, Kang SZ (2008) Analysis of impacts of climate variability and human activity on stream flow for a river basin in arid region of Northwest China. J Hydrol 352:239–249

Zhong P, Yang Z, Cui B, Liu J (2008) Eco-environmental water demands for the Baiyangdian wetland. Front Env Sci Eng China 2(1):73–80

Zhou SL, McMahon TA, Walton A, Lewis J (2000) Forecasting daily urban water demand: a case study of Melbourne. J Hydro l236:153–164
Acknowledgments
We are grateful to the National Natural Science Foundation of China (No. 51309155), the National Basic Research Program of China (No. 2010CB951104 and 2010CB951103), the China Postdoctoral Science Foundation (No. 2013 M530027), the Central Public-interest Scientific Institution Basal Research Fund (No. Y513004), the Open Research Fund of State Key Laboratory of Simulation and Regulation of Water Cycle in River Basin (China Institute of Water Resources and Hydropower Research Project No. IWHR-SKL-201212) and the Asia-Pacific Network for Global Change (Grant No. ARCP2013-25NSY-Shahid) for providing financial support for this research. We are also thankful to anonymous reviewers and editors for their helpful comments and suggestions.
About this article
Cite this article
Wang, Xj., Zhang, Jy., Shahid, S. et al. Adaptation to climate change impacts on water demand. Mitig Adapt Strateg Glob Change 21, 81–99 (2016). https://doi.org/10.1007/s11027-014-9571-6
Received:

Accepted:

Published:

Issue Date:
Keywords
Climate change

Water demand

Adaptation

Water resources management