Abstract
There is increasing demand for agricultural commodities that are produced in a climate-friendly manner. At the same time, in many or most tropical countries there is need for intensification of agricultural production to increase yields and incomes, and this usually requires higher external inputs that may cause additional greenhouse gas emissions. Here we investigate if production methods that have a beneficial effect on the climate (are climate-friendly) are compatible with increased inputs and yields for traditional, shaded cocoa (Theobroma cacao) production systems (locally known as cabrucas) in southern Bahia, Brazil. We use two easily measurable and manageable dimensions of climate friendliness, namely the carbon (C) stocks in the large trees and the C footprint as related to on-farm agrochemical and fuel use. Through interviews and field inventories in 26 cabruca farms representing a range of production practices and intensities, we identify the combinations of management practices, yields, C stocks and C footprints typically found in the region. We find that yield levels up to the highest encountered yield of 585 kg ha−1, or twice the current regional average of 285 kg ha−1, are compatible with an aboveground C stock in the large shade trees (>30 cm diameter at breast height) of up to 65 Mg ha−1 and up to 55 % shade. Higher C stocks and shade levels are generally associated with yields below the regional average. Input-related C emissions increased non-linearly with increasing yield, but even the highest encountered yields were compatible with low (<0.25 kg CO2e kg−1 of cocoa) to medium (<0.5 kg CO2e kg−1 of cocoa) input-related emission levels. Cocoa yields responded positively to increased fertilizer applications, provided that other factors, including shade levels, were not limiting. Consequently, the highest input-related emissions (>1 kg CO2e kg−1 of cocoa) were related to large fertilizer applications that did not proportionately increase yields. We conclude that doubling the cocoa output from southern Bahia, where cabrucas are the predominant form of growing cocoa, is compatible with climate-friendly production practices, measured by local standards. We suggest that the presented methodology can be used to identify opportunities for climate-friendly intensification of tree crops more generally, thereby increasing the contribution of commodity production to global climate change mitigation.
Access options
Buy single article
Instant access to the full article PDF.
US$ 39.95
Tax calculation will be finalised during checkout.
Subscribe to journal
Immediate online access to all issues from 2019. Subscription will auto renew annually.
US$ 79
Tax calculation will be finalised during checkout.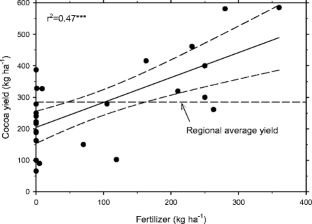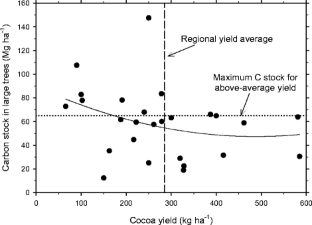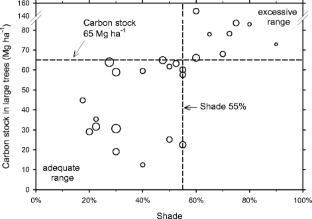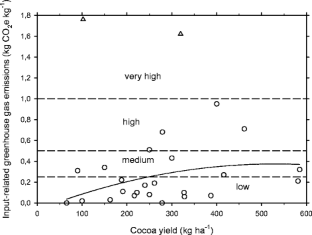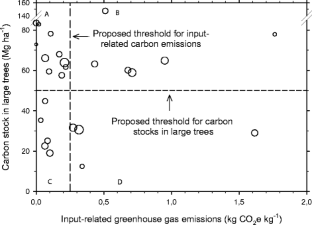 References
Andrade HJ, Segura M, Somarriba E, Villalobos M (2008) Valoración biofísica y financiera de la fijación de carbono por uso del suelo en fincas cacaoteras indígenas de Talamanca, Costa Rica. Agroforestería en las Américas 46:45–50

Cassano CR, Schroth G, Faria D, Delabie JHC, Bede L (2009) Landscape and farm scale management to enhance biodiversity conservation in the cocoa producing region of southern Bahia, Brazil. Biodivers Conserv 18:577–603. doi:10.1007/s10531-008-9526-x

Chepote RE, Sodré GA, Reis EL, Pacheco RG, Marrocos PCL, Serôdio MHCF, Valle RR (2005) Recomendações de corretivos e fertilizantes na cultura do cacaueiro no sul da Bahia, 2a aproximação. CEPLAC/CEPEC, Ilhéus

Duguma B, Gockowski J, Bakala J (2001) Smallholder cacao (Theobroma cacao Linn.) cultivation in agroforestry systems of West and Central Africa: challenges and opportunities. Agrofor Syst 51:177–188. doi:10.1023/A:1010747224249

Faria D, Paciencia MLB, Dixo MBO, Laps RR, Baumgarten J (2007) Ferns, frogs, lizards, birds and bats in forest fragments and shade cacao plantations in two contrasting landscapes in the Atlantic forest, Brazil. Biodivers Conserv 16:2335–2357. doi:10.1007/s10531-007-9189-z

Gockowski J, Sonwa D (2011) Cocoa intensification scenarios and their predicted impact on CO2 emissions, biodiversity conservation, and rural livelihoods in the Guinea rain forest of West Africa. Environ Manag 48:307–321. doi:10.1007/s00267-010-9602-3

Gomes AS, Nascimento VA, Pires MM, Dufumier MA (2013) A (in)sustentabilidade da parceria agrícola na cacauicultura do sul da Bahia, Brasil. In: XXIX Congreso ALAS Chile, 2013, Santiago: Crisis y Emergencias Sociales en América Latina. FACSO, Santiago, pp 1–13

Gramacho ICP, Magno AES, Mandarino EP, Matos A (1992) Cultivo e Beneficiamento do Cacau na Bahia. CEPLAC, Itabuna

Hillier J, Walter C, Malin D, Garcia-Suarez T, Mila-i-Canals L, Smith P (2011) A farm-focused calculator for emissions from crop and livestock production. Environ Model Softw 26:1070–1078. doi:10.1016/j.envsoft.2011.03.014

International Trade Centre (2001) Cocoa: A Guide to Trade Practices. United Nations Conference on Trade and Development (UNCTAD)-World Trade Organization (WTO), Geneva

Johns ND (1999) Conservation in Brazil's chocolate forest: the unlikely persistence of the traditional cocoa agroecosystem. Environ Manag 23:31–47. doi:10.1007/s002679900166

Kumar BM, Nair PKR (2011) Carbon sequestration potential of agroforestry systems - opportunities and challenges. Springer, Dordrecht

Midlej RR, Santos AM (2012) Economia do cacau. In: Valle RR (ed) Ciência, Tecnologia e Manejo do Cacaueiro. CEPLAC, Itabuna, pp 655–672

Millard E (2011) Incorporating agroforestry approaches into commodity value chains. Environ Manag 48:365–377. doi:10.1007/s00267-011-9685-5

Oliveira LC, Neves LG, Raboy BE, Dietz JM (2011) Abundance of jackfruit (Artocarpus heterophyllus) affects group characteristics and use of space by golden-headed lion tamarins (Leontopithecus chrysomelas) in cabruca agroforest. Environ Manag 48:248–262. doi:10.1007/s00267-010-9582-3

Pearson T, Walker S, Brown S (2005) Source book for LULUCF projects. Winrock International, Arlington

Rahn E, Läderach P, Baca M, Cressy C, Schroth G, Malin D, van Rikxoort H, Shriver J (2014) Climate change adaptation and mitigation in coffee production: where are the synergies? Mitig Adapt Strateg Glob Change in press. doi: 10.1007/s11027-013-9467-x

Rolim SG, Chiarello AG (2004) Slow death of Atlantic forest trees in cocoa agroforestry in southeastern Brazil. Biodivers Conserv 13:2679–2694. doi:10.1007/s10531-004-2142-5

Sambuichi RHR, Vidal DB, Piasentin FB, Jardim JG, Viana TG, Menezes AA, Mello DLN, Ahnert D, Baligar VC (2012) Cabruca agroforests in southern Bahia, Brazil: tree component, management practices and tree species conservation. Biodivers Conserv 21:1055–1077. doi:10.1007/s10531-012-0240-3

Schroth G, Faria D, Araujo M, Bede L, Van Bael SA, Cassano CR, Oliveira LC, Delabie JHC (2011) Conservation in tropical landscape mosaics: the case of the cacao landscape of southern Bahia, Brazil. Biodivers Conserv 20:1635–1654. doi:10.1007/s10531-011-0052-x

Schroth G, Bede LC, Paiva AO, Cassano CR, Amorim AM, Faria D, Mariano-Neto E, Martini AMZ, Sambuichi RHR, Lôbo RN (2014) Contribution of cocoa agroforests to landscape carbon storage. Mitig Adapt Strateg Glob Change, in press.

Somarriba E, Cerda R, Orozco L, Cifuentes M, Dávila H, Espin T, Mavisoy H, Ávila G, Alvarado E, Poveda V, Astorga C, Say E, Deheuvels O (2013) Carbon stocks and cocoa yields in agroforestry systems of Central America. Agric Ecosyst Environ 173:46–57. doi:10.1016/j.agee.2013.04.013

Tiepolo G, Calmon M, Feretti AR (2002) Measuring and monitoring carbon stocks at the Guaraqueçaba climate action project, Paraná, Brazil. international symposium on forest carbon sequestration and monitoring. Taiwan Forestry Institute Extension Series 153:98–115

Tscharntke T, Clough Y, Bhagwat SA, Buchori D, Faust H, Hertel D, Hölscher D, Juhrbandt J, Kessler M, Perfecto I, Scherber C, Schroth G, Veldkamp E, Wanger TC (2011) Multifunctional shade-tree management in tropical agroforestry landscapes - a review. J Appl Ecol 48:619–629. doi:10.1111/j.1365-2664.2010.01939.x

van Rikxoort H, Schroth G, Läderach P, Rodríguez-Sánchez B (2014) Carbon footprints and carbon stocks reveal climate-friendly coffee production. Agron Sustain Dev, in press.

Waldron A, Justicia R, Sanchez M (2012) Conservation through chocolate: a win-win for biodiversity and farmers in Ecuador's lowland tropics. Conserv Lett 5:213–221. doi:10.1111/j.1755-263X.2012.00230.x
Acknowledgments
We thank the farm owners and administrators for their generous sharing of information and permission to collect data on their farms for this research. Camila R. Cassano, José Adolfo A. Neto, and Cristiano J.G. da Cunha assisted in the logistics and field data collection. This research benefited from funding by the Global Environment Facility (GEF)/United Nations Environment Program (UNEP) to Rainforest Alliance under the "Greening the Cocoa Industry" project. PL would like to thank the CGIAR program on Climate Change, Agriculture and Food Security for support.
About this article
Cite this article
Schroth, G., Jeusset, A., Gomes, A.d. et al. Climate friendliness of cocoa agroforests is compatible with productivity increase. Mitig Adapt Strateg Glob Change 21, 67–80 (2016). https://doi.org/10.1007/s11027-014-9570-7
Received:

Accepted:

Published:

Issue Date:
Keywords
Carbon stock

Climate-smart agriculture

Cocoa agroforest

Green intensification

Product carbon footprint

Theobroma cacao