Abstract
In the Okavango Delta, Botswana, household adaptation to climatic variability hinges upon access to wetland resources. Household adaptation may be effective for current flood variability, but inadequate for future climate variability. Government interventions through adaptation planning for flood variability may also be inadequate. This study aimed to improve knowledge on adaptation planning in the Okavango Delta and similar areas in the world. The specific objectives were to determine household exposure, adaptive capacity and sensitivity to flood-related shocks, identify and assess government interventions for flood variability, and determine the effect of these interventions on household adaptation to flood variability in the Okavango Delta. Informed by the institutional analysis and development framework, the study used data from a survey of 623 households in five villages, some qualitative methods and secondary data sources. The results indicate that households are inherently sensitive to shocks, due to their dependence on natural resource-based livelihood activities, and that most households had sick members (53 %), and were food insecure (74 %). More households were more affected by river desiccation (84 %) than by flooding (23 %). Adaptation planning was implicitly undertaken in the form of disaster risk reduction, and mainstream development and poverty reduction programmes. These effectively contributed to household adaptation to flood variability but inhibited local institutional learning and innovation. Moreover, they were neither participatory nor conformant to local norms and therefore not sustainable in the long term. There is a need to adopt explicit, flexible and participatory approaches to planning to promote autonomous adaptation to flood variability in the Okavango Delta.
Access options
Buy single article
Instant access to the full article PDF.
US$ 39.95
Tax calculation will be finalised during checkout.
Subscribe to journal
Immediate online access to all issues from 2019. Subscription will auto renew annually.
US$ 79
Tax calculation will be finalised during checkout.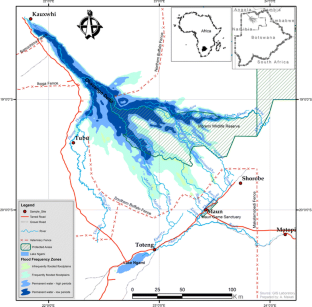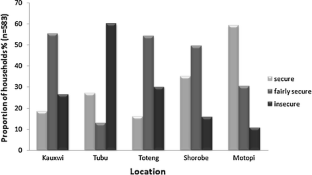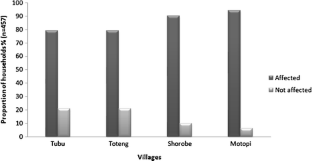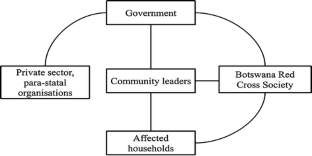 Notes
1.

Exchange rate: BWP1 = US$ 0.128649.
References
Agrawal A (2008) The role of local institutions in adaptation to climate change. International Forestry Research and Institutions Program (IFRI) Working Paper(W08I-3)

Balnaves M, Caputi P (2001) Introduction to quantitative research methods: an investigative approach. Sage Publications, London

Bendsen H, Meyer T (2003) The dynamics of the land use systems in Ngamiland, Botswana: changing livelihood options and strategies. In: Bernard T, Mosepele K, Ramberg L (eds) Proceedings of the environmental monitoring of tropical and sub-tropical wetlands conference held on 4th to 8th December 2002 Maun, Botswana

Berkes F, Folke C (1998) Linking social and ecological systems for resilience and sustainability. In: Berkes F, Folke C, Colding J (eds) Linking social and ecological systems: management practices and social mechanisms for building resilience. Cambridge University Press, Cambridge

Bernard T, Moetapele N (2005) Desiccation of the Gomoti River: biophysical process and indigenous resource management in Northern Botswana. J Arid Environ 63:256–283

Birkmann J, von Teichman K (2010) Integrating disaster risk reduction and climate change adaptation: key challenges scales, knowledge, and norms. Sustain Sci 5:171–184

Botswana Institute of Development Policy Analysis (2003) Report of the review of the Remote Area Development Programme (RADP). Ministry of Local Government, Gaborone

Bouwer M, Aerts JCJH (2006) Financing climate change adaptation. Disasters 30:49–63

Central Statistics Office (2009) 2008 Botswana AIDS impact survey III statistical report. Central Statistics Office, Gaborone

Central Statistics Office (2011) 2011 population and housing census: preliminary results brief. Central Statistics Office, Gaborone

Department of Animal Production (2010) Livestock management and infrastructure development (LIMID) phase II programme: agricultural support programme guidelines. Ministry of Agriculture, Gaborone

Dessai S, van der Sluijs J (2009) Uncertainty and climate change adaptation - a scoping study. Copernicus Institute for Sustainable Development and Innovation, Utrecht

Dube OP, Sekhwela MBM (2008) Indigenous knowledge, institutions and practices for coping with variable climate in the Limpopo Basin in Botswana. In: Leary N, Adejuwon J, Barros V, Burton I, Kulkarni J, Lasco R (eds) Climate and adaptation. Earthscan, London

Ellis F (2000) Rural livelihood diversity in developing countries. Oxford University Press, Oxford

Ellis F, Devereux S, White P (2009) Social protection in Africa. Edward Elgar Publishing Inc, Cheltenham

Foley C (2007) Mozambique: a case study in the role of the affected state in humanitarian action. Human Policy Group working paper. Overseas Development Institute, London

Food and Agricultural Organisation [FAO] (2008) Disaster risk management systems analysis: a guide book. FAO, Rome

Gergis A (1999) Citizen economic empowerment in Botswana: concepts and principles. BIDPA working paper number 22. BIDPA, Gaborone

Government of Botswana and The United Nations in Botswana (2010) Botswana millennium development goals status report 2010. Printing and Publishing Company Botswana, Gaborone

Gupta J, Termeer K, Klostermann J, Meijerink S, van den Brink M, Jong P, Nooteboom S, Bergsma E (2010) Institutions for climate change: a method to assess the inherent characteristics of institutions to enable the adaptive capacity of society. Environ Sci Policy 13(6):459–471

Hahn MB, Riederer AM, Foster SO (2009) The livelihood vulnerability index: a pragmatic approach to assessing risks from climate change variability and change- a case study in Mozambique. Global Environ Change 19:74–88

Holm JD, Morgan RG (1985) Coping with drought in Botswana: an African success. J Mod Afr Stud 23:463–482

Hove H, Echeverría D, Parry J (2011) Review of current and planned adaptation action: Southern Africa-Botswana Adaptation Partnership, International Institute for Sustainable Development. Accessed at: http://www.adaptationpartnership.org/. Accessed 20 Aug 2012

International Poverty Centre [IPC] and Botswana Institute for Development and Policy Analysis [BIDPA] (2005) Poverty status report for Botswana: incidence, trends and dynamics. United Nations Development Programme, Gaborone

Kennedy J, Ashmore J, Babister E, Kelman I (2008) The meaning of 'build back better': evidence from post-Tsunami Aceh and Sri Lanka. J Conting Crisis Manag 16:24–36

Kerapeletswe CK, Moremi T (2001) Poverty and democratisation: the case of Botswana. In: Wilson F, Kanji N, Braathen E (eds) Poverty reduction: what role for the state in a globalised economy? Zed Books, London

Kgathi DL, Ngwenya BN, Wilk J (2007) Shocks and rural livelihoods in the Okavango Delta. Dev South Afr 24(2):289–308

Koontz TM (2005) We finished the plan, so now what? Impacts of collaborative stakeholder participation on land use policy. The Policy Studies Journal 33(3):459–481

Magole L (2009) The "shrinking commons" in the Lake Ngami grasslands, Botswana: the impact of national rangeland policy. Development Southern Africa 26(4):611–626

Magole L, Thapelo K (2005) The impact of extreme flooding of the Okavango River on the livelihood of molapo farming community of Tubu village, Ngamiland District, Botswana Botswana Notes and Records 37:125–137

McCarthy TS, Bloem A (1998) Observations on the hydrology and geohydrology of the Okavango Delta. S Afr J Geol 101:101–131

McCarthy TS, Cooper GRJ, Tyson PD, Ellery WN (2000) Seasonal flooding in the Okavango Delta, Botswana- recent history and future prospects. S Afr J Sci 96:25–33

Mercer J (2010) Disaster risk reduction or climate change adaptation: are we reinventing the wheel? J Int Dev 22:247–264

Ministry of Finance and Development Planning (1997) National Development Plan 8: 1997/98 -2002/03. Government Printer, Gaborone

Ministry of Finance and Development Planning (2003) National Development Plan 9: 2003/04-2008/9. Government Printer, Gaborone

Mitchell T, van Aalst M (2008) Convergence of disaster risk reduction and climate change adaptation. A review for DFID. DFID, London

Mmopelwa G, Vanderpost C, Wolski P, Kgathi DL (2011) The impact of environmental change on ecosystem services supporting human livelihoods: the case of the Okavango and Boteti River basins, Botswana. Report of the SysTems for Analysis Research and Training (START). START, Washington DC USA

Mosepele M (2012) Personal communication on the role of disaster risk reduction action teams in disaster relief in Ngamiland District

Moser CA, Kalton G (1971) Survey methods in social investigation. Heinemann Educational Books, England

Motsholapheko MR, Kgathi D, Vanderpost C (2011) Rural livelihoods and household adaptation to extreme flooding in the Okavango Delta, Botswana. Phys Chem Earth A/B/C 36:984–995

Motsholapheko MR, Kgathi DL, Vanderpost C (2012a) Rural livelihood diversification: a household adaptive strategy against flood variability in the Okavango Delta, Botswana. Agrekon 51(4):41–62. doi:10.1080/03031853.2012.741204

Motsholapheko MR, Vanderpost C, Kgathi DL (2012b) Rural livelihood and household adaptation to desiccation in the Okavango Delta, Botswana. J Water Clim Chang 3(4):300–316. doi:10.2166/wcc.2012.048

Mwansa L, Lucas T, Osei-hwedie K (1998) The practice of social policy in Botswana. J Soc Dev Afr 13:55–74

Niang I, Nyong A, Clark B, Desanker P, Din N, Jalludin M, Osman B (2007) Vulnerability, impacts and adaptation to climate change. In: Otter L, Olago DO, Niang L (eds) Global change processes and impacts in Africa. East African Educational Publishers, Nairobi

National Disaster Management Office (2009) National disaster management plan. Office of the President, Gaborone

Omari K (2010) Climate change vulnerability and adaptation preparedness in Southern Africa: a case study of Botswana. Heinrich Böll Stiftung Southern Africa, Cape Town, South Africa

Osman-Elasha B, Downing TE (2007) Lessons learned in preparing national adaptation programmes of action in Eastern and Southern Africa. UK European Capacity Building Initiative, Oxford

Ostrom E (2005) Understanding institutional diversity. Princeton University Press, Princeton

Ostrom E (2011) Background on the institutional analysis and development framework. Policy Stud J 39:7–27

Peters BG (1998) Managing horizontal government: the politics of coordination. Canadian Centre for Management Development, Toronto

Peters PE (1994) Dividing the commons: politics, policy, and culture in Botswana. University of Virginia Press, Charlottesville

Polski MM, Ostrom E (1999) An Institutional Framework for Policy Analysis and Design. Department of Political Science, Indiana University, Bloomington Indiana

Rudd MA (2004) An institutional framework for designing and monitoring ecosystem-based fisheries management policy experiments. Ecol Econ 48:109–124

Seleka TB (2005) Challenges for agricultural diversification in Botswana under the propose SADC-EU Economic Partnership Agreement. Botswana Institute for Development Policy Analysis (BIDPA) working paper number 27. BIDPA, Gaborone

Shackleton C, Shackleton S, Gambiza J, Nel E, Rowntree K, Urquhart P (2008) Links between ecosystem services and poverty alleviation: situation analysis for arid and semi-arid lands in southern Africa. Ecosystem services and poverty reduction research programme. DFID, NERC, ESRC, UK

Shaw P (1983) Fluctuations in the level of Lake Ngami: the historical evidence. Botsw Notes Rec 15:79–84

Smit B, Pilifosova O (2001) Adaptation to climate change in the context of sustainable development and equity. In: McCarthy J, Canziani O, Leary N, Dokken D, White K (eds) Climate change 2001: impacts, adaptation and vulnerability. Cambridge University Press, Cambridge

Statistics Botswana (2011) Botswana core welfare indicators (poverty) survey of 2009/10 preliminary results. Statistics Botswana, Gaborone

Tearfund, Institute of Development Studies (2006) Overcoming the barriers: mainstreaming climate change adaptation in developing countries. Tearfund climate change briefing paper number 1. Tearfund, Middlesex, UK. Accessible via: http://www.tearfund.org/webdocs/website/Campaigning/Policy%20and%20research/Overcoming%20the%20barriers%20briefing%20paper.pdf Cited 23Aug 2012

Tsheko R (2003) Rainfall reliability, drought and flood vulnerability in Botswana. Water SA 29(4):389–392

United Nations Framework Convention of Climate Change [UNFCCC] (2011) Report of the Conference of the Parties on its sixteenth session, held in Cancun from 29 November to 10 December 2010. Accessed at:http://unfccc.int/resource/docs/2010/cop16/eng/07a01.pdf#page=4. Accessed 20 Aug 2012

Vanderpost C (2004) Human sprawl and the African wilderness of the Okavango. S Afr Geogr J 86:122–130

Vanderpost C (2006) Pathways of human sprawl in wilderness buffer zones. Popul Environ 27:285–306

Wolski P, Murray-Hudson M (2006) Recent changes in Xudum distributory of the Okavango Delta and Lake Ngami, Botswana. S Afr J Sci 102:173–175

World Bank (2012) World development report 2012: gender equality and development. World Bank, Washington DC
Acknowledgments
This paper forms part of a study undertaken by Moseki R. Motsholapheko for PhD Natural Resources Management at the Okavango Research Institute, University of Botswana. It was financially supported by Carnegie-RISE and Office for Research and Development, University of Botswana. We thank Dr M. Murray-Hudson, Professor J.E. Mbaiwa and Professor L. Swatuk for insightful comments, and Mr M. Dhliwayo for technical assistance.
About this article
Cite this article
Motsholapheko, M.R., Kgathi, D.L. & Vanderpost, C. An assessment of adaptation planning for flood variability in the Okavango Delta, Botswana. Mitig Adapt Strateg Glob Change 20, 221–239 (2015). https://doi.org/10.1007/s11027-013-9488-5
Received:

Accepted:

Published:

Issue Date:
Keywords
Adaptation planning

Flood variability

Institutions

Livelihoods