Abstract
Sea turtle reproduction is heavily influenced by environmental temperature. Thus, projected changes in global temperatures are predicted to alter their reproductive output (e.g. hatchling sex ratio and success). Management strategies to mitigate potential threats have been identified, but little is known about their effectiveness. We tested how effective sprinkling nests with water and shading is at reducing sand temperature. We compared sand temperature at average green turtle (Chelonia mydas) nest depth in a controlled environment with 5 different treatments: (1) shade (S), (2) shade with sprinkling during the day (SD) and (3) at night (SN), and (4) sprinkling during the day (ED) and (5) at night (EN) both exposed to sunlight. Not all strategies reduced the sand temperature; treatments with sprinkling during the day and shading on rainy days had warmer temperatures (0.83 ± 1.20 °C and 0.96 ± 0.41 °C respectively) than control treatments. Sprinkling during the night at an exposed and shaded setting were most effective at reducing sand temperature (with sand temperature on average 2.23 ± 0.66 °C and 1.43 ± 0.94 °C lower than control, respectively). These strategies could potentially be effective in counteracting increases in temperature at nesting grounds used by the northern Great Barrier Reef green turtle by 2030, where predictions are for an increase of 0.2–1.8 ± 0.01–0.37 °C. The effectiveness of strategies will likely vary regionally depending on the beach environment and setting used for the strategy.
Access options
Buy single article
Instant access to the full article PDF.
USD 39.95
Price excludes VAT (USA)
Tax calculation will be finalised during checkout.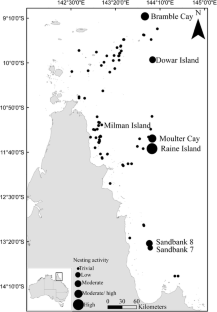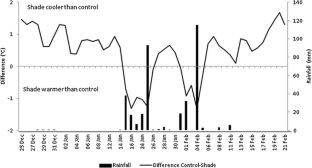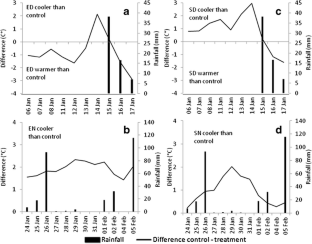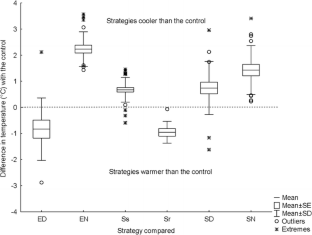 References
Ackerman RA (1997) The nest environment and the embryonic development of sea turtles. In: Lutz P, Musick JA (eds) The biology of Sea turtles. CRC Press, New York, pp 88–106

Baker-Gallegos J, Fish MR, Drews C (2009) Temperature monitoring manual: guidelines for monitoring sand and incubation temperatures on sea turtle nesting beaches. WWF report, San José, p 20

Barker T, Bashmakov I, Bernstein L et al (2007) Technical summary. In: Metz B, Davidson OR, Bosch PR, Dave R, Meyer LA (eds) Climate change 2007: mitigation. Contribution of Working Group III to the Fourth Assessment Report of the Intergovernmental Panel on Climate Change, Cambridge University Press, Cambridge, United Kingdom and New York, NY, USA

Bustard HR, Greenham P (1968) Physical and chemical factors affecting hatching in the green sea turtle, Chelonia mydas. Ecology 49:269–276

Davenport J (1997) Temperature and the life-history strategies of sea turtles. J Therm Biol 22:479–488

Foley AM, Peck SA, Harman GR (2006) Effects of sand characteristics and inundation on the hatching success of loggerhead sea turtle (Caretta caretta) clutches on low-relief mangrove islands in southwest Florida. Chelonian Conserv Bi 5:32–41

Fuentes MMPB, Cinner JE (2010) Using expert opinion to prioritize impacts of climate change on sea turtles' nesting grounds. J Environ Manage 91:2511–2518

Fuentes MMPB, Maynard J, Guinea M et al (2009) Proxy indicators of sand temperature help project impacts of global warming on sea turtles in Northern Australia. Endang Species Res J 9:33–40

Fuentes MMPB, Hamann M, Limpus CJ (2010a) Past, current and future thermal profiles of green turtles nesting grounds: implications from climate change. J Exp Mar Biol Ecol 383:56–64

Fuentes MMPB, Limpus CJ, Hamann M et al (2010b) Potential impacts of projected sea level rise to sea turtle rookeries. Aquat Conserv Mar Freshwat Ecosyst 20:132–139

Fuentes MMPB, Limpus CJ, Hamann M (2011) Vulnerability of sea turtle nesting grounds to climate change. Global Change Biol 17:140–153

Fuentes MMPB, Fish MR, Maynard JA (2012) Management strategies to mitigate the impacts of climate change on sea turtle's terrestrial reproductive phase. Mitig Adapt Strateg Glob Chang 17:51–63

Georges A, Limpus C, Stoutjesdeijk R (1994) Hatchling sex ratio in the marine turtle Caretta caretta is determined by proportion of development at a temperature, not daily duration of exposure. J Exp Zool 270:432–444

Godfrey MH, Barreto R, Mrosovsky N (1996) Estimating past and present sex ratios of sea turtles in Suriname. Can J Zoolog 74:267–277

Hamann M, Godfrey MH, Seminoff JA et al (2010) Global research priorities for sea turtles: informing management and conservation in the 21st century. Endang Species Res 11:245–269

Hamann M, Fuentes MMPB, Ban N, Mocellin V (2013) Climate change and marine turtles. In: Wyneken J, Lohmann KJ, Musick JA (eds) The biology of sea turtles, vol 3. Taylor & Francis Group, Boca Ranton, pp 353–378

Hawkes LA, Broderick AC, Godfrey MH et al (2007) Investigating the potential impacts of climate change on a marine turtle population. Glob Chang Biol 13:923–932

Hawkes LA, Broderick AC, Godfrey MH et al (2009) Climate change and marine turtles. Endang Species R 7:137–154

Hays GC, Adams C, Mortimer J et al (1995) Inter- and intra-beach thermal variation for green turtle nests on Ascension Island, South Atlantic. J Mar Biol Assoc UK 75:405–411

Hays GC, Broderick AC, Glen F et al (2003) Climate change and sea turtles: a 150-year reconstruction of incubation temperatures at a major marine turtle rookery. Glob Chang Biol 9:642–646

Higginson J, Vasquez F (1989) Hatchery design and production of female hatchlings. Unpublished manuscript. Mar Turt Newsl 44:7–12

Hoegh-Guldberg O, Bruno J (2010) The impact of climate change on the World's marine ecosystems. Science 328:1523–1528

Houghton J, Myers A, Lloyd C et al (2007) Protracted rainfall decreases temperature within leatherback turtle (Dermochelys coriacea) clutches in Grenada, West Indies: ecological implications for a species displaying temperature dependent sex determination. J Exp Mar Biol Ecol 345:71–77

Janzen FJ (1994) Climate change and temperature-dependent sex determination in reptiles. Proc Natl Acad Sci USA 91:7487–7490

Kamel SJ, Mrosovsky N (2006) Deforestation: risk of sex ratio distortion in hawksbill sea turtles. Ecol Appl 16:923–931

Kornaraki E, Matossian DA, Mazaris AD, Matsinos YG, Margaritoulis D (2006) Effectiveness of different conservation measures for loggerhead sea turtle (Caretta caretta) nests at Zakynthos Island, Greece. Biol Cons 130:324–330

Limpus CJ, Miller J, Parmenter J et al (2003) The green turtle, Chelonia mydas, population of Raine Island and the Northern Great Barrier Reef 1843–2001. Memoirs Qld Mus 49:349–440

Matsuzawa Y, Sato K, Sakamoto W et al (2002) Seasonal fluctuations in sand temperature: effects on the incubation period and mortality of loggerhead sea turtle (Caretta caretta) pre-emergent hatchlings in Minabe, Japan. Mar Biol 140:639–646

Mazaris AD, Kallimanis AS, Sgardelis SP et al (2008) Do long-term changes in sea surface temperature at the breeding areas affect the breeding dates and reproduction performance of Mediterranean loggerhead turtles? Implications for climate change. J Exp Mar Biol Ecol 367:219–226

Mortimer JA (1990) The influence of beach sand characteristics on the nesting behavior and clutch survival of green turtles (Chelonia mydas). Copeia 1990:802–817

Mrosovsky N (1994) Sex ratios of sea turtles. J Exp Biol 270:16–27

Naro-Maciel E, Mrosovsky N, Marcovaldi MA (1999) Thermal profiles of sea turtle hatcheries and nesting areas at Praia do Forte, Brazil. Chelonian Conserv Bi 3:407–413

Ozdemir B, Turkozan O (2006) Hatching success of original and hatchery nests of the green turtle, Chelonia mydas, in Northern Cyprus. Turk J Zool 30:377–381

Patino-Martinez J, Marco A, Quinones L et al (2012) A potential tool to mitigate the impacts of climate change to the Caribbean leatherback sea turtle. Glob Chang Biol 18:401–411

Poloczanska ES, Limpus C, Hays GC (2009) Vulnerability of marine turtles to climate change. Adv Mar Biol 56:151–211

Segura LN, Cajade R (2010) The effects of sand temperature on pre-emergent green sea turtle hatchlings. Herpetol Conserv Biol 5:196–206

Solomon S, Baird T (1980) The effect of fungal penetration on the eggshell of the green turtle. J Electron Microsc 2:434–435

Spotila JR, Standora EA, Morreale SJ et al (1987) Temperature dependent sex determination in the green turtle (Chelonia mydas): effects on the sex ratio on a natural beach. Herpetologica 43:74–81

Standora EA, Spotila JR (1985) Temperature dependent sex determination in sea turtles. Copeia 1985:711–722

Van de Merwe J, Ibrahim K, Whittier J (2005) Effects of hatchery shading and nest depth on the development and quality of Chelonia mydas hatchlings: implications for hatchery management in Peninsular, Malaysia. Aust J Zool 53:205–211

Wibbels T (2003) Critical approaches to sex determination in sea turtles. In: Press C (ed) The Biology of Sea Turtles, Vol 2, p 103–134

Yntema CL, Mrosovsky N (1980) Sexual differentiation in hatchling loggerheads (Caretta caretta) incubated at different controlled temperatures. Herpetologica 36:33–36

Yntema CL, Mrosovsky N (1982) Critical periods and pivotal temperatures for sexual differentiation in loggerhead sea turtles. Can J Zoolog 60:1012–1016
Acknowledgements
We are grateful to the Marine and Aquaculture Research Facilities Unit (MARFU) staff: S. Wever, B. Lawes and L. Mata who kindly helped set up the experiment. We thank P. Cohen and J. Alvarez-Romero for comments that improved the manuscript. During manuscript preparation MMPB Fuentes was supported by the Australian Research Council.
About this article
Cite this article
Jourdan, J., Fuentes, M.M.P.B. Effectiveness of strategies at reducing sand temperature to mitigate potential impacts from changes in environmental temperature on sea turtle reproductive output. Mitig Adapt Strateg Glob Change 20, 121–133 (2015). https://doi.org/10.1007/s11027-013-9482-y
Received:

Accepted:

Published:

Issue Date:

DOI: https://doi.org/10.1007/s11027-013-9482-y
Keywords
Climate change

Effectiveness

In situ conservation strategies

Sand temperature

Sea turtles

Temperature-dependent sex determination