Abstract
Over the past 20 years considerable efforts have been invested in exploring how the public understands climate change. However, the bulk of this research has been conducted in Europe and North America and little is known about public perceptions of climate change in developing countries. This article presents the results of the first nationally representative study (n = 1473) of public perceptions of climate change in Costa Rica. In Costa Rica, a large proportion of interviewees (i.e. over 85%) are highly concerned about climate change in general and feel, as noted in European and North American studies, that its impacts are more worrisome for people farthest away (e.g. in the developed countries or among future generations). At the local level, people feel that food (10.5%) and water (16.1%) shortages as well as poverty (11.3%) and heat waves (11.7%) are the most expected impacts of climate change. Analysis of adaptation behaviour responses suggest that individuals have a relatively lower grasp of emergency and prevention disaster plans but are relatively more proactive in preventing hydro-meteorological extremes related to water scarcity or excess. A majority of respondents engage in mitigation behaviours largely for financial or contextual reasons. Finally, support for adaptation and mitigation policy responses is generally high (i.e. above 70% of interviewee supports them) except for the case of internalizing the cost of watershed protection increasing the water tariffs (52.5%). As discussions about mitigation and adaptation become increasingly common within developing countries, questions about public perceptions in that context are more pressing than ever. Work on climate perceptions needs to be carried out in specific countries to better understand which policies are most likely to resonate with public support, and which might be most difficult to implement.
Access options
Buy single article
Instant access to the full article PDF.
USD 39.95
Price excludes VAT (USA)
Tax calculation will be finalised during checkout.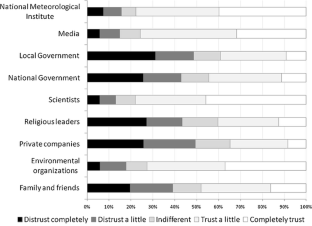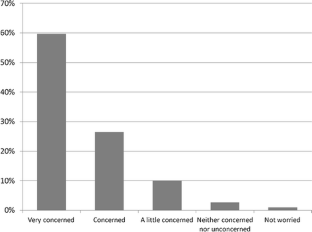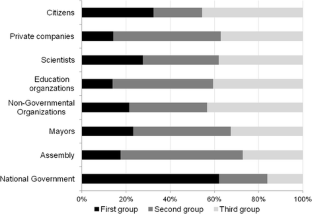 Notes
NAMAs were first introduced in the Bali Action Plan (UNFCCC 2007) as a method by which developing countries could access financial or technical assistance from developed countries to facilitate the implementation of domestic mitigation actions.

In total 1500 interviews were attempted, but some were incomplete or interrupted, resulting in 1473 complete interviews.

Other authors have measured knowledge of climate change slightly differently due to specific research interests. For example, Sundblad and colleagues (2009) measured knowledge with true/false scales but also added items measuring confidence in one's own information on climate change given their interest in analyzing the influence of knowledge and confidence on general concern of climate change among different social groups. In their work, these authors measured knowledge using questions with a relatively greater technical content (e.g. including specific thresholds of climate change impacts) given their interest to discriminate among social groups with scientific technical expertise and others. Similarly, in their questionnaires Bostrom and colleagues (1994) focused mainly on knowledge of climate change and measured it using mental model interviews which are more easily applicable to a much smaller sample (n = 100) than ours, allowing in-depth exploration of differences between lay people's and experts' understanding of climate change.

According to NISC (2002) 62% of women economically active and inactive above 12 years old in the country are dedicated to household care.

With the exception of "I" all policies are actually pursued in Costa Rica. Policy "C" is only in San Jose, policies "D" and "E" refer to the use of oil tax revenues for PES.
References
Adelekan IO, Gbadegesin AS (2005) Analysis of the public perception of climate change issues in an indigenous African city. Int J Environ Stud 62(1)

Antilla L (2005) Climate of skepticism: US newspaper coverage of the science of climate change. Global Environ Change-Hum Policy Dimens 15(4):338–352

Asiyanbi AP (2011) "I don't get this climate stuff!" Climate change knowledge, perception and concern among corporate elites in Lagos. Unpublished dissertation, King's College London, United Kingdom

Bales S (2007) Framing global warming in Canada: a frameworks message memo. Frameworks Institute, Washington DC

Bell A (1994) Climate of opinion - public and media discourse on the global environment. Discourse Soc 5(1):33–64

Billett S (2009) Dividing climate change: global warming in the Indian mass media. Climatic Change 99(1–2):1–16

Blum N (2007) Environmental education in Costa Rica: building a framework for sustainable development? Int J Educ Dev 28(3):348–358

Bord RJ, Fisher A, O'Connor RE (1998) Public perceptions of global warming: United States and International Perspectives. Clim Res 11(1):75–84

Bord RJ, O'Connor RE, Fisher A (2000) In what sense does the public need to understand global climate change? Publ Understand Sci 9(3):205–218

Bostrom A, Morgan MG, Fischhoff B, Read D (1994) What do people know about global climate-change .1. Mental Models. Risk Anal 14(6):959–970

Boykoff MT, Boykoff JM (2004) Balance as bias: global warming and the US prestige press. Global Environ Change-Hum Policy Dimens 14(2):125–136

Brechin S (2003) Comparative public opinion and knowledge on global climatic change and the Kyoto Protocol: the US versus the world? Int J Sociol Soc Pol 23(10):106–134

Brossard D, Shanahan J, McComas K (2004) Are issue-cycles culturally constructed? A comparison of French and American coverage of global climate change. Mass Comm Soc 7(3):359–377

Brouwer R, Akter S, Brander L, Haque E (2007) Socioeconomic vulnerability and adaptation to environmental risk: a case study of climate change and flooding in Bangladesh. Risk Anal 27(2):313–326

Bulkeley H (2000) Common knowledge? Public understanding of climate change in Newcastle, Australia. Publ Understand Sci 9:313–333

Bunce M, Rosendo S, Brown K (2010) Perceptions of climate change, multiple stressors and livelihoods on marginal African coasts. Environ Dev Sustain 12(3):407–440

Carson R, Louviere J, Wei E (2010) Alternative australian climate change plans: the public's views. Energy Policy 38:902–911

Carvalho A, Burgess J (2005) Cultural circuits of climate change in UK broadsheet newspapers, 1985-2003. Risk Anal 25(6):1457–1469

Comité Nacional de Emergencia (CNE) (1993) Organización nacional del País para casos de emergencia o desastre. Comisión Nacional de Emergencia (Direccion de Planes y Operaciones), San Jose, Costa Rica

Darier É, Schüle R (1999) Think globally, act locally? Climate change and public participation in Manchester and Frankfurt. Local Environ 4(3):317–329

Dietz T, Dan A, Rachael S (2007) Support for climate change policy: social psychological and social structural influences. Rural Sociol 72(2):185–214

Dobles R (2008) Summary of the National Climate Change Strategy. Ministry of Environment and Energy, San Jose, Costa Rica

Dunlap RE (1998) Lay perceptions of global risk: public views of global warming in cross-National context. Int Sociol 13(4):473–498

Etkin D, Ho E (2007) Climate change: perceptions and discourses of risk. J Risk Res 10(5):623–641

Fankhauser S, Smith JB, Tol RSJ (1999) Weathering climate change: some simple rules to guide adaptation decisions. Ecol Econ 30(1):67–78

Fletcher R (2010) When environmental issues collide: climate change and the shifting political ecology of hydroelectric power. Peace Conflict Rev 5(1):1–15

GlobeScan (2007) All countries need to take major steps on climate change: Global Poll. Available at: http://www.globescan.com/news_archives/bbc_climate/; accessed March 2011.

Inter-American Development Bank (IADB) (2010) Science, technology, and innovation in Latin America and the Caribbean: a statistical compendium of indicators. Science and Technology Division-IADB, Washington D.C, p 117

Kasemir B, Dahinden U, Swartling AG, Schule R, Tabara D, Jaeger CC (2000) Citizens' perspectives on climate change and energy Use. Global Environ Change 10:169–184

Kempton W (1991) Lay perspectives on global climate change. Global Environ Change 1(3):183–208

Kirby A (2004) Britons unsure of climate costs. BBC Public Opinion Poll. http://news.bbc.co.uk/nol/shared/bsp/hi/pdfs/28_07_04_climatepoll.pdf. Accessed March 2011.

Leiserowitz A (2003) Global warming in the American mind: The roles of affect, imagery, and worldviews in risk perception, policy preferences and behaviour. Unpublished Dissertation, University of Oregon, Eugene

Leiserowitz A (2005) American risk perceptions: is climate change dangerous? Risk Anal 25(6):1433–1442

Leiserowitz A (2006) Climate change risk perception and policy preferences: the role of affect, imagery, and values. Clim Change 77(1–2):45–72

Leiserowitz A (2007) International public opinion, perception, and understanding of global climate change, Human Development Report 2007/2008. Fighting climate change: Human solidarity in a divided world. UNDP Human Development Report Office

Löfstedt R (1991) Climate change perceptions and energy use decisions in northern Sweden. Global Environ Change 1(4):321–324

Lorenzoni I, Pidgeon NF (2006) Public views on climate change: European and USA perspectives. Clim Change 77(1–2):73–95

Lorenzoni I, Leiserowitz A, DeFranca D, Poortinga W, Pidgeon NF (2006) Cross-national comparisons of image associations with "global warming" and "climate change" among laypeople in the United States of America and Great Britain. J Risk Res 9(3):265–281

Lorenzoni I, Nicholsoncole S, Whitmarsh L (2007) Barriers perceived to engaging with climate change among the UK public and their policy implications. Global Environ Change 17(3–4):445–459

Lowe T, Brown K, Dessai S, Franca Doria M, Haynes K, Vincent K (2006) Does tomorrow ever come? Disaster narrative and public perceptions of climate change. Publ Understand Sci 15(4):435–457

Maddison D (2007) The perception of and adaptation to climate change in Africa. Policy Research Working Paper (No.WPS4308). The World Bank Development Research Group: Sustainable Rural and Urban Development Team.

McDaniels TL, Axelrod L, Slovic P (1996) Perceived ecological risks of global change. Global Environ Change 6(2):159–171

McKenzie-Mohr D (2000) Fostering sustainable behavior through community-based social marketing. Am Psychol 55(5):531–537

Ministerio de Ambiente, Energía y Telecomunicaciones (MINAET) (2009) Estrategia Nacional de Cambio Climatico. San Jose, Costa Rica: Government of Costa Rica.107 pp

Ministerio de Planificación Nacional y Economia Política (MIDEPLAN) (2010) Plan Nacional de Desarrollo 2011–2014. San Jose, Costa Rica, 256pp

National Institute for Statistics and Censuses (NISC, 2002). Multiple Purposes Household Survey 2000. San jose, Costa Rica; consulted at: www.inec.go.cr/

National Meteorological Institute (NMI) (2010) Second National Communication to the UNFCCC. San Jose, Costa Rica, 265 pp

Nisbet MC, Myers T (2007) The polls trends: twenty years of public opinion about global warming. Publ Opin Q 71(3):444–470

Norgaard KM (2006) "We don't really want to know" - Environmental justice and socially organized denial of global warming in Norway. Organ Environ 19(3):347–370

Norton A, Leaman J (2004) The day after tomorrow: public opinion on climate change. MORI Social Research Institute.

O'Connor RE, Bord RJ et al (1999) Risk perceptions, general environmental beliefs, and willingness to address climate change. Risk Anal 19(3):461–471

Ohe M, Ikeda S (2005) Global warming: risk perception and risk mitigating behavior in Japan. Mitig Adapt Strategies Global Change 10:221–236

Palutikof JP, Agnew MD, Hoar MR (2004) Public perceptions of unusually warm weather in the UK: impacts, responses and adaptations. Clim Res 26:43–59

Patchen M (2010) What shapes public reactions to climate change? Overview of research and policy implications. Anal Soc Issues Public Policy 10(1):47–68

Patt A, Schroter D (2008) Perceptions of climate risk in Mozambique: implications for the success of adaptation strategies. Global Environ Change 18(3):458–467

Pew Research Centre (2009a) Modest support for "Cap and Trade" Policy. News Release. Washington D.C. Thursday October 22, 2009

Pew Research Centre (2009b) Environment, immigration, health care slip down the list. News Release. Washington D.C. Thursday January 22, 2009

Ponce LO (2006) Economic instruments in water management: the case of Costa Rica. Natural and Energy Resources, United Nations Economic Commission for Latin America (ECLAC), Mexico, p 59

Poortinga W, Pidgeon N (2003) Public perceptions of risk, science and governance: Main findings of a British survey of five risk cases. Centre for Environmental Risk, University of East Anglia

Read D, Bostrom A, Morgan MG, Fischhoff B, Smuts T (1994) What do people know about global climate-change. 2. Survey studies of educated laypeople. Risk Anal 14(6):971–982

Reynolds TW, Bostrom A, Read D, Morgan MG (2010) Now what do people know about global climate change? Survey studies of educated laypeople. Risk Anal 30(10):1520–1538

Sandvik H (2008) Public concern over global warming correlates negatively with national wealth. Clim Change 90(3):333–341

Semenza JC, Hall DE, Wilson DJ, Bontempo BD, Sailor DJ, George LA (2008) Public perception of climate change: voluntary mitigation and barriers to behaviour change. Am J Prev Med 35(5):479–487

Shwom R, Bidwell D, Dan A, Dietz T (2010) Understanding U.S. public support for domestic climate change policies. Global Environ Change 20(3):472–482

SPSS Inc (2010) SPSS Base 19.0 for windows. SPSS Inc, Chicago

Stern PC (2000) New environmental theories: toward a coherent theory of environmentally significant behavior. J Soc Issues 56(3):407–424

Stoll-Kleeman S, O'Riordan T, Jaeger CG (2001) The psychology of denial concerning climate mitigation measures: evidence from Swiss focus groups. Global Environ Change 11:107–117

Sundblad E, Biel A, Gärling T (2009) Knowledge and confidence in knowledge about climate change among experts, journalists, politicians, and laypersons. Environ Behav 41:281–302

Takahashi B (2010) Framing and sources: a study of mass media coverage of climate change in Peru during the V ALCUE. Publ Understand Sci 20(4):543–557

Takahashi B, Meisner M (2011) Comparing influences on Peruvian Climate Change Policy: information, knowledge, and concern among political elites. J Intercult Comm Res 40(3):181–202

Trumbo C (1996) Constructing climate change: claims and frames in US news coverage of an environmental issue. Publ Understand Sci 5(3):269–283

Tucker CM, Eakin H, Castellanos EJ (2010) Perceptions of risk and adaptation: Coffee producers, market shocks, and extreme weather in Central America and Mexico. Global Environ Change 20(1):23–32

United Nations Framework Convention on Climate Change (UNFCCC) (2005) Submission from Papua New Guinea and Costa Rica: Reducing Emissions from Deforestation in Developing Countries: Approaches to Stimulate Action (No. FCCC/CP/2005/MISC.1).

United Nations Framework Convention on Climate Change (UNFCCC) (2009) Copenhagen accord appendix II: Nationally appropriate mitigation actions of Developing Country Parties. Copenhagen, Denmark

Valdivia C, Seth A, Gilles JL, García M, Jiménez E, Cusicanqui J, Navia F, Yucra E (2010) Adapting to climate change in Andean ecosystems: Landscapes, capitals, and perceptions shaping rural livelihood strategies and linking knowledge systems. Ann Assoc Am Geogr 100(4):818–834

Wilson C, Dowlatabadi H (2007) Models of decision making and residential energy use. Annu Rev Environ Resour 32(1):169–203

Yearley S (2000) Making systematic sense of public discontents with expert knowledge: Two analytical approaches and a case study. Publ Understand Sci 9:105–122

Zahran S, Brody S, Grover H, Vedlitz A (2006) Climate change vulnerability and policy support. Soc Nat Resour 19(9):771–789

Zwick M, Renn O (2002) Perception and evaluation of risks findings of the Baden-Württemberg risk survey 2001 (No. 203)
Acknowledgements
The authors wish to thank the Initiative Peace with Nature of the Government of Costa Rica for supporting this research and the Country office of the United Nations Development Program. We also would like to thank Marco Otarola and Sylvia Leon for their support in the initial phases of the survey. The contents of this document are the sole responsibility of the authors and can under no circumstances be regarded as reflecting the position of the organizations involved. This research was supported by a grant from the International Opportunities Fund of the Social Sciences and Humanities Research Council of Canada to the University of British Columbia. The efforts of Tim McDaniels and Raffaele Vignola were supported by the Climate and Energy Decision-Making Center (CEDM) located in the Department of Engineering and Public Policy, through a cooperative agreement between the National Science Foundation (SES-0949710) and Carnegie Mellon University. The CEDM in turn supports researchers in the Institute for Resources, Environment and Sustainability at the University of British Columbia.
About this article
Cite this article
Vignola, R., Klinsky, S., Tam, J. et al. Public perception, knowledge and policy support for mitigation and adaption to Climate Change in Costa Rica: Comparisons with North American and European studies. Mitig Adapt Strateg Glob Change 18, 303–323 (2013). https://doi.org/10.1007/s11027-012-9364-8
Received:

Accepted:

Published:

Issue Date:

DOI: https://doi.org/10.1007/s11027-012-9364-8
Keywords
Climate change

Public perception

Costa Rica

Mitigation

Adaptation