Abstract
We explored the possible future impacts of increased coastal flooding due to sea level rise and the potential adaptation responses of two urban, environmental justice communities in the metropolitan Boston area of Massachusetts. East Boston is predominantly a residential area with some industrial and commercial activities, particularly along the coastal fringe. Everett, a city to the north of Boston, has a diversified industrial and commercial base. While these two communities have similar socioeconomic characteristics, they differ substantially in the extent to which residents would be impacted by increased coastal flooding. In East Boston, a large portion of residents would be flooded, while in Everett, it is the commercial/industrial districts that are primarily vulnerable. Through a series of workshops with residents in each community, we found that the target populations do not have an adaptation perspective or knowledge of any resources that could assist them in this challenge. Furthermore, they do not feel included in the planning processes within their communities. However, a common incentive for both communities was an intense commitment to their communities and an eagerness to learn more and become actively engaged in decisions regarding climate change adaptation. The lessons that can be applied to other studies include 1) images are powerful tools in communicating concepts, 2) understanding existing cultural knowledge and values in adaptation planning is essential to the planning process and 3) engaging local residents at the beginning of the process can create important educational opportunities and develop trust and consensus that is necessary for moving from concept to implementation.
Access options
Buy single article
Instant access to the full article PDF.
US$ 39.95
Tax calculation will be finalised during checkout.
Subscribe to journal
Immediate online access to all issues from 2019. Subscription will auto renew annually.
US$ 79
Tax calculation will be finalised during checkout.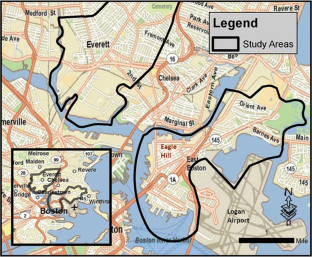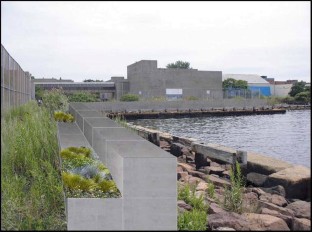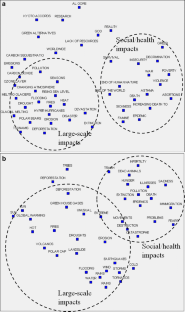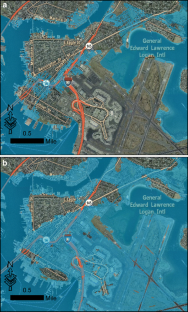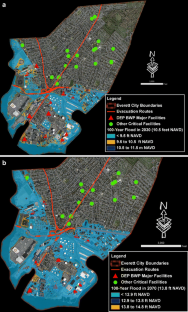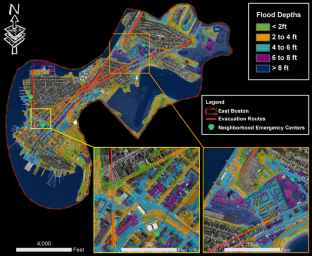 References
Adger WN (2001) Scales of governance and environmental justice for adaptation and mitigation of climate change. J Int Dev 13(7):921–931

Agardy T, Alder J (convening lead authors), Dayton P, Curran S, Kitchingman A, Wilson M, Catenazzi A, Restrepo J, Birkeland C, Blaber S, Saifullah S, Branch G, Boersma D, Nixon S, Dugan P, Davidson N and Vörösmarty C (coordinating lead authors) (2005) Chapter 19: Coastal Systems, In: Millennium Ecosystem Assessment, Volume 1: Conditions and Trends. Working Group Report Island Press

Alario MV, Freudenburg WR (2010) Environmental risks and environmental justice, or how titanic risks are not so titanic after all. Sociol Inq 80(3):500–512

Allen BL (2007) Environmental justice and expert knowledge in the wake of a disaster. Soc Stud Sci 37(1):103–110

Bindoff N, Willebrand J (2007) Chapter 5: observations: oceanic climate change and sea level. In: Solomon S, Dahe Q, Manning M (eds) Climate change 2007: the physical science basis. Cambridge University Press, Cambridge

Borgatti S (1996) Anthropac 4.0 User's Guide, Analytic Technologies, Natick, MA

Boston Redevelopment Authority (BRA) (2003) EAST BOSTON 2000 Census of Population and Housing. Report #571, Publication of Research Department, Boston Redevelopment Authority, Boston, Massachusetts, available on line at http://www.bostonredevelopmentauthority.org/pdf/ResearchPublications/571E.Boston.pdf, accessed on July 11, 2011

CBCF (2004) African Americans and climate change: an unequal burden, a report by the Congressional Black Caucus Foundation, Inc and Redefining Progress, released July 21, 2004, available on-line at http://www.rprogress.org/publications/2004/CBCF_REPORT_F.pdf

Checker M (2005) Polluted promises: environmental racism and the search for justice in a southern town. NYU Press

Chess C, Burger J, McDermott M (2005) Speaking like a state: environmental justice and fish consumption advisories. Soc Nat Resour 18(3):267–278

Clark G, Moser S, Ratick S, Dow K, Meyer M, Emani S, Jin W, Kasperson J, Kasperson R, Schwarz H (1998) Assessing the vulnerability of coastal communities to extreme storms: the case of revere. MA, USA. Mitig Adapt Strateg Glob Chang 3:59–82

Diawara M, Litt J, Unis D, Alfonso N, Martinez L, Crock J, James G, Smith D, Carsella J (2006) Arsenic, cadmium, lead, and mercury in surface soils, Pueblo, Colorado: implications for population health risk. Environ Geochem Heal 28(4):297–315

Doherty TJ, Clayton S (2011) The psychological impacts of climate change. Am Psychol 66(4):265–276

Downey L (2005) Single mother families and industrial pollution in metropolitan America. Sociol Spectr 25(6):651–675

Downey L (2007) US metropolitan-area variation in environmental inequality outcomes. Urban stud 44(5–6):953–977

Easterling WE, Hurd BH, Smith JB (2004) Coping with global climate change: the role of adaptation in the United States. Pew Center on Global Climate Change, Arlington

Ehrmann J and Stinson B (1999) The Consensus Building Handbook. Susskind L, McKearnan S, Thomas-Larmer J (ed) Sage Publications, THOUSAND OAKS, CA USA

Elliott JR, Pais J (2006) Race, class, and hurricane Katrina: social differences in human responses to disaster. Soc Sci Res 35(2):295–321

Frumhoff PC, McCarthy JJ, Melillo JM, Moser SC and Wuebbles DJ, eds, Confronting climate change in the U. S. Norhteast, UCS Publications, Cambridge, MA, released July 11, 2007, available on-line at http://www.climatechoices.org/assets/documents/climatechoices/confronting-climate-change-in-the-u-s-northeast.pdf

Global Humanitarian Forum (GHF) (2009) Human impact report: Climate change—the anatomy of a silent crisis. Available on-line at http://www.phaa.net.au/documents/ humanimpactreport.pdf, accessed Oct 3, 2011

Harlan SL, Ruddell DM (2011) Climate change and health in cities: impacts of heat and air pollution and potential co-benefits from mitigation and adaptation. Curr Opin Environ Sustain 3:126–134

Intergovernmental Panel on Climate Change (IPCC) (1990) Strategies for adaption to Sea level rise. Report of the coastal zone management subgroup of the response strategies working group. National Institute for Coastal and Marine Management, The Hague

IPCC (2001) Climate change 2001: impacts, adaptation and vulnerability. In: McCarthy JJ, Canziani OF, Leary NA, Dokken DJ, White KS (eds) Contribution of working group II to the third assessment report of the intergovernmental panel on climate change. Cambridge University Press, Cambridge, p 1032

IPCC (2007) Climate Change 2007: Impacts, Adaptation and Vulnerability. Contribution of Working Group II to the Fourth Assessment Report of the Intergovernmental Panel on Climate Change, Parry ML, Canziani OF, Palutikof JP, van der Linden PJ and Hanson CE, Eds., Cambridge University Press, Cambridge, UK, 779–810

Johnston BR ed. (2011) Life and death matters: human rights and the environment at the end of the millennium. 10th ed, AltaMira Press

Katsman CA, Hazeleger W, Drijfhout SS, van Oldenborgh GJ, Burgers G (2008) Climate scenarios of sea level rise for the northeast Atlantic ocean: a study including the effects of ocean dynamics and gravity changes induced by ice melt. Clim Chang 91:351–374

Kirshen PH, Knee K, Ruth M (2008a) Adaptation to Sea level rise in metro Boston. Clim Chang 90(4):453–473

Kirshen P, Watson C, Douglas E, Gontz A, Lee J, Tian Y (2008b) Coastal flooding in the northeastern USA under high and low GHG emission scenarios. Mitig Adapt Strateg Glob Chang 13:437–451

Kirshen P, Merrill S, Slovinsky P and Richardson N (2011) Simplified Method for Scenario-Based Risk Assessment Adaptation Planning in the Coastal Zone. in press, Climatic Change

Krieg EJ (2005) Race and environmental justice in Buffalo, NY: a ZIP code and historical analysis of ecological hazards. Soc Nat Resour 18(3):199–213

Kruskal J and Wish M (1978) Multidimensional Scaling, Quantitative Applications in the Social Sciences. Sage Publications, Vol 11

Lambert TW, Guyn L, Lane S (2006) Development of local knowledge of environmental contamination in Sydney, Nova Scotia: environmental health practice from an environmental justice perspective. Sci Total Environ 368(2–3):471–484

Larsen K, Gunnarsson-Östling U, Westholm E (2011) Environmental scenarios and local–global level of community engagement: environmental justice, jams, institutions and innovation. Futures 43:413–423

McGranaham G, Balk D, Anderson B (2007) The rising tide: assessing the risks of climate change and human settlements in low elevation coastal zones. Environ Urban 19(1):17–37

Mohai P, Pellow D, Roberts JT (2009) Environmental justice. Annu Rev Environ Resour 34:405–430

National Research Council (NRC) (2009) Informing decisions in a changing climate. National Academies Press, Washington DC

National Research Council (NRC) (2010) Adapting to the impacts of climate change, America's climate choices. Panel on Adapting to the Impacts of Climate Change, The National Academics Press, Washington DC

Natural Resources Canada (2002) Coastal zone. Climate change impacts and adaptation. Government of Canada, Ottawa

Norgaard KM (2006) "We don't really want to know"—environmental justice and socially organized denial of global warming in Norway. Organ & environ 19(3):347–370

Page EA (2007) Fairness on the day after tomorrow: justice, reciprocity and global climate change. Pol stud 55(1):225–242

Paolisso M (2003) Chesapeake Bay watermen, weather, and blue crabs: cultural models and fishery policies. In: Strauss S, Orlove B (eds) Weather, climate and culture. Berg, New York, pp 61–82

Paolisso M (2007) Cultural models and cultural consensus of Chesapeake Bay blue crab and oyster fisheries (2007). Natl Assoc Pract Anthropol Bull 28:123–133

Pardaens AK, Gregory JM, Lowe JA (2011) A model study of factors influencing projected changes in regional sea level over the twenty-first century. Clim Dyn 36:2015–2033

Pastor M, Morello-Frosch R, Sadd J (2006) Breathless: schools, air toxics, and environmental justice in California. Pol stud j 34(3):337–362

Pezzoli K, Tukey R, Sarabia H, Zaslavsky I, Miranda ML, Suk WA, Lin A, Ellisman M (2007) The NIEHS environmental health sciences data resource portal: placing advanced technologies in service to vulnerable communities. Environ Heal Perspect 115(4):564–571

Pfeffer WT, Harper JT, O'Neel S (2008) Kinematic constraints on glacier contributions to 21st century sea-level rise. Science 321:1340–1343

Pugh D (2004) Changing sea levels: effects of tides, weather and climate. Cambridge University Press, Cambridge

Resnik DB, Roman G (2007) Health, justice, and the environment. Bioethics 21(4):230–241

Rosenzweig C, Solecki W (2010) Introduction to climate change adaptation in New York City: building a risk management response. Ann NY Acad Sci 1196:13–17

Ruth M, Ibarraran M (eds) (2009) Distributional impacts of climate change: social and economic implications. Edward Elgar Publishers, Cheltenham

Solomon S, Plattner G-K, Knutti R, Friedlingstein P (2009) Irreversible climate change due to carbon dioxide emissions. PNAS 106(6):1704–1709

Soskolne CL, Butler CD, Ijsselmuiden C, London L, von Schirnding Y (2007) Toward a global agenda for research in environmental epidemiology. Epidemiology 18(1):162–166

Stakhiv E (2010) Practical Approaches to Water Management under Climate Change Uncertainty. Workshop on Nonstationarity, Hydrologic Frequency Analysis, and Water Management. Olsen R, Kiang J, and Waskom R (eds) Colorado Water Institute Information Series No 109, Ft Collins, CO

Stallworthy M (2009) Environmental justice imperatives for an era of climate change. J Law Soc 36(1):55–74

United States Climate Change Science Program (USCCSP) (2009) Coastal Sensitivity to Sea-Level Rise: A Focus on the Mid-Atlantic Region. A report by the U.S. Climate Change Science Program and the Subcommittee on Global Change Research. [James G. Titus (Coordinating Lead Author), K. Eric Anderson, Donald R. Cahoon, Dean B. Gesch, Stephen K. Gill, Benjamin T. Gutierrez, E. Robert Thieler, and S. Jeffress Williams (Lead Authors)]. U.S. Environmental Protection Agency, Washington DC, USA, 320 pp

Vermeer M and Rahmstorf S (2009) Global sea level linked to global temperature. Proceedings of the National Academy of Science, doi:10.1073/pnas.0907765106

Walker G (2010) Environmental justice, impact assessment and the politics of knowledge: the implications of assessing the social distribution of environmental outcomes. Environ Impact Assess Rev 30(5):312–318

Wardekker JA, de Jong A, Knoop JM, van der Sluijs JP (2010) Operationalising a resilience approach to adapting an urban delta to uncertain climate changes. Technol Forecast Soc Chang 77(6):987–998

Watson C (2007) Assessing the vulnerability of metropolitan Boston to increased coastal flooding due to sea level rise. Unpublished Master's project paper. University of Massachusetts, Boston

Weller S and Romney A (1993) Systematic Data Collection. Qualitative Research Methods Series. Vol 10 Sage University Paper

Wilbanks T, (Lead Author), Contributing Authors, Kirshen P, Quattrochi D, Romero-Lankao P, Rosenzweig C, Ruth M, Solecki W, Tarr J (2008) Chapter 3: Effects of Global Change on Human Settlements. In Analyses of the Effects of Global Change on Human Health and Welfare and Human Settlements, Final Report, Synthesis and Assessment Product (SAP) 4.6, US EPA

Yin J, Schlesinger ME, Stouffer RJ (2009) Model projections of rapid sea-level rise on the northeast coast of the United States. Nat Geosci 2:262–266

Yohe G (2009) Toward an integrated framework derived from a risk-management approach to climate change: an editorial comment. Clim Chang 95:325–339
Acknowledgements
This research was funded by a grant from the NOAA Sectoral Applications Research Program (SARP; NAO08OAR4310722). We gratefully acknowledge the dedication of the other members of our team: Brenda Cotto-Escalera of NOAH for her tireless leadership in the East Boston community; Antonio Amaya Iraheta and Maria Alamo of La Comunidad for organizing the Everett meetings; Chris Watson, for his mapping expertise and all around helpfulness; Megan Rising, Laura Kuhl and Jeff Cegan of Tufts University for their help with interviews and evacuation research; Matt Schultz of Woods Hole Group, Inc., Scott Goodwin of the University of Maryland College Park and all the East Boston and Everett residents who attended our workshops.
About this article
Cite this article
Douglas, E.M., Kirshen, P.H., Paolisso, M. et al. Coastal flooding, climate change and environmental justice: identifying obstacles and incentives for adaptation in two metropolitan Boston Massachusetts communities. Mitig Adapt Strateg Glob Change 17, 537–562 (2012). https://doi.org/10.1007/s11027-011-9340-8
Received:

Accepted:

Published:

Issue Date:
Keywords
Adaptation

Climate change

Environmental justice

Flooding

Sea level rise

Storm surge

Vulnerability