Abstract
Climate Vulnerability Index (CVI) is being proposed to assess climate change vulnerability of communities with a case study. The index consists of household parameters of all the three dimensions of vulnerability such as Exposure, Sensitivity and Adaptive Capability. Exposure is defined by 'Natural disaster and Climate variability', however Sensitivity by 'Health', Food', and 'Water' and Adaptive Capability by 'Socio-demographic profile', 'Livelihood strategies', and 'Social networks'. Respective parameters were based on the peers and literature. The CVI vulnerable status ranges from high (0) to low (1). Household questionnaire survey was undertaken from two regions namely, near to district (NDH) and away to district (ADH), in Srinagar, Uttrakhand, India. Data for desired parameters for CVI was collected from 50 randomly selected households. Data were aggregated using a composite index and differential vulnerabilities were compared. High vulnerability was observed for livelihood strategies, food and natural disaster for ADH households, and health and water for NDH households. It was found that the adaptive capability and sensitivity of ADH households was higher than NDH, however, exposure realization was similar in both the regions. The CVI was 0.69 and 0.64 for NDH and ADH, respectively, suggests high vulnerability to NDH households. This pragmatic CVI approach may be used to assess and monitor vulnerability under various stress condition, and/or evaluate potential program/ policy effectiveness in various data-scarce regions by comparing various anticipated scenarios with baseline. Further, the result obtained by index may have implications for developing adaptation or coping strategies to the region.
Access options
Buy single article
Instant access to the full article PDF.
USD 39.95
Price excludes VAT (USA)
Tax calculation will be finalised during checkout.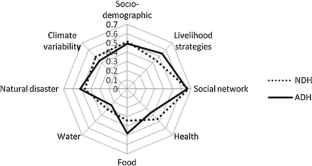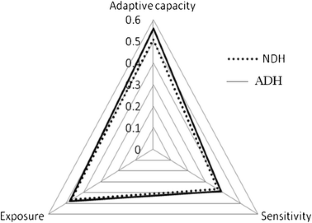 References
Adger WN (2006) Vulnerability. Glob Environ Chang 16:268–281

Adger WN, Vincent K (2005) Uncertainty in adaptive capacity. Comptes Rendus Geoscience 337:399–410

Adger WN, Hughes TP, Folke C et al (2005) Social-ecological resilience to coastal disasters. Science 309:1036–1039

Ahmed SA, Diffenbaugh NS, Hertel TW (2009) Climate volatility deepens poverty vulnerability in developing countries. Environ Res Lett 4:034004. doi:10.1088/1748-9326/4/3/034004

Beniston M (2003) Climatic change in mountain regions: a review of possible impacts. Climate Change 59:5–31

Brodnig G, Prasad V (2010) A view from the top: vulnerability in mountain systems. Social Development Notes No. 128, Social Dimensions of Climate Change, World Bank, Washington

Chambers R, Conway G (1992) Sustainable rural livelihoods: practical concepts for the 21st century, Rep. No. 296. IDS, Brighton

Deems HJ (2010) Vulnerability of rural communities in the Mediterranean region to climate change and water scarcity: the case of Cyprus. Dissertation, Universitat Autonoma de Barcelona, Barcelona

Deressa T, Hassan RM, Ringler C (2008) Measuring Ethiopian farmers' vulnerability to climate change across regional states. International Food Policy Research Institute. http://www.ifpri.org/pubs/dp/IFPRIDP00806.pdf. Cited 26 Oct 2011

Eakin H, Bojorquez-Tapia LA (2008) Insights into the composition of household vulnerability from multicriteria decision analysis. Glob Environ Chang 18:112–127

Eriksen SH, O'Brien K (2007) Vulnerability, poverty and the need for sustainable adaptation measures. Clim Policy 7:337–352

Folke C (2006) Resilience: the emergence of a perspective for social-ecological systems analyses. Glob Environ Change 16:253–267

Ford JD, Smit B (2004) A framework for assessing the vulnerability of communities in the Canadian Arctic to risks associated with climate change. Arctic 57:398–400

Füssel HM (2007a) Adaptation planning for climate change: concept, assessment approaches, and key lessons. Sustainability Science 2(2):265–275

Füssel HM (2007b) Vulnerability: a generally applicable conceptual framework for climate change research. Glob Environ Chang 17:155–167

Gallopin G (2006) Linkages between vulnerability, resilience, and adaptive capacity. Glob Environ Chang 16(3):293–303

Hahn MB, Riederer AM, Foster SO (2009) The livelihood vulnerability index: a pragmatic approach to assessing risks from climate variability and change - a case study in Mozambique. Glob Environ Chang 19(1):74–88

Hoermann B, Choudhary D, Kollmair M (2010) Integrated value chain development as a tool for poverty alleviation in rural mountain areas: an analytical and strategic framework. ICIMOD, Kathmandu

Huq S (2007) Community-based adaptation: an IIED Briefing. International Institute for Environment and Development, London

ICIMOD (2011) Framework for Community-Based Climate Vulnerability and Capacity Assessment in Mountain Areas. Kathmandu: ICIMOD

IPCC (2001) Climate change 2001: impacts, adaptation and vulnerability: summary for policymakers. Cambridge University Press, Cambridge

IPCC (2007) Climate change 2007: the physical science basis. Contribution of Working Group I to the Fourth Assessment Report of the Intergovernmental Panel on Climate Change. Accessed from http://www.ipcc.ch/ipccreports/ar4-wg1.htm

Jodha NS (1992) Mountain perspective and sustainability: a framework for development strategy. In: Sustainable Mountain Agriculture (Eds) New Delhi

Karma T, Sharma E, Chettri N, Shrestha A (2010) Climate change vulnerability of mountain ecosystems in the Eastern Himalayas. ICIMOD, Kathmandu

Klein R, Nicholls R, Thomalla F (2003) Resilience to natural hazards: how useful is this concept? Environ Hazards 5(1–2):35–45

Kohler T, Maselli D (2009) Mountains and climate change - from understanding to action (eds) Geographica Bernensia, Bern

Korner C (2004) Mountain biodiversity, its causes and function. Ambio Supplement 13:11–17

Lemos MC, Boyd E, Tompkins EL, Osbahr H, Liverman D (2007) Developing adaptation and adapting development. Ecol Soc 12:1–26

Mearns R, Norton A (2010) Social dimensions of climate change: equity and vulnerability in a warming world. World Bank, Washington

Mittal S, Tripathi G, Sethi D (2008) Development strategy for the hill districts of Uttarakhand. Working Paper No. 217, Indian Council for Research on International Economic Relations, New Delhi

Nelson DR, Adger WN, Brown K (2007) Adaptation to environmental change: contributions of a resilience framework. Annu Rev Environ Resour 32:395–419

Nogues-Bravo D, Araujo MB, Errea MP, Martınez-Rica JP (2007) Exposure of global mountain systems to climate warming during the 21st Century. Glob Environ Chang 17:420–428

O'Brien K, Quinlan T, Ziervogel G (2009) Vulnerability interventions in the context of multiple stressors: lessons from the Southern Africa Vulnerability Initiative (SAVI). Environ Sci Policy 12:23–32

Ostrom E (2007) A diagnostic approach for going beyond panaceas. Proc Natl Acad Sci USA 104:15181–15187

Paavola J, Adger WN (2006) Fair adaptation to climate change. Ecol Econ 56:594–609

Pachauri RK, Reisinger A (2007) Climate change 2007: synthesis report. Cambridge University Press, Cambridge

Pandey R (2010) Quantitative estimation of livestock feed from forest in Uttaranchal Himalayas. Unpublished report, CSO, New Delhi

Parmesan C, Yohe G (2003) A globally coherent fingerprint of climate change impacts across natural systems. Nature 421(6918):37–42

Patnaik U, Narayanan K (2005) Vulnerability and climate change: an analysis of the Eastern Coastal Districts of India. Human security and climate change: an international workshop, asker

Patz JA, Campbell-Lendrum D, Holloway T, Foley JA (2005) Impact of regional climate change on human health. Nature 438:310–317

Pelling M, High C (2005) Understanding adaptation: what can social capital offer assessments of adaptive capacity? Glob Environ Change 15:308–319

Rajwar GS (1993) Garhwal Himalaya: ecology and environment. Ashish Publishing House, New Delhi

Reid P, Vogel C (2006) Living and responding to multiple stressors in South Africa-Glimpses from KwaZulu-Natal. Glob Environ Chang 16:195–206

Schickhoff U (2005) The upper timberline in the Himalayas, Hindu Kush and Karakorum: a review of geographical and ecological aspects. In: Broll G, Keplin B (eds) Mountain ecosystems. Studies in tree line ecology. Springer, Berlin, pp 275–354

Smit B, Pilifosova O (2001) Adaptation to climate change in the context of sustainable development and equity. In: McCarthy J, Canziani OF, Leary NF, Dokken DJ, White KS (eds) Climate Change 2001: impacts, adaptation and vulnerability. Contribution of Working Group II to the Third Assessment Report of the Intergovernmental Panel on Climate Change, Cambridge University Press, Cambridge, pp 876–912

Smit B, Wandel J (2006) Adaptation, adaptive capacity and vulnerability. Glob Environ Chang 16(3):282–292

SPSS Inc (1997) SPSS Base statistics. Version 7.5. SPSS Inc, Chicago

Sullivan C, Meigh JR, Fediw TS (2002) Derivation and testing of the water poverty index phase 1, Final Report. Department for International Development, UK

Urothody AA, Larsen HO (2010) Measuring climate change vulnerability: a comparison of two indexes. Banko Jankari 20(1):9–16

Vincent K (2004) Creating an index of social vulnerability to climate change for Africa. Working Paper 56, Tyndall Centre for Climate Change Research and School of Environmental Sciences. University of East Anglia, Anglia

Vincent K (2007) Uncertainty in adaptive capacity and the importance of scale. Glob Environ Chang 17:12–24

Vincent K, Cull T (2010) A Household Social Vulnerability Index (HSVI) for evaluating adaptation projects in developing countries. PEGNet Conference 2010: policies to foster and sustain equitable development in times of crises, 2–3 rd September 2010, Midrand

Viviroli D, Weingartner R (2004) Hydrological significance of mountains: from regional to global scale. Hydrological Earth Systems Science 8(6):1016–1029

Wisner B (2010) Climate change and cultural diversity. Int Soc Sci J 61:131–140

Zimmerman FJ, Carter MR (2003) Asset smoothing, consumption smoothing and the reproduction of inequality under risk and subsistence constraints. J Dev Econ 71:233–260
About this article
Cite this article
Pandey, R., Jha, S. Climate vulnerability index - measure of climate change vulnerability to communities: a case of rural Lower Himalaya, India. Mitig Adapt Strateg Glob Change 17, 487–506 (2012). https://doi.org/10.1007/s11027-011-9338-2
Received:

Accepted:

Published:

Issue Date:

DOI: https://doi.org/10.1007/s11027-011-9338-2
Keyword
Adaptive capacity

Exposure

Mitigation

Sensitivity

Social vulnerability