Abstract
This paper aimed at to explore the consequences of cyclone victims due to unavailability of infrastructural supports and to prop up the recognition that the infrastructure has a vital role to play in societies' resilience during catastrophic situation. The paper begins with a review of the science regarding climate change impact and cyclone disaster in Bangladesh. It emphasizes the consequences of cyclone Aila in a selected coastal community in the remote coastal area. A field survey was conducted by authors during March-August 2009. Eight available infrastructures were selected for this analysis. Uniformity of distribution (R), demand index (Di) and degree of demand (DD) of the selected infrastructures were calculated by using nearest neighbourhood methods of analysis. Results show that based on its specific planning standards none of the selected infrastructure can support 50% of the total population. Accordingly, it was observed that 76% respondent could not reach in safer place due to rush of water intrusion and also because of the inundation of road-network. The nearness to the available cyclone shelter, and place of taking shelter during cyclone is positively correlated (r = 0.38; p < 0.001). However, the poor people had less opportunity to take shelter in cyclone shelters, although none of the respondents groups whose monthly income is above 75 USD stands without any infrastructural support. Such important observation may hint the influence of local elites on the local disaster mitigation planning practice in Bangladesh. Almost 90% of the respondents claimed that they had no access to enter the available cyclone shelter. Furthermore, the damaged infrastructures added more hindrances during post disaster activities and also increased the sufferings of the victims. If there were adequate cyclone shelters or rehabilitation centre, the affected people could take shelter and continue other works temporarily. Results drawn from this research will be useful for local and national level planners, as well as international donors for future disaster mitigation planning in the studied area and the methodology can be applied in similar countries and geographical territories.
This is a preview of subscription content,
to check access.
Access this article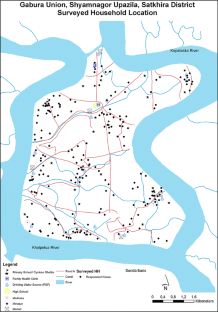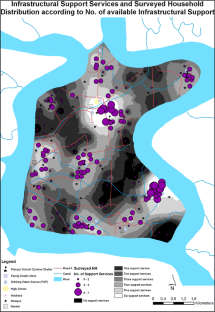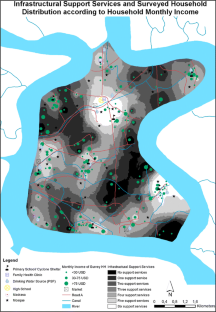 Notes
Union is the third lowest tier of official administrative unit of local government in Bangladesh

The upazilas are the second lowest tier of administrative unit of local government in Bangladesh.

The Districts are the first tier of administrative unit of local government in Bangladesh
References
Ali A (1996) Vulnerability of Bangladesh to climate change and sea level rise through tropical cyclones and storm surges. Water Air Soil Pollut 92:171–179

Ali A, Ahmad AAZ (1992) Impact of sea level rise on other disasters in Bangladesh. Paper presented at an IOC/UNEP Workshop on Impact of Sea Level Rise due to global warming for the South Asian Regions, 16–19 December, Dhaka, Bangladesh

Bangladesh Disaster Management Information Center (BDMIC) (2007) Cyclonic Storm "Sidr", Nov. 26. http://www.reliefweb.int/rw/RWFiles2007.nsf/FilesByRWDocUnidFilename/EDIS-79BQ9Z-full_report.pdf/$File/full_report.pdf

Birkmann J (2006) Measuring vulnerability to natural hazards – towards disaster resilience society. United Nations University Press

Brooks N, Adger WN (2005) The determinants of vulnerability and adaptive capacity at the national level and the implications for adaptation. Glob Environ Change 15:151–163

Clark PJ, Evans FC (1954) Distance to nearest neighbour as a measure of spatial relationship in population. Ecology 35:445–453

CRF (2010) Living with cyclone Aila. Coastal Research Foundation, Khulna

Danard M, Murty TS (1987) On effects of CO2 warming on coastal flooding in Bangladesh. Draft report of the task team on the implication of climatic changes and the impact of rise in sea level in the South Asian Seas Region. National Institute of Oceanography, Karachi

Dasgupta S, B Laplante, C Meisner, D Wheeler, J Yan (2009) The impact of sea-level rise on developing countries: a comparative analysis. Forthcoming in Climatic Change

Dasgupta S, Huq M, Khan ZH, Ahmed MMZ, Mukherjee N, Khan MF, Pandey K (2010) Vulnerability of Bangladesh to cyclones in a changing climate – potential damages and adaptation cost. Policy Research Working Paper 5280. The World Bank

DMB-GoB (2010) National plan for disaster management 2010–2015. Disaster management bureau, disaster management and relief division, Government of Bangladesh

Emanuel K (2005) Increasing destructiveness of tropical cyclones over the past 30 years. Nature 436:686–688

Emanuel K, Sundararajan R, William J (2008) Hurricanes and global warming: results from downscaling IPCC AR4 simulations. J Climate 89:347–367

Government of Bangladesh (GoB) (2009) Bangladesh climate change strategy and action plan 2009

Gray WM (1985) Tropical cyclone global climatology. WMO technical document, WMO/TD No. 72, Vol. I: 3–19, WMO, Geneva, Switzerland

Hossain, M. (2008) Sea level rise, natural disasters and threats to human security in Bangladesh, Paper presented in "South Asia: Environment and Human Securities Conference", 2–3 October 2008. Canbera, Australia

ICZMP (2008) Data on coastal district, integrated coastal zone management project, online unter http://www.iczmpbangladesh.org/district_info/dis_info.htm, Cited 18 Feb. 2008

IPCC (2007) Climate change 2007: the physical science basis: summary for policymakers. Contribution of the working group 1 to the fourth assessment report of the intergovernmental panel on climate change. Cambridge University Press, Cambridge

Islam MS (2001) Sea-level changes in Bangladesh: the last ten thousand years. Asiatic Society of Bangladesh, Dhaka

Kausher A, Kay RC, Asaduzzaman M, Paul S (1993) Climate change and sea level rise: the cause of the coast, briefing documents no. 6. Bangladesh Unnayan Parishad, Dhaka

Khan TM, Singh OP, Rahman MdS (2000) Recent sea level and sea surface temperature trends along the Bangladesh Coast in relation to the frequency of intense cyclones. Marine Geodasy 23:103–116

Mallick B, Vogt J (2010) Social supremacy and its role in local level disaster mitigation planning in Bangladesh", Disaster Prevention and Management, Manuscript ID DPM-May-2010-0030.R2

Mallick DL, Rahman A, Alam A, Juel ASM, Ahmad AN, Alam SS (2005) Floods in Bangladesh: a shift from disaster management towards disaster preparedness, case study 3: Bangladesh. IDS Bull 36(4):53–70

Mohal N, Khan ZH, Rahman N (2006) Impact of sea level rise on coastal rivers of Bangladesh, International Riversymposium, Brisbane, online unter http://www.riversymposium.com/index.php?element=06MOHALNasreen; Cited 17 December 2007

Mohanti M (1990) Sea level rise: background, global concerns and implications for Orissa Coast, India. In: Rajamanickam GV (ed) Sea level variation and its impact on coastal environment. National Institute of Oceanography, Goa, pp 197–238

Multipurpose Cyclone Shelter Programme (MCSP) (1992) Final report, Annex- D3, Storm surge analysis. UNDP/World Bank/ GOB Project/91/025. Planning Commission, Dhaka

Nicholls RJ (2003) An expert assessment of storm surge 'hotspots'. Final report to centre for hazards and risk research, Lamont-Dohert Observatory, Columbia University

Scawthorn C (2009) Disaster management for infrastructure. In: Shaw, Krishnamurthy (eds) Disaster management – Global challenges and local solutions. Universities Press (India) Private Limited, Hyderabad

Singh OP, Masood T, Rahman MS (2001) Has the frequency of intense tropical cyclones increased in the north Indian Ocean? Current Science 80(4):575–580

Subcommittee on Disaster Reduction (SDR) (2003): Reducing disaster vulnerability through science and technology. An interim report of the subcommittee on disaster reduction, National Science and Technology Council, Executive Office of the President of the United States, Available online http://www.sdr.gov/SDR_Report_ReducingDisasterVulnerability2003.pdf, [accessed on 12.01.2008]

Vogt J, Mallick B, Mahboob AS (2009) Social supremacy and location of cyclone centre: a determinant of social vulnerability analysis in a coastal union of Bangladesh. Paper presented in 2nd International Conference Water & Flood Management, March 15–17, 2009. Dhaka, Bangladesh
Acknowledgement
This research was supported by a doctoral study grant from the Catholic Academic Exchange Service (KAAD), Germany and field research grants from Karlsruhe House of Young Scientists (KHYS) of Karlsruhe Institute of Technology (KIT). Special thanks go to the community leaders and victims of cyclone Aila who supported and participated in this research work. Thoughtful comments from the anonymous reviewers and the journal editors are also sincerely appreciated.
About this article
Cite this article
Mallick, B., Rahaman, K.R. & Vogt, J. Coastal livelihood and physical infrastructure in Bangladesh after cyclone Aila. Mitig Adapt Strateg Glob Change 16, 629–648 (2011). https://doi.org/10.1007/s11027-011-9285-y
Received:

Accepted:

Published:

Issue Date:

DOI: https://doi.org/10.1007/s11027-011-9285-y
Keywords