Abstract
The mountain chain of the Sierra Madre de Chiapas in southern Mexico is globally significant for its biodiversity and is one of the most important coffee production areas of Mexico. It provides water for several municipalities and its biosphere reserves are important tourist attractions. Much of the forest cover outside the core protected areas is in fact coffee grown under traditional forest shade. Unless this (agro)forest cover can be sustained, the biodiversity of the Sierra Madre and the environmental services it provides are at risk. We analyzed the threats to livelihoods and environment from climate change through crop suitability modeling based on downscaled climate scenarios for the period 2040 to 2069 (referred to as 2050s) and developed adaptation options through an expert workshop. Significant areas of forest and occasionally coffee are destroyed every year by wildfires, and this problem is bound to increase in a hotter and drier future climate. Widespread landslides and inundations, including on coffee farms, have recently been caused by hurricanes whose intensity is predicted to increase. A hotter climate with more irregular rainfall will be less favorable to the production of quality coffee and lower profitability may compel farmers to abandon shade coffee and expand other land uses of less biodiversity value, probably at the expense of forest. A comprehensive strategy to sustain the biodiversity, ecosystem services and livelihoods of the Sierra Madre in the face of climate change should include the promotion of biodiversity friendly coffee growing and processing practices including complex shade which can offer some hurricane protection and product diversification; payments for forest conservation and restoration from existing government programs complemented by private initiatives; diversification of income sources to mitigate risks associated with unstable environmental conditions and coffee markets; integrated fire management; development of markets that reward sustainable land use practices and forest conservation; crop insurance programs that are accessible to smallholders; and the strengthening of local capacity for adaptive resource management.
This is a preview of subscription content,
to check access.
Access this article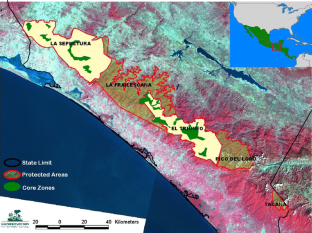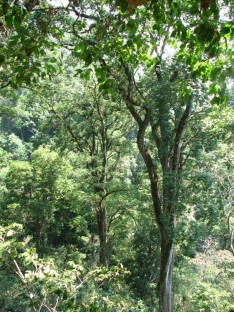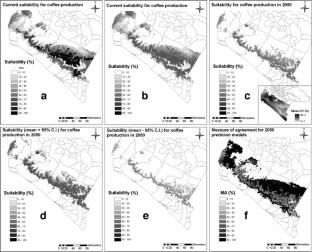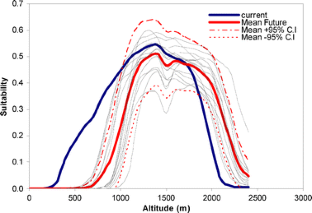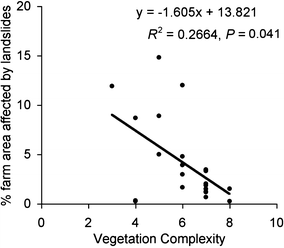 Similar content being viewed by others
References
Agrawal A (2008) The role of local institutions in adaptation to climate change. International Forestry Resources and Institutions Program Working Paper W08I-3. University of Michigan, 45pp

Anderson ER, Cherrington EA, Flores AI, Perez JB, Carrillo R, Sempris E (2008) Potential Impacts of Climate Change on Biodiversity in Central America, Mexico, and the Dominican Republic. CATHALAC / USAID, Panama City, p 105

Armbrecht I, Gallego MC (2007) Testing ant predation on the coffee berry borer in shaded and sun coffee plantations in Colombia. Entomol Exp Appl 124:261–267

Baker PS, Haggar J (2007) Global warming: the impact on global coffee. Specialty Coffee Association of America conference handout, Long Beach, p 14

Bello Mendoza R (2002) Impacto ambiental del beneficiado húmedo del café. In: Pohlan J (ed) México y la Cafeticultura Chiapaneca—Reflexiones y Alternativas para los Cafícultores. Shaker Verlag, Aachen, pp 311–320

Bosselmann AS, Dons K, Oberthur T, Smith Olsen C, Ræbild A, Usma H (2008) The influence of shade trees on coffee quality in small holder coffee agroforestry systems in Southern Colombia. Agric Ecosyst Environ 129:253–260

CAFENICA (2008) Mejoramiento de la calidad de café en el proceso de post cosecha. CAFENICA/Lutheran World Relief, Matagalpa, p 34

Carabias J, Provencio E, de la Maza J, Hernández A (1999a) Plan de Manejo de la reserva de la biosfera del Triunfo. Instituto Nacional de Ecología, México

Carabias J, Provencio E, de la Maza J, Pizaña C (1999b) Plan de Manejo de la reserva de la biosfera de la Sepultura. Instituto Nacional de Ecología, México

CENAPRED (2006) Características e impacto socioeconómico de los principales desastres ocurridos en la república Mexicana en el año 2005. Secretaria de Gobernación, México

CONANP, TNC, FMCN (2004) Programa de Manejo Integrado del Fuego en la Reserva de la Biosfera La Sepultura, Chiapas, Mexico. 67 pp

Dormann CF (2006) Promising the future? Global change projections of species distributions. Basic Appl Ecol 8:387–397

Eakin H (2000) Smallholder maize production and climatic risk: a case study from Mexico. Climatic Change 45:19–36

Eakin H (2005) Institutional change, climate risk, and rural vulnerability: cases from central Mexico. World Dev 11:1923–1938

Eakin H, Tucker C, Castellanos E (2005) Market shocks and climate variability. Mt Res Dev 25:304–309

Eakin H, Tucker C, Castellanos E (2006) Responding to the coffee crisis: a pilot study of farmers' adaptations in Mexico, Guatemala and Honduras. Geogr J 172:156–171

Eakin H, Morales H, Cruz-Bello G, Barerra J (2008) Coffee Farmers' Responses to the Impact of Hurricane Stan in Chiapas, Mexico: An Analysis of Social-Ecological Resilience. Project Technical Report to UC-MEXUS, La Jolla, p 19

Eakin H, Wehbe MB (2009) Linking local vulnerability to system sustainability in a resilience framework: two cases from Latin America. Climatic Change (online)

Ellis EA, Porter-Bolland L (2008) Is community-based forest management more effective than protected areas? A comparison of land use/land cover change in two neighboring study areas of the Central Yucatan Peninsula, Mexico. For Ecol Manag 256:1971–1983

Elith J, Graham CH, Anderson RP, Dudík M, Ferrier S, Guisan A, Hijmans RJ, Huettmann F, Leathwick R, Lehmann A, Li J, Lohmann LG, Loiselle BA, Manion G, Moritz C, Nakamura M, Nakazawa Y, Overton JMcC, Peterson AT, Phillips J, Richardson K, Scachetti-Pereira R, Schapire E, Soberon J, Williams S, Wisz M, Zimmermann E (2006) Novel methods improve prediction of species' distributions from occurrence data. Ecography 29:129–151

Elsner JB, Kossin JP, Jaggar TH (2008) The increasing intensity of the strongest tropical cyclones. Nature 455:92–95

Fournier LA, di Stéfano JF (2004) Variaciones climáticas entre 1988 y 2001, y sus posibles efectos sobre la fenologia de varias especies leñosas y el manejo de un cafetal con sombra en ciudad Colón de Mora, Costa Rica. Agron Costarric 28:101–120

Gay C, Estrada F, Conde C, Eakin H, Villiers L (2006) Potential impacts of climate change on agriculture: a case study of coffee production in Veracruz, Mexico. Clim Change 79:259–288

Gergis JL, Fowler AM (2009) A history of ENSO events since A.D. 1525: implications for future climate change. Clim Change 92:343–387

Guhl A (2006) La influencia del café en la evolución y consolidación del paisaje en las zonas cafeteras colombianas. In: Cano M, Rodríguez D, López C (eds) Cambios Ambientales en perspectiva histórica: ecología histórica y cultura ambiental, Volumen 2. Universidad Tecnológica de Pereira, Pereira, pp 191–206

Haggar J (2008) Impact of climate change on coffee farming households in Central Amercia and steps for adaptation in the future. Specialty Coffee Association of America conference presentation, 5 pp

Hausermann H, Eakin H (2008) Producing "viable" landscapes and livelihoods in Central Veracruz, Mexico: Institutional and producer responses to the coffee commodity crisis. J Lat Am Geography 7:109–131

Heller NE, Zavaleta ES (2009) Biodiversity management in the face of climate change: A review of 22 years of recommendations. Biol Conserv 142:14–32

Hijmans RJ, Graham C (2006) The ability of climate envelope models to predict the effect of climate change on species distributions. Glob Chang Biol 12:2272–2281

Hijmans RJ, Cameron SE, Parra JL, Jones PG, Jarvis A (2005) Very high resolution interpolated climate surfaces for global land areas. Int J Climatol 25:1965–1978

Instituto Nacional de Estadística y Geografía—INEGI (2000) Censo General de Polacion y Vivienda. Mexico City, Mexico

Jarvis A, Reuter HI, Nelson A, Guevara E (2008) Hole-filled seamless SRTM data V4, International Centre for Tropical Agriculture (CIAT), available from http://srtm.csi.cgiar.org

Lamoroux N, Pellegrini F, Nandris D, Kohler F (2005) The Coffea arabica fungal pathosystem in New Caledonia: interactions at two different spatial scales. J Phytopathology 143:403–413

Lin BB, Perfecto I, Vandermeer J (2008) Synergies between agricultural intensification and climate change could create surprising vulnerabilities for crops. Bioscience 58:847–854

Lorenzoni I, Jordan A, O'Riordan T, Turner RK, Hulme M (2000) A co-evolutionary approach to climate change impact assessment: Part II. A scenario-based case study in East Anglia (UK). Glob Environ Change 10:145–155

Macip-Ríos R, Muñoz-Alonso A (2008) Diversidad de lagartijas en cafetales y bosque primario en el Soconusco chiapaneco. Rev Mex Biodiversidad 79:185–195

Moguel P, Toledo VM (1999) Biodiversity conservation in traditional coffee systems in Mexico. Conserv Biol 12:1–11

Muñoz-Piña C, Guevara A, Torres JM, Braña J (2008) Paying for the hydrological services of Mexico's forests: Analysis, negotiations and results. Ecol Econ 65:725–736

Perfecto I, Rice R, Greenberg R, VanderVoort M (1996) Shade coffee: a disappearing refuge for biodiversity. Bioscience 46:598–608

Perfecto I, Vandermeer J, Lopez-Bautista G, Ibarra-Nuñez G, Greenberg R, Bichier P, Langridge S (2004) Greater predation in shaded coffee farms: The role of resident neotropical birds. Ecol 85:2677–2681

Philpott SM, Arendt WJ, Armbrecht I, Bichier P, Dietsch TV, Gordon C, Greenberg R, Perfecto I, Reynoso-Santos R, Soto-Pinto L, Tejeda-Cruz C, Williams-Linera G, Valenzuela J, Zolotoff JM (2008a) Biodiversity loss in Latin American coffee landscapes: review of the evidence on ants, birds, and trees. Conserv Biol 22:1093–1105

Philpott SM, Lin BB, Jha S, Brines SA (2008b) A multi-scale assessment of hurricane impacts based on land-use and topographic features. Agric Ecosyst Environ 128:12–20

Phillips SJ, Dudik M (2008) Modeling of Species Distributions with Maxent: New Extensions and Comprehensive Evaluation. Ecography 31:161–175

Phillips SJ, Anderson RP, Schapire RE (2006) Maximum entropy modeling of species geographic distributions. Ecol Model 190:231–259

Pierce DW, Barnetta TP, Santerb BD, Gleckler PJ (2009) Selecting global climate models for regional climate change studies. PNAS 106:8441–8446

Pyke CR, Andelman SJ (2007) Land use and land cover tools for climate adaptation. Clim Change 80:239–251

Richter M (2000) The ecological crisis in Chiapas: a case study from Central America. Mt Res Dev 20:332–339

Saldaña-Zorilla SO (2008) Stakeholders' views in reducing rural vulnerability to natural disasters in Southern Mexico: Hazard exposure and coping and adaptive capacity. Glob Environ Change 18:583–597

Soto-Pinto L, Perfecto I, Castillo-Hernández J, Caballero-Nieto J (2000) Shade effect on coffee production at the northern tzeltal zone of the state of Chiapas, Mexico. Agric Ecosyst Environ 80:61–69

Soto-Pinto L, Romero-Alvarado Y, Caballero-Nieto J, Segura WG (2001) Woody plant diversity and structure of shade-grown-coffee plantations in Northern Chiapas, Mexico. Int J Trop Biol Conserv 49:977–987

Tukey JW (1977) Exploratory data analysis. Addison-Wesley, Reading

Vaast P, Bertrand B, Perriot J-J, Guyot B, Genard M (2006) Fruit thinning and shade improve bean characteristics and beverage quality of coffee (Coffea arabica L.) under optimal conditions. J Sci Food and Agric 86:197

Webster PJ, Holland GJ, Curry JA, Chang HR (2005) Changes in tropical cyclone number, duration, and intensity in a warming environment. Science 309:1844–1846
Acknowledgements
The "Workshop on Adaptation to Climate Change for the Coffee Communities of the Sierra Madre de Chiapas", 17–18 November 2008, in Tuxtla Gutierrez, Chiapas, on which this paper is partly based, was made possible through a partnership between Conservation International and Starbucks Coffee Company, Seattle. The authors thank all participants of this workshop for their contributions, as well as Juan Carlos Castro, Victor Negrete and Alexser Vazquez from CONANP as well as Ruth Jimenez and Monica Morales from CI-Mexico for valuable information. Peter Baker made very helpful comments on an earlier version of the paper.
About this article
Cite this article
Schroth, G., Laderach, P., Dempewolf, J. et al. Towards a climate change adaptation strategy for coffee communities and ecosystems in the Sierra Madre de Chiapas, Mexico. Mitig Adapt Strateg Glob Change 14, 605–625 (2009). https://doi.org/10.1007/s11027-009-9186-5
Received:

Accepted:

Published:

Issue Date:

DOI: https://doi.org/10.1007/s11027-009-9186-5
Keywords