Abstract
Amazonian forest reserves have significant carbon benefits, but the methodology used for accounting for these benefits will be critical in determining whether the powerful economic force represented by mitigation efforts to slow global warming will be applied to creating these reserves. Opportunities for reserve creation are quickly being lost as new areas are opened to deforestation though highway construction and other developments. Leakage, or the effects that a reserve or other mitigation project provokes outside of the project boundaries, is critical to a proper accounting of net carbon benefits. Protected areas in the Amazon have particularly great potential mitigation benefits over an extended time horizon. Over a 100-year time frame, virtually no unprotected forest is likely to remain, meaning that potential leakages (both leakage to the vicinity of the reserves and that displaced by removing protected areas from the land-grabbing market) should not matter much because any short-term leakage would be "recovered" eventually. The effect of the value attributed to time greatly influences the impact of leakage on benefits credited to reserves. Simple assumptions regarding leakage scenarios illustrate the benefits of reserves and the critical areas where agreement is necessary to make this option a practical component of mitigation efforts. The stakes are too high to allow further delays in reaching agreement on these issues.
This is a preview of subscription content, log in to check access.
Access options
Buy single article
Instant access to the full article PDF.
US$ 39.95
Price includes VAT for USA
Subscribe to journal
Immediate online access to all issues from 2019. Subscription will auto renew annually.
US$ 99
This is the net price. Taxes to be calculated in checkout.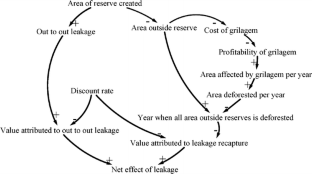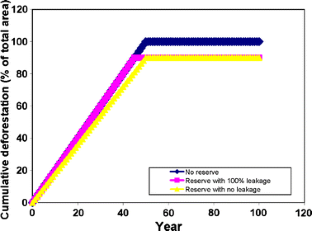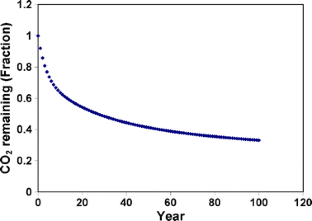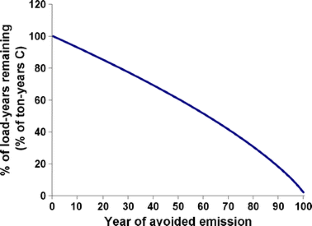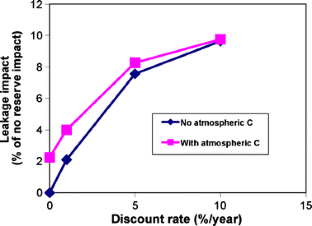 References
Fearnside PM (1995) Global warming response options in Brazil's forest sector: comparison of project-level costs and benefits. Biomass Bioenergy 8:309–322. doi:10.1016/0961-9534(95)00024-0

Fearnside PM (2001) Land-tenure issues as factors in environmental destruction in Brazilian Amazonia: the case of southern Pará. World Dev 29:1361–1372. doi:10.1016/S0305-750X(01)00039-0

Fearnside PM (2002a) Time preference in global warming calculations: a proposal for a unified index. Ecol Econ 41:21–31. doi:10.1016/S0921-8009(02)00004-6

Fearnside PM (2002b) Why a 100-year time horizon should be used for global warming mitigation calculations. Mitig Adapt Strategies Glob Chang 7:19–30. doi:10.1023/A:1015885027530

Fearnside PM (2008a) The roles and movements of actors in the deforestation of Brazilian Amazonia. Ecol Soc 13:23 Available at http://www.ecologyandsociety.org/vol13/iss1/art23/

Fearnside PM (2008b) On the value of temporary carbon: a comment on Kirschbaum. Mitig Adapt Strategies Glob Chang 13:207–210. doi:10.1007/s11027-007-9112-7

Fearnside PM (2008c) The value of protected areas in avoiding climate change in Amazonia. In: Wiegland R Jr, Albernaz AL (eds) Updating of priority areas for conservation, sustainable use and sharing of the biodiversity benefits—Amazon Biome. Ministério do Meio Ambiente, Brasília, DF, Brazil, pp 8–11

Fearnside PM, Lashof DA, Moura-Costa P (2000) Accounting for time in mitigating global warming through land-use change and forestry. Mitig Adapt Strategies Glob Chang 5:239–270. doi:10.1023/A:1009625122628

Kirschbaum MUF (2006) Temporary carbon sequestration cannot prevent climate change. Mitig Adapt Strategies Glob Chang 11:1151–1164. doi:10.1007/s11027-006-9027-8

van Kooten GC, Grainger A, Ley E, Marland G, Solberg B (1997) Conceptual issues related to carbon sequestration: uncertainty and time. Crit Rev Environ Sci Technol 7(special):S65–S82. doi:10.1080/10643389709388510

Viana V, Campos MT (2007) Bolsa Floresta: Recompensa para Quem Conserva a Floresta em Pé. Secretaria do Estado do Meio Ambiente e Desenvolvimento Sustentável (SDS), Manaus, Amazonas, Brazil. 13 pp

Vitel CSMN, Fearnside PM, Graça PMLA (2009) Análise da inibição do desmatamento pelas áreas protegidas na parte sudoeste do arco de desmatamento. Anais XV Simpósio Brasileiro de Sensoriamento Remoto, Natal, Brasil 2009. Instituto Nacional de Pesquisas Espaciais (INPE), São José dos Campos, São Paulo, Brazil (in press)
Acknowledgments
The Conselho Nacional de Desenvolvimento Científico e Tecnológico (CNPq: Proc. 557152/2005-4, 420199/2005-5, 474548/2006-6, 305880/2007-1), Rede GEOMA and Instituto Nacional de Pesquisas da Amazônia (INPA: PRJ02.12), Iniciativa Amazonas (IA), Secretaria de Estado do Meio Ambiente e Desenvolvimento Sustentável (SDS), Instituto de Conservação e Desenvolvimento Sustentável do Amazonas (IDESAM)/Fundação Amazonas Sustentável (FAS) contributed financial support. Two anonymous reviewers made helpful comments.
About this article
Cite this article
Fearnside, P.M. Carbon benefits from Amazonian forest reserves: leakage accounting and the value of time. Mitig Adapt Strateg Glob Change 14, 557–567 (2009). https://doi.org/10.1007/s11027-009-9174-9
Received:

Accepted:

Published:

Issue Date:
Keywords
Global warming

Greenhouse effect

Mitigation

Avoided deforestation

REDD

Kyoto protocol

Reduced emissions

Deforestation

Brazil