Abstract
Net primary production (NPP) of terrestrial ecosystems provides food, fiber, construction materials, and energy to humans. Its demand is likely to increase substantially in this century due to rising population and biofuel uses. Assessing national forest NPP is of importance to best use forest resources in China. To date, most estimates of NPP are based on process-based ecosystem modeling, forestry inventory, and satellite observations. There are little efforts in using spatial statistical approaches while large datasets of in-situ observed NPP are available for Chinese forest ecosystems. Here we use the surveyed forest NPP and ecological data at 1,266 sites, the data of satellite forest coverage, and the information of climate and topography to estimate Chinese forest NPP and their associated uncertainties with two geospatial statistical approaches. We estimate that the Chinese forest and woodland ecosystems have total NPP of 1,325 ± 102 and 1,258 ± 186 Tg C year−1 in 1.57 million km2 forests with a regression method and a kriging method, respectively. These estimates are higher than the satellite-based estimate of 1,034 Tg C year−1 and almost double the estimate of 778 Tg C year−1 using a process-based terrestrial ecosystem model. Cross-validation suggests that the estimates with the kriging method are more accurate. Our developed geospatial statistical models could be alternative tools to provide national-level NPP estimates to better use Chinese forest resources.
Access options
Buy single article
Instant access to the full article PDF.
US$ 39.95
Tax calculation will be finalised during checkout.
Subscribe to journal
Immediate online access to all issues from 2019. Subscription will auto renew annually.
US$ 79
Tax calculation will be finalised during checkout.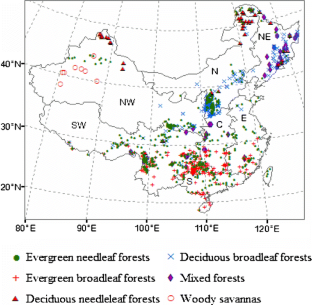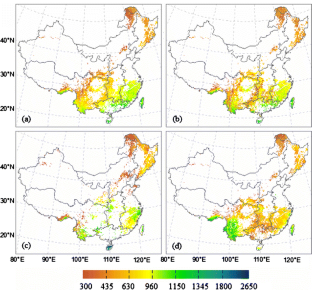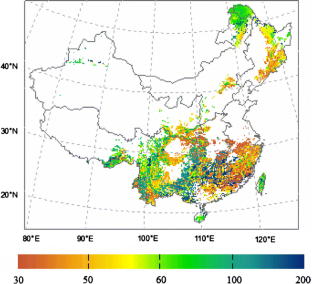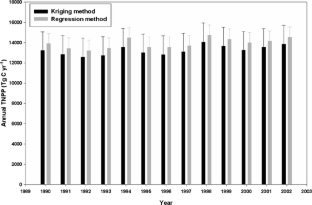 References
Abramowitz M, Stegun I (1965) Handbook of mathematical functions, 9th edn. Dover, New York

Belward AS, Loveland T (1996) The DIS 1 km land cover data set. IGBP Glob Change News Letter 27:7–9

Belward AS, Estes JE, Kline KD (1999) The IGBP-DIS global 1-km land-cover data set DISCover: a project overview. Photogramm Eng Remote Sensing 65:1013–1020

Cao M, Prince SD, Li K, Tao B, Small J, Shao X (2003) Responses of terrestrial carbon uptake to climate inter-annual variability in China. Glob Change Biol 9:536–546. doi:10.1046/j.1365-2486.2003.00617.x

Cressie N (1993) Statistics for spatial data. Wiley, New York, p 900

Diggle PJ, Tawn JA, Moyeed RA (1998) Model-based geostatistics (with discussion). Appl Stat 47:299–350. doi:10.1111/1467-9876.00113

Elliott P, Wakefield J, Best N, Briggs D (2000) Spatial epidemiology. Oxford University Press, London

Fang JY, Wang GG, Liu GH, Xu SL (1998) Forest biomass of China: an estimate based on the biomass–volume relationship. Ecol Appl 8:1084–1091

Fang JY, Chen AP, Peng CH, Zhao SQ, Ci LJ (2001) Changes in forest biomass carbon storage in China between 1949 and 1998. Science 292:2320–2322. doi:10.1126/science.1058629

Fang JY, Piao S, Field CB, Pan Y, Guo QH, Zhou LM et al (2003) Increasing net primary production in China from 1982 to 1999. Front Ecol Environ 1(6):293–297

Farr TG et al (2007) The shuttle radar topography mission. Rev Geophys 45:RG2004. doi:10.1029/2005RG000183

Feng X, Liu G, Chen JM, Chen M, Liu J, Ju WM et al (2007) Net primary productivity of China's terrestrial ecosystems from a process model driven by remote sensing. J Environ Manage 85:563–573. doi:10.1016/j.jenvman.2006.09.021

Fotheringham AS, Brunsdon C, Charlton M (2002) Geographically weight regression. Wiley, New York

Gower ST, McMurtrie RE, Murty D (1996) Aboveground net primary productivity decline with stand age: potential causes. Trends Ecol Evol 11:378–382. doi:10.1016/0169-5347(96)10042-2

Haberl H, Heinz Erb K, Krausmann F, Gaube V, Bondeau A, Plutzar C et al (2007) Quantifying and mapping the human appropriation of net primary production in earth's terrestrial ecosystems. Proc Natl Acad Sci U S A 104:12942–12947. doi:10.1073/pnas.0704243104

Imhoff ML, Bounoua L (2006) Exploring global patterns of net primary production carbon supply and demand using satellite observations and statistical data. J Geophys Res 111:D22S12. doi:10.1029/2006JD007377

Jiang H, Apps MJ, Zhang YL, Peng CH, Woodard PM (1999) Modelling the spatial pattern of net primary productivity in Chinese forests. Ecol Modell 122(3):275–288. doi:10.1016/S0304-3800(99)00142-8

Lennon JJ (2000) Red-shift and red herrings in geographical ecology. Ecography 23:101–113. doi:10.1034/j.1600-0587.2000.230111.x

Lichstein JW, Simons TR, Shriner SA, Franzreb KE (2002) Spatial autocorrelation and autoregressive models in ecology. Ecol Monogr 72(3):445–463

Loveland TR et al (2000) Development of a global land cover characteristics database and IGBP DISCover from 1-km AVHRR data. Int J Remote Sens 21:1303–1330. doi:10.1080/014311600210191

Luo T (1996) Patterns of net primary productivity for Chinese major forest types and their mathematical models. Ph.D. Dissertation, Chinese Academy of Sciences, Beijing, China

McGuire AD, Melillo JM, Joyce LA, Kicklighter DW, Grace AL, Moore B III et al (1992) Interactions between carbon and nitrogen dynamics in estimating net primary productivity for potential vegetation in North America. Global Biogeochem Cycles 6:101–124. doi:10.1029/92GB00219

McMurtrie RE, Gower ST, Ryan MG, Landsberg JJ (1995) Forest productivity: explaining its decline with stand age. Bull Ecol Soc Am 76:152–154

Melillo JM, McGuire AD, Kicklighter DW, Moore B III, Vorosmarty CJ, Schloss AL (1993) Global climate change and terrestrial net primary production. Nature 363:234–240. doi:10.1038/363234a0

Mennis J (2006) Mapping the results of geographically weighted regression. Cartogr J 43:171–179. doi:10.1179/000870406X114658

Mitchell TD, Jones PD (2005) An improved method of constructing a database of monthly climate observations and associated high-resolution grids. Int J Climatol 25:693–712. doi:10.1002/joc.1181

Murphy SA, van der Vaart AW (2000) On profile likelihood. JASA 95:449–485 with discussion

Myneni RB, Dong J, Tucker CJ, Kaufmann RK, Kauppi PE, Liski J et al (2001) A large carbon sink in the woody biomass of Northern forests. Proc Natl Acad Sci U S A 98:14784–14789. doi:10.1073/pnas.261555198

Ni J (2003) Net primary productivity in forests of China: scaling-up of national inventory data and comparison with model predictions. For Ecol Manage 176:485–495. doi:10.1016/S0378-1127(02)00312-2

Ni J, Zhang X-S, Scurlock JMO (2001) Synthesis and analysis of biomass and net primary productivity in Chinese forests. Ann For Sci 58:351–384. doi:10.1051/forest:2001131

Obersteiner M, Alexandrov G, Benitez PC, McCallum I, Kraxner F, Riahi K et al (2006) Global supply of biomass for energy and carbon sequestration from afforestation/reforestation activities. Mitig Adapt Strategies Glob Change 11:1003–1021. doi:10.1007/s11027-006-9031-z

Ord K (1975) Estimation methods for models of spatial interaction. J Am Stat Assoc 70:120–126. doi:10.2307/2285387

Pan Y, Melillo JM, Kicklighter DW, Xiao X, McGuire AD (2001) Modeling structural and functional responses of terrestrial ecosystems in China to changes in climate and atmospheric CO2. Acta Phytoecologica Sin 25(2):175–189

Pan Y, Lou T, Birdsey R, Hom J, Melillo J (2004) New estimates of carbon storage and sequestration in China forests: importance of age and method in inventory-based carbon estimates. Clim Change 67:211–236. doi:10.1007/s10584-004-2799-5

Piao SL, Fang JY, Zhou LM, Zhu B, Tan K, Tao S (2005a) Changes in vegetation net primary productivity from 1982 to 1999 in China. Global Biogeochem Cycles 19:GB2027. doi:10.1029/2004GB002274

Piao SL, Fang JY, Zhu B, Tan K (2005b) Forest biomass carbon stocks in China over the past 2 decades: estimation based on integrated inventory and satellite data. J Geophys Res 110:G01006. doi:10.1029/2005JG000014

Running SW, Nemani RR, Heinsch FA, Zhao M, Reeves M, Hashmoto H (2004) A continuous satellite-derived measure of global terrestrial primary production. Bioscience 54:547–560. doi:10.1641/0006-3568(2004)054[0547:ACSMOG]2.0.CO;2

Stein M (2005) Statistical methods for regular monitoring data. J. R Stat Soc B 67:667–687. doi:10.1111/j.1467-9868.2005.00520.x

Wang XK, Feng ZW, Ouyang ZY (2001) The impact of human disturbance on vegetative carbon storage in forest ecosystems in China. For Ecol Manage 148:117–123. doi:10.1016/S0378-1127(00)00482-5

Wang Q, Ni J, Tenhunen J (2005) Application of a geographically-weighted regression analysis to estimate net primary production of Chinese forest ecosystems. Glob Ecol Biogeogr 14(4):379–393. doi:10.1111/j.1466-822X.2005.00153.x

Wang S, Chen JM, Ju WM, Feng X, Chen M, Chen P et al (2007) Carbon sinks and sources in China's forests during 1901–2001. J Environ Manage 85:524–537. doi:10.1016/j.jenvman.2006.09.019

Weber RO, Talkner P (1993) Some remarks on spatial correlation function models. Mon Weather Rev 121:2611–2617. doi:10.1175/1520-0493(1993)121<2611:SROSCF>2.0.CO;2

Xiao X, Melillo JM, Kicklighter DW, Pan Y, McGuire AD, Helfrich J (1998) Net primary production of terrestrial ecosystems in China and its equilibrium responses to changes in climate and atmospheric CO2 concentration. Acta Phytoecologica Sin 22(2):97–118

Zhang T, Lin G (2008) Cluster detection based on spatial associations and iterated residuals in generalized linear mixed models. Biometrics (in press)

Zhang P, Zhou X, Wang F (1999) Introduction to natural forest conservation program. China's Forestry Publishing House, Beijing, p 388 (in Chinese)

Zhao M, Zhou GS (2005) Estimation of biomass and net primary productivity of major planted forests in China based on forest inventory data. For Ecol Manage 207(3):295–313. doi:10.1016/j.foreco.2004.10.049

Zhuang Q, Romanovsky VE, McGuire AD (2001) Incorporation of a permafrost model into a large-scale ecosystem model: evaluation of temporal and spatial scaling issues in simulating soil thermal dynamics. J Geophys Res 106(D24):33,648–33,670. doi:10.1029/2001JD900151

Zhuang Q, McGuire AD, O'Neill KP, Harden JW, Romanovsky VE, Yarie J (2002) Modeling the soil thermal and carbon dynamics of a fire chronosequence in Interior Alaska. J Geophys Res 107(D1):8147. print 108(D1), 2003. doi:10.1029/2001JD001244

Zhuang Q, McGuire AD, Melillo JM, Clein JS, Dargaville RJ, Kicklighter DW, Myneni RB, Dong J, Romanovsky VE, Harden J, Hobbie JE (2003) Carbon cycling in extratropical terrestrial ecosystems of the Northern Hemisphere during the 20th Century: a modeling analysis of the influences of soil thermal dynamics. Tellus 55(B):751–776
Acknowledgments
We thank two anonymous reviewers for valuable comments and suggestions. The study is funded by K. C. Wong research foundation, Hong Kong. The research is also supported in part by the National Science Foundation and the Department of Energy. The computing support is from the Rosen Center for Advanced Computing at Purdue.
About this article
Cite this article
Zhuang, Q., Zhang, T., Xiao, J. et al. Quantification of net primary production of Chinese forest ecosystems with spatial statistical approaches. Mitig Adapt Strateg Glob Change 14, 85–99 (2009). https://doi.org/10.1007/s11027-008-9152-7
Received:

Accepted:

Published:

Issue Date:
Keywords
Net primary production

Chinese forest ecosystems

Spatial statistics

Ecosystem modeling

Satellite-derived NPP

MODIS