Abstract
Global climate change has already affected the abundances, range limits, and interactions of many species. The hemlock woolly adelgid (Adelges tsugae), an invasive insect introduced to eastern North America from Japan, has decimated stands of eastern hemlock (Tsuga canadensis) and Carolina hemlock (T. caroliniana) from Georgia to Connecticut. However, its spread across central and northern New England has been slowed substantially by its inability to tolerate cold winter temperatures. Using data from previous lab and field studies collected over the past 17 years, including adelgid spread and overwintering mortality, we first characterize the temperature conditions that may limit adelgid spread. We then show how, in the future, rising winter temperatures due to climate change are likely to remove the conditions currently limiting adelgid spread, and facilitate the northward expansion as more suitable habitat becomes available.
Access options
Buy single article
Instant access to the full article PDF.
US$ 39.95
Tax calculation will be finalised during checkout.
Subscribe to journal
Immediate online access to all issues from 2019. Subscription will auto renew annually.
US$ 79
Tax calculation will be finalised during checkout.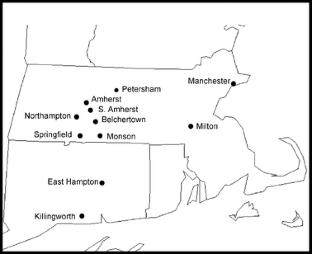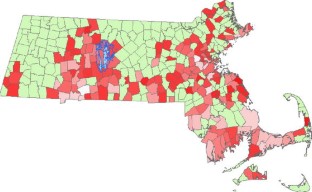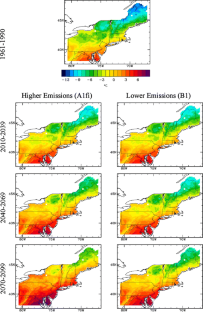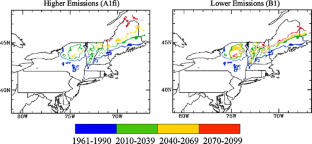 References
Alley R, Berntsen T, Bindoff NL, Chen Z, Chidthaisong A, Friedlingstein P, Gregory J, Hegerl G, Heimann M, Hewitson B, Hoskins B, Joos F, Jouzel J, Kattsov V, Lohmann U, Manning M, Matsuno T, Molina M, Nicholls N, Overpeck J, Qin D, Raga G, Ramaswamy V, Ren J, Rusticucci M, Solomon S, Somerville R, Stocker TF, Stott P, Souffer RJ, Whetton P, Wood RA, Wratt D (2007) Climate change 2007: the physical science basis: summary for policymakers. Contribution of Working Group I to the Fourth Assessment Report of the Intergovernmental Panel on Climate Change. Cambridge University Press, 21 pp. Available online at: http://www.ipcc.ch/SPM2feb07.pdf

Ayres MP, Lombardero MJ (2000) Assessing the consequences of global change for forest disturbance from herbivores and pathogens. Sci Total Environ 262:263–286

Buonaccorsi J (2001) Fieller's theorem. In: El-Shaarawi AH, Piegorsch WW (eds) Encycolopedia of environmetrics. Wiley

Butin E, Porter AH, Elkinton J (2005) Adaptation during biological invasions and the case of Adelges tsugae. Evol Ecol Res 7:887–900

Delworth TL, Broccoli AJ, Rosati A, Stouffer RJ, Balaji V, Beesley JA, Cooke WF, Dixon W, Dunne J, Dunne KA, Durachta JW, Findell KL, Ginoux P, Gnanadesikan A, Gordon CT, Griffies SM, Gudgel R, Harrison MJ, Held IM, Hemler RS (2006) GFDL's CM2 global coupled climate models. Part 1: formulation and simulation characteristics. J Clim 19:643–674

Ellison AM, Bank MS, Clinton BD, Colburn EA, Elliott K, Ford CR, Foster DR, Kloeppel BD, Knoepp JD, Lovett GM, Mohan J, Orwig DA, Rodenhouse NL, Sobczak WV, Stinson KA, Stone JK, Swan CM, Thompson J, Von Holle B, Webster JR (2005) Loss of foundation species: consequences for the structure and dynamics of forested ecosystems. Front Ecol Environ 3(9):479–486

Evans RA, Johnson E, Shreiner J, Ambler A, Battles J, Cleavitt N, Fayhey T, Sciascia J, Pehek E (1996) Potential impacts of hemlock woolly adelgid on eastern hemlock ecosystems. Proceedings of the first hemlock woolly adelgid review. FHTET 96-10:42–57. USDA Forest Service, Roanoke, Virginia

Gouli V, Parker BL, Skinner M (2000) Haemocytes of the hemlock woolly adelgid Adelges tsugae Annand (Hom., Adelgidae) and changes after exposure to low temperatures. J Appl Entomol 124:201–206

Graybill FA, Iyer HK (1994) Regression analysis: concepts and applications. Duxbury, California

Havill NP, Montgomery ME, Yu GY, Shiyake S, Caccone A (2006) Mitochondrial DNA from hemlock woolly adelgid (Hemiptera: Adelgidae) suggests cryptic speciation and pinpoints the source of the introduction to eastern North America. Ann Entomol Soc Am 99:195–203

Hayhoe K, Wake C, Huntington T, Luo L, Schwartz M, Sheffield J, Wood E, Anderson B, Bradbury J, DeGaetano A, Troy T, Wolfe D (2006) Past and future changes in climate and hydrological indicators in the U.S. Northeast. Clim Dyn 28:381–407

Jenkins JC, Aber JD, Canham CD (1999) Hemlock woolly adelgid impacts on community structure and N cycling rates in eastern hemlock forests. Can J For Res 29(5):630–645

Kizlinski ML, Orwig DA, Cobb RC, Foster DR (2002) Direct and indirect ecosystem consequences of an invasive pest on forests dominated by eastern hemlock. J Biogeogr 29:1489–1503

Logan JA, Bentz BJ (1999) Model analysis of mountain pine beetle (Coleoptera: Scolytidae) seasonality. Environ Entomol 28:924–934

Logan JA, Regniere J, Powell JA (2003) Assessing the impacts of global warming on forest pest dynamics. Front Ecol Environ 1:130–137

McClure MS (1990) Role of wind, birds, deer, and humans in the dispersal of hemlock woolly adelgid (Homoptera, Adelgidae). Environ Entomol 19:36–43

McClure MS (1991) Density-Dependent feedback and population-cycles in Adelges tsugae (Homoptera, Adelgidae) on Tsuga canadensis. Environ Entomol 20:258–264

Nakićenović N, Alcamo J, Davis G, de Vries B, Fenhann J, Gaffin S, Gregory K, Grubler A, Jung TY, Kram T, La Rovere EL, Michaelis L, Mori S, Morita T, Pepper W, Pitcher HM, Price L, Riahi K, Roehrl A, Rogner H-H, Sankovski A, Schlesinger M, Shukla P, Smith SJ, Swart R, van Rooijen S, Victor N, Dadi Z (2000) IPCC Special Report on Emissions Scenarios. Cambridge Univ. Press, Cambridge, UK

Orwig DA, Foster DR (1998) Forest response to the introduced hemlock woolly adelgid in southern New England, USA. J Torrey Bot Soc 125:60–73

Orwig DA, Foster DR, Mausel DL (2002) Landscape patterns of hemlock decline in New England due to the introduced hemlock woolly adelgid. J Biogeogr 29:1475–1487

Parker BL, Skinner M, Gouli S, Ashikaga T, Teillon HB (1998) Survival of hemlock woolly adelgid (Homoptera: Adelgidae) at low temperatures. For Sci 44:414–420

Parker BL, Skinner M, Gouli S, Ashikaga T, Teillon HB (1999) Low lethal temperature for hemlock woolly adelgid (Homoptera: Adelgidae). Environ Entomol 28:1085–1091

Parmesan C, Yohe G (2003) A globally coherent fingerprint of climate change impacts across natural systems. Nature 421:37–42

Pope VD, Gallani ML, Rowntree PR, Stratton RA (2000) The impact of new physical parameterizations in the Hadley Centre climate model-HadCM3. Clim Dyn 16:123–146

Root TL, Price JT, Hall KR, Schneider SH, Rosenzweig C, Pounds JA (2003) Fingerprints of global warming on wild animals and plants. Nature 421:57–60

Ross RM, Bennett RM, Snyder CD, Young JA, Smith DR, Lemarie DP (2003) Influence of eastern hemlock (Tsuga canadensis L.) on fish community structure and function in headwater streams of the Delaware River basin. Ecol Freshw Fish 12:60–65

SAS Institute Inc (2003) SAS Campus Drive, Cary, North Carolina 27513

Shields KS, Cheah C (2004) Winter mortality of hemlock woolly adelgid in the Northeastern United States In: Gottschalk KW (ed) Proceedings, XV US Department of Agriculture interagency research forum on gypsy moth and other invasive species 2004; 2004 January 13–16; Annapolis, MD. Gen Tech Rep NE-332. Newtown Square, PA: US Department of Agriculture, Forest Service, Northeastern Research Station: 72

Skinner M, Parker BL, Gouli S, Ashikaga T (2003) Regional responses of hemlock woolly adelgid (Homoptera: Adelgidae) to low temperatures. Environ Entomol 32:523–528

Snyder C, Young J, Smith D, Lemarie D, Ross R, Bennett R (1998) Influence of eastern hemlock decline on aquatic biodiversity of Delaware Water Gap National Recreation Area. Final Report of the USGS Biological Resources Division, Leetown Science Center. Aquatic Ecology Laboratory

Snyder C, Young J, Lemarie D, Smith DR (2002) Influence of eastern hemlock (Tsuga canadensis) forests on aquatic invertebrate assemblages in headwater streams. Can J Fish Aquat Sci 59:262–275

Souto D, Luther T, Chianese B (1996) Past and current status of HWA in eastern and Carolina hemlock stands. In: Salom SM, Tignor TC, Reardon RC (eds) Proceedings of the First Hemlock Woolly Adelgid Review, 9–15

Stadler B, Muller T, Orwig DA, Cobb R (2005) Hemlock woolly adelgid in new england forests: canopy impacts transforming ecosystem processes and landscapes. Ecosystems 8:233–247

Stenseth NC, Mysterud A (2005) Weather packages: finding the right scale and composition of climate in ecology. J Anim Ecol 74:1195–1198

Stireman JO, Dyer LA, Janzen DH, Singer MS, Lill JT, Marquis RJ, Ricklefs RE, Gentry GL, Hallwachs W, Coley PD, Barone JA, Greeney HF, Connahs H, Barbosa P, Morais HC, Diniz IR (2005) Climatic unpredictability and parasitism of caterpillars: implications of global warming. Proc Natl Acad Sci U S A 102(48):17384–17387

Tingley MW, Orwig DA, Field R (2002) Avian response to removal of a forest dominant: consequences of hemlock woolly adelgid infestations. J Biogeogr 29:1505–1516

USDA (2005) United States Department of Agriculture – Forest Service. Northeastern Area: Hemlock Woolly Adelgid. http://www.na.fs.fed.us/fhp/hwa/

Volney WJA, Fleming RA (2000) Climate change and impacts of boreal forest insects. Agric Ecosyst Environ 82:283–294

Washington WM, Weatherly JW, Meehl GA, Semtner AJ Jr, Bettge TW, Craig AP, Strand WG Jr, Arblaster JM, Wayland VB, James R, Zhang Y (2000) Parallel climate model (PCM) control and transient simulations. Clim Dyn 16:755–774

Wood AW, Maurer EP, Kumar A, Lettenmaier DP (2002) Long-range experimental hydrologic forecasting for the eastern United States. J Geophys Res 107, Art. No. 4429

Yamasaki M, DeGraaf RM, Lanier JW (2000) Habitat associations in Eastern hemlock birds, smaller mammals, and forest carnivores. Proceedings, Symposium on Sustainable Management of Hemlock Forests in Eastern North America, pp 135–141

Young RF, Shields KS, Berlyn GP (1995) Hemlock woolly adelgid (Homoptera, Adelgidae) – stylet bundle insertion and feeding sites. Ann Entomol Soc Am 88:827–835

Young J, Snyder C, Smith D, Lemarie D (2002) A terrain-based, paired-site sampling design to assess biodiversity losses from eastern hemlock decline. Environ Monit Assess 76:167–183
Acknowledgements
This project was supported by Cooperative Agreement No 103-CA-11244225-130 between the University of Massachusetts and the U.S. Department of Agriculture- Forest Service. We would like to thank Paul Sievert for statistical advice; Charlie Burnham for providing colonization data; Gloria Witkus, Jeff Boettner, Brenda Whited, Roy Hunkins, Dianna Barszcz, and Siobhan Flaherty for lab and field assistance. Carole Cheah, Scott Costa, and Dave Orwig assisted in locating field sites; Jeff Van Dorn for creating the climate projection plots; and Dave Orwig, Matt Ayres, Evan Preisser, Tom Lambert, and Jerry Melillo for providing helpful comments on earlier versions of the manuscript.
About this article
Cite this article
Paradis, A., Elkinton, J., Hayhoe, K. et al. Role of winter temperature and climate change on the survival and future range expansion of the hemlock woolly adelgid (Adelges tsugae) in eastern North America. Mitig Adapt Strateg Glob Change 13, 541–554 (2008). https://doi.org/10.1007/s11027-007-9127-0
Received:

Revised:

Accepted:

Published:

Issue Date:
Keywords
Adelges tsugae

Climate change

Hemlock

Invasive species

Woolly adelgid