Abstract
An increase in the rate of sea-level rise and potential changes in storminess represent important components of global climate change that will likely affect the extensive coasts of the Northeastern USA. Raising sea level not only increases the likelihood of coastal flooding, but changes the template for waves and tides to sculpt the coast, which can lead to land loss orders of magnitude greater than that from direct inundation alone. There is little question that sea-level rise, and in particular an increased rate of rise, will result in permanent losses of coastal land. However, quantitative predictions of these future coastal change remains difficult due in part to the complexity of coastal systems and the influence of infrequent storm events, and is further confounded by coastal science's insufficient understanding of the behavior of coastal systems over decadal timescales. Recently, dramatic improvements in technology have greatly improved our capabilities to investigate and characterize processes and sedimentary deposits in the coastal zone, allowing us, for the first time, to address some of the over-arching problems involved in shoreline change. Despite advances in many areas of coastal geology, our fundamental understanding of shoreline change has been limited by a lack of a broad and integrated scientific focus, a lack of resources, and a lack of willingness on the part of policymakers who make crucial decisions about human activity along the coast to support basic research in this area. Although quantitative predictions remain constrained, there remains little doubt that the predicted climates changes will have profound effects upon the Northeastern coast.
Access options
Buy single article
Instant access to the full article PDF.
US$ 39.95
Tax calculation will be finalised during checkout.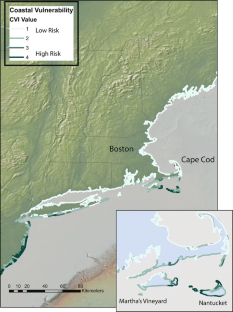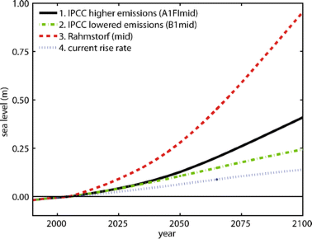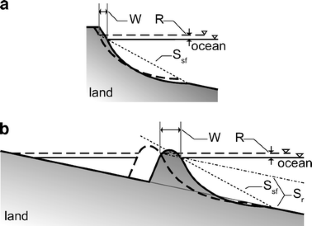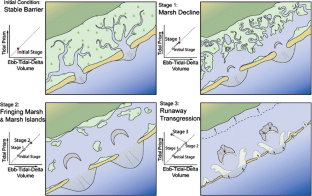 References
Alley RB, Clark PU, Huybrechts P, Joughlin I (2005) Ice-sheet and sea-level changes. Science 310:456–460

Anderson DM (ed) (1995) ECOHAB, The ecology and oceanography of harmful algal blooms. A national research agenda. WHOI, Woods Hole, Massachusetts, p 66

Ashton A, Murray AB, Arnoult O (2001) Formation of coastline features by large-scale instabilities induced by high-angle waves. Nature 414:296–300

Baumann RH, Day JW Jr, Miller CA (1984) Mississippi deltaic wetland survival: sedimentation versus coastal submergence. Science 224:1093–1095

Boon JD, Byrne RJ (1981) On basin hypsometry and the morphodynamic response of coastal inlet systems. Mar Geol 40:626–648

Bove MC, Elsner JB, Landsea CW, Niu X, O'Brien JJ (1998) Effect of El Nino on U.S. landfalling hurricanes, revisited. Bull Am Meteorol Soc 79:2477–2482

Broccoli AJ, Manabe S (1990) Can existing climate models be used to study anthropogenic changes in tropical cyclone climate? Geophys Res Lett 17:1917–1920

Brooks CF (1939) Hurricane into New England. Geogr Rev 29:119–127

Bruun P (1962) Sea-level rise as a cause of shore erosion. Proc of the ASCE, J Waterw Harb Div 88:117–130

Bruun P (1988) The Bruun rule of erosion: a discussion on large-scale two and three dimensional usage. J Coastal Res 4:626–648

Buynevich IV, FitzGerald DM (2003) High-resolution subsurface (GPR) profiling and sedimentology of coastal ponds, Maine, USA: implications for Holocene back-barrier evolution. J Sediment Res 73:559–571

Buynevich IV, Evans RL, FitzGerald DM (2003) High-resolution geophysical imaging of buried inlet channels. Proceedings of the International Conference on Coastal Sediments 2003, World Scientific Publishing Corporation, Corpus Christi, Texas, 9 p

Cayan D, Bromirski P, Hayhoe K, Tyree M, Dettinger M, Flick R (2006) Projecting future sea level. California Climate Change Center, Sacramento, California, p 64

Church JA, Gregory JM et al. (2001) Changes in sea level. In: Houghton JT et al (ed) Climate Change 2001: the scientific basis. Cambridge Univ. Press, Cambridge, pp 639–694

Cooper JAG, Pilkey OH (2004) Sea-level rise and shoreline retreat: time to abandon the Bruun Rule. Glob Planet Change 43(3–4):157–171

Commission on Ocean Policy (COP) (2004) Sustaining our oceans: a public resource, a public trust. Draft final report to the President and Congress. Washington, US Commission on Ocean Policy

Cowell PJ, Roy PS, Jones RA (1995) Simulation of large-scale coastal change using a morphological behavior model. Mar Geol 126(1–4):45–61

Crossett KM, Cuilliton TJ, Wiley PC, Goodspeed TR (2004) Population trends along the coastal United States: 1980–2008, National Ocean Service, NOAA, 54 p

Davis JL, Mitrovica JX (1996) Glacial isostatic adjustment and the anomalous tide gauge record of eastern North America. Nature 379:331–333

Day JW Jr et al. (2000) Pattern and process of land loss in the Mississippi delta: a spatial and temporal analysis of wetland habitat change. Estauries 23:425–438

Dean RG (1991) Equilibrium beach profiles: characteristics and applications. J Coast Res 7(1):53–84

Dean RG, Maurmeyer EM (1983) Models for beach profile response. Handbook Coast Processes Eros, CRC Press:151–165

Dearing J, Richmond N, Plater A, Wolf J, Prandle D, Coulthard T (2006) Modelling approaches for coastal simulation based on cellular automata: the need and potential. Philos Trans R Soc A: Math, Phys Eng Sci 364(1841):1051–1071

Dickson RR (1978) Weather and circulation of February 1978: record or near-record cold east of the continental divide with a major blizzard in the northeast. Mon Weather Rev 106:746–751

Donnelly JP (1998) Evidence of late Holocene post-glacial isostatic adjustment in coastal wetland deposits of eastern North America. GeoRes Forum 3–4:393–400

Donnelly JP (2006) A revised late holocene sea-level record for Northern Massachusetts, USA. J Coast Res 22(5):1051–1061

Donnelly JP, Bertness MD (2001) Rapid shoreward encroachment of salt marsh cordgrass in response to accelerated sea-level rise. Proc Nat Acad Sci 98:14218–14233

Donnelly JP, Webb T III (2004) Backbarrier sedimentary records of intense hurricane landfalls in the northeastern United States. In: Murnane R, Liu K (eds) Hurricanes and typhoons: past present and potential

Donnelly JP, Woodruff JD (2007) Intense hurricane activity over the past 5,000 years controlled by El Niño and the West African monsoon. Nature 447:465–468

Donnelly JP, Webb T III, Prell WL (1999) The influence of accelerated sea-level rise, human modification and storms on a New England salt marsh. Curr Top Wetl Biogeochem 3:152–160

Donnelly JP, Cleary P, Newby P, Ettinger R (2004) Coupling Instrumental and Geological Records of Sea-Level Change: Evidence from southern New England of an increase in the rate of sea-level rise in the late 19th century. Geophys Res Letts, 31, L05203 DOI 10.1029/2003GL018933

Drake TG, Calantoni J (2001) Discrete particle model for sheet flow sediment transport in the nearshore. J Geophys Res 106:19859–19868

Ekstrom G, Nettles M, Tsai VC (2006) Seasonality and increasing frequency of Greenland Glacial Earthquakes. Science 311:1756–1758

Elgar S, Gallagher E, Guza RT (2001) Nearshore sandbar migration. J Geophys Res 106:11623–11627

Elsner JB, Kocher B (2000) Global tropical cyclone activity: a link to the North Atlantic Oscillation. Geophys Res Lett 27:129–132

Elsner JB, Jagger T, Niu X (2000a) Changes in the rates of North Atlantic major hurricane activity during the 20th Century. Geophys Res Lett 27:1743–1746

Elsner JB, Liu K, Kocher B (2000b) Spatial variations in major U.S. hurricane activity: statistics and a physical mechanism. J Climate 13:2293–2305

Emanuel KA (1987) The dependence of hurricane intensity on climate. Nature 326:483–485

Emanuel KA (2005) Increasing destructiveness of tropical cyclones over the past 30 years. Nature 436:686–688

Evans RL, Lizarralde D (2003) Geophysical evidence for karst formation associated with offshore groundwater transport: an example from North Carolina. Geochem, Geophys, Geosyst, 4(8): 10.1029/2003GC000510

Evans RL, Law LK, St Louis B, Cheesman, S., Sananikone K (1999) The shallow porosity structure of the continental shelf of the Eel shelf, Northern California: results of a towed electromagnetic survey. Mar Geol 154:211–226

Evans RL, Law LK, St Louis B, Cheesman S (2000) Buried paleo-channels on the New Jersey continental margin: channel porosity structures from electromagnetic surveying. Mar Geol 170:381–394

FitzGerald DM (1988) Shoreline erosional-depositional processes associated with tidal inlets. In: Aubrey DG, Weishar L (eds) Hydrodynamics and sediment dynamics of tidal inlets. Springer-Verlag, New York, pp 269–283

Fitzgerald DM, van Heteren S, Montello TM (1994) Shoreline processes and damage resulting from the Halloween Eve Storm of 1991 along the North and South shores of Massachusetts Bay, U.S.A. J Coast Res 10:113–132

FitzGerald DM, Buynevich IV, Argow B (2006) A coupled model of tidal inlet and barrier island dynamics in a regime of accelerated sea-level rise. J Coast Res SI 39:789–795

GEOHAB (2001) Global ecology and oceanography of harmful algal blooms: Science Plan. In: Gilbert P, Pitcher G (eds) SCOR and IOC. Baltimore and Paris, 86 p

GEOHAB (2003) Global ecology and oceanography of harmful algal blooms: Implementation plan. In: Gentien P, Pitcher G, Cembella A, Gilbert P (eds) SCOR and IOC. Baltimore and Paris, 36 p

Giesse GS (1990) The story behind the new tidal inlet at Chatham. Nor'easter 2(1):28–33, WHOI-R-90-002

Goff JA, Mayer LA, Traykovski P, Buynevich I, Wilkens R, Raymond R, Glang G, Evans RL, Olson H, Jenkins C (2005) Detailed investigation of sorted bedforms, or "rippled scour depressions," within the Martha's Vineyard Coastal Observatory. Cont Shelf Res 25:461–484

Goldenberg SB, Landsea CW, Mestas-Nunez AM, Gray WM (2001) The recent increase in Atlantic hurricane activity: causes and implications. Science 293:474–479

Gray WM (1984) Atlantic seasonal hurricane frequency. Part I: El Nino and the 30 mb quasi-biennial oscillation influences. Mon Weather Rev 112:1649–1668

Gutowski WJ, McMahon GF, Schlucter SS, Kirshen PH (1994) Effects of global warming on hurricane induced flooding. J Water Res Planning and Mgmt 120:176–185

Haarsma RJ, Mitchell JFB, Senior CA (1993) Tropical disturbances in a GCM. Clim Dyn 8:247–257

Hall JW, Sayers PB, Walkden MJA, Panzeri M (2006) Impacts of climate change on coastal flood risk in England and Wales: 2030–2100. Phil Trans Roy Soc A 364:1027–1049

Hallermeier RJ (1981) A profile zonation for seasonal sand beaches from wave climate. Coast Eng 4:253–277

Hammar-Klose E, Thieler RE (2001) Coastal vulnerability to sea-level rise: a preliminary database for the U.S. Atlantic, Pacific and Gulf Coasts, USGS Digital Data Series, 68

Hartig EK, Gornitz V, Kolker A, Mushacke F, Fallon D (2002) Anthropogenic and climate change impacts on salt marshes of Jamaica Bay, New York City. Wetlands 22:71–89

Henderson-Sellers A et al (1998) Tropical cyclones and climate change: a post-IPCC assessment. Bull Am Meteorol Soc 79:19–38

Heyhoe K, Wake C et al (submitted) Quantifying the Regional Impacts of Global Climate Change: Evaluating AOGCM Simulations of Past and Future Trends in Temperature, Precipitation, and Atmospheric Circulation in the Northeast. U.S. Bulletin of the American Meteorological Society (submitted)

Hoefel F, Elgar S (2003) Wave-induced sediment transport and sandbar migration. Science 299:1885–1887

Houston J (1996) International tourism and US beaches. Shore Beach 64(3):27–35

Hsu T-J, Jenkins JT, Liu PL-F (2004) On two-phase sediment transport: sheet flow of massive particles. Proc Royal Soc Lond (A) 460:2223–2250

IIPLR/IRC (1995) Coastal exposure and community protection: hurricane Andrew's legacy. Insurance Institute for Property Loss Reduction/Insurance Resource Council, Boston, Massachusetts, p 48

IPCC (International Panel on Climate Change) (2007) Climate change 2007: the physical science basis. Cambridge University Press, New York

Kirshen PC, Watson C, Douglas E, Gontz, A, Lee J, Tian Y (2007). Coastal Flooding in the Northeastern United States due to Climate Change. Mitigation and Adaptation Strategies for Global Change (in press)

Knutson TR, Tuleya RE, Kurihara Y (1998) Simulated increase in hurricane intensities in a CO2-warmed climate. Science 279:1018–1020

Landsea CW (2001) Comment on "Changes in the rates of North Atlantic major hurricane activity during the 20th century". Geophys Res Lett 28(14):2871–2872

Leatherman SP, Zhang K, Douglas BC (2000) Sea level rise shown to drive coastal erosion. EOS Trans AGU 81:55–58

Lesser GR, Roelvink JA, van Kester TM, Stelling GS (2004) Development and validation of a three-dimensional morphological model. Coast Eng 51(8–9):883–915

Levitus S, Antonov JI, Boyer TP, Stephens C (2000) Warming of the world ocean. Science 287:2225–2229

Levitus S, Antonov JI, Wang J, Delworth TL, Dixon KW, Broccoli AJ (2001) Anthropogenic warming of the Earth's Climate system. Science 292:267–270

List JH, Farris AS (1999) Large-scale shoreline response to storms and fair weather. In: Krause NC, McDougal WG (eds) Coastal Sediments '99. ASCE, Long Island:1324–1338

List JH, Sallenger AH Jr, Hansen ME, Jaffe BE (1997) Accelerated relative sea-level rise and rapid coastal erosion: testing a causal relationship for the Louisiana barrier islands. Mar Geol 140(3–4):347–365

List JH, Farris AS, Sullivan C (2006) Reversing storm hotspots on sandy beaches: spatial and temporal characteristics. Mar Geol 226(3–4):261–279

Liu K, Fearn ML (2000) Reconstruction of prehistoric landfall frequencies of catastrophic hurricanes in northwestern Florida from lake sediment records. Quat Res 54:238–245

Mayer LA, Raymond R, Glang G , Huff L (2002) Resolving the ripples (and a mine); high-resolution multibeam survey of Martha's Vineyard ONR Mine Burial Program field area. Eos Trans AGU, 83(47)

Minsinger WE (1988) The 1938 Hurricane, an historical and pictorial summary. Blue Hill Observatory, Randolph Center, Vermont, p 128

Morris JT, Sundareshwar PV, Nietch CT, Kjerfve B, Cahoon DR (2002) Responses of coastal wetlands to rising sea level. Ecology 83(10):2869–2877

Mota Oliveira IB (1970) Natural flushing ability in tidal inlets. Proc. 12th Coastal Eng Conf ASCE 3:1827–1845

National Academy of Sciences (1999) Meeting research and education needs in coastal engineering. National Academy Press

NECIA (North East Climate Impact Assessment) (2006) Climate change in the US Northeast. A report of the Northeast climate impacts assessment. Union of Concerned Scientists, Cambridge, Massachusetts

Neumann CJ, Jarvinen BR, McAdie CJ, Elms JD (1993) Tropical cyclones of the North Atlantic Ocean, 1871–1992. NCDC/NHC Historical Climatology Series 6–2, 193 p

Nichols RL, Marston AF (1939) Shoreline] changes in Rhode Island produced by hurricane of September 21, 1938. Bull Geol Soc Am 50:1357–1370

Orson RA, Howes BL (1992) Salt marsh development studies at Waquoit Bay, Massachusetts: influence of geomorphology on long-term plant community structure. Estuar Coast Shelf Sci 35:453–471

Orson RA, Panageotou W, Leatherman SP (1985) Response of tidal salt marshes of the U.S. Atlantic and Gulf coasts to raising sea levels. J Coast Res 1(1):29–37

Overpeck JT, Otto-Bliesner B, Miller GH, Muhs DR, Alley RB, Kiehl JT (2006) Paleoclimatic evidence for future ice-sheet instability and rapid sea-level rise. Science 311:1747–1750

Paulsen CG (1940) Hurricane floods of September 1938. United States Geological Survey Water-Supply Paper 867, p 562

Peltier WR (1996) Global sea level rise and glacial isostatic adjustment: an analysis of data from the east coast of North America. Geophys Res Lett 23:717–720

Peltier WR, Jiang X (1997) Mantle viscosity, glacial isostatic adjustment and the eustatic level of the sea. Surv Geophys 18:239–277

Pendleton EC, Stevenson JC (1983) Investigations of marsh losses at Blackwater Refuge. Horn Point Environmental Laboratories, Center for Environmental and Estuarine Studies, University of Maryland, Cambridge, Maryland, p 151

Pielke RA, Landsea CW (1998) Normalized hurricane damages in the United States: 1925–95. Weather Forecast 13:621–631

Pilkey OH, Cooper JAG (2004) Society and Sea Level Rise. Science 303:1781–1782

Pilkey OH, Young RS, Riggs SR, Smith AW, Wu H, Pilkey WD (1993) The concept of shoreline profile equilibrium: a critical review. J Coastal Res 9:255–278

Pilkey OH, Young RS, Bush DM (2000) Sea level rise shown to drive coastal erosion; discussions and reply [modified]. Eos Trans AGU 81:436–437, 439–441

Rahmstorf S (2007) A semi-empirical approach to projecting future sea-level rise. Science 315:368–370

Redfield AC (1972) Development of a New England salt marsh. Ecol Monogr 42:201–237

Redfield AC, Miller AR (1957) Water levels accompanying Atlantic Coast hurricanes. Meteorol Monogr 2:1–22

Riggs SR (2004) Shoreline Erosion in North Carolina Estuaries. The Soundfront Series, North Carolina Sea Grant, Raleigh, North Carolina

Riggs SR, Cleary WJ, Snyder SW (1995) Influence of inherited geologic framework on barrier shoreface morphology and dynamics. Mar Geol 126:213–234

Roelvink JA (2006) Coastal morphodynamic evolution techniques. Coast Eng 53(2–3):277–287

Roman CT, Peck JA, Allen JR, King JW, Appleby PG (1997) Accretion of a New England (U.S.A.) salt marsh in response to inlet migration, storms, and sea-level rise. Estuar, Coast Shelf Sci 45:717–727

Ruppel C, Schultz G, Kruse S (2000) Anomalous freshwater lens morphology on a strip barrier island. Groundwater 38:872–881

Sallenger AH, Morton R, Fletcher C, Theiler ER, Howd P (2000) Comment on "Sea Level Rise Shown to Drive Coastal Erosion". Eos Trans AGU 81(38):436

Scileppi E, Donnelly JP (2007) Sedimentary evidence of hurricane strikes in western Long Island, New York, Geochem. Geophys. Geosyst., 8, Q06011, DOI 10.1029/2006GC001463

Slott JM, Murray AB, Ashton AD, Crowley TJ (2006) Coastline responses to changing storm patterns. Geophys. Res. Lett., 33, 33(L18404): DOI 10.1029/2006GL027445

Snow ER (1943) Great storms and famous shipwrecks of the New England coast. Yankee Publishing, Boston, Massachusetts, p 338

Stive MJF, de Vriend HJ (1995) Modelling shoreface profile evolution. Mar Geol 126(1–4):235–248

Tebbens SF, Burroughs SM, Nelson EE (2001) Wavelet analysis of shoreline change on the Outer Banks of North Carolina: an example of complexity in the marine sciences. PNAS 99(suppl. 1):2554–2560

The Heinz Center (THC) (2000) Evaluation of erosion hazards. The H. John Heinz III Center for Science, Economics, and the Environment, Washington D.C., pp 111–182

Theiler ER, Pilkey OH, Cleary WJ, Schwab WC (2001) Modern Sedimentation on the Shoreface and Inner Continental Shelf at Wrightsville Beach, North Carolina, U.S.A. J Sediment Res 71(6):958–970

Thornton EB, Humiston T, Birkemeier W (1996) Bar/Tough generation on a natural beach. J Geophys Res 101:12097–12110

Titus JG, Park RA, Leatherman SP, Weggel JR, Greene MS, Mausel PW, Brown S, Gaunt G, Trehan M, Yohe G (1992) Greenhouse effect and sealevel rise: the cost of holding back the sea. Coast Manage 19:219–233

Traykovski P, Hay AE, Irish JD, Lynch JF (1999) Geometry, migration and evolution of wave orbital ripples at LEO-15. J Geophys Res 104:1505–1524

Trowbridge JH, Young D (1989) Sand transport by unbroken water waves under sheet flow conditions. J Geophys Res 94:10971–10991

Valvo LM, Murray AB, Ashton AD (2006) How Does Underlying Geology Affect Coastline Change? An Initial Modeling Investigation. Journal of Geophysical Research-Earth surface, 111, F02025, DOI 10.1029/2005JF000340

van de Kreeke J (1998) Adaptation of the Frisian Inlet to a reduction in basin area with special reference to the cross-sectional area of the inlet channel. In: Dronkers J, Scheffers M (eds) Physics of estuaries and coastal seas, pp 355–362

Van Goor MA, Zitman TJ, Wang ZB, Stive MJF (2003) Impact of sea level rise on the morphological equilibrium state of tidal inlets. Mar Geol 202:211–227

Warren, RS, Nehring WA (1993) Vegetation change on a Northeast tidal marsh: interaction of sea-level rise and marsh accretion. Ecology 74:96–103

Webster PJ, Holland GJ, Curry JA, Chang H-R (2005) Changes in Tropical Cyclone Number, Duration, and Intensity in a Warming Environment. Science, 309(5742): 1844–1846, DOI 10.1126/science.1116448

Wilby FB, Young GR, Cunningham CH, Lieber Jr AC, Hale RK, Saville T, O'Brien MP (1939) Inspection of beaches in path of the hurricane of September 21, 1938. Shore Beach 7:43–47

Wood FG (ed) (2001) Tidal Dynamics, Vol II: Extreme Tidal Peaks and Coastal Flooding. Coastal Education & Research Foundation, Journal of Coastal Research Special Issue #31, Allen Press, Lawrence, Kanseas

Yohe G, Neumann JE, Marshall P, Ameden H (1996) The economic cost of greenhouse-induced sea-level rise for developed property in the United States. Clim Change 32:387–410

Yohe G, Neumann JE, Marshall P (1999) The economic damage induced by sea level rise in the United States. In: Mendelsohn R, Neumann JE (eds) The impact of climate change on the United States economy. Cambridge University Press, New York, 178–208

Zhang K, Douglas B, Leatherman SP (2004) Global warming and coastal erosion. Clim Change 64(1–2):41–58
Acknowledgements
Portions of this paper have been distilled from an earlier report from a workshop held at WHOI in 2004. Many people contributed to that workshop report and we would like to particularly acknowledge the contributions of Ilya Buynevich, Liviu Giosan, Duncan FitzGerald, Jeff List, Porter Hoagland and Roger Flood. This paper was originally prepared for the Northeast Climate Impacts Assessment, Union of Concerned Scientists.
About this article
Cite this article
Ashton, A.D., Donnelly, J.P. & Evans, R.L. A discussion of the potential impacts of climate change on the shorelines of the Northeastern USA. Mitig Adapt Strateg Glob Change 13, 719–743 (2008). https://doi.org/10.1007/s11027-007-9124-3
Received:

Accepted:

Published:

Issue Date:
Keywords
Climate change

Sea-level rise

Northeastern US

Coastal vulnerability

Coastal hazards

Hurricane impacts

Bruun rule

Coastal monitoring