Abstract
This paper critiques the so-called "Green Revolution" as a political myth of averted famine. A "political myth," among other functions, reflects a narrative structure that characterizes understandings of causality between policy action and outcome. As such, the details of a particular political myth elevate certain policy options (and families of policy options) over others. One important narrative strand of the political myths of the Green Revolution is a story of averted famine: in the 1950s and 1960s, scientists predicted a global crisis to emerge in the 1970s and beyond, created by a rapidly growing global population that would cause global famine as food supplies would not keep up with demand. The narrative posits that an intense period of technological innovation in agricultural productivity led to increasing crop yields which led to more food being produced, and the predicted crisis thus being averted. The fact that the world did not experience a global famine in the 1970s is cited as evidence in support of the narrative. Political myths need not necessarily be supported by evidence, but to the extent that they shape understandings of cause and effect in policymaking, political myths which are not grounded in evidence risk misleading policymakers and the public. We argue a political myth of the Green Revolution focused on averted famine is not well grounded in evidence and thus has potential to mislead to the extent it guides thinking and action related to technological innovation. We recommend an alternative narrative: The Green Evolution, in which sustainable improvements in agricultural productivity did not necessarily avert a global famine, but nonetheless profoundly shaped the modern world. More broadly, we argue that one of the key functions of the practice of technology assessment is to critique and to help create the political myths that preserve an evidence-grounded basis for connecting the cause and effect of policy action and practical outcomes.
Access options
Buy single article
Instant access to the full article PDF.
USD 39.95
Price excludes VAT (USA)
Tax calculation will be finalised during checkout.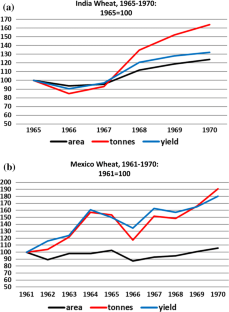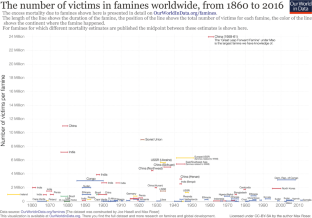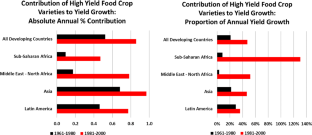 Notes
www.google.com, search terms "new Green Revolution" and "second Green Revolution", 13 March 2019.

www.google.com, search terms "Green Revolution in Mexico" and "Green Revolution in India," 2016.08.29.

This analysis was inspired by Falcon (1970, footnote 9).

We are far from the first to recommend this characterization. Falcon (1970), the earliest reference that we have found, attributes the notion of "green evolution" to Morton Grossman. That symbolization did not catch on, but we nevertheless recommend it here.

Again, severe and wide spread malnutrition in many areas of the world in the 1960s (and before and since) is well substantiated. But evidence points to multiple sources of food insecurity, such as inadequate transport and storage, conflicts, and lack of purchasing power (Drèze and Sen 1990; FAO and WFP 2018).
References
Ahlberg, Kristin L. 2008. Transplanting the Great Society: Lyndon Johnson and Food for Peace. Columbia, MO: University of Missouri Press.

Bottici, Chiara, and Benoit Challand. 2006. Rethinking political myth: The clash of civilizations as a self-fulfilling prophecy. European Journal of Social Theory 9: 315–336.

Brunner, Ronald D. 1987. Key political symbols: the dissociation process. Policy Sciences 20: 53–76.

Brunner, Ronald D. 1994. Myth and American politics. Policy Sciences 27: 1–18.

Burnier, Delysa. 1994. Constructing political reality: Language, symbols, and meaning in politics: A review essay. Political Research Quarterly 47: 239–253.

Clark, Tim W. 2002. The policy process: A practical guide for natural resources professionals. New Haven, CT: Yale University Press.

Connelly, Matthew James. 2008. Fatal misconception: the struggle to control world population. Cambridge, MA: Harvard University Press.

Conway, Gordon. 1997. The Double Green Revolution: Food for All in the Twenty-First Century. London: Penguin.

Cullather, Nick. 2010. The Hungry World: America's Cold War Battle against Poverty in Asia. Cambridge, MA: Harvard University Press.

Daly, Herman E. 1991. Steady State Economics. Washington, DC: Island Press.

Dorward, Andrew, Shenggen Fan, Jonathan Kydd, Hans Lofgren, Jamie Morrison, Colin Poulton, et al. 2004. Institutions and policies for pro-poor agricultural growth. Development Policy Review 2: 611–622.

Dreze, Jean, and Amartya Sen. 1989. Hunger and public action. Oxford: Oxford University Press on Demand.

Drèze, Jean, and Amartya Sen (eds.). 1990. The Political Economy of Hunger I–III. Oxford: Clarendon Press.

Ehrlich, Paul. 1968. The population bomb. New York: Nallentine.

Elder, Charles D., and Roger W. Cobb. 1983. The political uses of symbols. New York: Longman Publishing.

Evenson, Robert E., and Douglas Gollin. 2003. Assessing the impact of the Green Revolution, 1960 to 2000. Science 300: 758–762.

Falcon, Walter P. 1970. The green revolution: Generations of problems. American Journal of Agricultural Economics 52: 698–710.

FAO. 1946. World Food Survey. Washington DC: UN Food and Agricultural Organization.

Fitzgerald, Deborah. 1986. Exporting American Agriculture: The Rockefeller Foundation in Mexico, 1943–53. Social Studies of Sciences 16: 457–483.

Flood, Christopher. 2002. Political Myth. London: Routledge.

Friedrichs, Jörg. 2014. Who's Afraid of Thomas Malthus? In Understanding Society and Natural Resources, eds. Michael Manfredo et al., 67–92. Dordrecht: Springer.

Gaud, William. S. 1968. The Green Revolution: Accomplishments and Apprehensions. The Society for International Development, Washington, DC March 8, 1968. http://www.agbioworld.org/biotech-info/topics/borlaug/borlaug-green.html. Accessed 1 Nov 2013.

FAO and WFP (2018). Monitoring food security in countries with conflict situations. A joint FAO/WFP update for the United Nations Security Council. United Nations Agricultural Programme and the World Food Programme. Issue 3. http://www.fao.org/3/I8386EN/i8386en.pdf. Accessed 15 Dec 2018.

Geertz, Clifford. 1993. Religion as a cultural system. The interpretation of culture: selected essays. London: Fontana Press.

Gollin, Douglas. 2006. Impacts of international research on intertemporal yield stability in wheat and maize: An economic assessment. Mexico, DF: CIMMYT.

Gunnell, John G. 1968. Social science and political reality: The problem of explanation. Social Research 35: 159–201.

Hardin, G. 1968. The tragedy of the commons. Science 162: 1243–1248.

Harwood, Jonathan. 2009. Peasant Friendly Plant Breeding and the Early Years of the Green Revolution in Mexico. Agricultural History 83: 384–410.

Huxley, J. 1964. Essays of a Humanist. London: Chatto and Windus.

Kumar, Kanikicharla Krishna, Kolli Rupa Kumar, Raghavendra Ashrit, Nayana Deshpand, and James William Hansen. 2004. Climate impacts on Indian agriculture. International Journal of Climatology 24(11): 1375–1393.

Harré, Rom, Jens Brockmeier, and Peter Mühlhäusler. 1999. Greenspeak. A study of environmental discourse. Thousand Oaks: Sage.

Hasell, Joe, and Max Roser. 2017. Famines. Published online at OurWorldInData.org. Retrieved from: https://ourworldindata.org/famines/. Accessed 15 Jan 2018.

Holdren, John. 1974. Testimony, "Domestic Supply Information Act" held by the Committee on Commerce and Committee on Government Operations (Serial No. 93-107).

Hulme, Mike. 2009. Why we disagree about climate change: Understanding controversy, inaction and opportunity. Cambridge: Cambridge University Press.

Lasswell, Harold, and A. Kaplan. 1950. Power and society. New York: Routledge.

Lasswell, Harold D., Daniel Lerner, and Ithiel Sola de Pool. 1952. Comparative study of symbols: An introduction. Stanford, CA: Stanford University Press.

Leffler, Melvyn P. 1992. A Preponderance of Power: National Security, the Truman Administration and the Cold War. Stanford, CA: Stanford University Press.

Levenstein, Harvey. 2003. Paradox of plenty: A social history of eating in modern America, vol. 8. Berkeley: University of California Press.

Linnér, Björn-Ola. 2003. The return of Malthus: Environmentalism and post-war population-resource crises. Cambridge: White Horse Press.

Maharatna, Arup. 1992. The demography of Indian famines: A historical perspective (Doctoral dissertation). London: London School of Economics and Political Science.

McCoullough, David. 1992. Truman. New York: Simon & Schuster.

McNeill, John R. 2000. Something new under the sun: An environmental history of the twentieth-century world. New York: W.W. Norton & Company.

New York Times. 1948. Population Outgrows Food, Scientists Warn the World. 15 September, p. 1.

Otero, Gerardo, and Gabriella Pechlaner. 2008. Latin American agriculture, food, and biotechnology: Temperate dietary pattern adoption and unsustainability. Austin: University of Texas Press.

Parthasarathy, B., A.A. Munot, and D.R. Kothawale. 1988. Regression model for estimation of Indian foodgrain production from summer monsoon rainfall. Agricultural and Forest Meteorology 42: 167–182.

Patel, Raj. 2013. The long green revolution. The Journal of Peasant Studies 40: 1–63.

Perkins, John H. 1997. Geopolitics and the green revolution: Wheat, genes, and the Cold War. Oxford: Oxford University Press.

Pielke Jr., Roger. 2007. The honest broker: Making sense of science in policy and politics. Cambridge: Cambridge University Press.

Pielke Jr., Roger A. 2012. Basic Research as a Political Symbol. Minerva 50(3): 339–361.

Pinstrup-Andersen, Per, and Peter B. Hazell. 1985. The impact of the Green Revolution and prospects for the future. Food Reviews International 1: 1–25.

Poleman, T. 1975. World food: A perspective. Science 188: 561–568.

Public Papers of the Presidents of the United States. 1964. Harry S. Truman: Containing the Public Messages, Speeches, and Statements of the President, 1949. Washington: United States Printing Office.

Rosset, Peter, Joseph Collins, and Frances Lappé. 2000. Lessons from the Green Revolution. Third World Resurgence 15: 11–14.

Sapir, E. 1934. Symbolism. In Encyclopaedia of the social sciences, 492–495. New York: Macmillan.

Shenker, Israel. 1970. 'Green Revolution' has sharply increased grain yields but may cause problems. New York Times.

Shiva, Vandana. 2016. The violence of the green revolution: Third world agriculture, ecology, and politics. Lexington: University Press of Kentucky.

Smith, Harrison. 1948. The saturday review of literature, August 21, p. 20.

Stilgoe, Jack. 2018. Machine learning, social learning and the governance of self-driving cars. Social Studies of Science 48: 25–56.

Sullivan, Walter. 1966. Scientists warn on famine peril. New York Times, April 26, 1966, p. 13.

Thakur, Baleshwar, V.N.P. Sinha, M. Prasad, M. Sharma, R. Pratap, R.B. Mandal, and R.B.P. Singh (eds.). 2005. Urban and Regional Development in India. New Delhi: Concept Publishing.

USDA. 1961. The World Food Budget, 1962 and 1966. Washington DC: USDA Economic Research Service, Foreign Regional Analysis Division.

Wagar, Warren W. 1982. Terminal Visions: The Literature of Last Things. Bloomington: Indiana University Press.

Woods, Randall Bennett, and Howard Jones. 1991. Dawning of the Cold War: The United States' Quest for Order. Athens, GA: University of Georgia Press.

Zachary, G. Pascal. 2018. Endless frontier: Vannevar Bush, engineer of the American century. New York: Simon & Schuster.
Acknowledgments
This paper had an usually long gestation period and we are thankful to many for patience in its completion. We are very grateful to Linköping University for supporting an extended faculty visit of RP and to CIRES at the University of Colorado for supporting an extended faculty visit of B-OL. No other funding supported this work. The paper has been improved by the comments of numerous colleagues over the past years. An earlier version of this analysis was presented as a keynote lecture at the 2015 PACITA conference in Berlin. The paper is also a deliverable within the Mistra Geopolitics Research Programme: Sustainable development in a changing geopolitical era (Mistra DIA 2016/11 #5). The authors declare no conflicts of interest.
Additional information
Publisher's Note
Springer Nature remains neutral with regard to jurisdictional claims in published maps and institutional affiliations.
About this article
Cite this article
Pielke, R., Linnér, BO. From Green Revolution to Green Evolution: A Critique of the Political Myth of Averted Famine. Minerva 57, 265–291 (2019). https://doi.org/10.1007/s11024-019-09372-7
Published:

Issue Date:

DOI: https://doi.org/10.1007/s11024-019-09372-7
Keywords
Green revolution

Political myth

Technology assessment