Abstract
We extend previous research by systematically investigating whether perceptions of scientific authorship vary between domains. Employing regulations for authorship of scientific journals as well as the Scientists Survey 2016 conducted by the German Centre for Higher Education Research and Science Studies (DZHW), we provide a comprehensive picture of perceptions of scientific authorship across domains from the perspective of the supply side (journals) as well as the demand side (researchers). We find considerable differences in the perception of authorship across disciplines on both sides. Hence, not only domain-specific "formal norms," but also domain-specific statements about ideals can be observed with regard to scientific authorship. The results have important implications: in order to avoid that researchers in disciplines with much narrower definitions of authorship are disadvantaged when compared to their colleagues from disciplines that rely on broader authorship definitions, domain-specific perceptions of authorship should be taken into account when allocating funding and jobs.
This is a preview of subscription content, log in to check access.
Access options
Buy single article
Instant access to the full article PDF.
US$ 39.95
Price includes VAT for USA
Subscribe to journal
Immediate online access to all issues from 2019. Subscription will auto renew annually.
US$ 99
This is the net price. Taxes to be calculated in checkout.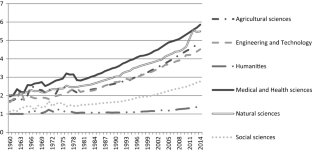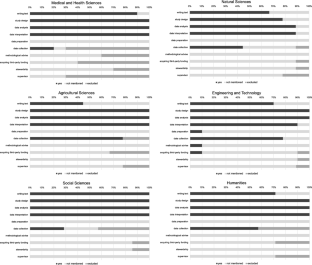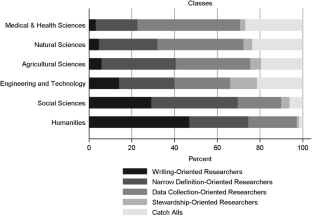 Notes
1.

We build on previous studies that analyze the development of the number of co-authors by looking at the mean number of authors per paper. One might argue that the mean may be distorted by hyper-authorship publications occurring first and foremost in the Natural Sciences. Therefore, looking at the median instead might be the better choice. However, analyzing the median number of authors per paper lead to similar results.

2.

For example, studies conducted by professional medical writing companies that recruit academics with a high reputation as alleged authors.

3.

Please note that co-authorship practices may not only vary between domains, but also between publication types (e.g., articles, book chapters) within the same domain, even though to a smaller degree.

4.

The FOS provides 42 minor fields such as Psychology and Medical Engineering within the major fields. However, we will only use the major field classification in this study as case numbers are too low for using the more detailed minor field classification.

5.

Journals with a high impact factor often publish reviews that get on average more citations than research articles (Mayuru and Mabe 2000). In addition, the classification of disciplines often groups minor fields together that have different publication patterns – this explains why five Social Science journals are from the field of Psychology. However, this overview is intended to be non-exhaustive and should serve illustrative purposes by using major journals.

6.

We use the following Web of Science databases for the analyses: Science Citation Index Expanded, Social Sciences Citation Index, and Arts & Humanities Citation Index.

7.

Journals can be assigned to more than one discipline by the Web of Science. In case a journal was picked for more than one discipline, we randomly assigned it to one of the disciplines and selected a new journal from the set. This was the case for "Advanced Energy Materials" which classifies as an interdisciplinary journal for the Natural Sciences as well as Engineering and Technology.

8.

We used Mplus 6 to run LCA (Muthén and Muthén 1998–2010).
References
Aad, G., et al. 2015. Combined Measurement of the Higgs Boson Mass in pp Collisions at s√=7 and 8 TeV with the ATLAS and CMS Experiments. Phys. Rev. Lett. 114: 191803.

Adler, Robert, John Ewing, and Peter Taylor. 2009. Citation Statistics. Statistical Science 24(1): 1–14. https://doi.org/10.1214/09-STS285.

American Sociological Association. 1999. Code of Ethics and Policies and Procedures of the ASA Committee on Professional Ethics. http://www.asanet.org/images/asa/docs/pdf/CodeofEthics.pdf.

Auranen, Otto, and Mika Nieminen. 2010. University research funding and publication performance—An international comparison. Research Policy 39(6): 822–834. https://doi.org/10.1016/j.respol.2010.03.003.

Becher, Tony. 1994. The significance of disciplinary differences. Studies in Higher Education 19(2): 151–161. https://doi.org/10.1080/03075079412331382007.

Bennett, Dianne M., and David McD Taylor. 2003. Unethical practices in authorship of scientific papers. Emergency Medicine 15(3): 263–270. https://doi.org/10.1046/j.1442-2026.2003.00432.x.

Bently, Lionel, and Laura Biron. 2014. Discontinuities between legal conceptions of authorship and social practices: What, if anything, is to be done? In The work of authorship, ed. Mireille van Eechoud, 237–276. Amsterdam: Amsterdam University Press.

Biagioli, Mario. 1998. The Instability of Authorship: Credit and Responsibility in Contemporary Biomedicine. The FASEB Journal 12(1): 3–16.

Biagioli, Mario. 2003. Rights or rewards? Changing frameworks of scientific authorship. In Scientific authorship: credit and intellectual property in science, eds. Mario Biagioli, and Peter Louis Galison, 253–281. New York, Abingdon: Routledge.

Birnholtz, Jeremy P. 2006. What does it mean to be an author?: The intersection of credit, contribution, and collaboration in science. Journal of the American Society for Information Science and Technology 57(13): 1758–1770. https://doi.org/10.1002/asi.20380.

Böhmer, Susan, Jörg Neufeld, Sybille Hinze, Christian Klode, and Stefan Hornbostel. 2011. Wissenschaftler-Befragung 2010: Forschungsbedingungen von Professorinnen und Professoren an deutschen Universitäten. iFQ-Working Paper (8).

Bošnjak, Lana, and Ana Marušić. 2012. Prescribed practices of authorship: Review of codes of ethics from professional bodies and journal guidelines across disciplines. Scientometrics 93(3): 751–763. https://doi.org/10.1007/s11192-012-0773-y.

Bourdieu, Pierre. 1975. The specificity of the scientific field and the social conditions of the progress of reason. Information (International Social Science Council) 14(6): 19–47. https://doi.org/10.1177/053901847501400602.

Claxton, Larry D. 2005. Scientific authorship. Part 1. A window into scientific fraud? Mutation research 589(1): 17–30. https://doi.org/10.1016/j.mrrev.2004.07.003.

Clement, T. Prabhakar. 2014. Authorship matrix: A rational approach to quantify individual contributions and responsibilities in multi-author scientific articles. Science and Engineering Ethics 20(2): 345–361. https://doi.org/10.1007/s11948-013-9454-3.

Cronin, Blaise. 2005. The hand of science. Academic writing and its rewards. Lanham, MD: Scarecrow Press.

Cunningham, Sally Jo, and S.M. Dillon. 1997. Authorship patterns in information systems. Scientometrics 39(1): 19–27. https://doi.org/10.1007/BF02457428.

CWTS Leiden Ranking. 2016. Indicators. http://www.leidenranking.com/information/indicators.

Dance, Amber. 2012. Authorship: Who's on first? Nature 489(7417): 591–593. https://doi.org/10.1038/nj7417-591a.

De Solla Price, Derek John. 1986. Little Science, big science … and beyond. New York: Columbia University Press

Deutsche Forschungsgemeinschaft. 2013. Vorschläge zur Sicherung guter wissenschaftlicher Praxis. Denkschrift. Empfehlungen der Kommission "Selbstkontrolle in der Wissenschaft", 2nd edn.

Elsevier. 2015. Ethics in Research & Publication: FACTSHEET: Authorship. https://www.publishingcampus.elsevier.com/pages/154/Colleges/College-of-Skills-Training/Resources-for-Skills-Training/Quick-Guides-and-Downloads.html.

Engels, Tim C.E., Truyken L.B. Ossenblok, and Eric H.J. Spruyt. 2012. Changing publication patterns in the Social Sciences and Humanities, 2000–2009. Scientometrics 93(2): 373–390. https://doi.org/10.1007/s11192-012-0680-2.

Flanagin, Annette, Lisa A. Carey, Phil B. Fontanarosa, Stephanie G. Phillips, Brian P. Pace, George D. Lundberg, and Drummond Rennie. 1998. Prevalence of Articles With Honorary Authors and Ghost Authors in Peer-Reviewed Medical Journals. JAMA 280(3): 222. https://doi.org/10.1001/jama.280.3.222.

Geiser, Christian. 2011. Datenanalyse mit Mplus. Eine anwendungsorientierte Einführung, 2nd ed. Wiesbaden: VS Verlag für Sozialwissenschaften / Springer Fachmedien Wiesbaden GmbH Wiesbaden.

Glänzel, Wolfgang. 2002. Co-authorship patterns and trends in the sciences (1980-1998). A bibliometric study with implications for database indexing and search strategies. Library Trends 50: 461–473.

Goodman, Neville W. 1994. Survey of fulfilment of criteria for authorship in published medical research. BMJ 309(6967): 1482. https://doi.org/10.1136/bmj.309.6967.1482.

Haeussler, Carolin, and Henry Sauermann. 2013. Credit where credit is due?: The impact of project contributions and social factors on authorship and inventorship. Research Policy 42(3): 688–703. https://doi.org/10.1016/j.respol.2012.09.009.

Hanmer, Michael J., and Kerem Ozan Kalkan. 2013. Behind the Curve: Clarifying the Best Approach to Calculating Predicted Probabilities and Marginal Effects from Limited Dependent Variable Models. American Journal of Political Science 57(1): 263–277. https://doi.org/10.1111/j.1540-5907.2012.00602.x.

Havemann, Frank. 2009. Einführung in die Bibliometrie. Berlin: Gesellschaft für Wissenschaftsforschung e.V; Inst. für Bibliotheks- und Informationswiss. der Humboldt-Univ.

Hudson, John. 1996. Trends in Multi-Authored Papers in Economics. The Journal of Economic Perspectives 10(3): 153–158.

Hwang, Seong Su, Hae Hiang Song, Jun Hyun Baik, So Lyung Jung, Seog Hee Park, Kyu Ho Choi, and Young Ha Park. 2003. Researcher contributions and fulfillment of ICMJE authorship criteria: analysis of author contribution lists in research articles with multiple authors published in radiology. International Committee of Medical Journal Editors Radiology 226(1): 16–23. https://doi.org/10.1148/radiol.2261011255.

Igou, Eric R., and Wijnand A.P. van Tilburg. 2015. Ahead of others in the authorship order: names with middle initials appear earlier in author lists of academic articles in psychology. Frontiers in Psychology 6: 469. https://doi.org/10.3389/fpsyg.2015.00469.

Jabbehdari, Sahra, and John P. Walsh. 2017. Authorship Norms and Project Structures in Science. Science, Technology, & Human Values 280(3): 1–29. https://doi.org/10.1177/0162243917697192.

Jiménez-Contreras, Evaristo, Félix de Moya, and Emilio Delgado López-Cózar. 2003. The evolution of research activity in Spain. Research Policy 32(1): 123–142. https://doi.org/10.1016/S0048-7333(02)00008-2.

Johann, David, and Jörg Neufeld. 2016. Performance-based allocation of funds, pressure to publish and publication strategies. Paper prepared for presentation at the 4S/EASST Conference, Barcelona.

Jones, Benjamin F., Stefan Wuchty, and Brian Uzzi. 2008. Multi-university research teams: shifting impact, geography, and stratification in science. Science (New York, N.Y.) 322(5905): 1259–1262. https://doi.org/10.1126/science.1158357.

Katz, J. Sylvan, and Ben R. Martin. 1997. What is research collaboration? Research Policy 26(1): 1–18. https://doi.org/10.1016/S0048-7333(96)00917-1.

Kuther, T.L. 2008. Surviving graduate school in psychology: A pocket mentor. Washington, DC: American Psychological Association.

Kwok, L.S. 2005. The White Bull effect: Abusive coauthorship and publication parasitism. Journal of Medical Ethics 31(9): 554–556. https://doi.org/10.1136/jme.2004.010553.

Larivière, Vincent, Nadine Desrochers, Benoît Macaluso, Philippe Mongeon, Adèle Paul-Hus, and Cassidy R. Sugimoto. 2016. Contributorship and division of labor in knowledge production. Social Studies of Science 46(3): 417–435. https://doi.org/10.1177/0306312716650046.

Laudel, Grit. 2002. What do we measure by co-authorships? Research Evaluation 11(1): 3–15. https://doi.org/10.3152/147154402781776961.

Lee, S., and Barry Bozeman. 2005. The Impact of Research Collaboration on Scientific Productivity. Social Studies of Science 35(5): 673–702.

Levsky, Marc E., Alex Rosin, Troy P. Coon, William L. Enslow, and Michael A. Miller. 2007. A descriptive analysis of authorship within medical journals, 1995-2005. Southern Medical Journal 100(4): 371–375.

Leydesdorff, Loet, Han Woo Park, and Caroline Wagner. 2014. International coauthorship relations in the Social Sciences Citation Index: Is internationalization leading the Network? Journal of the Association for Information Science & Technology 65(10): 2111–2126.

Liefner, Ingo. 2003. Funding, resource allocation, and performance in higher education systems. Higher Education 46(4): 469–489. https://doi.org/10.1023/A:1027381906977.

Lissoni, Francesco, Fabio Montobbio, and Lorenzo Zirulia. 2013. Inventorship and authorship as attribution rights: An enquiry into the economics of scientific credit. Journal of Economic Behavior & Organization 95: 49–69. https://doi.org/10.1016/j.jebo.2013.08.016.

Logdberg, Linda. 2011. Being the ghost in the machine: a medical ghostwriter's personal view. PLoS Medicine 8(8): e1001071. https://doi.org/10.1371/journal.pmed.1001071.

Malički, Mario, Ana Jerončić, Matko Marušić, and Ana Marušić. 2012. Why do you think you should be the author on this manuscript? Analysis of open-ended responses of authors in a general medical journal. BMC Medical Research Methodology 12: 189. https://doi.org/10.1186/1471-2288-12-189.

Marušić, Ana, Tamara Bates, Ante Anić, and Matko Marušić. 2006. How the structure of contribution disclosure statements affects validity of authorship: A randomized study in a general medical journal. Current Medical Research and Opinion 22(6): 1035–1044. https://doi.org/10.1185/030079906X104885.

Marušić, Ana, Lana Bošnjak, and Ana Jerončić. 2011. A systematic review of research on the meaning, ethics and practices of authorship across scholarly disciplines. PloS One 6(9): e23477. https://doi.org/10.1371/journal.pone.0023477.

Mayer, Sabrina Jasmin. 2016. Trends and developments in authorship patterns in five Social Science disciplines from 1991 to 2014. Proceedings of the 21 st international conference on science and technology indicators.

Mayuru, Amin, and Michael Mabe. 2000. Impact factors: use and abuse. Perspectives in Publishing 1(1): 1–6.

Merton, Robert K. 1988. The Matthew Effect in Science, II: Cumulative Advantage and the Symbolism of Intellectual Property. Isis 79(4): 606–623.

Muthén, Linda K., and Bengt O. Muthén. 1998–2010. Mplus User's Guide. Sixth Edition. Los Angeles, CA: Muthén & Muthén.

Nature. 2009. Authorship policies. Nature 458: 1078. https://doi.org/10.1038/4581078a.

Neufeld, Jörg, and David Johann. 2018a. Wissenschaftlerbefragung 2016 - Datensatz. Hannover/Berlin: DZHW.

Neufeld, Jörg, and David Johann. 2018b. Wissenschaftlerbefragung 2016 - Methodenbeschreibung und Fragebogen. Hannover/Berlin: DZHW.

Ponomariov, Branco, and Craig Boardman. 2016. What is co-authorship? Scientometrics 109(3): 1939–1963. https://doi.org/10.1007/s11192-016-2127-7.

Rahman, Mohammad Tariqur, Joe Mac Regenstein, Noor Lide Abu Kassim, and Nazmul Haque. 2017. The need to quantify authors' relative intellectual contributions in a multi-author paper. Journal of Informetrics 11(1): 275–281. https://doi.org/10.1016/j.joi.2017.01.002.

Resnik, David B., Shyamal Peddada, and J.R. Winnon Brunson. 2009. Research misconduct policies of scientific journals. Accountability in Research 16(5): 254–267. https://doi.org/10.1080/08989620903190299.

Riesenweber, Christina. 2014. Reputation, Wahrheit und Blind Peer Review. Eine systemtheoretische Perspektive auf anonymisierte Autorschaft als Qualitätssicherungsstandard der Wissenschaften. In Theorien und Praktiken der Autorschaft, eds. Matthias Schaffrick and Marcus Willand, 595–614. spectrum Literaturwissenschaft / spectrum Literature, vol. 47. Berlin: De Gruyter.

She Figures 2012. 2013. Gender in Research and Innovation. EUR, vol. 25617. Luxembourg: Publ. Off. of the Europ. Union.

Sin, Sei-Ching Joanna. 2011. International coauthorship and citation impact: A bibliometric study of six LIS journals, 1980–2008. Journal of the American Society for Information Science and Technology 62(9): 1770–1783. https://doi.org/10.1002/asi.21572.

Smith, Richard. 2012. Let's simply scrap authorship and move to contributorship. BMJ (Clinical Research ed.) 344: e157. https://doi.org/10.1136/bmj.e157.

Šupak-Smolčić, Vesna, Ana Mlinarić, Dragana Antončić, Martina Horvat, Jelena Omazić, and Ana-Maria Šimundić. 2015. ICMJE authorship criteria are not met in a substantial proportion of manuscripts submitted to Biochemia Medica. Biochemia Medica 25(3): 324–334. https://doi.org/10.11613/BM.2015.033.

Taylor, Mike, and Gudmundur A. Thorisson. 2012. Fixing authorship – towards a practical model of contributorship. Research Trends (31).

Teixeira da Silva, Jaime A., and Judit Dobránszki. 2015. Multiple Authorship in Scientific Manuscripts: Ethical Challenges, Ghost and Guest/Gift Authorship, and the Cultural/Disciplinary Perspective. Science and Engineering Ethics: 1–16. https://doi.org/10.1007/s11948-015-9716-3.

Teixeira da Silva, Jaime A. 2011. The ethics of collaborative authorship. More realistic standards and better accountability are needed to enhance scientific publication and give credit where it is due. EMBO Reports 12(9): 889–893. https://doi.org/10.1038/embor.2011.161.

Teixeira da Silva, Jaime A., and Judit Dobranszki. 2016. Multiple Authorship in Scientific Manuscripts: Ethical Challenges, Ghost and Guest/Gift Authorship, and the Cultural/Disciplinary Perspective. Science and Engineering Ethics 22(5): 1457–1472. https://doi.org/10.1007/s11948-015-9716-3.

The PLoS Medicine Editors. 2009. Ghostwriting: the dirty little secret of medical publishing that just got bigger. PLoS Medicine 6(9): e1000156. https://doi.org/10.1371/journal.pmed.1000156.

Tscharntke, Teja, Michael E. Hochberg, Tatyana A. Rand, Vincent H. Resh, and Jochen Krauss. 2007. Author sequence and credit for contributions in multiauthored publications. PLoS Biology 5(1): e18. https://doi.org/10.1371/journal.pbio.0050018.

Wager, Elizabeth. 2007a. Authors, ghosts, damned lies, and statisticians. PLoS Medicine 4(1): e34. https://doi.org/10.1371/journal.pmed.0040034.

Wager, Elizabeth. 2007b. Do medical journals provide clear and consistent guidelines on authorship? MedGenMed : Medscape General Medicine 9(3): 16.

Walters, Glenn D. 2015. Measuring the quantity and quality of scholarly productivity in criminology and criminal justice: A test of three integrated models. Scientometrics 102(3): 2011–2022. https://doi.org/10.1007/s11192-014-1496-z.

Waltman, Ludo. 2012. An empirical analysis of the use of alphabetical authorship in scientific publishing. Journal of Informetrics 6(4): 700–711. https://doi.org/10.1016/j.joi.2012.07.008.

Waltman, Ludo. 2015. Citation impact indicators review. http://arxiv.org/abs/1507.02099. Accessed 5 January 2016.

Waltman, Ludo, and Nees Jan van Eck. 2015. Field-normalized citation impact indicators and the choice of an appropriate counting method. Journal of Informetrics 9(4): 872–894.

West, Jevin D., Jennifer Jacquet, Molly M. King, Shelley J. Correll, and Carl T. Bergstrom. 2013. The role of gender in scholarly authorship. PloS One 8(7): e66212.

Whitley, Richard. 2000. The intellectual and social organization of the sciences, 2nd ed. Oxford: Oxford University Press.

Wislar, Joseph S., Annette Flanagin, Phil B. Fontanarosa, and Catherine D. Deangelis. 2011. Honorary and ghost authorship in high impact biomedical journals: a cross sectional survey. BMJ (Clinical Research ed.) 343: d6128. https://doi.org/10.1136/bmj.d6128.
Acknowledgments
Order of co-authors is alphabetical. The authors contributed equally to this manuscript. We would like to thank Kathrin Thomas and Theresa Kernecker for their helpful comments on previous drafts. We would also like to thank Jakob Kemper and Erik Wenker for their assistance with the coding of the regulations for authorship of scientific journals. Last but not least we would like to thank the anonymous reviewers as well as the participants of several conferences and workshops for their constructive and concise feedback.
Electronic supplementary material
Below is the link to the electronic supplementary material.
Appendix
Appendix
About this article
Cite this article
Johann, D., Mayer, S.J. The Perception of Scientific Authorship Across Domains. Minerva 57, 175–196 (2019). https://doi.org/10.1007/s11024-018-9363-3
Keywords
Perception of scientific authorship

Co-Authorship

Publication ethics

Disciplinary cultures