Abstract
This paper aims to explore disciplinary variation in valuation practices by comparing the way research groups accumulate credibility across four epistemic cultures. Our analysis is based on case studies of four high-performing research groups representing very different epistemic cultures in humanities, social sciences, geosciences and mathematics. In each case we interviewed about ten researchers, analyzed relevant documents and observed a couple of meetings. In all four cases we found a cyclical process of accumulating credibility. At the same time, we found significant differences in the manifestation of the six main resources that are part of the cycle, the mechanisms of conversion between these resources, the overall structure and the average speed of the credibility cycle. The different ways in which the groups use data and produce arguments affect the whole cycle of accumulating credibility. In some cultures, journal publications are the main source of recognition, but in others one can earn significant amounts of recognition for conference contributions or service to the academic community. Moreover, the collaboration practices in the respective fields strongly influence the connection between arguments and publications. In cultures where teams of researchers collaboratively produce arguments, it is more strongly embedded in the process of writing publications. We conclude that the credibility cycle can only be used as an analytical tool to explain the behavior of researchers or research groups when taking differences across epistemic cultures into account.
This is a preview of subscription content, log in to check access.
Access options
Buy single article
Instant access to the full article PDF.
US$ 39.95
Tax calculation will be finalised during checkout.
Subscribe to journal
Immediate online access to all issues from 2019. Subscription will auto renew annually.
US$ 99
Tax calculation will be finalised during checkout.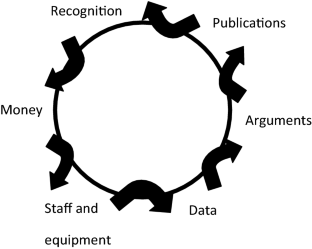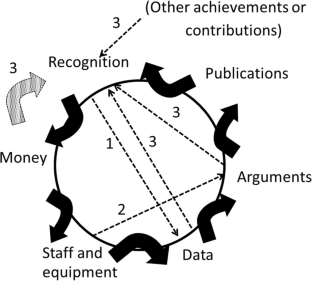 Notes
1.

One of the weak points of the notion of cultures is its breadth and high level of abstractness. According to Gläser and colleagues, this implies that it has a limited explanatory power in sociology of science. They argue that a more precise definition of the concept is required to facilitate a meaningful comparison of different research cultures and offer a more detailed operationalization (Gläser et al. 2015). In this paper, we do not use epistemic cultures as an explanatory concept but rather as a heuristic tool to characterize different research areas.

2.

The case studies were originally conducted as part of a project on excellent science (Hessels et al. 2016).
References
Becher, Tony, and Paul R. Trowler. 2001. Academic tribes and territories, 2nd ed. Maidenhead, Berkshire: SRHE and Open University Press.

Collins, Harry. 1992. Changing order: Replication and induction in scientific practice. Chicago, IL: University of Chicago Press.

Costas, Rodrigo, Zohreh Zahedi, and Paul Wouters. 2015. The thematic orientation of publications mentioned on social media: Large-scale disciplinary comparison of social media metrics with citations. Aslib Journal of Information Management 67(3): 260–288. https://doi.org/10.1108/AJIM-12-2014-0173.

Cremonini, Leon, Edwin Horlings, and Laurens K. Hessels. 2017. Different recipes for the same dish: Comparing policies for scientific excellence across different countries. Science and Public Policy 45(2): 232–245. https://doi.org/10.1093/scipol/scx062.

Fochler, Maximilian. 2016. Variants of epistemic capitalism: Knowledge production and the accumulation of worth in commercial biotechnology and the academic life sciences. Science, Technology, & Human Values 41(5): 922–948.

Gläser, Jochen, Jana Bielick, Robert Jungmann, Grit Laudel, Eric Lettkemann, Grit Petschick, and Ulla Tschida. 2015. Research cultures as an explanatory factor. Österreichische Zeitschrift für Soziologie 40(3): 327–346.

Hessels, Laurens K., and Harro van Lente. 2011. Practical applications as a source of credibility: A comparison of three fields of Dutch academic chemistry. Minerva 49(2): 215–240.

Hessels, Laurens K., Harro van Lente, and Ruud E.H.M. Smits. 2009. In search of relevance: The changing contract between science and society. Science and Public Policy 36(5): 387–401.

Hessels, Laurens, Wout Scholten, Thomas Franssen, and Sarah De Rijcke. 2016. Excellent geld: De rol van excellentiesubsidies bij vier toponderzoeksgroepen in Nederland. The Hague: Rathenau Instituut.

Joly, Pierre-Benoit, and Vincent Mangematin. 1996. Profile of public laboratories, industrial partnerships and organisation of R & D: The dynamics of industrial relationships in a large research organisation. Research Policy 25(6): 901–922. https://doi.org/10.1016/0048-7333(96)00882-7.

Knorr-Cetina, Karin D. 1982. Scientific communities or transepistemic arenas of research? A critique of quasi-economic models of science. Social Studies of Science 12: 101–130.

Knorr-Cetina, Karin D. 1999. Epistemic cultures. Cambridge, MA: Harvard University Press.

Lamont, Michèle. 2012. Toward a comparative sociology of valuation and evaluation. Annual Review of Sociology 38: 201–221.

Larivière, Vincent, Nadine Desrochers, Benoît Macaluso, Philippe Mongeon, Adèle Paul-Hus, and Cassidy R. Sugimoto. 2016. Contributorship and division of labor in knowledge production. Social Studies of Science 46(3): 417–435.

Latour, Bruno, and Steve Woolgar. 1986. Laboratory life: The construction of scientific facts, 2nd ed. London: Sage.

Laudel, Grit, and Jochen Gläser. 2008. From apprentice to colleague: The metamorphosis of early career researchers. Higher Education 55(3): 387–406.

Laudel, Grit, and Jochen Gläser. 2014. Beyond breakthrough research: Epistemic properties of research and their consequences for research funding. Research Policy 43(7): 1204–1216.

Leišytė, Liudvika. 2007. University governance and academic research: Case studies of research units in Dutch and English Universities. PhD thesis, University of Twente, Enschede.

Lepori, Benedetto, Michael Wise, Diana Ingenhoff, and Alexander Buhmann. 2016. The dynamics of university units as a multi-level process. Credibility cycles and resource dependencies. Scientometrics 109(3): 2279–2301.

Merton, Robert K. 1968. The Matthew effect in science. Science 159(3810): 56–63.

Newman, M.E.J. 2004. Coauthorship networks and patterns of scientific collaboration. PNAS 101: 5200–5205.

Packer, K., and A. Webster. 1996. Patenting culture in science: Reinventing the scientific wheel of credibility. Science, Technology, & Human Values 21(4): 427–453.

Stark, David. 2011. The sense of dissonance: Accounts of worth in economic life. Princeton: Princeton University Press.

Strange, Kevin. 2008. Authorship: Why not just toss a coin? American Journal of Physiology: Cell Physiology 295(3): C567–C575. https://doi.org/10.1152/ajpcell.00208.2008.

Tsai, Chin-Chang, Elizabeth A. Corley, and Barry Bozeman. 2016. Collaboration experiences across scientific disciplines and cohorts. Scientometrics 108(2): 505–529. https://doi.org/10.1007/s11192-016-1997-z.

Whitley, Richard. 2000. The intellectual and social organization of the sciences, 2nd ed. Oxford: Oxford University Press.

Whitley, Richard D. 1983. From the sociology of scientific communities to the study of scientists' negotiations and beyond. Social Science Information 22(4–5): 681–720.

Wouters, Paul. 1997. Citation cycles and peer review cycles. Scientometrics 38(1): 39–55.
Acknowledgments
The authors thank Leonie van Drooge for many stimulating discussions and Jochen Gläser for his helpful comments on an earlier version of this paper.
About this article
Cite this article
Hessels, L.K., Franssen, T., Scholten, W. et al. Variation in Valuation: How Research Groups Accumulate Credibility in Four Epistemic Cultures. Minerva 57, 127–149 (2019). https://doi.org/10.1007/s11024-018-09366-x
Keywords
Credibility

Epistemic culture

Valuation

Recognition